Twenty-First Century Pedagogy & Innovative Teaching Methods
As we enter the 21st century, teachers need to figure out the best ways to make learning easier. The time has come to implement technological, economic, and cultural forces in all facets of the education system.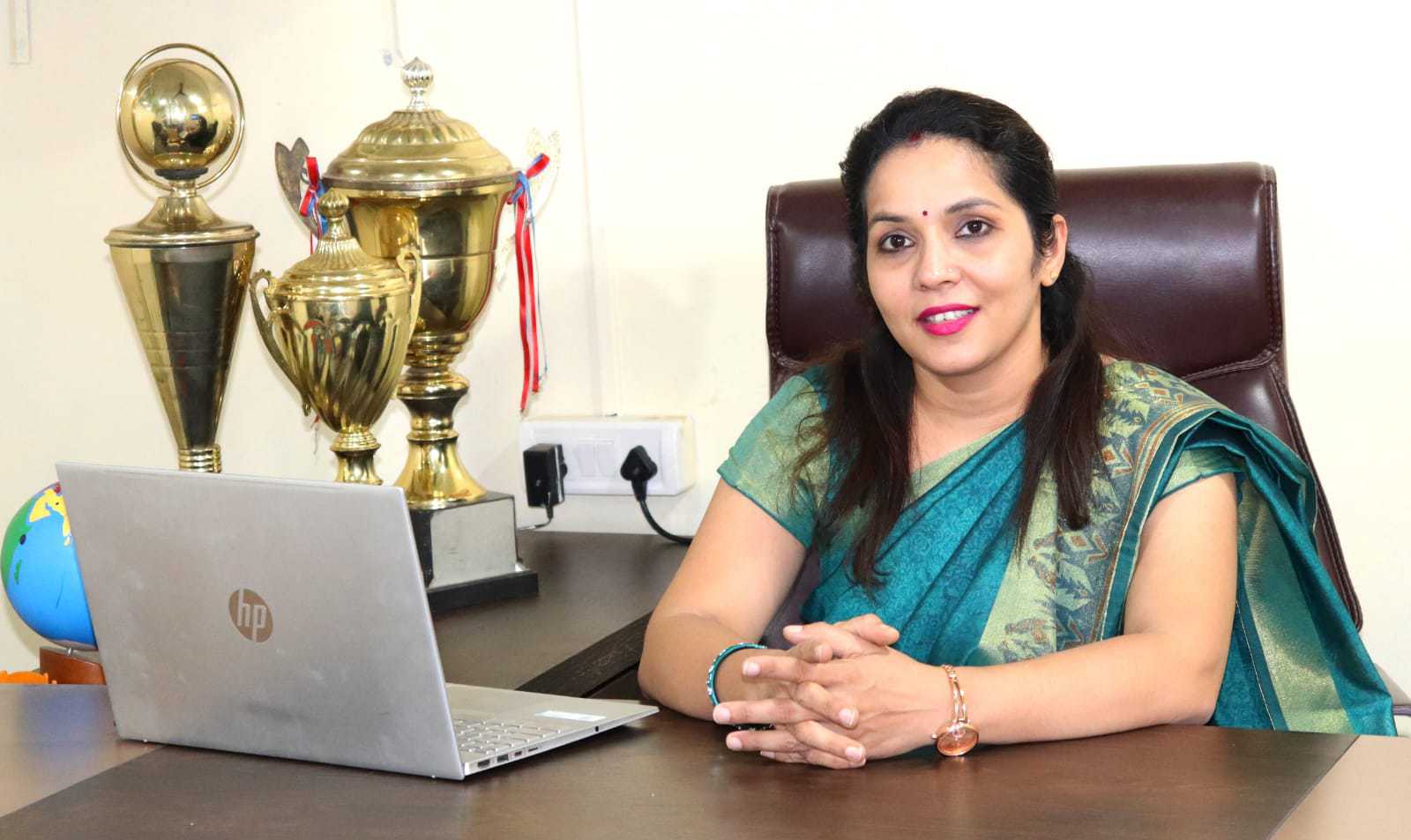 As we enter the 21st century, teachers need to figure out the best ways to make learning easier. The time has come to implement technological, economic, and cultural forces in all facets of the education system. There is a need to introduce new technology, economic resources, and cultural influences into the educational system at every level to promote experiential learning.
UNESCO recommended the following teaching strategies for the twenty-first-century experiential learning, storytelling, value education, inquiry learning, appropriate assessment, future problem solving, outside classroom learning, and community problem-solving.
Education in the twentieth century differed significantly from education in the twenty-first century. Learning has evolved from rote memorization to learner-centric approaches, theory to practice, teacher-centered to student-centered, and memorization to innovation. Teaching methods and didactics have radically changed in the past century. With the ability to access almost any information at any time from an early age, the educational space has expanded beyond the classroom. Learning has been transformed.
It has happened because of the flexibility offered by digital media as opposed to traditional media, the ability to multitask, the use of intellectual ICT tools versus pure mental performance, easier access to textbook content with one-click internet searches, and fewer classroom interactions due to the use of digital media. The result has been a scenario in which knowledge acquisition has evolved into knowledge creation. Teachers must adapt their pedagogy and teaching methods so that they are able to engage such large audiences, and hence the only option is to innovate as per the needs of students of new generations.
Gamification:-
Learning requires engagement. Educating through games, with enticing characters and intriguing situations, is the best way to engage students without overshadowing the pedagogy or concept This is a good method to prepare students with concepts before moving forward to another chapter. It makes the children eager to learn more and learning will be long lasting and adventurous. This is a good method to prepare students with concepts before moving forward to another chapter.
Spaced learning: –
A comparatively new method of teaching has been introduced called "spaced learning", which repeats the same lesson multiple times, but at different intervals. This method provides intervals for the students to continue to acquire the knowledge and create connections between repetitions of the same lesson. Physical activities or mindfulness methods are used to rejuvenate the mind before continuing the lesson. One can use different methods for the same content to achieve the competency of the child.
Collaborative Learning: –
Before exams, it was common to learn at home in solitude. As students help each other reach their goals, they are now members of a group. Students become better listeners and better team players. It allows them to share their creativity and gain more knowledge as they learn to tolerate others' opinions and even meet with different people to receive a genuine critique of their work. Additionally, it helps them learn how to deal with constructive criticism and cross-examinations and develops social skills among them. The use of manipulation can be brought to the practice in collaboration cooperation and respect for each other. Desks should be replaced with interactive whiteboard surfaces so that groups can work together more efficiently.
Flipped Classroom: –
A new pedagogical term has emerged called "Flipped Classroom." It is the reverse of traditional classroom instruction. Flipped classrooms allow students to watch a video tutorial, research online or work on content shared by the teacher at home. These materials are then used in the classroom to complete class assignments. When students arrive at school, they are prepared with the content, and if they have questions, they can discuss them in class. In addition, they can share with their classmates any ideas they have related to the content. Flipping a classroom allows students to have sufficient time to grasp the content and lifelong experience for the same.
Cross-Learning: –
Learning and teaching in cross-cultural settings can be informal or formal. A formal setting is utilized to teach content and provide study materials to enhance knowledge, and then a more informal environment such as museums, seminars, and after-school programs are used to stimulate curiosity and interest.
VAK (Visual Auditory Kinaesthetic) Teaching:
VAK is a modern teaching method that is based on the Multiple Intelligence theory. Learning can be classified into three categories: Visual (seeing or hearing data), Audio (hearing or feeling the data), and Kinaesthetic (moving or feeling the data). Each learner requires a different approach. One can use different mind maps and use of Art Integration can be used to focus on all three types of leaners that is visual, auditory, and kinaesthetic.
Computational Thinking: –
Computational thinking is a powerful approach to thinking and problem-solving. It involves breaking large problems down into smaller ones (decomposition), recognizing how these relate to problems that have been solved in the past (pattern recognition), setting aside unimportant details (abstraction), identifying and developing the steps that will be necessary to reach a solution (algorithms) and refining these steps (debugging).
Such computational thinking skills can be valuable in many aspects of life, ranging from writing a recipe to share a favourite dish with friends, to planning a holiday or expedition, to deploying a scientific team to tackle a difficult challenge like an outbreak of disease.
Being in the 21st century, there is an urgent need for educators to figure out the best ways for learners. The need of the hour is to introduce technological, economic, and cultural forces in the education system at all levels and change the core of the traditional educational system to promote experiential learning. At AEMS, we have adopted most of these innovative pedagogies to develop self-learning habits and help them to become lifelong learners.
About the author:
Khushboo Singh is the Principal of Angel English Medium School, Pune, and has over 15 years of experience as a principal and successful administrator, deeply immersed in curriculum creation, contemplative pedagogy, along with extensive evaluation of several curricula to arrive at best practices in teaching-learning, content creation, and educational research.
What is Hybrid/Blended Learning?
We are lifelong learners and need to keep pace with the fast-paced technology so that our students are ready to take the next leap. Our classrooms have to echo that thought and vision at all times through new pedagogies and teaching-learning strategies.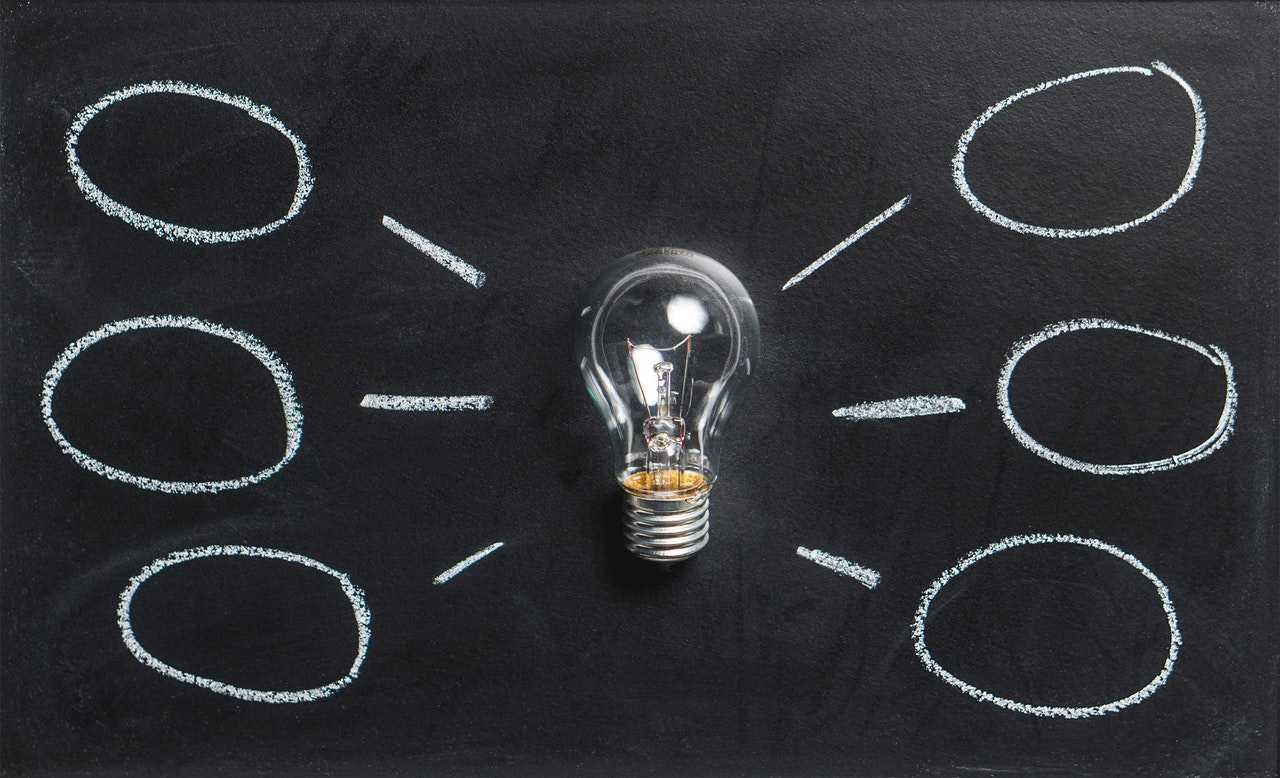 The COVID wave – consider it a bane or boon – but it somersaulted us to an array of digital world experiences. It propelled us to rethink and reorganize our mindsets, our practices, and our expectations. Overnight, we moved from an offline teaching mode to online, and credit to the teaching community for doing it so seamlessly. Now, we are back to offline teaching but do we continue with our old practices? An obvious no so we need to infuse our online experiences within the offline to ensure that quality education reaches one and all.
One key pedagogy to achieve the goal is blended learning, an approach that combines face-to-face learning with online learning incorporating certain elements that support students to have control over the pace, time, and place. The material resource investment is minimal but human resource investment is high till the ethos is assimilated within all.
So let's understand the varied types of blended learning and its implementation in the school teaching-learning process.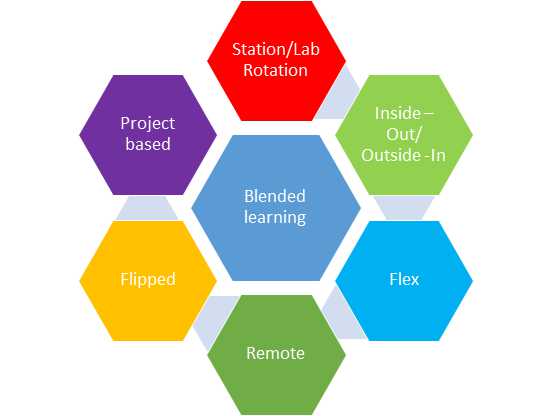 1. Station Rotation
In Station Rotation, students will rotate on a fixed schedule as per the teacher's discretion. The teacher begins her class of 40 students with instruction on narrative writing from 9:00 am to 9:15 am. She then splits the class into three groups where one group continues to learn with her. The second group works on a collaborative assignment on narrative writing and the third use their laptops or computers placed in the class and researches blended learning and after 15 minutes the group switches so that every group has varied experiences. A block class of English can support the various transactions and supports students to build research, collaborative and knowledge skills.
In the same format, if computers or laptops are not available in class then students use the computer laboratory in school and this rotation would then be called as Lab Rotation.
In this methodology, all students with varied learning needs are supported. The only challenge is the Technology and time management skills.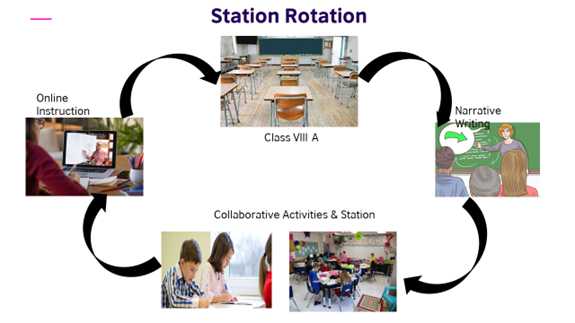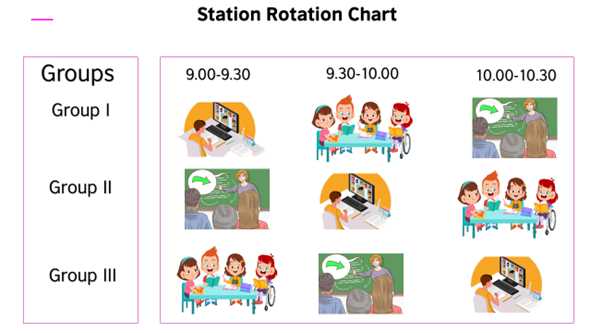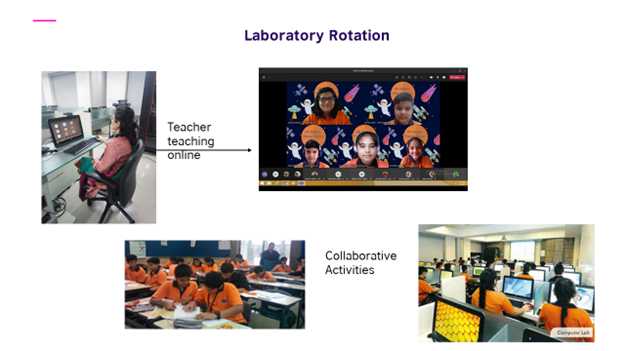 2. Remote & enriched virtual learning
It is a course or subject in which students have required face-to-face learning sessions with their teacher of record and then are free to complete their remaining coursework remote from the face-to-face teacher. In class, the teacher gives a project to students on 'Analysing any work of Shakespeare's or Rabindranath Tagore's Kabuliwalla' w.r.t. the criterion of plot, characters, theme, language, thought and values.
She briefs students on works of Shakespeare and the elements of a play within the school timetable and they complete all the work at home.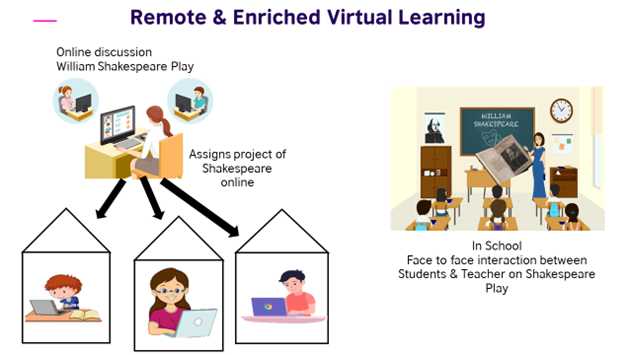 3. Flex blended learning
During certain weekends if the teacher wishes to support the students further in class especially if the concept has been challenging or students have underperformed in an evaluation, the teacher records her remedial teaching and uploads in-class computers. She designs a task around remedial teaching. She expects students to report to school wherein students enter the class on their own time, access the teaching, complete the task and leave. If they have any further doubts, they could approach the teacher in the school or their peers. A useful TIP would be for the teacher to Collaborate with their colleagues in club activities.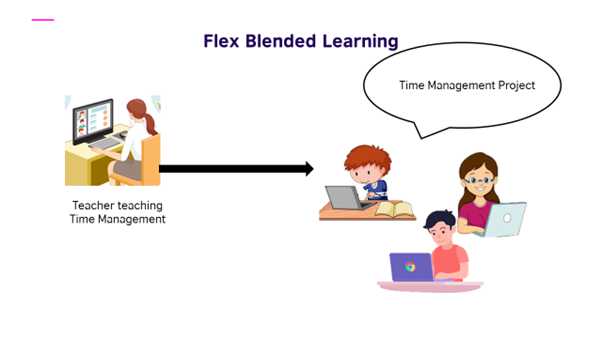 4. Flipped learning
As per TeachThought, a flipped classroom is a type of blended learning where students are introduced to content at home and practice working through it at school. This is the reverse of the more common practice of introducing new content at school, then assigning homework and projects to be completed by the students independently at home.
This methodology is most useful when you want students to have some knowledge of the content before analyzing it further. So if a teacher wishes to conduct a 'Book review'. She shares the e-book, 'Totto-chan' with the students. She asks them to read and shares certain discussion points. In school, students discuss the book and write personal book reviews. The teacher has used her class time constructively and has been to achieve greater learning outcomes.
5. Individual rotation blended learning
As per https://www.blendedlearning.org/models/, the Individual Rotation model allows students to rotate through stations, but on individual schedules set by a teacher or software algorithm. Unlike other rotation models, students do not necessarily rotate to every station; they rotate only to the activities scheduled on their playlists.
The teacher allows students to rotate through different kinds of classrooms called stations. A specific ILP [Individual learning plan] is created for each student. For example: Parth and Mona's examples work on clauses, Mona is struggling with Clauses so she attends classes and solves assignments whereas Parth will attend classes, watch a few videos, and also complete a research project on clauses. Thus the teacher knows her students' skills in greater depth and supports them individually to achieve her target learning outcomes.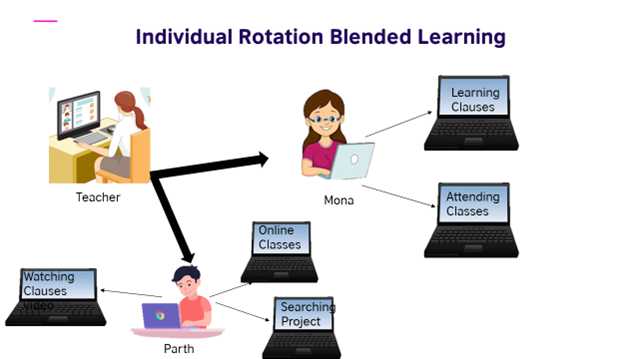 6. Inside-out and outside-in blended learning
In Inside-out, teaching and learning begin inside the classroom and move to an outside environment and in an outside-in classroom, it begins in an outside environment and moves inside the classroom. In a class environment, the Teacher discusses with students about 'Sound of Music' in class and ends the lesson by taking them to the theatre to watch the play. In Outside-In, Students watch the play in a digital environment and end the lesson in a physical environment by conducting role-plays.
The list of models is many but one has to review their resources and plan accordingly.
One can mention that they may face challenges in terms of technology, lack of training on digital platforms, lack of resources to create self-paced learning environments, or time management with vast syllabuses to complete.
Certain tips that can come useful are:
1. Teachers can begin with easily available digital content like Khan Academy, Pinterest, discovery Education, PBS Learning Media, and much more.
2. Review the available resources and plan a timetable. Most importantly, a team achieves more so collaborate with your colleagues in club activities.
3. Take small simple steps – "The journey of a thousand miles begins with one step." Lao Tzu. Choose the model that you are comfortable executing and then move forward.
As teachers, we are ever-evolving and we are that one profession that creates more professions so our responsibility and accountability stretch beyond the classroom. We are lifelong learners and need to keep pace with the fast-paced technology so that our students are ready to take the next leap. Our classrooms have to echo that thought and vision at all times through new pedagogies and teaching-learning strategies.
References:
Christensen Institute, Blended Learning definitions, https://www.christenseninstitute.org/blended-learning-definitions-and-models/
About the author:
Kavita Sanghvi holds a Masters in Physics, Masters in Education, Masters in Philosophy of Education, and CAEL [Certificate in Advanced Course in Educational Leadership] Diploma from Harvard University. She heads SVKM's CNM School, in Mumbai. She is a Teach SDG's Ambassador, Climate Action Ambassador, and Scientix Ambassador for India. She is a British Council Trainer and Ambassador.