Union HRD Minister launches NISHTHA – world's largest teachers' training programme
This mega capacity building programme has been integrated with technology to ensure smooth facilitation, availability of digital content and technology-enabled teaching methods to support the teachers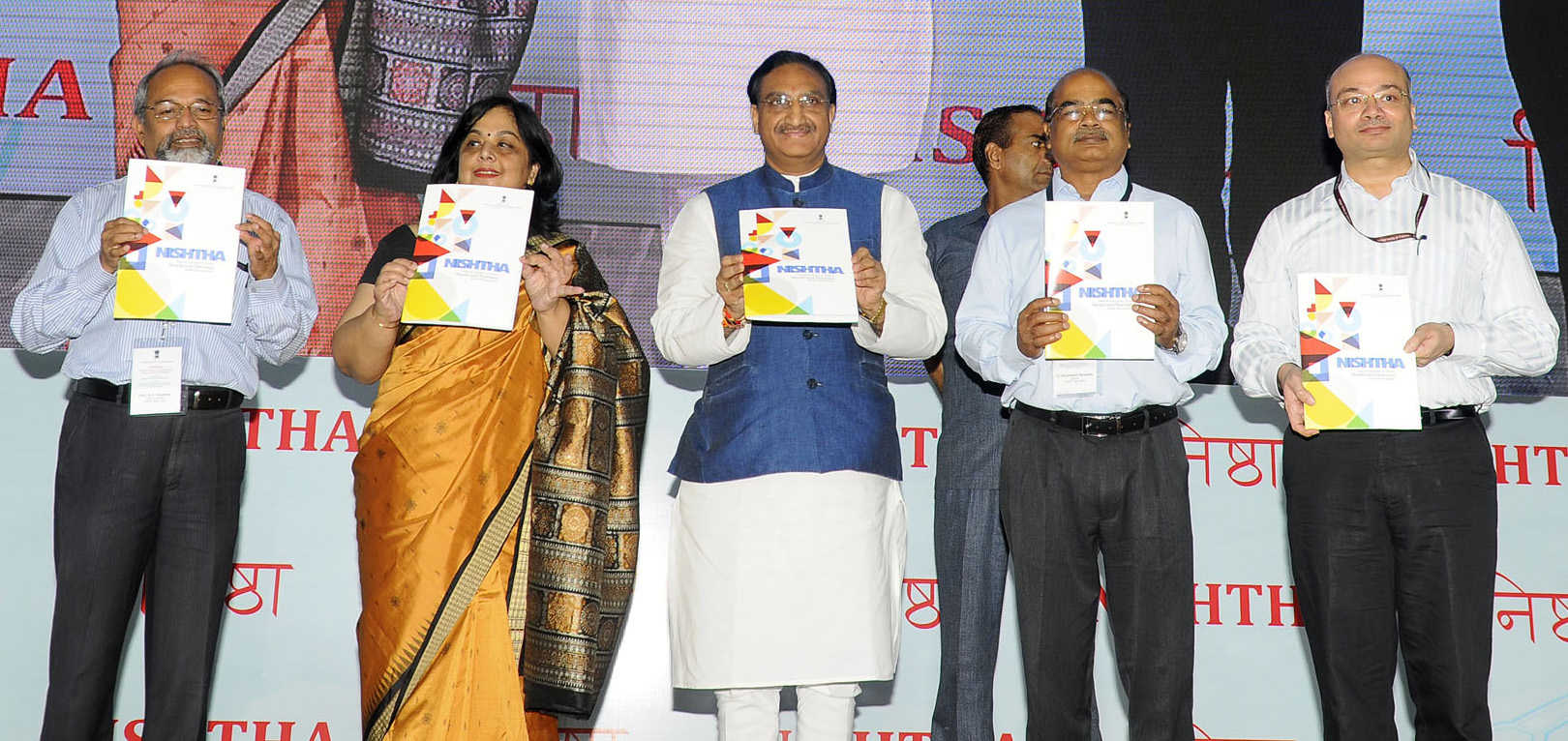 Union Human Resource Development Minister Shri Ramesh Pokhriyal 'Nishank' launched the National Mission to improve Learning Outcomes at the Elementary level- NISHTHA, National Initiative for School Heads and Teachers Holistic Advancement at Dr. Ambedkar International Centre in New Delhi yesterday. During the programme, NISHTHA Website, Training Modules, Primer Booklet, and a Mobile App were also launched by the Minister.
Speaking on the occasion the HRD Minister said that this is the largest teachers' training programme of its kind in the world. Giving further details, the Minister said that the basic objective of this massive training programme 'NISHTHA' is to motivate and equip teachers to encourage and foster critical thinking in students. He said that teachers will get awareness and develop their skills on various aspects related to Learning Outcomes, Competency-Based Learning and Testing, Learner-centered Pedagogy, School Safety and Security, Personal-social qualities, Inclusive Education, ICT in teaching-learning including Artificial Intelligence, Health and well-being including yoga, Initiatives in School Education including library, eco-club, youth club, kitchen garden, School Leadership qualities, Environmental Concerns, Pre-school, Pre-vocational Education and School-Based Assessment in a joyful learning manner.
The teachers are the powerhouse of the nation and they must be of the highest quality, the Minister elaborated. He further said that it is the Prime Minister's dream that the quality of our teachers should be such that they should command worldwide respect.
Shri Ramesh Pokhriyal 'Nishank' disclosed that this training programme has been included as one of the two transformative ideas from this Department for the 100 days programme of the Government. This integrated programme aims to build the capacities of around 42 lakh participants covering all teachers and Heads of Schools at the elementary level in all Government schools, faculty members of State Councils of Educational Research and Training (SCERTs), District Institutes of Education and Training (DIETs) as well as Block Resource Coordinators and Cluster Resource Coordinators in all States and UTs.
Shri Pokhriyal highlighted that the initiative is first of its kind wherein standardized training modules are developed at national level for all States and UTs. However, States and UTs can contextualize the training modules and use their own material and resource persons also, keeping in view the core topics and expected outcomes of NISHTHA.
The Minister informed that the training will be conducted directly by 33120 Key Resource Persons (KRPs) and State Resource Persons (SRP) identified by the State and UTs, who will in turn be trained by 120 National Resource Persons identified from National Council of Educational Research and Training (NCERT), National Institute of Educational Planning and Administration (NIEPA), KendriyaVidyalayaSangathan (KVS), NavodayaVidyalayaSamiti (NVS), Central Board of Secondary Education (CBSE) and Non-Government Organisations.
It was observed that the expectation of teachers in the present day is different and includes many new attributes. Teachers today are also expected to be aware of the provisions regarding Gender, The Rights of Persons with Disabilities Act and the Protection of Children from Sexual Offences (POCSO) Act. The integrated programme, therefore, seeks to train all heads and teachers as first-level counsellors to be alert and responsive to the needs of the students, in addition to promoting joyful learning and taking special care of the requirements of special children.
The prominent features of this integrated programme are activity-based modules including educational games and quizzes, Social-emotional learning, motivational interactions, team building, preparation for school-based assessment, in-built continuous feedback mechanism, online monitoring and support system, training need and impact analysis (Pre and Post training).
In order to enhance professional development of teachers, special emphasis has been given on design and development of training modules. The training Modules for NISHTHA have been developed through a consultative process involving the suggestions from the States and UTs and CBSE, KVS, NVS, School Principals and Non-Governmental Organizations, such as Kaivalya Foundation, Tata Trust, Azim Premji Foundation and Aurobindo Society.
This mega capacity building programme has been integrated with technology to ensure smooth facilitation, availability of digital content and technology-enabled teaching methods to support the teachers. A Mobile App and Learning Management System (LMS) based on MOODLE (Modular Object-Oriented Dynamic Learning Environment) have been developed by NCERT (https://nishtha.ncert.gov.in/). LMS will be used for registration of Resource Persons and Teachers, dissemination of resources, training gap and impact analysis, monitoring, mentoring and measuring the progress online.
In order to ensure a sustainable impact on classroom transactions, this integrated training programme is embedded with post-training interventions including provision of mentoring. After the completion of KRP training, National Resource Persons will regularly be in touch with KRPs through WhatsApp/Facebook groups etc and will form Quality Circles that will work to share ideas, challenges and their solutions and best practices. This will help in building pedagogical skills and connecting with peers, thereby leading to improvement in learning outcomes of the students.
The programme was launched in the presence of Smt Rina Ray, Secretary, Department of School Education and Literacy and other senior officers from MHRD, all States and UTs, Senior Policy Makers and Heads of Institutions.
Education for Girls
Department of School Education and Literacy (DoSEL), Ministry of Education is implementing 'Samagra Shiksha', for universalization of quality education throughout the country in coordination with the States and UTs.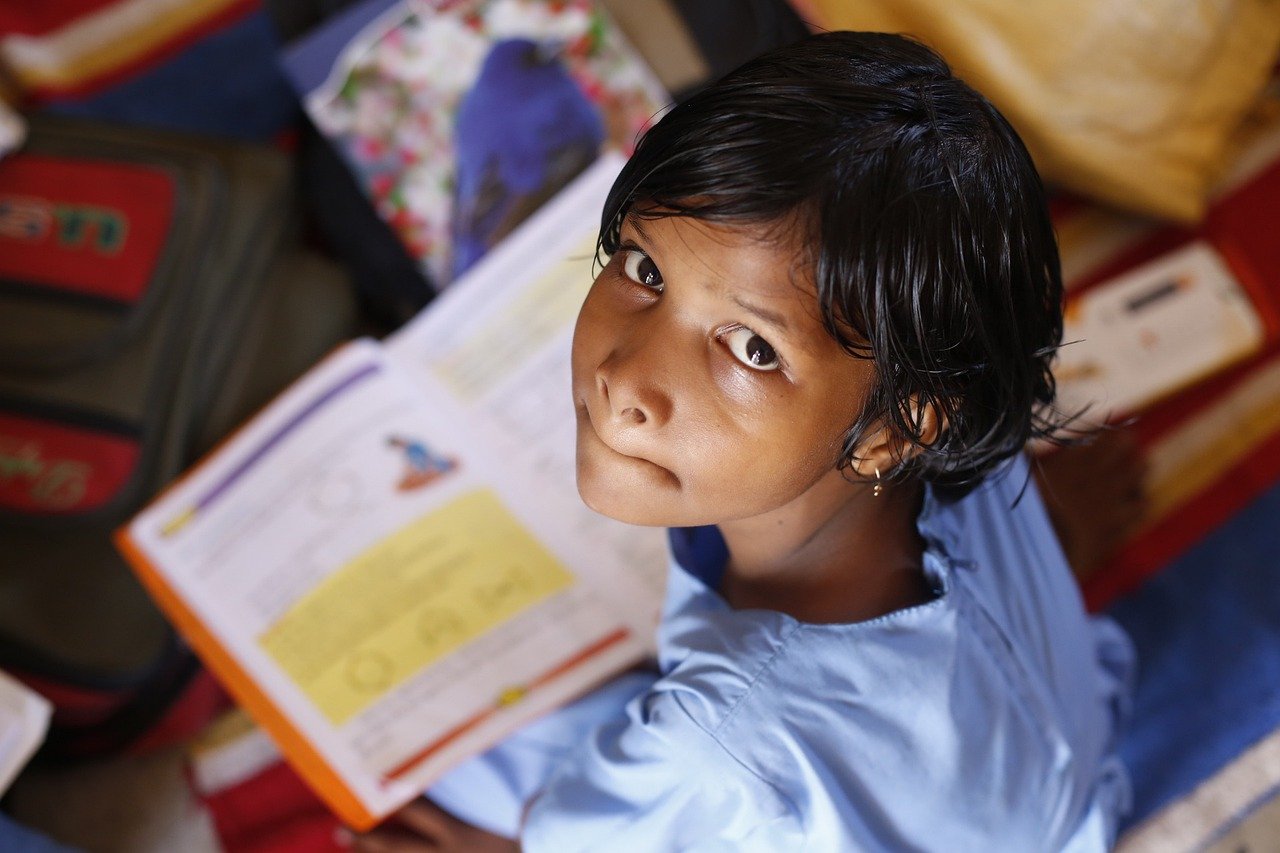 Education is a subject in the concurrent list of the Constitution and the majority of schools are under the jurisdiction of the State Government. Department of School Education and Literacy (DoSEL), Ministry of Education is implementing a centrally sponsored Integrated Scheme for School Education 'Samagra Shiksha', effective from 2018-19, for universalization of quality education throughout the country in coordination with the States and UTs. Bridging gender and social category gaps at all levels of school education is one of the major objectives of the Samagra Shiksha. From the year 2018-19 to 2020-21, the Drop-out rate of girls at the Secondary level decreased from 17.03% to 13.7%, Gross Enrolment Ratio (GER) at the secondary level increased from 76.93 to 79.45, and GER at the higher secondary level has increased from 50.84 to 54.65. (Source: UDISE+).
Under Samagra Shiksha, there is a provision for gender-segregated toilets in all schools. As per UDISE+ 2020-21, 97.45% of Government schools have gender-segregated toilets. Also, there is a provision of a Composite School Grant which may be used for annual maintenance and repair of existing school buildings, toilets, and other facilities to upkeep the infrastructure in good condition.
School Health Programme, under Ayushman Bharat which is a joint collaborative initiative of the Ministry of Health and Family Welfare and DoSEL, Ministry of Education, a module on 'Growing up Healthy' has been incorporated, which interalia includes information on physical challenges during adolescence and attaining puberty.
The National Council of Educational Research and Training (NCERT) is implementing the Adolescence Education Programme (AEP) as part of the National Population Education Project (NPEP). One of the learning outcomes of AEP is to make the learners aware of the concerns of adolescence, i.e. process of growing up during adolescence, and to inculcate in them a positive attitude regarding these concerns.
Additionally, vide a joint letter of Secretary, DoSEL, and Secretary, Ministry of Jal Shakti dated 08.03.2022, the states have been advised to utilize funds earmarked for Menstrual Hygiene Management (MHM) and management of menstrual waste under the Swachh Bharat Mission (Gramin) Phase-II at the village level, for installation or maintenance of incinerators in schools having girls from classes VI to XII and for creating awareness on MHM among adolescent girls and in the society in general.
Moreover, all States and UTs have been requested to take necessary steps to create awareness amongst adolescent girls in schools about the safe usage and the benefits of Sanitary Napkins. It has also been communicated that subsidized sanitary napkins are available at the Jan Aushadi Kendras set up by the Ministry of Chemical and Fertilisers, Government of India.
Under Samagra Shiksha, there is a provision of Kasturba Gandhi Balika Vidyalayas (KGBVs) in the Educationally Backward Blocks, which are residential schools for girls belonging to disadvantaged groups such as SC, ST, OBC, Minority, and Below Poverty Line (BPL). KGBVs were functional for classes 6th to 8th under the erstwhile Sarva Shiksha Abhiyan. Under Samagra Shiksha, a provision has been made to upgrade/converge the KGBVs with girls hostels to cover girls up to classes 10th (Type II) and 12th (Type III) to reduce dropout and enhance enrolment of girls at Secondary and Higher Secondary levels. In KGBVs, specific skill training is imparted to provide need-based vocational education to girls.
Further, Special State Specific Projects for varied interventions under equity are emphasized for enhancing access, retention, and quality of girls by promoting enrolment drives, retention and motivation camps, gender sensitization modules, etc. Financial Support is also being provided under State Specific projects as per the allocation of flexi funds under quality to the state subject to viable proposals received from the respective State and UTs. Such projects include Life Skills, Awareness programmes, Incinerators, Sanitary Pad Vending Machines etc.
Moreover, Samagra Shiksha aims at integrating Vocational Education with general academic education in all Secondary/Senior Secondary schools including KGBVs; enhancing the Employability and Entrepreneurial abilities of the students, providing exposure to working environment; and generating awareness amongst students about various career options so as to enable them to make a choice in accordance with their aptitude, competence, and aspirations.
The information was given by the Minister of State for Education, Smt. Annpurna Devi in a written reply in the Lok Sabha on 1st August 2022.