Uplift Humanity celebrates its 6 years of Indian operations by launching its Mumbai chapter
Egged on by Prime Minister Modi, Uplift Humanity India has completed 6 years of operations in India. It recently started its Mumbai chapter. Involved in tackling recidivism in young children and getting volunteers from US to work with juveniles UHI hopes to make this world a better place.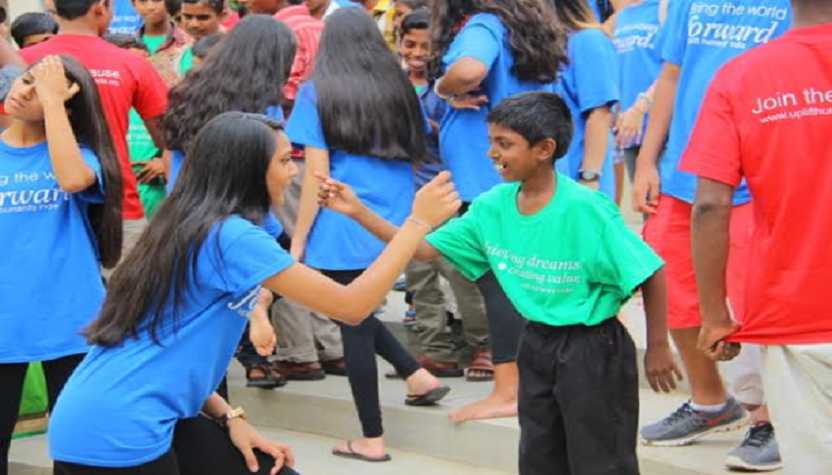 Uplift Humanity, founded in 2010, is a unique organization that empowers American youth to educate juveniles in India. Since 2010, UHI has launched programs at 3 juvenile rehabilitation centers throughout India: Gujarat, Hyderabad, and the most recent one being in Mumbai. In the past 6 years, Uplift has successfully brought 250 students to India from the USA who have together contributed approximately 150,000 hours of volunteer work. Uplift is growing rapidly and this blazing growth has enabled the organization to educate more than 500 different juveniles and orphans and donate in excess of ₹ 250,000 in scholarships funds to dozens of children who are seeking higher education or vocational studies.
The idea for Uplift Humanity was germinated when founder Anish Patel, was taking a trip to India with his family. Whilst stranded at a traffic junction in Vadodara, Anish noticed a group of children playing behind the gates of a dilapidated juvenile detention facility. Upon further research on the treatment of juvenile inmates and orphans in India, Anish found that many of these children were cornered into committing crimes out of economic desperation, and would mostly never receive the education, or life-skills training necessary to secure a decent standard of living. And thus, Uplift Humanity India (UHI) was born. Anish believes that we can change the way education is delivered across institutionalized facilities in India through cross-cultural education, relevant instructional materials, and the right people.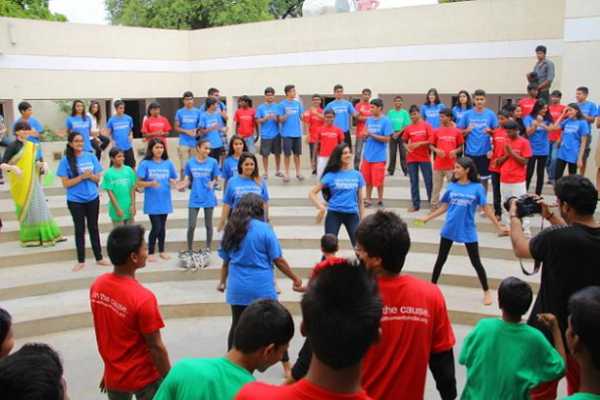 UHI is growing on the basis of the thumping success of its 2 key platforms – Academic Program and their Annual Summer Program. The academic program is the single most crucial element of the on-site work done at juvenile centers year-round, where local educators teach how to read and write in English, and how to use computer technology. The summer rehabilitation program, on the other hand, brings students from the USA over to one of the 3 rehabilitation facilities in India where the volunteers teach orphans and juveniles important and often life-changing skills such as moral decision-making, self-esteem development, anger management, daily etiquette, and public speaking.
Within 3 years of its inception, Prime Minister Narendra Modi invited the team to discuss ways to increase education levels in institutionalized facilities in India after he witnessed first-hand the positive impact of UHI's work with juveniles and orphans. This new partnership allowed Uplift to strengthen their impact in India. With the aid of local and national governments, Uplift Humanity was able to launch in Mumbai.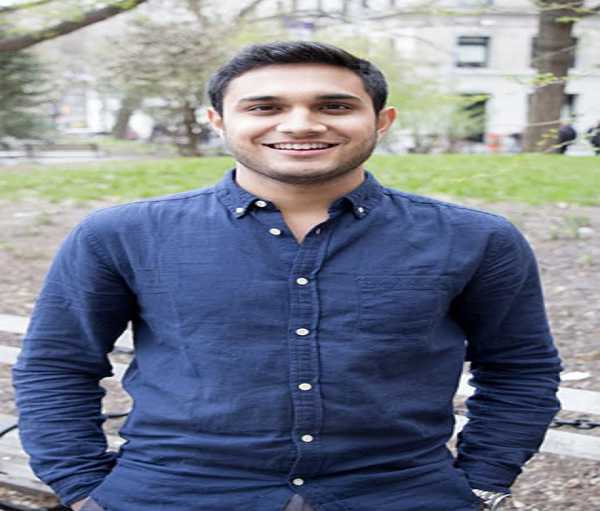 "Uplift Humanity's expansion into Mumbai shows our commitment to eradicate juvenile recidivism throughout the Indian subcontinent. We're so excited to be in Mumbai because it's such a bustling city with so much potential. What makes Mumbai even more special for our team is that it's the first location that we're allowing non-Indians to apply to our programs. Essentially, now any teenager from any demographic can apply to volunteer with our organization" says Founder Anish Patel.
Uplift Humanity has also appointed Hollywood actor, Arjun Gupta as a brand ambassador for the organization. The Uplift team hopes that Gupta's fan following in hit series such as Showtime's "Nurse Jackie" and Syfy's "The Magicians," would attract the younger generation and arouse in them a passion for community service and volunteering with the organization.
"Uplift is a really exciting organization for 2 reasons: one because their work is directly helping young kids in India get out of a dangerous cycle of recidivism. And secondly, the effect the program has on the young volunteers that travel to India will inform them for the rest of their lives, creating better leaders, more active members of their community, and will continue to help change the world. As an artist, I believe that art is service but often the effects of my work have an indirect effect on change. To be working with an organization that is directly causing change for the better is simply a thrill for me. I am honored to be a part of this organization" says Uplift Humanity Brand Ambassador Arjun Gupta.
Uplift Humanity continues on its historic journey and encourages millions more to join them. They invite volunteers and sponsors to come onboard and help their fight in sending every one of 31 million orphans back to school. For more information on Uplift Humanity, please visit:
About Uplift Humanity:
UHI is a non-profit organization dedicated to the rehabilitation of juvenile inmates in South Asia. Its founding motto epitomizes the method by which it seeks to empower youth through hands-on education, mentoring, and technology training. Uplift Humanity's goal is to spread its specialized curriculum throughout the continent to give youth opportunities to flourish once they re-enter society.
NIOS celebrates 33rd Foundation Day
Dr. Subhas Sarkar addresses the 33rd Foundation Day Celebrations of NIOS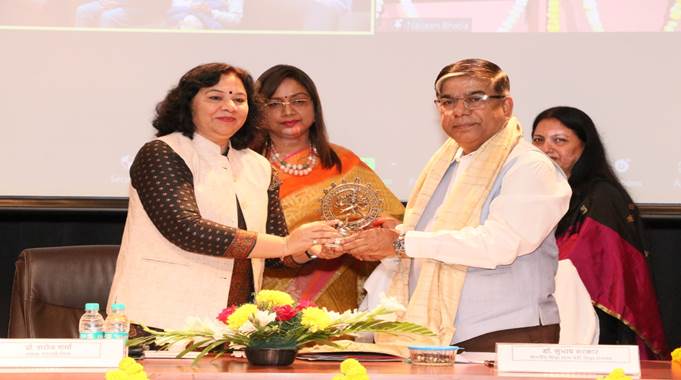 Union Minister of State for Education, Dr. Subhas Sarkar addressed the 33rd Foundation Day Celebrations of NIOS as the Chief Guest.
The function was attended by senior officials of the Ministry of Education, Chairpersons of educational institutions, Heads of Departments, officers, and staff of NIOS. Prof. Naval Kishore Ambasht, former Chairman, of NIOS and Pro-Vice Chancellor, of the Central University of Haryana, Prof. Sushma Yadav graced the occasion.
Dr. Subhas Sarkar in his address appreciated the various programmes and schemes of NIOS and said that NIOS is lighting the lamp of knowledge all over the world. Talking about the Azadi Ka Amrit Mahotsav, he mentioned that today's children will be young people in the age group of 30-40 years on the completion of 100 years of independence and will be responsible for building our nation.
He said that the Ministry of Education has entrusted NIOS with several responsibilities such as developing inclusive education resources, expanding the open and distance education system in states/UTs, translating all courses into more languages as required, creating Indian Knowledge Tradition based courses and propagating Indian culture by translating them into major foreign languages. He also praised the programmes of NIOS enrolling 10 crore adults under 'Basic Literacy Assessment', training of in-service teachers, Gender Green Project, and training in Yoga. He said that Indian Sign Language as a subject at the secondary level has been acknowledged on national and international platforms. He described the launch of an e-library called 'DEEP' by NIOS as a big step forward.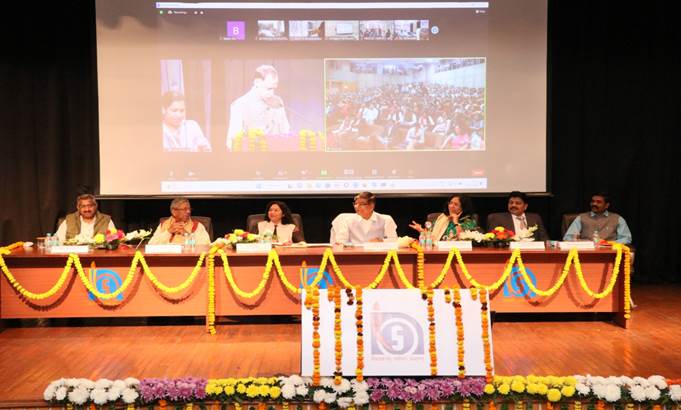 Prof. Saroj Sharma spoke about the journey of 33 years of NIOS and highlighted the special achievements. She said that NIOS is one of the two National Boards of Education under the Ministry of Education, which provides school education through Open and Distance Learning (ODL) for secondary, senior secondary, and vocational education. She elaborated on the role of NIOS in the field of education, efforts being made by NIOS for the successful implementation of the New Education Policy, Virtual Open School, Digital Library (DEEP), NEPIA Project, MoU with Ministry of Defence for Agniveer Project, setting up of Mukta Kaushal Kendras and subjects offered under Indian knowledge Tradition.
It was also conveyed by her that a curriculum called 'Aarambhika' is being developed by NIOS for catering to the Indian Diaspora.
A documentary based on the journey of 33 years of educational endeavours of NIOS was presented on the occasion. In this documentary, 'All England Badminton winner Pullela Gopichand said that most of the players in his badminton academy are getting an education from NIOS.
NIOS alumni, Ms. Niranjana and Vinod Kumar Chaudhary were also felicitated on the occasion. Shri Vinod Kumar said that only due to his education in NIOS, he was able to get the credit of making the Guinness Book of World Records 10 times (8 in Typing and 2 in sports). A proud learner of NIOS, Ms. Niranjana is a successful ventriloquist. Prof. N. K. Ambasht, former Chairman, NIOS said that in this age of technology, innovations must lead to developing 'standalone' courses for the Indian Diaspora, to achieve the goals of the National Education Policy- 2020. Pro-Vice Chancellor, Prof. Sushma Yadav said that the role of NIOS increases in the light of New Education Policy. NIOS has such potential that the institute will be able to achieve the ambitious goals of National Education Policy 2020 in the coming years.
The half-yearly magazine of NIOS 'Pragyan' was released by Dr. Subhas Sarkar on this occasion.