Who looks after children in the event of disasters?
Children are amongst the most vulnerable both physically and mentally during times of disaster. They are incapable of escaping themselves or seeking help. They are also more prone to malnutrition and water-borne diseases. Save The Children works on a war footing during times of disaster to safeguard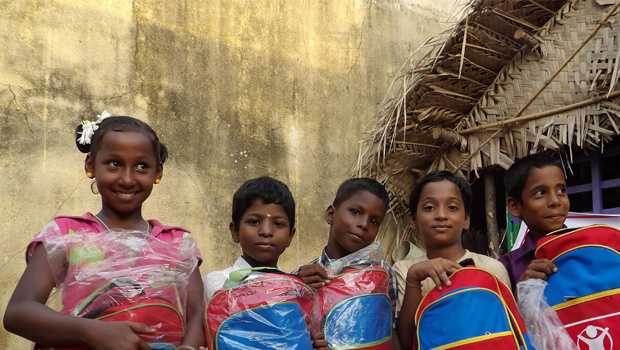 Who can forget the iconic photo by Kevin Carter of a vulture stalking an emaciated child in South Sudan or who can shake away the image of a young boy holding on to this dead mothers bosom in the communal riots of Mumbai. Each of these photographs and more of their ilk send us a grave reminder that every time disaster strikes, children are at risk.
Any disaster whether man-made conflict or natural catastrophe, children are amongst the most vulnerable, both physically and mentally. The younger they are, the more the impact on their impressionable minds, preventing them to seek out help or even escape the situation. They are also more prone to malnutrition and water-borne diseases. If separated from their families, it makes all the more difficult to rehabilitate such children as there is no identity left. The biggest of all these risks is that of post-traumatic stress. Psychologists say that witnessing first-hand trauma changes a child forever. Hence, a child-centered approach to disaster management is very crucial.
Organisations like Save the Children step in here. It is one of the few global and national organisations that have been doing exemplary work in the field of caring for and rehabilitating children during disasters of large magnitudes whether it was the tsunami in 2004 or the Assam floods. Ray Kancharla, National Humanitarian-DRR Manager, Save the Children, says the organisation springs into action whenever a disaster strikes and the first step is to categorize it based on different factors including magnitude. The Child Centered Humanitarian Response focuses on providing child protection, water sanitation and hygiene, health, education and creating Child Friendly spaces (CFS) that are specifically built for the psycho-emotional well-being of the crisis affected children.
It is interesting to know a bit more about the CFS as it this element which is very different from any other disaster relief measures that you may have come across. CFS is like oases amidst the mayhem that is a disaster site. The CFS are shelters which bring together children for learning and getting involved in extra-curricular activities. It is also a place where they share their concerns and clarify doubts in a safe environment. "During any disaster, people usually try to reach out to families and assume that the needs of children would automatically be taken care of. What we don't realise is that children have specific needs," says Sajit Menon, Deputy Director, Programmes.
As recently as 2008, the UK chapter of Save the Children used to press in action in the event of a disaster, mobilising local support and providing help. The need for continued support was felt so much that it warranted the starting of an Indian arm, based in New Delhi. Today, the programmed has 370 staff, several international volunteers and people from corporate companies, spread across 20 states within the country. Almost all of them are trained to handle kids and also stay safe during a natural calamity.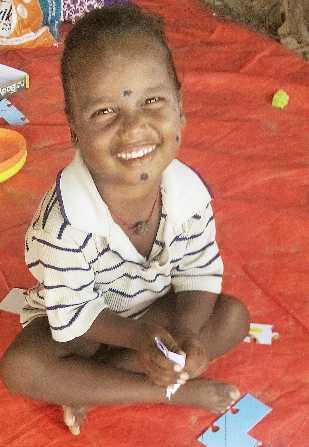 The Save the Children drill is meticulous and planned in fine detail including well defined timelines. No wonder they end up making a huge difference in the field. Once the on-ground situation stabilises, a risk assessment is conducted based on 6 parameters – families that are women-headed (lost husband), child-headed (lost both parents), families with pregnant or lactating mothers, families needing immediate health care, families with maximum number of children and families in extreme poverty, which are classified as most vulnerable.
This is followed by the consolidation mode where they begin to touch lives. An example is the assessment carried out on 5000 families during Tamil Nadu floods after which beneficiaries were selected. They came across a woman with a 21-year-old daughter. The woman was affected by HIV and was supporting her family by doing tailoring work. As she couldn't continue that work as she had lost all her equipment in the flood, she requested the workers if they could help her daughter finish her degree in physiotherapy.
The humanitarian response plan is divided into 3 phases. The first phase, also known as the immediate response lasts from day zero to 90 days. This is the phase which has the potential to create immediate impact, that's where items life shelter, household utility kits, and hygiene kits. The most important component here is the setting up of the Child Friendly Spaces (CFS). Here the displaced children are protected from trafficking as they get to spend the whole day in a safe environment. Here they are taught about the difference between good touch and bad touch.
Day 90 to 270 is called the Recovery phase where children are prepared to integrate into normal life. They organisation also begins work on restoring schools and moulding facilities into more child-friendly ones. The final phase is rehabilitation which can last up to 5 years. During this period education and other facilities are closely monitored for continuity. The long term outlook of the organisation is to develop and implement comprehensive school safety programmes which will cover safe learning facilities, co-ordinating with the government and the public works department and even make small investments.
Read the original story by Blessy Mathew Prasad at www.newindianexpress.com
SHE STEM 2022 honours and celebrates women
SHE STEM 2022 encourages students to 'Unleash their imagination' as part of the Sweden India Nobel Memorial Week.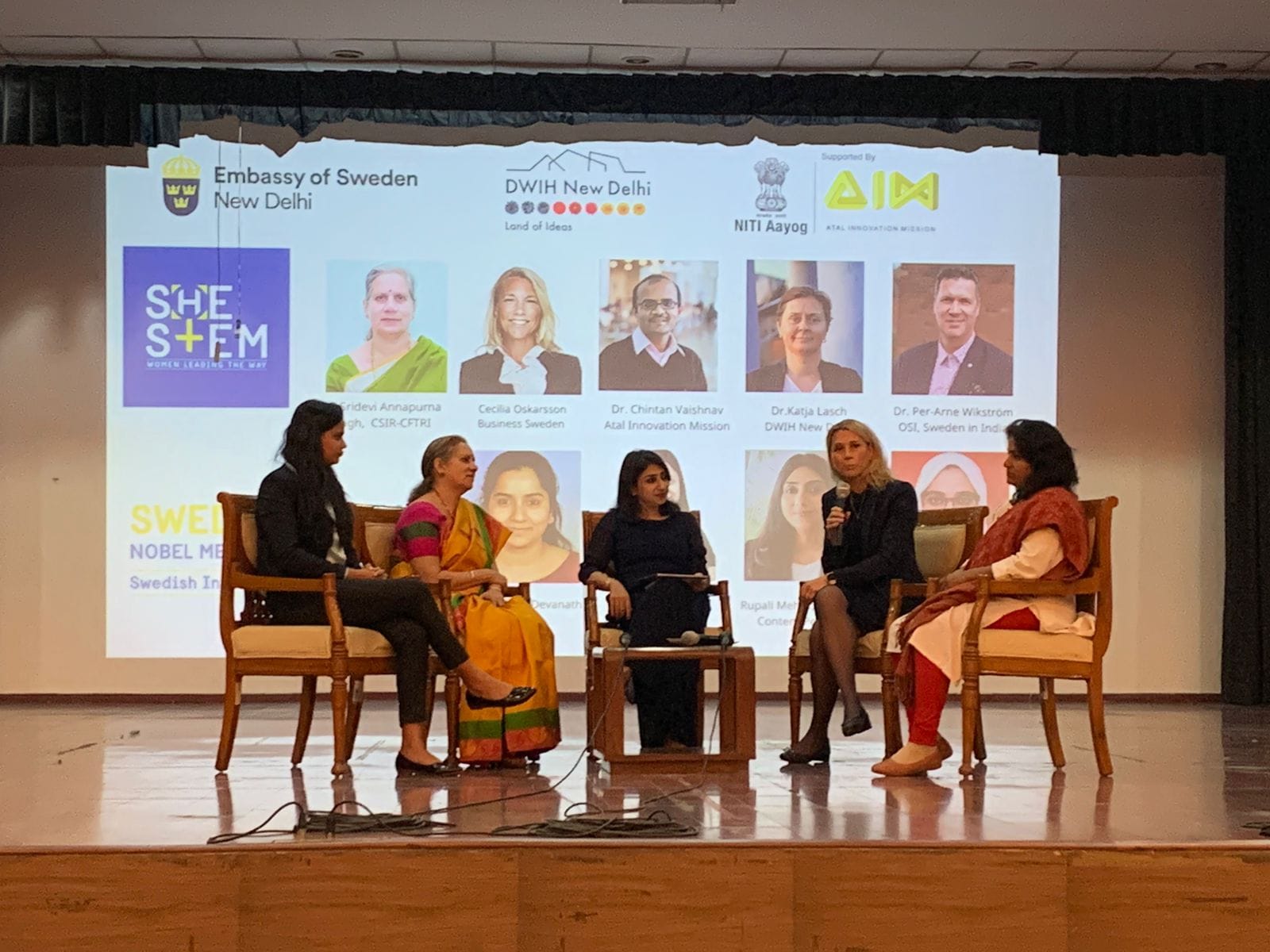 As part of the Sweden-India Nobel Memorial Week, SHE STEM, the annual event to celebrate women in the fields of science, technology, engineering, mathematics, and sustainability, was successfully held for the third year in a row.
The annual event is organized by the Sweden Embassy in India in partnership with the Atal Innovation Mission of the Government of India and the German Centre of Innovation and Research (DWIH New Delhi).
Ambassador of Sweden to India H.E. Jan Thesleff, who also addressed the students via a video message said, "We are very happy to continue the tradition of SHE STEM – it is a flagship event of the Sweden-India Nobel Memorial Week. Congratulations to all the winners of this year's SHE STEM Video challenge."
Dr. Chintan Vaishnav, Director of ATAL Innovation Mission said, "Today, the face of women's involvement in STEM is changing and the rate of participation has increased. It was in ATL Marathon 2021, that there was a spike where the women's participation was 49%. A strong STEM education will go a long way in cultivating such critical thinkers."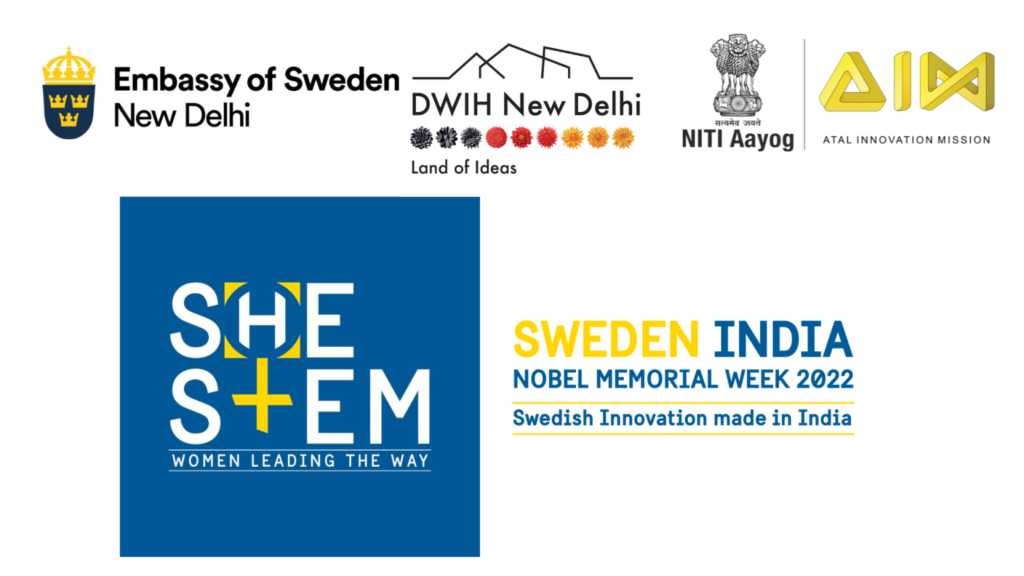 SHE STEM 2022 began with a musical performance by the students of Darbari Lal DAV Model School, New Delhi, the host school for SHE STEM 2022, followed by talks, and a panel discussion with women in the fields of STEM and business, including D. Sridevi Annapurna Singh, Director of Council of Scientific and Industrial Research – Central Food Technological Research (CSIR-CFTRI), Ministry of Science and Technology, Government. of India.
Dr. Annapurna Singh has done extensive work in the development of supplementary foods for undernourished children and in studying the impact of protein-rich food on children. She spoke to the audience about the need for women in fields of STEM to bring in their unique perspectives to problem-solving for a sustainable future.
Other participants included Cecilia Oskarsson, Trade, and Invest Commissioner of Sweden to India, who shared her thoughts on the role of diversity in triggering and enabling positive changes for girls and women, Mamta Kumari, co-founder and CEO of Prepbytes, an ed-tech company in India, and Dr. Vasudharani Devanathan, Neurobiologist and Professor of Biology at the Indian Institute of Science Education Research (IISER). Rupali Mehra, Founder of Content People AB moderated the event.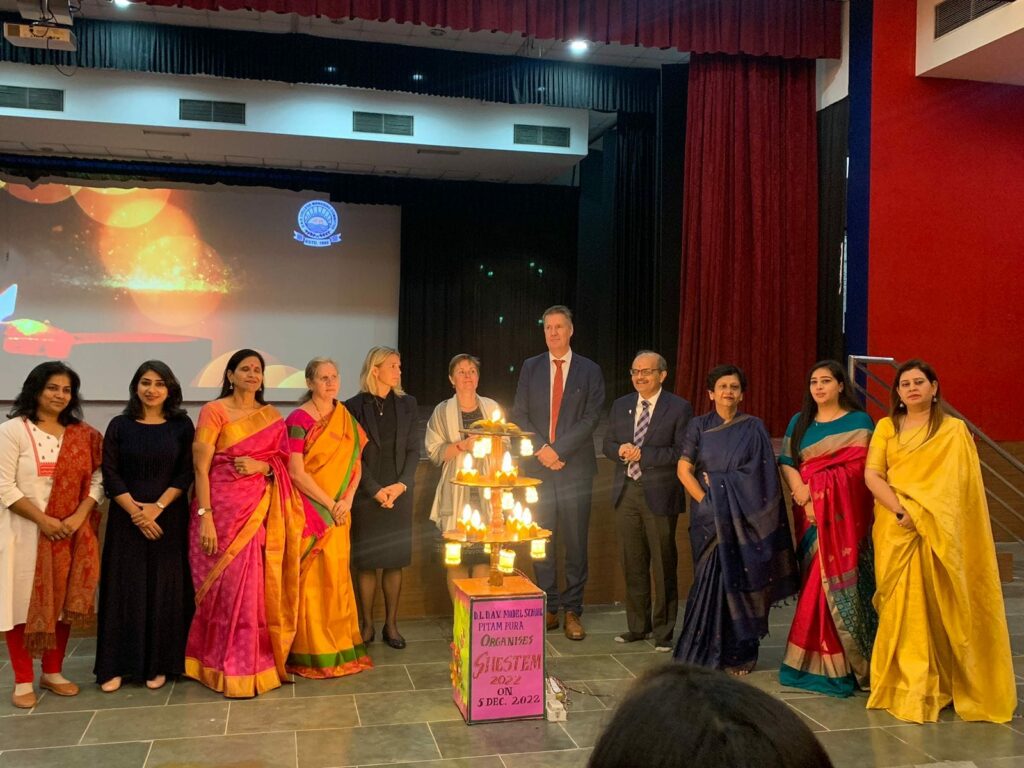 Dr. Per-Arne Wikström, Head of Office of Science & Innovation, Embassy of Sweden in New Delhi said: "When women and girls provide their talent, their knowledge, and their capabilities to science and technology on equal terms with men and boys, then we know that societies prosper and that innovation capacity actually increases. So for us, gender equality is an integrated part and an important aspect of everything that we do. We would like to thank our Indian partners for their support for this very important initiative."
"As Johann Wolfgang von Goethe said, 'who is not curious will not gain knowledge,' so keep your curiosity on, drive your knowledge forward and who knows maybe one or other idea will be implemented," said Dr. Katja Lasch, responsible for Strategy Management at the German Centre for Research and Innovation (DWIH New Delhi) and head of German Academic Exchange Service (DAAD) Regional Office in New Delhi.
Following the success of the Insta-reels Video Challenge in 2021, SHE STEM hosted the #SHESTEM2022 Video Challenge across Instagram, Youtube, Facebook, and Google Drive for students of ages 13 to 17, asking them to imagine themselves in the year 2047, and speak about an innovation of theirs that has helped in tackling climate change. The response was overwhelming with over 930 videos of which 15 were shortlisted. SHE STEM had an extensive jury round of 3 jury teams; Atal Innovation Mission Team led by Dr. Chintan Vaishnav, the Swedish Embassy team, led by Dr. Per-Arne Wikström, and the German Centre for Research and Innovation, represented by Dr. Katja Lasch.
The videos were assessed on the:
Novelty of idea
Clarity of thought and articulation
Sustainability or climate action angle
G. Nivethiga Rani who created a video on how she as a STEM Leader in 2047 had invented a robot that collected and converted biodegradable and non-biodegradable waste into electricity, won the first prize in the video challenge. The second prize was tied between T Shatananda Dhanwantari and Shreya Singh and Nistha Aswal, who participated as a team. Gaurav Hanjoora won third place.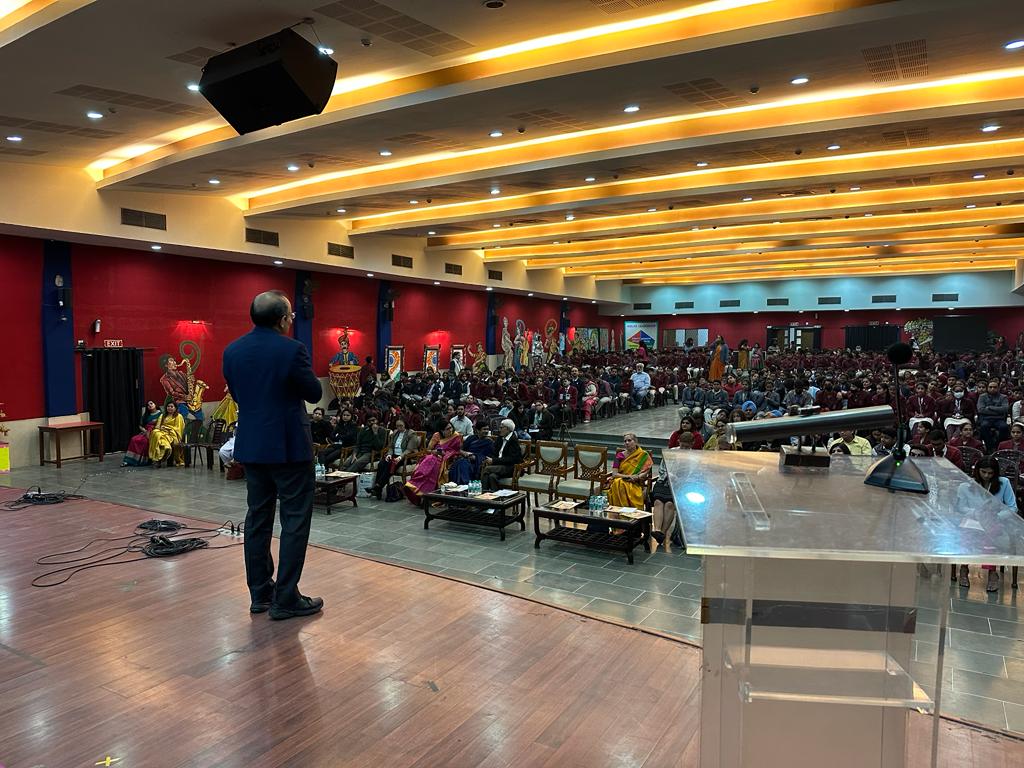 "I congratulate all the winners of the SHE STEM 2022. I have to say what caught my attention was that every single idea was addressing a fundamental constraint confronting us," said Dr. Chintan Viashnav.