Winner of the AICE Accelerator Programme received AED 10,000 and 10 hours to use on the TeachMeNow online tutoring platform
Over 200 of the brightest minds from across the GEMS Education network were honoured at the GEMS Innovation Awards ceremony on 8 May 2017.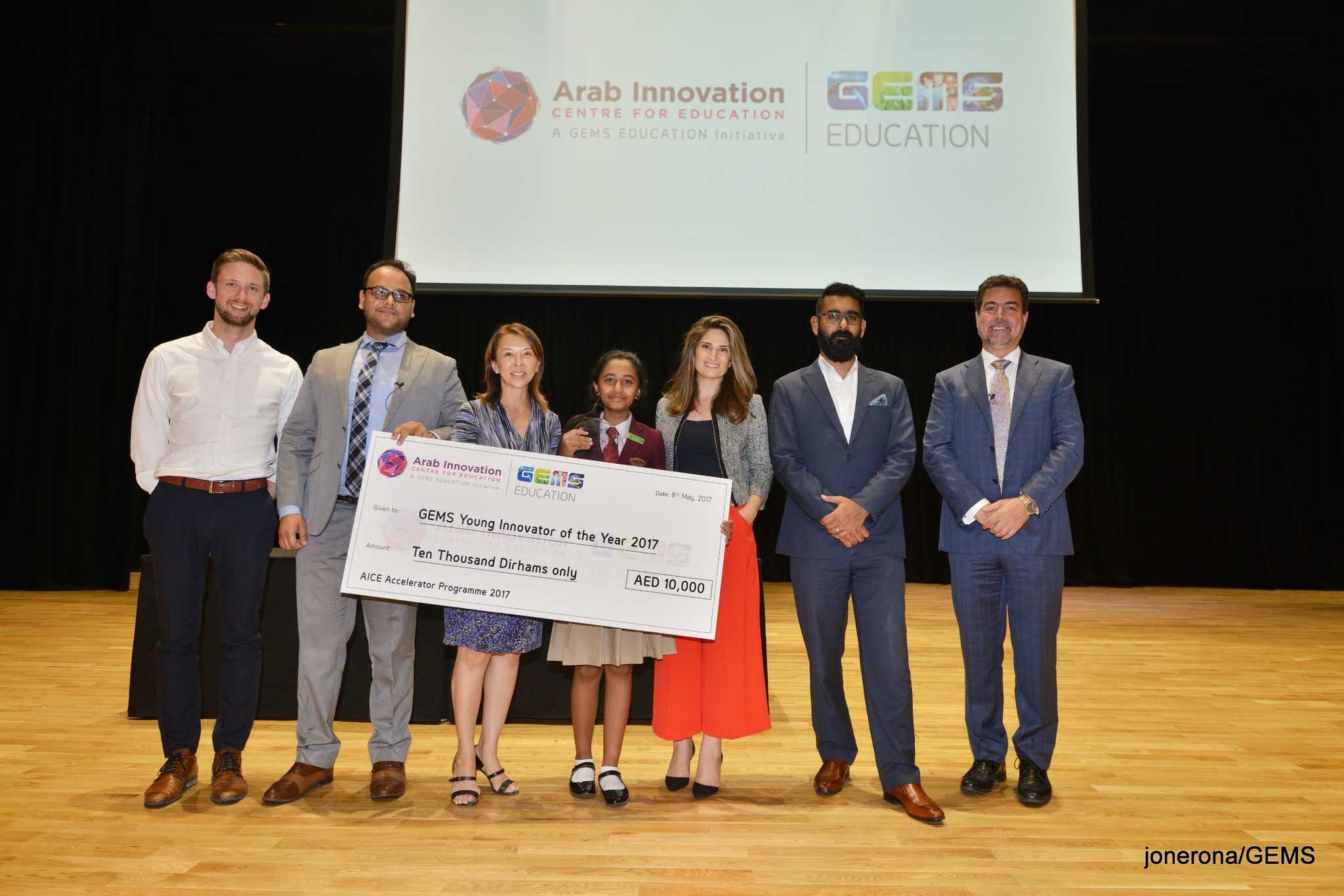 Over 200 of the brightest minds from across the GEMS Education network were honoured at the GEMS Innovation Awards ceremony on 8 May 2017.
The awards, held at GEMS Nations Academy were spread across three categories – Global Innovation Challenge, GEMS Arab Innovation Centre for Education (AICE) Accelerator Programme, and GEMS Network Innovation Awards.
The Global Innovation Challenge took place earlier this year where students from around the world were invited to submit prototypes using future-focused technologies such as 3D printing, robotics and nanotechnology. The students were announced winners across different categories such as Disaster Resilience, Environment, Energy, Food, Health, Learning, Security, Prosperity, Governance, Space, Shelter and Water.
The top three winners of the Challenge will have the opportunity to present their projects at the Singularity University Global Summit in Silicon Valley, California between 13 and 15 August 2017.
The three winning teams were PowerShoe from GEMS Millennium School Sharjah, ALID from GEMS Our Own English High School – Dubai and Pentagon from Our Own English High School – Sharjah, Boys' Branch. PowerShoe is a modified shoe that generates electricity by walking and can charge your mobile phone in just 500 steps. ALID, installed in a car's steering wheel, uses infrared and iris scanning technology to detect the driver's blood alcohol level and does not turn on the ignition if detected above a set limit. Pentagon uses automated 3D printing to create inexpensive, interconnected housing for refugees.
Dino Varkey, Chief Executive Officer, GEMS Education, said: "The future is advancing at an exponential rate. As the leading educator in the region, it is critical that we equip our students with the necessary skills as this generation truly has the potential to change the world.
"The awards have provided a platform for our students to think outside the box and undertake projects that can positively impact lives, communities and the society by addressing our most pressing challenges. These awards are a testament of the talent and skills that our students possess. I would like to congratulate all the participants and winners for their achievement and efforts," added Dino.
The AICE Accelerator Programme held over March and April provided students with financial and non-financial support and mentoring to build customer and growth oriented business plans around their products. The programme culminated in the AICE Demo Day, where each team pitched to the region's leading technology venture capital firms and investors.
Mythri Muralikannan, a grade seven student at The Millennium School, Dubai was declared the GEMS Young Innovator of the Year for spearheading the technology-driven idea of improving safety in school buses by installing 3-D motion sensors that detect movement once the engine is switched off and doors are locked. Her prototype has been presented to the Road and Transport Authority (RTA) and School Transport Services (STS) who have agreed to pilot her technology in their buses.
Mythri received AED 10,000 as cash prize along with 10 hours to use on the TeachMeNow online tutoring platform and 12 months of continuous support from GEMS Education and the network/partners to further refine her product and take it to market.
Four students from the Cambridge High School, Abu Dhabi were announced winners of the Global DECA challenge – an energising, experiential exercise that challenges elementary college students worldwide, to generate an innovative and sustainable new use for a commonplace item.
Similarly, Abu Dhabi Maker Day, held in April provided a wide range of student-led activities, from creating scribbler robots to programmable Legos, fashion infused with technology, art displays, community action exhibits, musical performances, and an exploration of the solar system inside the GEMS American Academy planetarium.
Students from GEMS World Academy were recognised for winning the Phillip Harris STEM Competition for their "GEMS Jarvis Academy" project, a completely self-sufficient school design that can operate on an Island in the South Pacific. They had won AED 5,000 worth of STEM kits for their school. Students from the GEMS Honours Programme and the GEMS Astronomy Programme were also recognised and awarded at the ceremony.
A total of 247 GEMS students were awarded at the ceremony.
Education for Girls
Department of School Education and Literacy (DoSEL), Ministry of Education is implementing 'Samagra Shiksha', for universalization of quality education throughout the country in coordination with the States and UTs.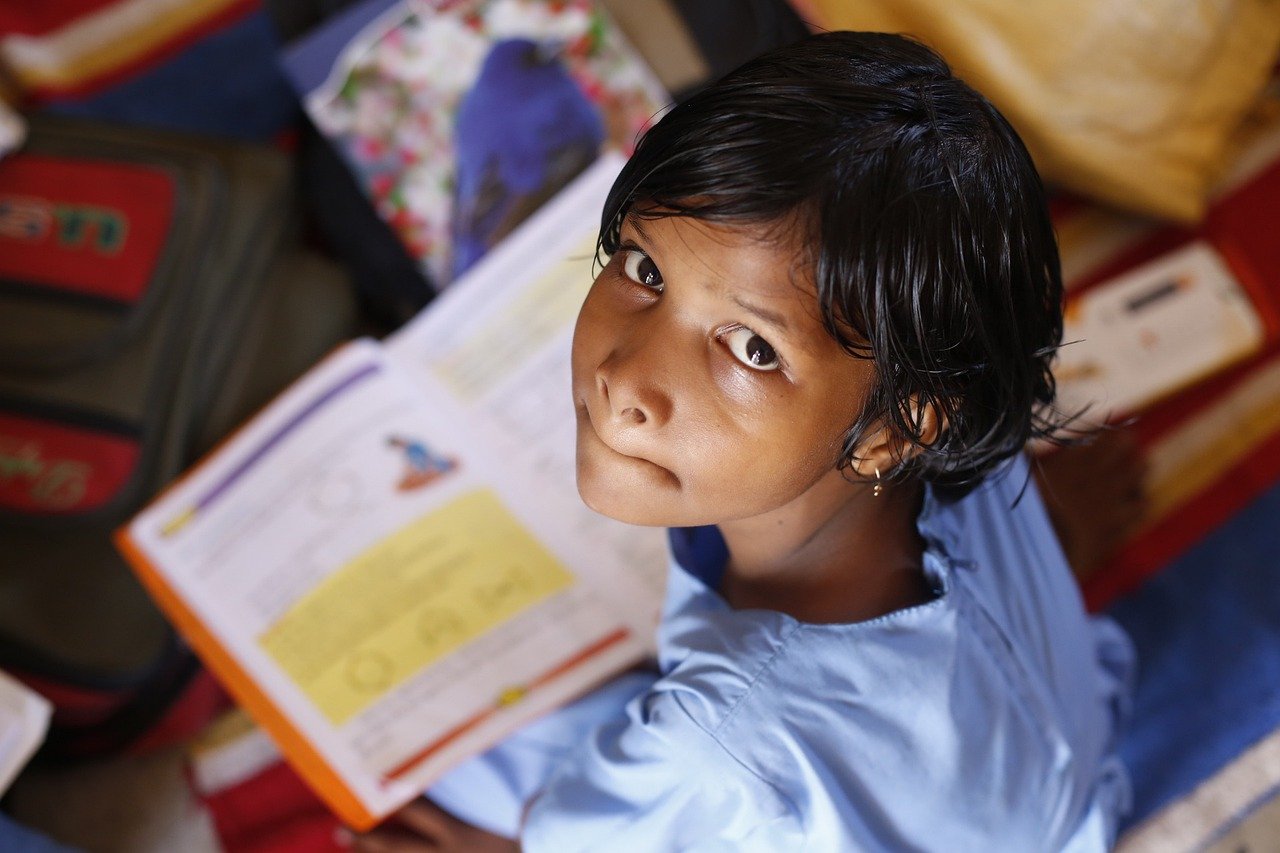 Education is a subject in the concurrent list of the Constitution and the majority of schools are under the jurisdiction of the State Government. Department of School Education and Literacy (DoSEL), Ministry of Education is implementing a centrally sponsored Integrated Scheme for School Education 'Samagra Shiksha', effective from 2018-19, for universalization of quality education throughout the country in coordination with the States and UTs. Bridging gender and social category gaps at all levels of school education is one of the major objectives of the Samagra Shiksha. From the year 2018-19 to 2020-21, the Drop-out rate of girls at the Secondary level decreased from 17.03% to 13.7%, Gross Enrolment Ratio (GER) at the secondary level increased from 76.93 to 79.45, and GER at the higher secondary level has increased from 50.84 to 54.65. (Source: UDISE+).
Under Samagra Shiksha, there is a provision for gender-segregated toilets in all schools. As per UDISE+ 2020-21, 97.45% of Government schools have gender-segregated toilets. Also, there is a provision of a Composite School Grant which may be used for annual maintenance and repair of existing school buildings, toilets, and other facilities to upkeep the infrastructure in good condition.
School Health Programme, under Ayushman Bharat which is a joint collaborative initiative of the Ministry of Health and Family Welfare and DoSEL, Ministry of Education, a module on 'Growing up Healthy' has been incorporated, which interalia includes information on physical challenges during adolescence and attaining puberty.
The National Council of Educational Research and Training (NCERT) is implementing the Adolescence Education Programme (AEP) as part of the National Population Education Project (NPEP). One of the learning outcomes of AEP is to make the learners aware of the concerns of adolescence, i.e. process of growing up during adolescence, and to inculcate in them a positive attitude regarding these concerns.
Additionally, vide a joint letter of Secretary, DoSEL, and Secretary, Ministry of Jal Shakti dated 08.03.2022, the states have been advised to utilize funds earmarked for Menstrual Hygiene Management (MHM) and management of menstrual waste under the Swachh Bharat Mission (Gramin) Phase-II at the village level, for installation or maintenance of incinerators in schools having girls from classes VI to XII and for creating awareness on MHM among adolescent girls and in the society in general.
Moreover, all States and UTs have been requested to take necessary steps to create awareness amongst adolescent girls in schools about the safe usage and the benefits of Sanitary Napkins. It has also been communicated that subsidized sanitary napkins are available at the Jan Aushadi Kendras set up by the Ministry of Chemical and Fertilisers, Government of India.
Under Samagra Shiksha, there is a provision of Kasturba Gandhi Balika Vidyalayas (KGBVs) in the Educationally Backward Blocks, which are residential schools for girls belonging to disadvantaged groups such as SC, ST, OBC, Minority, and Below Poverty Line (BPL). KGBVs were functional for classes 6th to 8th under the erstwhile Sarva Shiksha Abhiyan. Under Samagra Shiksha, a provision has been made to upgrade/converge the KGBVs with girls hostels to cover girls up to classes 10th (Type II) and 12th (Type III) to reduce dropout and enhance enrolment of girls at Secondary and Higher Secondary levels. In KGBVs, specific skill training is imparted to provide need-based vocational education to girls.
Further, Special State Specific Projects for varied interventions under equity are emphasized for enhancing access, retention, and quality of girls by promoting enrolment drives, retention and motivation camps, gender sensitization modules, etc. Financial Support is also being provided under State Specific projects as per the allocation of flexi funds under quality to the state subject to viable proposals received from the respective State and UTs. Such projects include Life Skills, Awareness programmes, Incinerators, Sanitary Pad Vending Machines etc.
Moreover, Samagra Shiksha aims at integrating Vocational Education with general academic education in all Secondary/Senior Secondary schools including KGBVs; enhancing the Employability and Entrepreneurial abilities of the students, providing exposure to working environment; and generating awareness amongst students about various career options so as to enable them to make a choice in accordance with their aptitude, competence, and aspirations.
The information was given by the Minister of State for Education, Smt. Annpurna Devi in a written reply in the Lok Sabha on 1st August 2022.