10th edition of GESS Dubai begins today; over 10,000 expected to attend
Organised by F&E Education, GESS Dubai is under held under the patronage of His Highness Sheikh Mohammed bin Rashid Al Maktoum, Vice-President and Prime Minister of the UAE and Ruler of Dubai; and supported by His Excellency Hussein Al Hammadi, Minister of Education, United Arab Emirates.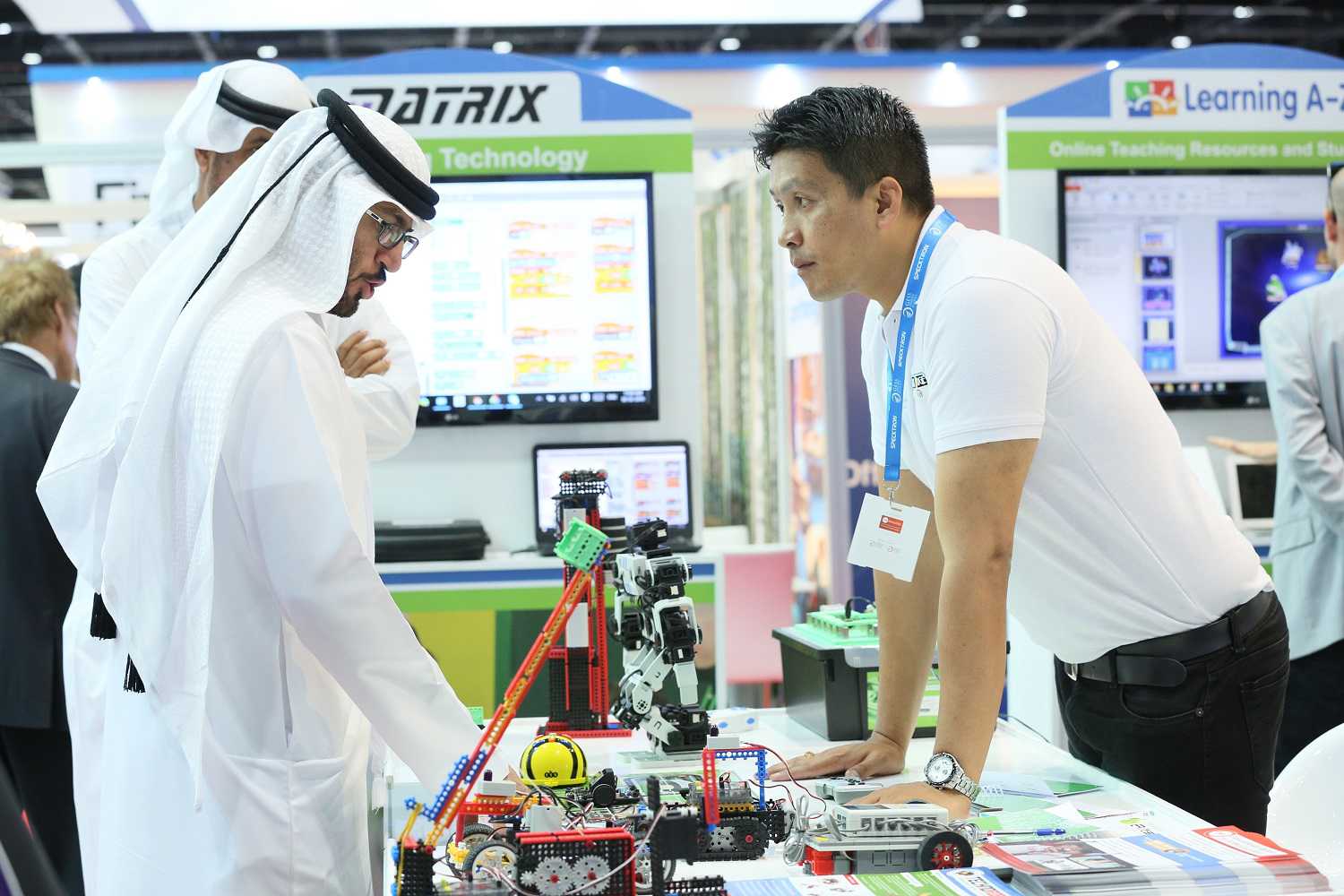 The 10th edition of GESS Dubai begins today at the Dubai World Trade Centre, with over 10,000 education professionals from around the region expected to attend over the course of the three-day event.
Organised by F&E Education, GESS Dubai is held under the patronage of His Highness Sheikh Mohammed bin Rashid Al Maktoum, Vice-President and Prime Minister of the UAE and Ruler of Dubai; and supported by His Excellency Hussein Al Hammadi, Minister of Education, United Arab Emirates.
The biggest education conference and exhibition in the Middle East will host more than 550 companies from all over the world, showcasing the very latest production innovations and solutions for the education market.
Over 130 experts on education, technology as well as leadership management, including renowned speakers on motivation, wellness and happiness are also confirmed to attend to share their insights in more than 200 sessions aimed at improving teacher and student performance and raising the quality of education delivery in schools throughout the region.
"We are privileged to have been a part of the growth of the education sector in the Middle East, helping schools and other type of academic institutions to be progressive and keep in step with changing technology and curriculum advancements," said Matt Thompson, Project Director, F&E Education, organisers of GESS Dubai.
Among the most anticipated workshops include sessions on Computer Science Technologies, Engineering for Kids, Google Apps for Education, as well as building app and creating simple robots from scratch.
NLP presentations and Leadership Workshops from the world's leading experts are also a favourite among teachers because of the practical insights and tips for improving teacher performance and enhancing student learning abilities.
Strong international contingent
Many of this year's exhibiting companies come from different parts of the world, with country pavilions representing suppliers from the U.K., Germany, U.S.A., Korea and China.
The British Educational Suppliers Association (BESA), which today represents more than 400 UK-based education suppliers with combined revenues totalling £2.2 billion, will be accompanying over 70 British companies along with the UK Department for International Trade at the exhibition.
Caroline Wright, Director General of BESA said, "BESA is delighted to be attending GESS 2017 and this year we are excited to celebrate 10 years of the show. BESA and F&E's alliance has made GESS the premier focused, professional event of its kind in the region and whether you are a teacher, government official or from the educational business community, you are sure to receive a warm welcome from our exhibitors and from the BESA information stand."
From Dubai to the world
The Dubai home-grown brand has since ventured beyond the Gulf's borders to expand to emerging education markets in Mexico and Indonesia. This year, the show will launch its 3rd country edition in Turkey, scheduled on October 19 to 21, 2017 in Istanbul.
"Education has been a key pillar of development for many first world nations, and is the key factor for the growth of emerging markets. Our expertise in the education sector and contacts with education stakeholders from all over the world led us to explore the potential of the show to contribute to the advancement of education in key emerging nations to hopefully assist them in their development agendas," continued Thompson.
For 10 years now, GESS Dubai has been the leading platform for leading suppliers of educational products and solutions to showcase their wares, including some of the most cutting-edge innovations that are critical to enhancing the quality of teaching and learning across schools in the Middle East.
GESS Dubai 2017 is being held alongside the Global Education Forum. Entry is free with professional certifications offered to education professionals who will attend CPD-certified sessions. Visitors are encouraged to register online at www.gessdubai.com.
Smile Foundation and Shell Launch STEM Project on Pi Day
The initiative will benefit less-privileged students from government schools.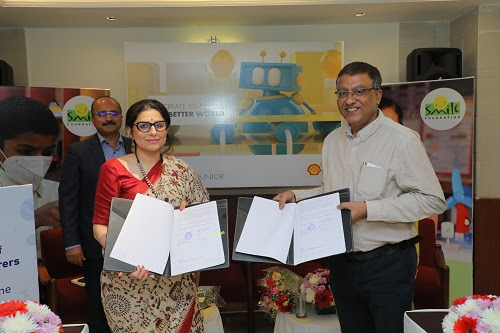 On the occasion of International Pi (π) Day, Smile Foundation and Shell launch 'NXplorers Junior' programme in three Indian states. NXplorers is Shell's global flagship Social Investment STEM (Science, Technology, Engineering, and Mathematics) educational programme aims to benefit over 25,000 children during the first year by enabling them to understand, navigate and address local and global challenges, as underlined in the Sustainable Development Goals (SDGs). NXplorers is also aligned with the National Education Policy 2020 and delivers societal benefits.
The innovative initiative will benefit less-privileged students from government schools and affordable private schools, studying in rural and hard-to-reach areas in the states of Andhra Pradesh, Telangana and Kerala. Its design also includes endeavour to create awareness amongst parents on the importance of STEM education, especially for girl children.
"Shell firmly believes that, provided with the necessary skills and guidance, young people can be a driving force to find sustainable solutions to the major global challenges of our time. Launched in 2018, Shell's global flagship STEM programme NXplorers is aligned with the National Education Policy 2020 that aims to transform India into an equitable and vibrant knowledge society. With the Smile Foundation partnership, we aim to expand this programme to Andhra Pradesh, Kerala, and Telangana and offer young minds the platform to design sustainable solutions to ease the pressure on food, water, and energy," said Ms. Latika Taneja, Head of Corporate Relations – India.
The programme is being rolled out in concurrence with the educational authorities of the respective state governments. Besides students, teachers, parents and communities are involved actively while implementing the programme so that it remains sustainable in the long-term.
"We are excited to roll out this innovative programme in India. We are hopeful that our children will not only leverage STEM education in building their future career but also will grow up and develop leadership ability in finding sustainable solutions in various walks of life," said Mr. Santanu Mishra, Co-founder & Executive Trustee, Smile Foundation.
The NXplorers Juniors will train both 6th and 7th grade students. NXplorers Juniors Level-I course will be delivered through a combination of teacher's guide, PowerPoint slides, and several instructional videos. The facilitator guide will outline the essentials to be covered in each session, exercises, discussion, checkpoint questions, a summary, assessment, and research to be undertaken by students after the session.
The United Nations Sustainable Development Goals (SDGs), exploring SDG Solutions, researching global goals, and developing a challenge and choosing a solution etc. are covered in the NXplorers Juniors Level-1.
NXplorers – Learning for a Life Time, envisions to provide a minimum of 3-5 years of NXplorers exposure to the students at various levels. The objectives include developing strong knowledge and skill set among students so that local and global challenges can be addressed by them. Developing sustainable models of implementation by engaging teachers, school leaders and communities effectively, creating awareness amongst parents regarding the importance of STEM education, especially concerning girl education are part of the overall goals.
About Smile Foundation
Smile Foundation is a national development organization directly benefiting over 1.5 million underprivileged children and their families every year through more than 400 welfare projects in education, healthcare, livelihood and women empowerment spread across 2,000 remote villages and urban slums in 25 states of India.
About Shell
Shell is one of the most diversified international energy company in India with over 10,000 employees and presence across upstream, integrated gas, downstream, renewable energy, and deep capabilities in R&D, digitalisation, and business operations; with a retail presence across six states – Karnataka, Tamil Nadu, Telangana, Maharashtra, Gujarat, and Assam.