7 States 1000 Swimmers, All Set for CBSE West Zone Swimming Competition 2015
Sanskriti – The School, Ajmer is playing host to more than 241 schools and around 1100 students for swimming competition starting 3rd Oct 2015. The swimming competition is first of its kind when 7 states would be competing with each other in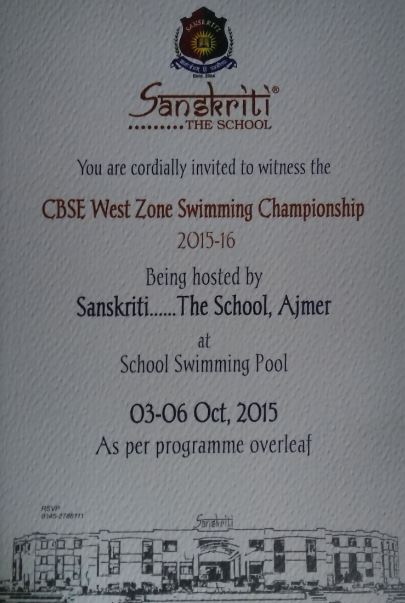 Sanskriti – The School, Ajmer is playing host to more than 241 schools and around 1100 students for swimming competition starting 3rd Oct 2015. The swimming competition is first of its kind when 7 states would be competing with each other in the different styles of swimming. The age group would be under 12, 14, 16 and 19. It's going to be a treat for the eyes.
The competition would be supervised by the HOD of sports department of Sanskriti – The School, Mr Gajraj Singh Rathore and he will be assisted by Mr. Moh Illiyas. For the smooth execution of the event, the Principal, Lt. Col. A.K. Tyagi (Retd.) has appointed various committees and committee heads.
The school has come alive with the teams pouring in and the event organizer, Mrs Alpana Singh Parmar (Headmistress) is making sure that no one is left unattended.
Mr R.P. Sharma – PRO of the school is directing the committees for smooth functioning.
The event would be inaugurated on 3rd Oct 2015 at 9:30am by the district collector, Ms. Arushi Malik. The guest of honour would be Arjuna Awardee, Mr BS Shekhawat. The chief guests, Mr. Bhupender Singh Rathore (Secretary of Rajasthan Swimming Association), Mr. Pramod Singh and Mr Ajit Singh would declare the event open.
A culture programme would be presented by the school students to welcome the renowned guests and honorable participating schools.
Mr. Gajraj Singh Rathore informed that the 241 schools have registered till date and have reached the school campus. The boarding arrangements for the boys team has been made at Jat Dharamshala, Pushkar and girls team would be accommodated in the Sanskriti School campus itself. Catering would be well taken care of at both the places. Buses will ply from Pushkar for commuting.
The Principal Lt Col A.K. Tyagi further quotes that an official meeting was organized on 2nd October in the evening for all the coordinators, team managers, officials and coaches, where rules and regulations would be clarified and discussed at length.
The host schools staff and schools are eagerly rendering their services under the guidance of the headmistress, Mrs Alpana Singh Parmar and each one is striving to create the perfect ambience for the event.
The closing ceremony is dated for 6th October at 4.30pm where the chief guest Mr. Dhanraj Choudhary (secretary of Table Tennis Association) would reward the winning teams.
New Early Childhood Education Report Explores Opportunities for Improving Curriculum and Classroom Resources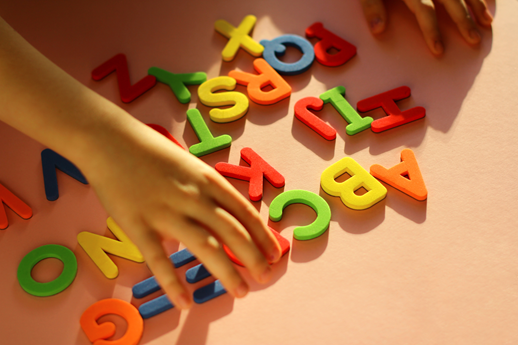 Central Square Foundation (CSF), a leading non-profit in India's primary and pre-primary education sector released a report titled Building Strong Foundations: Examining Early Childhood Education in India. The report stems from an in-depth Situational Analysis Study conducted across 200 Early Childhood Education (ECE) classrooms in India aimed at validating existing research data and identifying opportunities for enhancing ECE programs, shedding light on crucial aspects that call for urgent and immediate action.
Key Highlights:
* Study conducted across 200 ECE Classrooms in seven States in India
* The Report examines causes behind low learning outcomes in the 3-6 years age group of children
* The low priority given to ECE is reflected in the budgetary proposal and outlays
* Report highlights lack of consistent on-ground support to deliver quality ECE across the country
* The limited utilization of play-based materials and workbooks impacts student learning opportunities Recognising the imperative need for research on programmatic factors affecting the quality of ECE, CSF delved into the intricacies of the ECE ecosystem across select States. The primary and secondary research looked at aspects of ECE delivery including curriculum design, teaching-learning time, effectiveness of learning, teacher training, monitoring quality, and parental perception.
The report advocates for prompt remedial actions to address these gaps and ensure a robust learning foundation for young students. It further aims to understand the current models of public provisioning of ECE in India, study different aspects of delivery that affect learning in the classrooms, and outline the way forward for other stakeholders within the ECE ecosystem. For this study, CSF reached out to a mix of Anganwadis, co-located Anganwadis, and pre-primary sections in government primary schools (either as 1-year or 2-year pre-primary program) between March-May, 2023, across seven states – Andhra Pradesh, Assam, Madhya Pradesh, Maharashtra, Punjab, Telangana & Uttar Pradesh. The survey analysis was partly supported by the Key Education Foundation, a non-profit working in the space of early childhood education, which researched classroom curriculum analysis on pedagogy, ease of use, and teaching-learning resources.
The report recognizes the global outlook and progressive nature of India's ECE policies while at the same time, it observes that the country's early learning outcomes are sub-par. The Report recognises the need for "Play-based learning" as a fundamental curriculum for children to learn faster & effectively. The report also reveals the need for classroom resources to be more user-friendly to promote their usage among children.
Among the key "classroom-based observations", it was found that time spent on ECE activities was low. Zero ECE activities were observed in 23% of the ECE classrooms that were sampled. In classrooms where an ECE activity took place, it was found that these activities accounted for only an average of 35 minutes out of a two-hour observation period. There was also very little time for hands-on activities and practice by children. Only 14% of the observed ECE activities followed the recommended approach of carrying out age-appropriate and student-led small-group interactions. Interviews with monitoring stakeholders and teachers suggest that officials face competing priorities and don't have access to reliable ECE data. Strengthening monitoring protocols for ECE is crucial, as few officials observe teachers, indicating a need for enhanced ECE-specific feedback.
The report recognizes that the onus of delivering preschool education rests with two government ministries (the Ministry of Education and the Ministry of Women and Child Development) which has led to diffused responsibility, ownership, accountability, collaboration, and support in the sector. This approach has often resulted in duplicated efforts that have proven counterproductive, adversely affecting ECE quality and learning outcomes.
It also underlines the low priority given to ECE, reflected in the budgetary proposals and outlays by both ministries. This is also evident in the availability of dedicated teachers for ECE classrooms, especially in government primary schools. Further, the utilization of the funds also remains low.
Speaking at the release of the report, Shaveta Sharma-Kukreja, CEO and MD of CSF, emphasized, "The future of ECE in India hinges on addressing systemic challenges and operational hurdles to effectively implement well-crafted policies. Despite their forward-looking nature, these policies struggle to translate into optimal student learning outcomes and school readiness. Elevating the status of ECE and allocating increased financial resources are critical steps in that direction. Enhanced policy implementation aligns with Sustainable Development Goals and the NIPUN Bharat Mission, ensuring improved learning outcomes for all children."
Key recommendations from the Report:
1. Synergy between Ministries: To achieve ECE-specific goals in the country, collaboration between the Ministry of Education and the Ministry of Women and Child Development is vital.
2. Increase Funding: There is a need to increase ECE-specific funding with clear priorities for yearly expenses and incentivize states to meet their ECE goals.
3. Strengthen data systems and build a robust monitoring framework to get reliable data on critical ECE indicators for Anganwadis and Balvatikas/ pre-primary classrooms in government schools.
4. Promote parental awareness and encourage them to actively champion quality education. Equip parents with essential tools, resources, and guidance to actively engage in at-home learning activities.