A first person account of conducting a 'live evaluation' in Gujarat govt schools
Education minister Bhupendrasinh Chudasama conducted live evaluations in schools as part of the Kanya Kelavani and Shala Praveshotsav initiatives in government schools. The performances were poor with students struggling to read, write and calculate.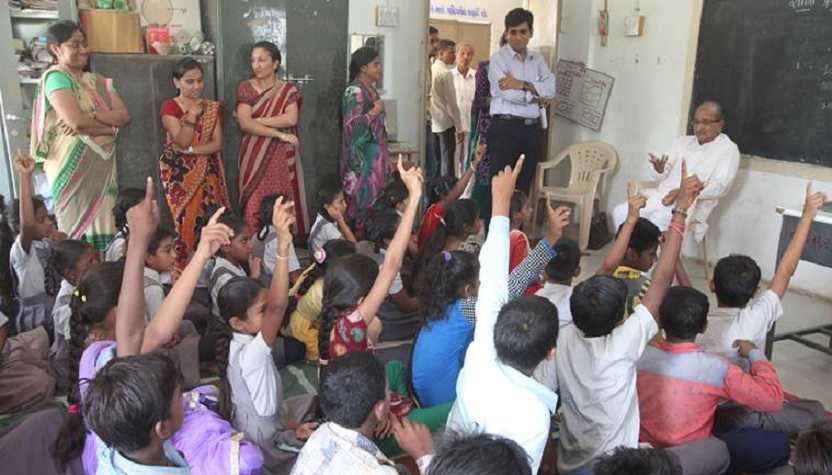 That the Gujarat government holds an annual evaluation exercise, Gunotsav, across government schools is known to everybody. Also known to most is the record of learning milestones in government schools. It comes as no surprise that Gunotsav threw up shocking results this January when students of upper primary classes failed to read and write simple words and sentences.
Following the abysmal results of Gunotsav, the state government has decided to incorporate a live evaluation of students as part of another exercise — Kanya Kelavani and Shala Praveshotsav. These exercises on school enrolment and girl education are held in June across 40,000-odd government schools in the state.
It is encouraging to see that Chief Minister Anandiben Patel taking a proactive part in the 2 new initiatives. Teams of more than 500, including CM Patel, her ministers and senior officers, headed out to rural and urban areas between June 8-10, and then June 15-17 for the enrolment. The Centre, incidentally, is planning to extend Gunotsav across the country.
This is a first person account of the live evaluation of the student during the school enrolment exercise. The team led by Education Minister Bhupendrasinh Chudasama visited schools in Bavla taluka (in his constituency), near Ahmedabad, for a day.
Minister Chudasama, accompanied by Dholka Sub-Divisional Magistrate Ruturaj Desai and local BJP leaders, reaches Bhayla Government Primary School, the venue for the day's enrolment drive sharp at 8:00 am. The sparse gathering at the school is taking inordinately long to settle down under the colourful tent on the green synthetic mat laid on the floor.
Worried with the low attendance, the school principal Bhagwanbhai Dabhi makes repeated appeals to the villagers on the microphone, requesting them to reach the school at the earliest. The women teachers were busy taking roll calls of students.
The minister summons the principal and rebukes him for not being ready on time for the exercise. After nearly 30 minutes of delay, the programme finally kicks off with the lighting of the lamp and welcoming of guests. Even as the show continues, villagers and students, a few in school uniforms, continue to walk in.
Bhayla village has a population of merely 2,579 and boasts of a literacy rate of 78.92%. This year, 22 new admissions in Class I have taken the school strength to 155 students.
Its 10:00 am and Chudasama completes his address on enrollment and heads towards the classrooms for the evaluation exercise. In the meanwhile, teachers have already selected 10-12 students each from Classes II, III, IV and V and made them sit in separate rows in a classroom, with their teachers.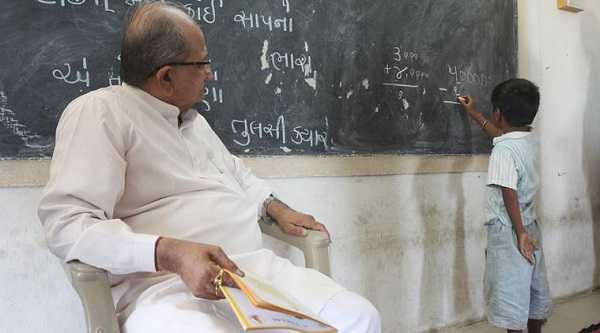 While addressing these assembled students, the minister informs them that this evaluation is being held at the beginning of the academic session "so that we can plan remedial teaching practices well in time".
The moment of truth is finally upon us when Chudasama asks for a Class I textbook and picks a Class II girl and a boy to read out everyday words in Gujarati — bhar (weight), bhains (buffalo), bhajan (spiritual song), hichko (swing), chokha (rice). They can read only a few, and for the rest, are prompted by the minister. A girl from Class III is asked to read out the sentence, 'Chali vahli mari gai (There goes my dear cow). She cannot. Class IV students are told to read and write a few two-syllable words on the blackboard. They struggle.
Parulben Rana, class teacher of Class III, is visibly embarrassed but tries to cover up: "They have had a long break for the summer vacations… they have forgotten what they learnt in previous classes."
Moving on the second R – Arithmetic. The students are asked to solve basic addition: 5+1, 53+21, 34+21. Most of them take 5 – 10 minutes to solve the sums; a few succeed only after some prompting from teachers.
The teachers are nervous but Chudasama is encouraging. "Overall, the performance is good but they need more practice. Get them to write on the blackboard and ask them to read loudly in the class," he recommends.
By now it's been an hour the evaluation has started, the minister and his team move to another room on the first floor to evaluate students from Classes VI to VIII. "Who is the CM of Gujarat?" he asks them in Gujarati expecting a resounding response. About 5 hands, from about the 50 children in the classroom go up. Only 1 girl gets it right.
More hands go up when asked about the prime minister. But when asked about the president, only 2 offer an answer. "Mahatma Gandhi," says one. "Manmohan Singh," says another. A few mumble, "Narendra Modi".
Expectedly after the evaluation, at 11.30 am, Chudasama holds a staff meeting and asks a teacher to explain the "poor performance". "Students do not complete their homework. The principal is overburdened as he has 9 schools under him," she says.
Chudasama isn't impressed. With the experience of the classroom behind him, the minister asks, "Do you teach the students about famous personalities and their life experiences… Gandhi, Vivekanand?" The teachers nod in the affirmative.
Moving on Chudasama reaches A G Vidyalaya, Chiyada. It is here that the students from Bhayla primary school and the nearby villages enroll for high school.
Here too, the open sequence remains the same as the minister is greeted with a cultural programme. Getting on with the agenda, Chudasama soon begins the evaluation exercise with students of Class VIII. He asks them questions on electrons and solar energy. Only 1 girl manages to answer.
Moving on to general knowledge, a question on 'who is the president of India' elicits replies like Jawaharlal Nehru, Indira Gandhi. The minister drops several hints but none from the over 30 students in Classes IX-XII can answer.
What was upsetting for the school principal was that many of them even fail to get school principal Mukesh Patel's name right. An embarrassed Patel, who is also the math teacher, says, "Sir, these students have recently joined us from nearby primary schools."
The secondary school, which has classes from IX to XII, had a pass percentage of 45.90 per cent in this year's Class X exams and 84 per cent in Class XII.
Later, at a meeting with the staff, Chudasama asks them to explain the low pass percentage of merely 45.90%. English teacher Smita Patel says, "Students of Class IX do not know the basics. Over 60% of the students can't read English. We conducted special classes for over 27 students (out of 87) who were promoted to Class IX."
Chudasama, who has been a vocal opponent of the 'no detention policy' under the Right to Education Act, says, "Students know they will not be detained, so they do not study. Should teachers teach a Class IX student his own curriculum or the Class III syllabus, which is his learning level?"
SHE STEM 2022 honours and celebrates women
SHE STEM 2022 encourages students to 'Unleash their imagination' as part of the Sweden India Nobel Memorial Week.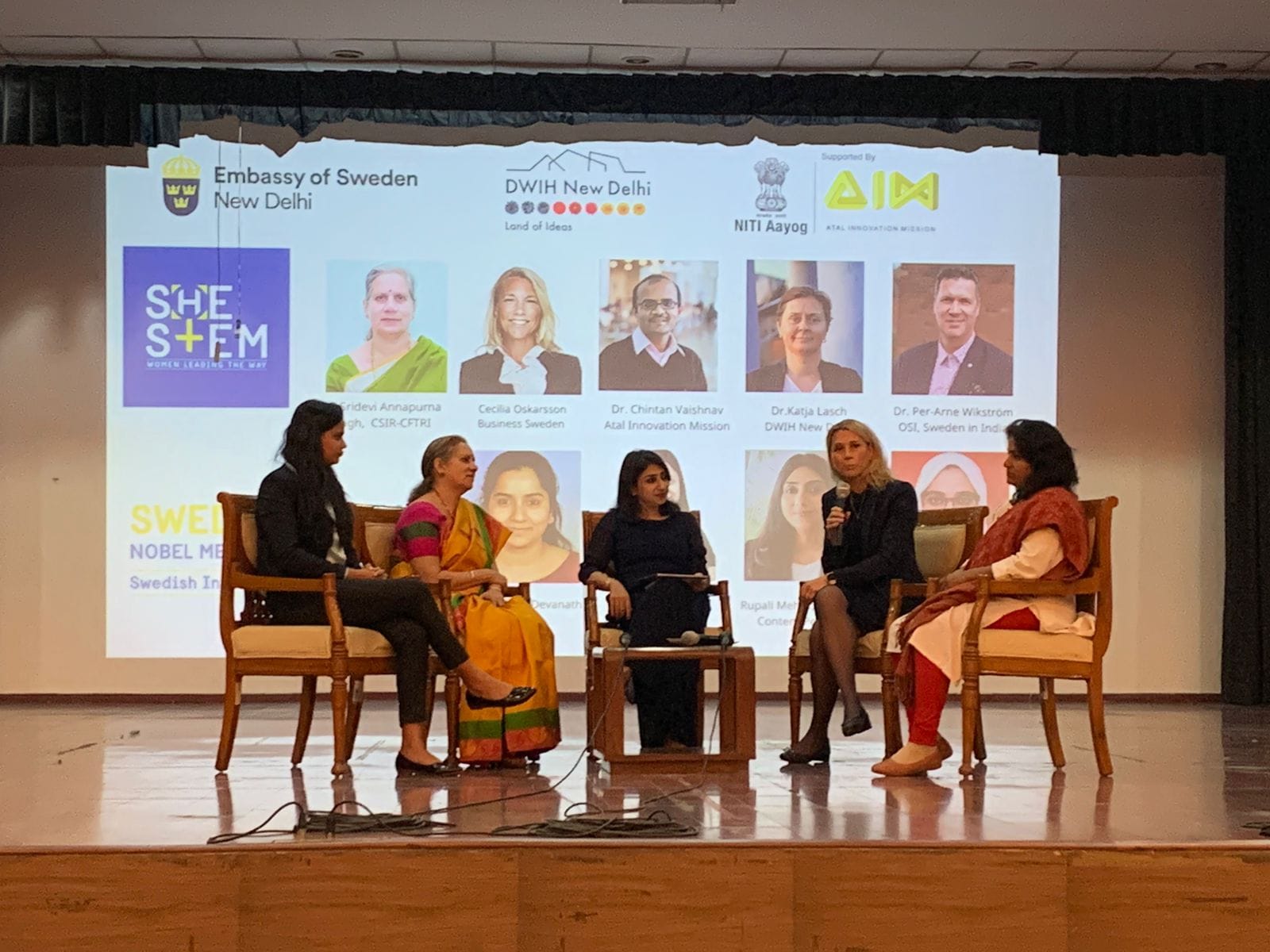 As part of the Sweden-India Nobel Memorial Week, SHE STEM, the annual event to celebrate women in the fields of science, technology, engineering, mathematics, and sustainability, was successfully held for the third year in a row.
The annual event is organized by the Sweden Embassy in India in partnership with the Atal Innovation Mission of the Government of India and the German Centre of Innovation and Research (DWIH New Delhi).
Ambassador of Sweden to India H.E. Jan Thesleff, who also addressed the students via a video message said, "We are very happy to continue the tradition of SHE STEM – it is a flagship event of the Sweden-India Nobel Memorial Week. Congratulations to all the winners of this year's SHE STEM Video challenge."
Dr. Chintan Vaishnav, Director of ATAL Innovation Mission said, "Today, the face of women's involvement in STEM is changing and the rate of participation has increased. It was in ATL Marathon 2021, that there was a spike where the women's participation was 49%. A strong STEM education will go a long way in cultivating such critical thinkers."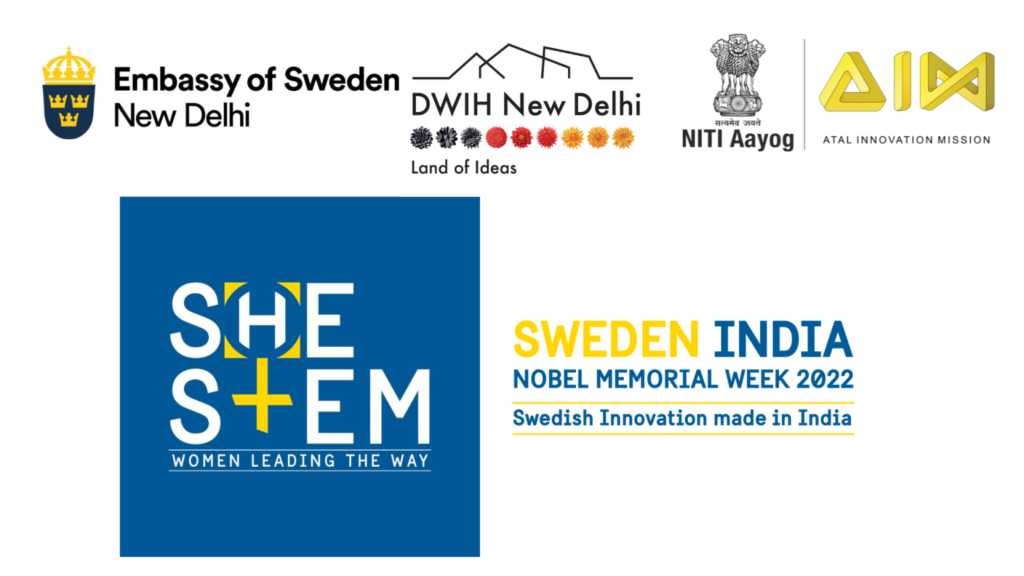 SHE STEM 2022 began with a musical performance by the students of Darbari Lal DAV Model School, New Delhi, the host school for SHE STEM 2022, followed by talks, and a panel discussion with women in the fields of STEM and business, including D. Sridevi Annapurna Singh, Director of Council of Scientific and Industrial Research – Central Food Technological Research (CSIR-CFTRI), Ministry of Science and Technology, Government. of India.
Dr. Annapurna Singh has done extensive work in the development of supplementary foods for undernourished children and in studying the impact of protein-rich food on children. She spoke to the audience about the need for women in fields of STEM to bring in their unique perspectives to problem-solving for a sustainable future.
Other participants included Cecilia Oskarsson, Trade, and Invest Commissioner of Sweden to India, who shared her thoughts on the role of diversity in triggering and enabling positive changes for girls and women, Mamta Kumari, co-founder and CEO of Prepbytes, an ed-tech company in India, and Dr. Vasudharani Devanathan, Neurobiologist and Professor of Biology at the Indian Institute of Science Education Research (IISER). Rupali Mehra, Founder of Content People AB moderated the event.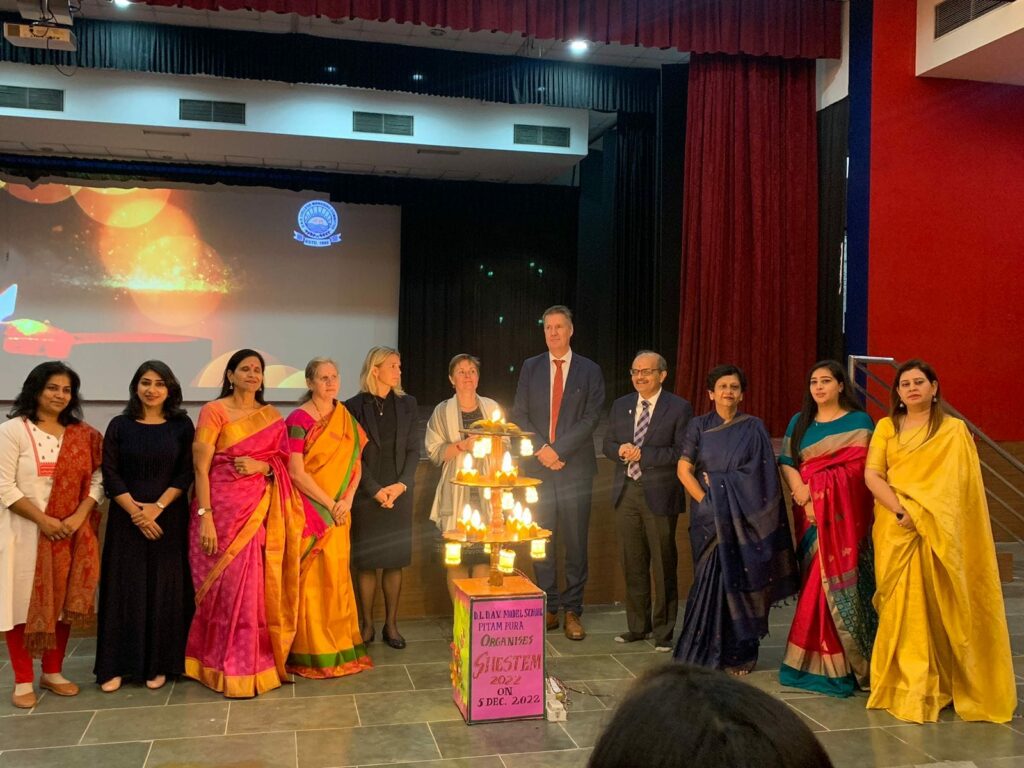 Dr. Per-Arne Wikström, Head of Office of Science & Innovation, Embassy of Sweden in New Delhi said: "When women and girls provide their talent, their knowledge, and their capabilities to science and technology on equal terms with men and boys, then we know that societies prosper and that innovation capacity actually increases. So for us, gender equality is an integrated part and an important aspect of everything that we do. We would like to thank our Indian partners for their support for this very important initiative."
"As Johann Wolfgang von Goethe said, 'who is not curious will not gain knowledge,' so keep your curiosity on, drive your knowledge forward and who knows maybe one or other idea will be implemented," said Dr. Katja Lasch, responsible for Strategy Management at the German Centre for Research and Innovation (DWIH New Delhi) and head of German Academic Exchange Service (DAAD) Regional Office in New Delhi.
Following the success of the Insta-reels Video Challenge in 2021, SHE STEM hosted the #SHESTEM2022 Video Challenge across Instagram, Youtube, Facebook, and Google Drive for students of ages 13 to 17, asking them to imagine themselves in the year 2047, and speak about an innovation of theirs that has helped in tackling climate change. The response was overwhelming with over 930 videos of which 15 were shortlisted. SHE STEM had an extensive jury round of 3 jury teams; Atal Innovation Mission Team led by Dr. Chintan Vaishnav, the Swedish Embassy team, led by Dr. Per-Arne Wikström, and the German Centre for Research and Innovation, represented by Dr. Katja Lasch.
The videos were assessed on the:
Novelty of idea
Clarity of thought and articulation
Sustainability or climate action angle
G. Nivethiga Rani who created a video on how she as a STEM Leader in 2047 had invented a robot that collected and converted biodegradable and non-biodegradable waste into electricity, won the first prize in the video challenge. The second prize was tied between T Shatananda Dhanwantari and Shreya Singh and Nistha Aswal, who participated as a team. Gaurav Hanjoora won third place.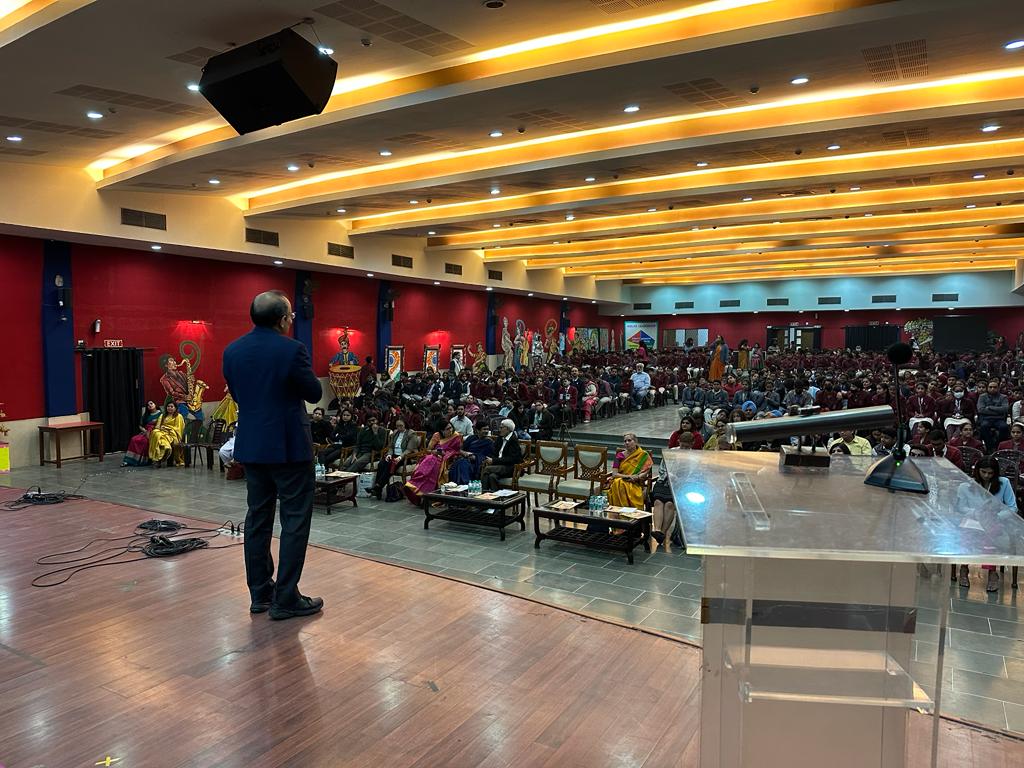 "I congratulate all the winners of the SHE STEM 2022. I have to say what caught my attention was that every single idea was addressing a fundamental constraint confronting us," said Dr. Chintan Viashnav.