A first person account of conducting a 'live evaluation' in Gujarat govt schools
Education minister Bhupendrasinh Chudasama conducted live evaluations in schools as part of the Kanya Kelavani and Shala Praveshotsav initiatives in government schools. The performances were poor with students struggling to read, write and calculate.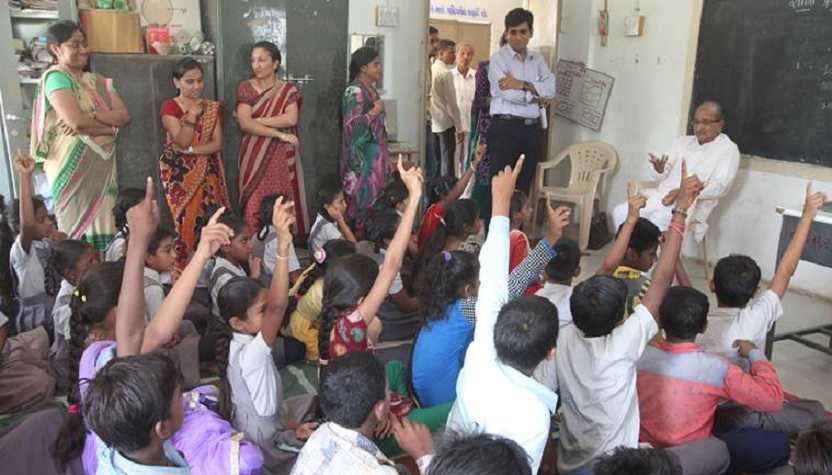 That the Gujarat government holds an annual evaluation exercise, Gunotsav, across government schools is known to everybody. Also known to most is the record of learning milestones in government schools. It comes as no surprise that Gunotsav threw up shocking results this January when students of upper primary classes failed to read and write simple words and sentences.
Following the abysmal results of Gunotsav, the state government has decided to incorporate a live evaluation of students as part of another exercise — Kanya Kelavani and Shala Praveshotsav. These exercises on school enrolment and girl education are held in June across 40,000-odd government schools in the state.
It is encouraging to see that Chief Minister Anandiben Patel taking a proactive part in the 2 new initiatives. Teams of more than 500, including CM Patel, her ministers and senior officers, headed out to rural and urban areas between June 8-10, and then June 15-17 for the enrolment. The Centre, incidentally, is planning to extend Gunotsav across the country.
This is a first person account of the live evaluation of the student during the school enrolment exercise. The team led by Education Minister Bhupendrasinh Chudasama visited schools in Bavla taluka (in his constituency), near Ahmedabad, for a day.
Minister Chudasama, accompanied by Dholka Sub-Divisional Magistrate Ruturaj Desai and local BJP leaders, reaches Bhayla Government Primary School, the venue for the day's enrolment drive sharp at 8:00 am. The sparse gathering at the school is taking inordinately long to settle down under the colourful tent on the green synthetic mat laid on the floor.
Worried with the low attendance, the school principal Bhagwanbhai Dabhi makes repeated appeals to the villagers on the microphone, requesting them to reach the school at the earliest. The women teachers were busy taking roll calls of students.
The minister summons the principal and rebukes him for not being ready on time for the exercise. After nearly 30 minutes of delay, the programme finally kicks off with the lighting of the lamp and welcoming of guests. Even as the show continues, villagers and students, a few in school uniforms, continue to walk in.
Bhayla village has a population of merely 2,579 and boasts of a literacy rate of 78.92%. This year, 22 new admissions in Class I have taken the school strength to 155 students.
Its 10:00 am and Chudasama completes his address on enrollment and heads towards the classrooms for the evaluation exercise. In the meanwhile, teachers have already selected 10-12 students each from Classes II, III, IV and V and made them sit in separate rows in a classroom, with their teachers.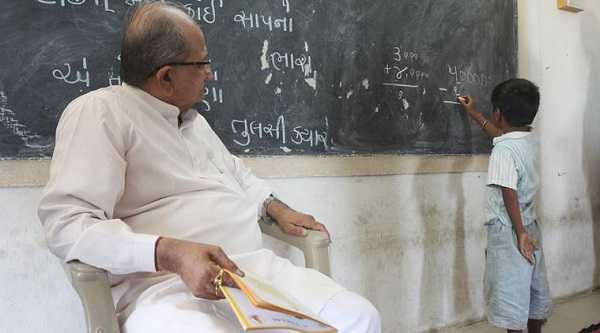 While addressing these assembled students, the minister informs them that this evaluation is being held at the beginning of the academic session "so that we can plan remedial teaching practices well in time".
The moment of truth is finally upon us when Chudasama asks for a Class I textbook and picks a Class II girl and a boy to read out everyday words in Gujarati — bhar (weight), bhains (buffalo), bhajan (spiritual song), hichko (swing), chokha (rice). They can read only a few, and for the rest, are prompted by the minister. A girl from Class III is asked to read out the sentence, 'Chali vahli mari gai (There goes my dear cow). She cannot. Class IV students are told to read and write a few two-syllable words on the blackboard. They struggle.
Parulben Rana, class teacher of Class III, is visibly embarrassed but tries to cover up: "They have had a long break for the summer vacations… they have forgotten what they learnt in previous classes."
Moving on the second R – Arithmetic. The students are asked to solve basic addition: 5+1, 53+21, 34+21. Most of them take 5 – 10 minutes to solve the sums; a few succeed only after some prompting from teachers.
The teachers are nervous but Chudasama is encouraging. "Overall, the performance is good but they need more practice. Get them to write on the blackboard and ask them to read loudly in the class," he recommends.
By now it's been an hour the evaluation has started, the minister and his team move to another room on the first floor to evaluate students from Classes VI to VIII. "Who is the CM of Gujarat?" he asks them in Gujarati expecting a resounding response. About 5 hands, from about the 50 children in the classroom go up. Only 1 girl gets it right.
More hands go up when asked about the prime minister. But when asked about the president, only 2 offer an answer. "Mahatma Gandhi," says one. "Manmohan Singh," says another. A few mumble, "Narendra Modi".
Expectedly after the evaluation, at 11.30 am, Chudasama holds a staff meeting and asks a teacher to explain the "poor performance". "Students do not complete their homework. The principal is overburdened as he has 9 schools under him," she says.
Chudasama isn't impressed. With the experience of the classroom behind him, the minister asks, "Do you teach the students about famous personalities and their life experiences… Gandhi, Vivekanand?" The teachers nod in the affirmative.
Moving on Chudasama reaches A G Vidyalaya, Chiyada. It is here that the students from Bhayla primary school and the nearby villages enroll for high school.
Here too, the open sequence remains the same as the minister is greeted with a cultural programme. Getting on with the agenda, Chudasama soon begins the evaluation exercise with students of Class VIII. He asks them questions on electrons and solar energy. Only 1 girl manages to answer.
Moving on to general knowledge, a question on 'who is the president of India' elicits replies like Jawaharlal Nehru, Indira Gandhi. The minister drops several hints but none from the over 30 students in Classes IX-XII can answer.
What was upsetting for the school principal was that many of them even fail to get school principal Mukesh Patel's name right. An embarrassed Patel, who is also the math teacher, says, "Sir, these students have recently joined us from nearby primary schools."
The secondary school, which has classes from IX to XII, had a pass percentage of 45.90 per cent in this year's Class X exams and 84 per cent in Class XII.
Later, at a meeting with the staff, Chudasama asks them to explain the low pass percentage of merely 45.90%. English teacher Smita Patel says, "Students of Class IX do not know the basics. Over 60% of the students can't read English. We conducted special classes for over 27 students (out of 87) who were promoted to Class IX."
Chudasama, who has been a vocal opponent of the 'no detention policy' under the Right to Education Act, says, "Students know they will not be detained, so they do not study. Should teachers teach a Class IX student his own curriculum or the Class III syllabus, which is his learning level?"
Gender Inclusive Holistic Education in NEP
The NEP focuses on 'Equitable and Inclusive Education' which reverberates the idea that no child should be left behind in terms of educational opportunity because of their background and socio-cultural identities.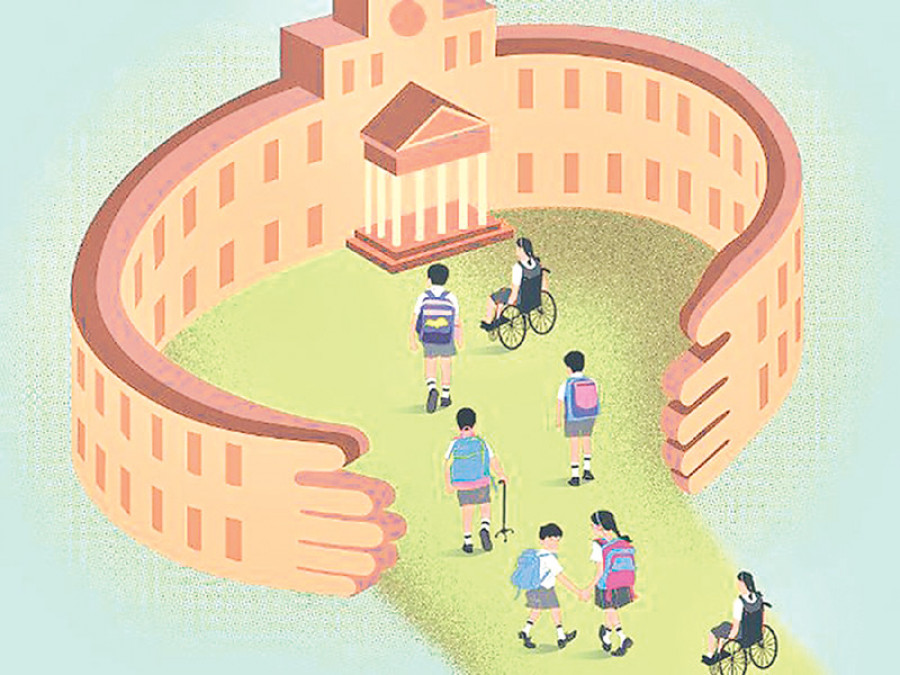 The National Education Policy 2020 envisages an inclusive and structural change in the educational system. It focuses on 'Equitable and Inclusive Education' which reverberates the idea that no child should be left behind in terms of educational opportunity because of their background and socio-cultural identities. It has taken into account the concerns of the Socio-Economically Disadvantaged Groups (SEDGs) which includes female and transgender individuals, Scheduled Castes, Scheduled Tribes, OBCs, minorities, and other categories. This policy aims at bridging the social category gaps in access, participation, and learning outcomes in school education.
The National Council of Educational Research and Training (NCERT) is implementing the Adolescence Education Programme (AEP) as part of the National Population Education Project (NPEP). One of the learning outcomes of AEP is to make the learners aware of the concerns of adolescence, i.e. process of growing up during adolescence & HIV/AIDS, and to inculcate in them a positive attitude regarding these concerns.
Further, the aspects related to gender-inclusive holistic education are covered through age-appropriate integration in different textual materials in the school curriculum, as well as in training and resource materials on the Health and Wellness of School Going Children, especially under the aegis of the School Health Programme under Ayushman Bharat.
As per UDISE+ 2019-20, a total of 61214 transgender children are enrolled in schools, of which 5813 and 4798 transgender children are enrolled in Class 10 and Class 12 respectively.
Department of School Education and Literacy (DoSEL), Ministry of Education is implementing Samagra Shiksha which is an overarching programme for the school education sector extending from pre-school to class XII and aims to ensure inclusive and equitable quality education at all levels of school education. Samagra Shiksha reaches out to girls, and children belonging to SC, ST, Minority communities, and transgender.
Further, National Education Policy (NEP) 2020 also identifies transgender children as Socio-Economically Disadvantaged Groups (SEDGs) and provides for equitable quality education, inter-alia, for all such students. This includes provisions for assisting transgender children in gaining access to education, and support for community-based interventions that address local context-specific barriers to transgender children's access to and participation in education, thereby aiming to eliminate any remaining disparity in access to education (including vocational education) for children from any gender or other SEDGs.
Additionally, under NISHTHA (National Initiative for School Heads' and Teachers' Holistic Advancement), a nationwide integrated teacher training program for teachers under Samagra Shiksha, teachers are trained on the relevance of Gender Dimensions in the Teaching and Learning Process which helps teachers to use and adapt learning activities that foster gender sensitive classroom environment.