Achievements of Indian Boys brings honour to Dubai Schools
Tuesday brought celebrations in Dubai schools as four Indian boys, who recently won international accolades in different fields, were honoured by their school.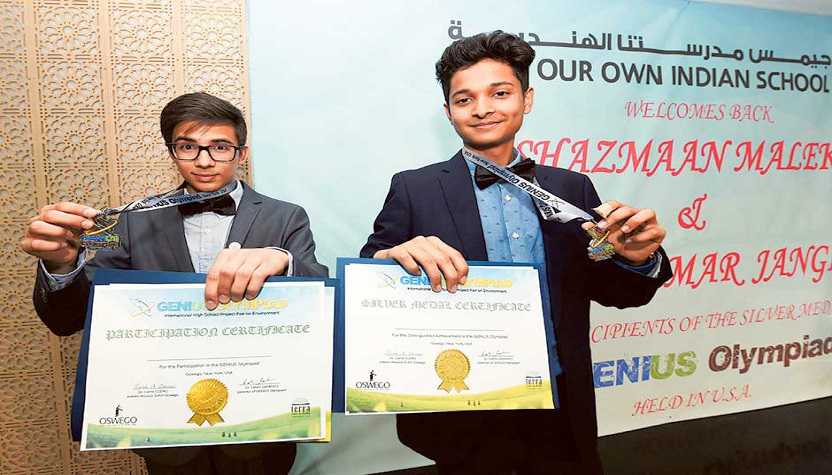 Tuesday brought celebrations in Dubai schools as four Indian boys, who recently won international accolades in different fields, were honoured by their school.
Shazmaan Mohammad Malik and Prem Kumar Jangir of grade 12 of GEMS Our Own Indian School were given a heartwarming welcome a day after they reached Dubai. The achievers won silver medal for the UAE in the GENIUS Olympiad, an international high school project competition about environmental issues. Honoured on the Students' Day celebrated by the school, the young prodigies donned the role of teachers, supervisors and even the principal for one day on this day.
Founded and organized by the Terra Science and Education, the competition is hosted by the State University of New York at Oswego.
Malik and Jangir won the silver medal for designing and developing a "smart car" device that helps the visually impaired to walk past obstacles and help them navigate through places. The palm-sized, solar-powered car, while running ahead of a visually challenged person, can pick up and move aside small objects that come in the way and also beep alarms signalling the person to change directions to right or left when there is any block in front of him or her.
The proud parents of the 'genius' achievers were also invited to witness the honouring ceremony.
Grade 10 student, Rixon Lobo who plays for Al Etihad Sports Academy, received thunderous applauses for getting scouted from Dubai for the FIFA Under-17 World Cup, where he got a chance to represent India.
Abdulla Shaheer, of grade 12, was honoured for his achievements in badminton. He recently won Bahrain GCC Junior Open Badminton Tournament (under-19 singles and doubles) and India Club Dubai-UAE Open Badminton Tournament (under-18 doubles winner and singles runner up).
Lalitha Suresh, the principal, said the students stand strong by their conviction. "They are humble in their speech and their actions tell a story … They are self-driven and motivated. The school is supporting them in a way that they are able to bring out their best."
She also thanked the parents of the achievers for their extensive support towards their children's talents.
Image courtesy: static.gulfnews.com
Ayatiworks Joins Forces with Anna University to Elevate Digital Advertising Skills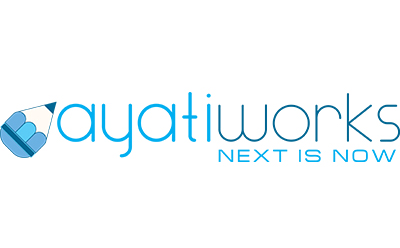 Ayatiworks has forged a strategic alliance with Anna University, a leading Public State University in Chennai, to elevate students' skill development and enhance employability. This collaboration is designed to enrich students' educational experiences and practical competencies in the dynamic realm of Digital Advertising, reflecting both organizations' shared commitment to education and skill-based training.
As part of this training partnership, Ayatiworks will facilitate valuable learning experiences for Anna University's Media Science students. This will be achieved through a series of intensive guest lectures on the comprehensive spectrum of Digital Advertising, led by Upendran Nandakumar, CEO of Ayatiworks. These sessions will run from August to December and aim to bridge the gap between academic knowledge and industry insights, ultimately enhancing students' skills, knowledge, and employability.
Expressing his enthusiasm about the partnership, Upendran Nandakumar, Founder & CEO of Ayatiworks, remarked, "We are thrilled to collaborate with Anna University, an opportunity that allows us to revolutionize the industry by augmenting university programs with real-world experiences. This collaboration will undoubtedly bolster the employability of university students, marking a significant advancement in their careers."
Within this partnership, Upendran Nandakumar will engage with over 100 students, providing insights into current industry trends, job opportunities, and challenges within the Digital Advertising landscape. Leveraging his extensive experience in the field, he will offer a comprehensive view of the industry's present market dynamics. Through this training partnership, he will empower university students to master the art of crafting innovative strategies for building brand loyalty and awareness.
This collaboration represents a pivotal step in nurturing a future-ready workforce in India. Ayatiworks and Anna University share a deep commitment to empowering students, enabling them not only to adapt to but also to drive technological innovations in their respective domains. Following the conclusion of the training sessions, Ayatiworks will conduct a recruitment drive to identify and hire talented interns, providing them with valuable industry exposure. Together, these efforts aim to shape the next generation of digital advertising professionals and foster innovation in the field.