Public education in India has to jump many hoops
Successive governments have taken out the constitutional obligation towards education out of the educational policies. This takes out the fundamental right of universal education out of the equation thus giving rise to inequalities in the system.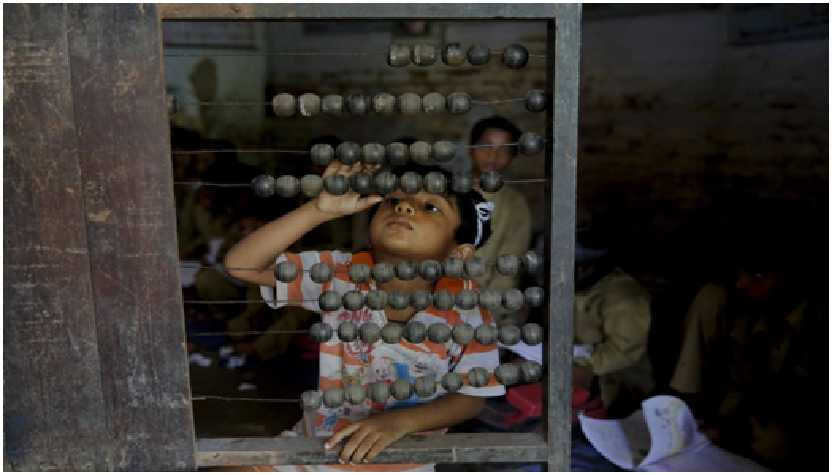 That the New Education Policy has created waves much before it has officially become a policy is amply clear by the media coverage that it has generated, some for the big strides it aims to take while some negative coverage for the way the policy is being handled. The latest is the war of words between Human Resource Development Minister Smriti Irani and former Cabinet Secretary T.S.R. Subramanian over the report of the New Education Policy (NEP) committee headed by him. While Subramanian is threatening to make his report public; Smriti Irani counters by saying that this can only be considered after the States have sent in their responses to it. In fact, this tug of war is symptomatic of the manner in which the entire exercise of drafting the NEP has been carried out.
Smriti Irani claimed that the Narendra Modi government's NEP was going to be the result of a collective effort of more than 2.6 lakh consultations around 13 themes earmarked for school education at gram panchayat, block, district, State, groups of States and national levels. These consultations took place through a list of questions supplied by the HRD Ministry to elicit recommendations which would serve as inputs for each of the themes for the Draft NEP document.
Now, the questionnaire couldn't have been drafted by experts, which explains the surprising composition of the committee itself. Headed by a former Cabinet Secretary, it includes 3 retired government Secretaries and a former Director of the National Council of Educational Research and Training (NCERT), J.S. Rajput, whose credentials are questionable since his participation in the "saffronisation" of textbooks during Murli Manohar Joshi's tenure as HRD Minister in the previous National Democratic Alliance (NDA) government.
Available information, most of which is hearsay as the Ministry has refused to divulge any details, point out that no such scheduled meetings took place. Even if higher level meets did happen, they were orchestrated to legitimatise claims that recommendations represented "the voice of the people", and that officials and education officers dominated proceedings at meetings where school principals, teachers, government invitees and some school management committee members were herded together. In this scenario, it is not surprising that the HRD Ministry has failed to make the content of the "people's" recommendations publicly available. A similar lack of transparency shrouds the national and regional debates held by the University Grants Commission (UGC), the National University of Educational Planning and Administration (NUEPA), the NCERT and other national-level institutions.
This methodology shrouded in secrecy by the HRD Ministry is disturbing and problematic. Take for example the total lack of analysis of previous policies and no overview of the consequences of implementing the changes introduced by the National Policy on Education (NPE) 1986, its companion Programme of Action, and their modified versions (1992). Before the NPE, democratic goals and the guiding principles of equality and social justice articulated during the freedom struggle informed policies, although it soon became evident that successive governments failed to meet their constitutional obligations. It is no coincidence that the changes introduced by the NPE coincided with the adoption of the economic reforms programme by the Narasimha Rao government in 1991.
Since the NPE was in line with the economic reforms, it focussed on supplying the economy with employable human capital. It was through implementation of a series of missions and abhiyans to impart market-oriented "skills", the lowest one being "functional literacy". It needed a conceptual and curricular delinking of cognitive and aesthetic aptitudes from acquisition of the practical skills which were deemed sufficient for making the mass of citizens employable.
Completely violating the constitutional obligation to ensure universal free and compulsory education of comparable quality, the NPE introduced a policy provision for low-cost, poor quality, non-formal education (NFE) which was to be treated as "equivalent to schooling" for those children who could not "be expected to attend a full day at school". This excluded a vast majority of children in the relevant age group from the formal system of education. With one swift stroke the NPE discriminated a large swath of students under the guise of providing employable capital.
However, NFE only prepared the ground for a policy of multitrack, discriminatory streams of education. Matters were to become far worse, as under pressure from the World Bank, the 1994 District Primary Education Programme (DPEP) introduced "low-cost" infrastructural and recruitment practices into the government school system across the country. The concept of para-teachers and contract teachers were introduced to cut costs. After the Fifth Pay Commission (1996), recruitment of permanent trained teachers was badly affected in most States. Yet, trained teachers were required to be available for official duty during Census, elections, health campaigns such as polio eradication, and now even "disaster management". In came the Non-governmental organisations (NGOs) for improving quality and all these things resulted in driving the entire system to the brink of collapse.
Limitations of the RTE
While we read glorifying tales of the impact of RTE in the media how it is empowering the under-privileged to get their space under the education sun, the truth is that RTE has a horrible underbelly. RTE became the legal form of discrimination at every level. It excluded pre-school Early Childhood Care and Education for 0-5-year-olds. It excluded secondary education for 15-18-year-olds. It excluded the "special" government schools which were proof that governments could run schools when they were required to. But like already pointed out it provided us a peep into the future. The much-lauded and equally utilised 25% admission for children from the Economically Weaker Sections (EWS) had a salutary effect by starting a public private partnership (PPP) model which today allows transfer of crores of rupees of public funds to high-fee charging and low-budget private schools alike.
The truth is that across the political spectrum this policy perspective has either been actively contributed to—if the United Progressive Alliance (UPA) governments brought in the NPE and the RTE, the NDA brought the 86th Amendment Bill which defined the limits of the RTE and the concept of knowledge as a "tradeable commodity", and education as a "tradeable service"—or been accepted as the model of development by all governments in power. The Modi government's Skill Development campaign not only rests on the foundation of the NPE 1986, but also requires the changes proposed to child labour laws allowing children less than 14 years of age to participate in hereditary trades.
Quick-fix solutions
Coming back to the approach used by the HRD Ministry. It is fundamentally flawed as even after "widespread" consultation has taken place, there is no vision, principle or logic on which one set of suggestions should have precedence over other alternatives. No strategy either underlies or could be formulated out this wasteful exercise, which flies in the face of government claims that there are no funds for education and has resulted in savage cuts made in budgetary allocations over the past 2 years.
However, miraculously this does not mean that an agenda is not being advanced. If on one hand, there is no vision for reviving the stagnant public education system, on the other hand, it has to be admitted that government "policy" is herding parents to the gates of commercialised private institutes. The NGO Pratham's Annual Status of Education Report (ASER 2012) showed that in just 2 years after the implementation of the RTE Act, there was a 5.8% increase, up from 29.8% in 2010-11, in private school enrolment for primary (Classes I–V) students.
In State after State, governments are compelled to close or merge schools because students are deserting them. Rajasthan, Gujarat, Madhya Pradesh, Andhra Pradesh, Telangana, Karnataka, and even Himachal Pradesh and Kerala, once stellar examples of the success stories of the public education system, have stated that the policy is inevitable. Thousands of teachers are becoming redundant by the process of "rationalisation" because it saves public funds on paying their salaries. Holding on by a hairs length, people's organisations in some States have been able to push back this dismantling of the state-funded and maintained school system for one more year.
Stark inequalities
Clearly, India's education system is reproducing social inequalities and not removing them. Earlier the lack of political will to address caste, class and gender failed to universalise education, and today discriminatory policies are reinforcing inequality. Illiterate children are not a result of poverty but due to negative attitudes and misplaced priorities of policy (ASER 2015). Segregating the poor and the disadvantaged and educating them in institutions catering exclusively only to them will deny the fundamental right to education to a majority of children even as privilege masquerades as merit.
Regarding the medium of instruction, contrary to all egalitarian preferences for the mother tongue as the language of learning, fluency in English is driving even poor families to take on the crushing fee-burden of private "English medium" schools and is generating the self-defeating demand that government schools should shift from the vernacular to the English medium.
In this darkening scenario, a ray of light has been the recent landmark judgment of the Allahabad High Court (August 18, 2015) which emphasised the democratic and educational importance of shared schooling for children from all sections ". . . in changing society from grass-root level. The initial level mixing among all children will have different consequences." It went on to say that the division of schools into "elite", "semi-elite" and "common man's schools" based on privilege and wealth have neither an educational basis nor social value in a democratic society.
"After more than 65 years of independence, these (common men's) schools are still struggling to have basic amenities for children…. It is not difficult to understand why conditions of these schools have not improved. The reason is quite obvious and simple…. There is no real involvement of administration with these schools. Any person who has some capacity and adequate finances sends his child/children to elite and semi-elite primary schools. They do not even think of sending their wards for primary education to… third category schools, i.e. common men's schools. The public administration therefore has no actual indulgence to see functioning and requirements of these schools."
This enforced integration ordered by the court cannot be deemed a denial of "democratic choice" for the affluent elites because the judgment holds choice itself as the reason for the vast majority of India's children being denied their fundamental right to education. The State government was thus directed to ensure that "the children/wards of government servants, semi-government servants, local bodies, representatives of people, judiciary and all such persons who receive any perk, benefit or salary, etc. from State exchequer or public fund, send their child/children/wards who are in age of receiving primary education, to primary schools run by Board… and ensure to make penal provisions for those who violate this condition".
A resounding nod to the common school system
The judgment's resounding endorsement of the Common School System in modern democratic societies is grounded in historical fact. No system of quality education has ever been universalised without the participation of the state. The judgment should not only be implemented forthwith in Uttar Pradesh. It should be extended to cover all States of India.
The other beacon of hope is the sustained struggle of students from numerous institutes of higher education to defend the democratic right to both knowledge and dissent.
So can we expect a radical change from the HRD Ministry? The "special touch" which the present regime has brought to the education system has more to do with bringing the system firmly under the official control of the Center with centrally sponsored Teachers' Day events, Swachch Bharat campaigns, Sanskrit Week, compulsory sessions of the Prime Minister's radio speeches, yoga days, and even decisions on which festivals children will be allowed to celebrate with their families.
In an underhanded style of working, historical and sociological facts are distorted to facilitate indoctrination through textbooks. Finally, Rashtriya Swayamsewak Sangh's (RSS) student wing, the Akhil Bharatiya Vidyarthi Parishad (ABVP) being used to declare radical Ambedkarite, Marxist and even independent-minded university students and teachers as extremists and anti-nationals, initiating disciplinary action and even slapping charges of sedition against them are an undisguised threat to the future of the country's educational institutions.
Clearly, the HRD Ministry has learnt nothing from its misadventures, and education and educational institutions will continue to be in turmoil.
This post is based on an article originally published here
28th edition of CBSE Sahodaya Schools Conference begins at Vadodara
The 28th National Annual Conference of Sahodaya School Complexes on the theme of Education 4.0-Reinventing
Education 2030 and beyond begins.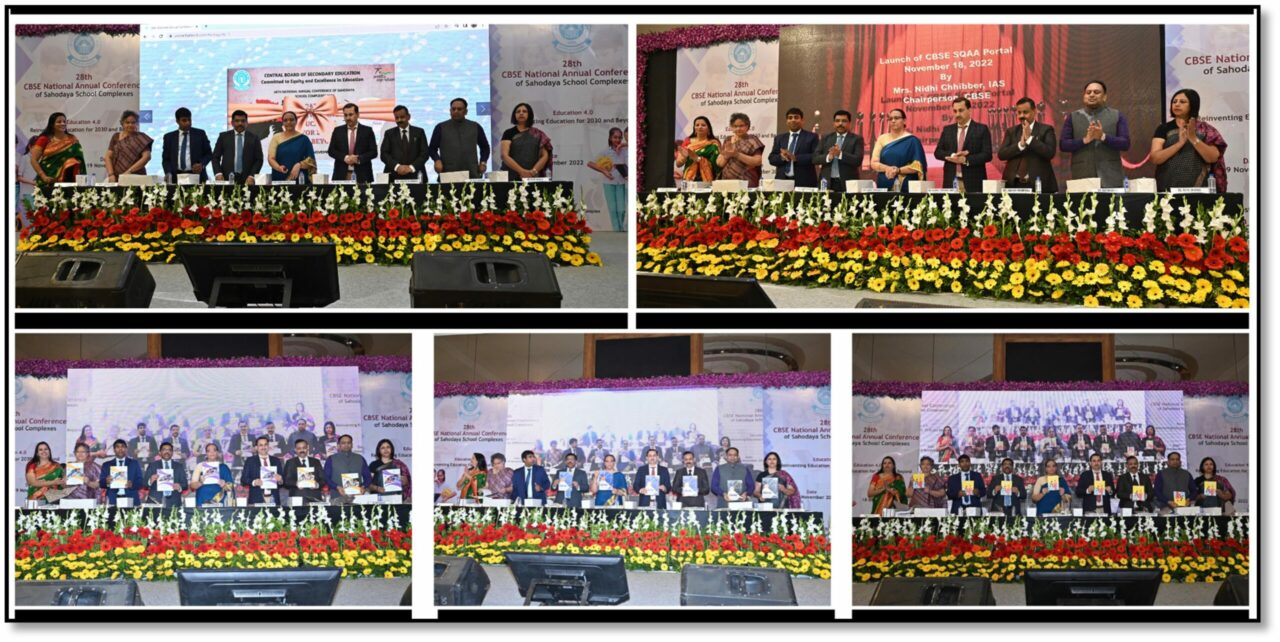 The 28th National Annual Conference of Sahodaya School Complexes (2022) began on 18th November 2022. This year the conference is being held in collaboration with Gyan Sarovar Sahodaya –The Central Gujarat CBSE Schools Sahodaya Complex.
The theme of the conference is "Education 4.0: Reinventing Education for 2030 and Beyond" with the objective to sensitize school leaders and prepare them for the era of education 4.0 with the necessary changes in the design of curriculum and pedagogy.
Sub Themes
Social dynamics and development of education
School Leadership for futuristic schools
Technology is indispensable for education
Capacity Building of teachers
AI in school education
Creative Learning
Positioning curriculum for 2030 and beyond
Moving from Transactional Leadership to Transformational Leadership
Building Learning Communities
Schooling Vs. Education: Bridging the gap for a better India for 2030 and beyond
Community School Partnership for quality education
This year's conference is hosting the representatives of more than 200 Sahodaya School Complexes and educationists from around the world in a two-day event at Vadodara.
Principals from 800 plus CBSE affiliated schools in the country and abroad, academics, and senior officers of the Board are participating in this two-day conference which will dwell upon various themes such as Community School Partnership, Schooling versus Education, Technology for Education, Artificial Intelligence in Education, Building Learning Communities, Leadership, Creative Learning, and Capacity Building of Teachers.
The inaugural session of the conference began with the address of the Chairperson CBSE Smt. Nidhi Chhibber highlighting the roles and responsibilities of school principals and administrators in realizing the objectives of NEP 2020 and making schools future ready.
A number of publications prepared by the Board were also launched by the Chairperson, on this occasion.
Conference Souvenir
A compilation of the probable best practices received from different schools across the country in the area of curriculum, pedagogy, capacity building of teachers, school leadership, school community partnership, and use of technology.
CBSE SQAA Portal
As per NEP 2020 recommendations, CBSE has developed a 'School Quality Assessment and Assurance (SQAA)' Framework based on 7 domains covering all the aspects of school functioning and can be useful as a tool for accomplishing individual and institutional excellence.
Practice Books in Science and Mathematics have been developed for Students of classes IX and X in the subjects of Mathematics and Science to strengthen the skills and competencies of students and help them apply the learned concepts in real-life situations and draw inferences.
These workbooks present a series of questions organised as themes, mapped to concepts from the curriculum of the respective class.
Item Banks
The board has designed and developed Competency Focussed Practice Questions aligned to the NCERT curriculum in the subjects of English, Mathematics, Science, and Social Science for Class X students to test conceptual understanding and application.
SAFAL Assessment Frameworks for grades 3, 5, and 8 were also launched today in the subjects of Language (English/Hindi), Mathematics, and EVS/Science. These include domains, strands, and competencies, and define learning outcomes at various proficiency levels.
PRAYOG
Pradhanacharya Yojna for Growth, has been designed in view of the important role of the Principals in the effective implementation of NEP 2020 in CBSE schools and covers various themes such as Innovative Pedagogy, Competency Focussed Education, Experiential Learning, Art integrated learning, Story Telling and Sports Integrated Learning, Systemic Reforms via initiatives such as SAFAL, HPC, SQAA, and Competency-based assessments, and other topics like Peer Education and Life Skills, Inclusive Education, Environmental Education, Pedagogy Leadership and Expectations from Principals.
Skill Education
A number of Skill Modules for Class VI-VIII on Travel and Tourism, Marketing, Media, Beauty & Wellness, Design Thinking, and Innovation were also launched today along with new modules for classes IX-XII in Library and Information Science, Cost Accounting, Early Childhood Care and Education.
Hand Book on Positive Parenting – A Ready Reckoner
The Board has always been sensitive and proactive regarding the mental health and wellness of students. Positive Parenting – A Ready Reckoner has been brought out by CBSE with the hope of adding value to the nuances of parenting and nurturing skills in a very simplistic and easy-to-follow manner. This publication by no means attempts to undermine the concerns and care of the parents already in place but may help in deepening the understanding and in building positive relationships amongst schools, parents, and students. The contents have been carefully curated post-COVID challenges and include topics such as the Mental and Emotional Wellness of Children, Parenting the Pre- teens, Gender Equality and Child Abuse Protection, Children with Special Needs, Online Learning for Parents, and more.