Albert Hall Applaudes Subodh Public School, Airport!
Subodh School, Airport left a remarkable impression on everybody's mind with its exceptionally good dance performances at Albert Hall. No, we are not just writing these words, we actually mean them. Though the event was planned for a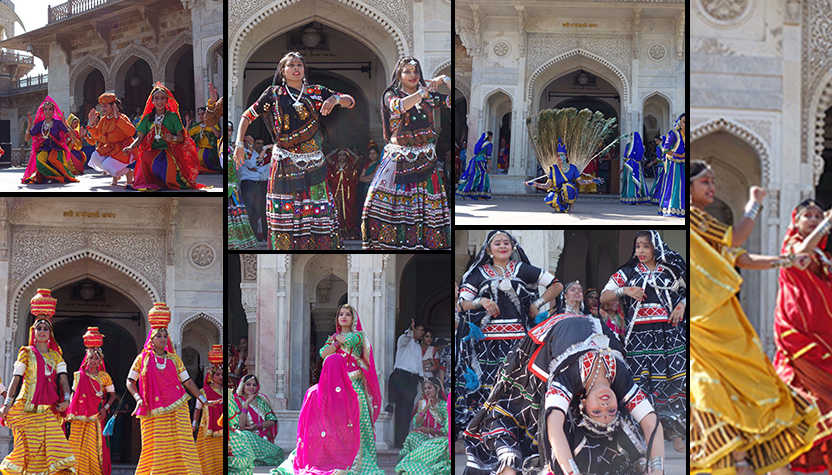 Subodh School, Airport left a remarkable impression on everybody's mind with its exceptionally good dance performances at Albert Hall. No, we are not just writing these words, we actually mean them. Though the event was planned for a complete hour, the audience hooted for more as the event ended.
The dance performances were performed as a part of School Carnival by the Department of Archaeology and Museum, Rajasthan.
Starting the event with lamp lightening is a common sight, but Subodh Public School differs. They started the programme with a qawwali to pay tribute to Dargah Sharif and highlighting its importance for Rajasthan tourism.
Bringing the age-old tradition of katputli dance to life, the students decked up as puppets danced on the song 'Baaje dhol re taasa re, khaake dudh bataasa re'. The superb dance performance was received by hooting and lots of applause from the audience.
Team ScooTalks, equally enthusiastic watching the performance, has to agree … more than being the media there, we preferred being a part of the audience who went ga-ga over the performing stars!
To follow the puppet show, entered girls wearing multicolored lehengas which suited their performances beautifully as the performers along with the audience grooved to the tune of 'Hey dhin tadaak dhin tadaakAaja ud ke saraat' and 'Hey shubhaarambh Ho Shubhaarambh Mangal bela aayi'
As if that was not enough, one of the folk dances of Rajasthan 'Terah Taali' surely mesmerized the audience.
The school left no stone unturned in making the locals feel proud of their culture. The students with their dance performance on the song 'O mari ghoomar che', threw light on the bravery and courage of the people of Rajasthan.
Shifting the mood of the audience from the culture of the state to the vivacious world of peacocks, the students now entered on stage to dance on the song 'Morni Baga Me Bole'. The girls dancing in blue-green (colours of peacock) lehengas were a delight to watch.
Bringing the audience back to the culture of Rajasthan was the Chari dance performance by the girls. The girls danced very gracefully on the Chirmi Mhari Chirmi. The elegance with which they danced with matki on their heads was worth a sight.
Last but definitely not the least came everyone's favorite dance … Rajasthan's very own Kalbeliya. It filled the entire Albert Hall and the surrounding area with lot of exuberance and excitement. Everyone present there came forward with their cameras on to capture the excellent dance performance forever.
All in all, Subodh Public School, Airport truly did its part in promoting our heritage and culture. It covered all the important dance forms and kept the audiences glued to their seats.
Team ScooTalks thoroughly enjoyed the entire program and couldn't stop boasting about it. Hope to see you again!
Smile Foundation and Shell Launch STEM Project on Pi Day
The initiative will benefit less-privileged students from government schools.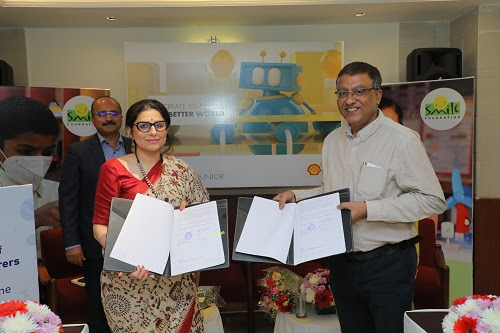 On the occasion of International Pi (π) Day, Smile Foundation and Shell launch 'NXplorers Junior' programme in three Indian states. NXplorers is Shell's global flagship Social Investment STEM (Science, Technology, Engineering, and Mathematics) educational programme aims to benefit over 25,000 children during the first year by enabling them to understand, navigate and address local and global challenges, as underlined in the Sustainable Development Goals (SDGs). NXplorers is also aligned with the National Education Policy 2020 and delivers societal benefits.
The innovative initiative will benefit less-privileged students from government schools and affordable private schools, studying in rural and hard-to-reach areas in the states of Andhra Pradesh, Telangana and Kerala. Its design also includes endeavour to create awareness amongst parents on the importance of STEM education, especially for girl children.
"Shell firmly believes that, provided with the necessary skills and guidance, young people can be a driving force to find sustainable solutions to the major global challenges of our time. Launched in 2018, Shell's global flagship STEM programme NXplorers is aligned with the National Education Policy 2020 that aims to transform India into an equitable and vibrant knowledge society. With the Smile Foundation partnership, we aim to expand this programme to Andhra Pradesh, Kerala, and Telangana and offer young minds the platform to design sustainable solutions to ease the pressure on food, water, and energy," said Ms. Latika Taneja, Head of Corporate Relations – India.
The programme is being rolled out in concurrence with the educational authorities of the respective state governments. Besides students, teachers, parents and communities are involved actively while implementing the programme so that it remains sustainable in the long-term.
"We are excited to roll out this innovative programme in India. We are hopeful that our children will not only leverage STEM education in building their future career but also will grow up and develop leadership ability in finding sustainable solutions in various walks of life," said Mr. Santanu Mishra, Co-founder & Executive Trustee, Smile Foundation.
The NXplorers Juniors will train both 6th and 7th grade students. NXplorers Juniors Level-I course will be delivered through a combination of teacher's guide, PowerPoint slides, and several instructional videos. The facilitator guide will outline the essentials to be covered in each session, exercises, discussion, checkpoint questions, a summary, assessment, and research to be undertaken by students after the session.
The United Nations Sustainable Development Goals (SDGs), exploring SDG Solutions, researching global goals, and developing a challenge and choosing a solution etc. are covered in the NXplorers Juniors Level-1.
NXplorers – Learning for a Life Time, envisions to provide a minimum of 3-5 years of NXplorers exposure to the students at various levels. The objectives include developing strong knowledge and skill set among students so that local and global challenges can be addressed by them. Developing sustainable models of implementation by engaging teachers, school leaders and communities effectively, creating awareness amongst parents regarding the importance of STEM education, especially concerning girl education are part of the overall goals.
About Smile Foundation
Smile Foundation is a national development organization directly benefiting over 1.5 million underprivileged children and their families every year through more than 400 welfare projects in education, healthcare, livelihood and women empowerment spread across 2,000 remote villages and urban slums in 25 states of India.
About Shell
Shell is one of the most diversified international energy company in India with over 10,000 employees and presence across upstream, integrated gas, downstream, renewable energy, and deep capabilities in R&D, digitalisation, and business operations; with a retail presence across six states – Karnataka, Tamil Nadu, Telangana, Maharashtra, Gujarat, and Assam.