Learn to deal with stress. Don't allow it to overpower you
Subodh Public School's (Airport Road) Kamaljeet Yadav gives tips to crack Boards anxiety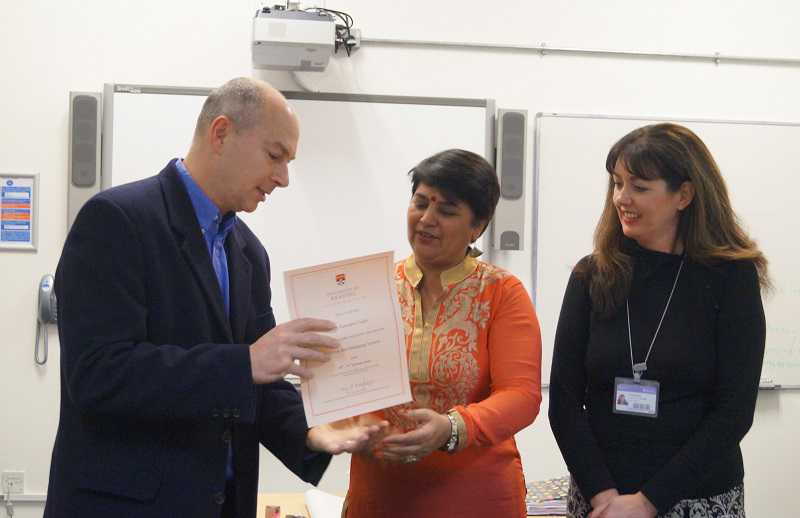 Kamaljeet Yadav
The dreaded Boards are going on. And you are tensed, anxious. ScooNews brings dynamic principals of reputed schools on board with their wise counsel and practicable tips on coping emotionally and academically with the mother-of-all-exams.
How well do we understand stress? A very common word in day-to-day life but it has different perception among different age groups. Everybody in their life experiences stress and it's very important to understand that stress works as a fuel for our body; as people under pressure end up giving their best performance many a times. Stress is your body's way of responding to any kind of demand. It can be cause by both good and bad experiences. When people feel stressed by something going around them, their bodies react by releasing chemicals into the blood.
Examinations are termed as the super stressor in the student life. The name itself is enough to make the child shiver. Student life is that part of life span where development is multi directional. This multi-directional stuff confuses, hassles or motivates students to either give up or accept and move on.
Roni has been studying for her final examination, which is going to take place tomorrow morning. She is awake till 2am. Unable to focus, she sleeps setting her alarm to 5am, but due to anxiety she is not able to sleep and keeps on tossing and turning in bed. She keeps trying to fully recall what she has studied, but fails and worries about scoring low. She ends up blaming herself for fooling around when she could have studied. Finally, in the morning, she gets up with a heavy head, rushes to get ready, misses her breakfast and reaches late for the examination. The final setback is when she opens her paper and finds herself totally blank.
Many students can relate with this experience of Roni. After all, examination challenges are common to all students.
Stress is said to be associated with both the causes as well as effects. And it is a force which promotes our functioning. The approach can be either positive or negative. Examination anxiety is fairly common phenomenon that involves feelings of tension or uneasiness that occur before, during, or after exams. Many people experience stress or anxiety around examinations and find it helpful in some ways, as it can be a motivating force and create the pressure that is needed to stay focused on one's performance. Examination nerves, worry or fear of failure are normal for even the most talented of students. However, stress of formal examination results in such high degrees of anxiety in some students that they are unable to perform at a level which matches the calibre they have shown in less stressful classroom situations.
Examination stress has been characterized as evaluative stress and produces debilitating behavioural cognitive, emotional and physiological effects no different from those produced by any other stressor. Stress sufferers are more likely to show mood swings and certain erratic behaviour, emotional outbursts, low self-confidence, etc. Stress increases the production of certain hormones like adrenaline and cortisol. These hormones bring a noticeable change in the heart rate, metabolism and physical activities like slow digestive process, poor sleep, obesity and more. Pressure due to stress gives mental overload, it affects people's ability to take sound decisions, leads to poor concentration and reduced short-term memory capacity. Taking in consideration the behavioural effects of stress, students end up depending on stimulants such as caffeine and other wrong things.
High stress can interfere with the student's preparation, concentration and performance. Examination stress can cause test anxiety which adversely affects test performance. Students who are high on test or examination anxiety tend to perceive evaluative situation as personally threatening; they feel as if others are judging them. In test situations, they are often tense, apprehensive, nervous, and emotionally aroused. Comparing themselves with others, in spite of finishing the syllabus, they fear that their effort is not good enough. Examination triggers alarm in the body and mind of an individual, which can be either make them work or hamper their ability to work. Moreover, the negative self-centred cognitions which they experience distract their attention and interfere with concentration during examinations. There is a continuous tension which can be barrier in their performance. Comparing themselves with their friends is common but few students get obsessed enough to hamper their own study schedule. Getting distracted in the examination hall is also a common phenomenon. Highly test-anxious students respond to examination stress with intense emotional reactions, negative thoughts about themselves, feeling of inadequacy, helplessness, hopelessness and poor self-esteem which impairs their performance.
Why is examination anxiety a common status seen in the students? No doubt the anxiety level is different in each student but in children with high test anxiety it is found that instead of plunging into a task they plunge inward. Their approach is either neglecting or misinterpreting the information cues that may be readily available to them. Examination is an environmental stressor which hampers the person psychologically and physiologically. There are many dimensions to be taken care of like the intensity of stress, duration, complexity and other things. Stress also leads to a weaker immune system, which makes the person vulnerable to future stressful events.
It is very important to realize that there is life after examination, and thus try to cope with the stress rather than giving in to it. Studies have revealed that health-friendly behaviour like a balanced diet, regular exercise, family support, etc play an important role in good health. Adhering to a healthy lifestyle will surely help in coping in a better manner.
As for coping with stress, coping is a powerful tool to deal with any kind of problem. Students have a general fear for examination but at the same time it varies from one to the other. Coping is a dynamic situation-specific reaction to stress. It is a set of concrete set of responses to stressful situations or events that are intended to resolve the problem and reduce stress.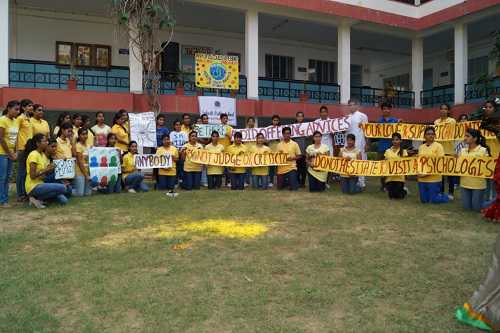 There are a few strategies given by Endler and Parker like task-oriented coping, deciding priorities and acting so as to deal directly with the stressful situation. Like scheduling time in a better way emotion-oriented coping means the effort to maintain hope and to control one's emotions; like telling oneself that he/she is capable of accepting challenges. The last is avoidance-oriented coping; it involves conscious suppression of stressful thoughts and their replacement by protective thoughts; like talking to a friend, watching TV, etc it is unlikely to have a life without some experience of personal crises causing acute pressure for a while. It starts during childhood only and one of the major one is examination!
Students must understand that while preparing for examinations, one must spend enough time on study, overview and weigh one's strengths and weaknesses, discuss difficulties with teachers and classmates, plan a revision timetable, condense notes, and make mind maps. Good eating habits, sleeping enough and relaxing are equally important. Avoid unnecessary stimulus and try to stay calm. The most important way to bust stress is to do some physical activity like playing, dancing or exercising. Drinking lots of water keeps us active. Similarly parents can provide an antidote to stress. Provide children with the right environment, food and relaxation is the duty of each parent whose child is undergoing examination — a calm and loving environment , good and healthy food and drinks and taking care of the sleep pattern of the child is very important. Apart from these, play with your child and spend time talking with them. Make them laugh and it can be very good way to fight stress. Talking of one's career wish to the child is good but never impose your wishes on them; your wishes and expectation might burden the child.
Stress is vital to our lives. Learn to deal with it rather than letting it overpower you.
Teacher Warriors 2022: Fighting Goons to Educate Children
This is Neetu Singh, founder of Sab ki Paathshala. Hers is a story that must be shared, for the sake of hundreds of neglected children out on the streets.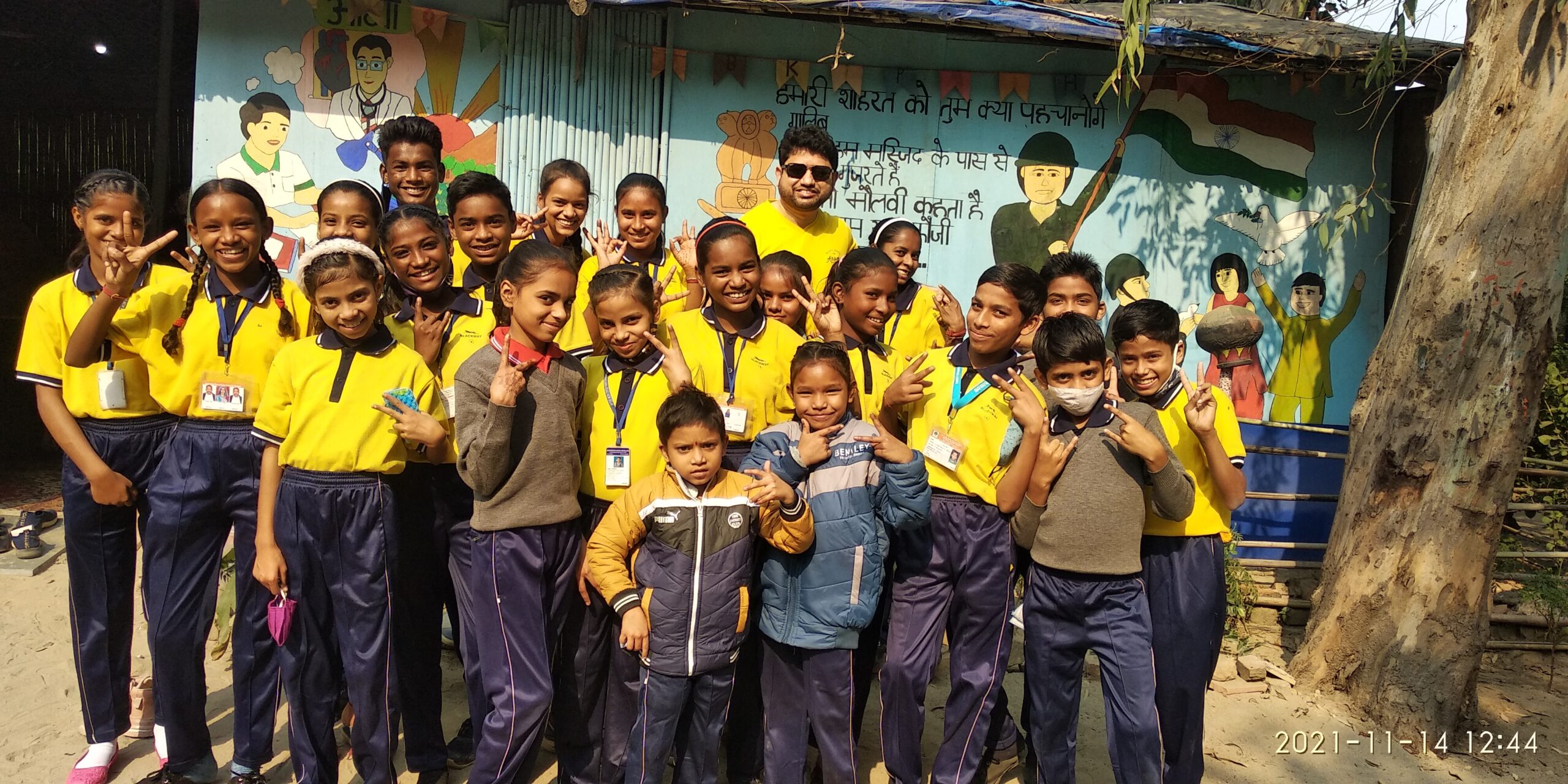 A little girl lived with her family in a slum of Sultanpur, Uttar Pradesh. Her parents worked as labourers earning minimum wage. They moved to Delhi in her early years in search of better opportunities. However, the struggle only increased. Bare minimum civic amenities like safe drinking water, sanitation and waste disposal, were luxuries that she could never experience.
Life in an Indian slum is no secret. The partial shade of high-rise buildings barely hides the poor living conditions of people living there. Amongst millions of people living in such informal settlements lived a girl who was building skyscraper of or in her dreams.
Looking at her family grapple under tin-sheet houses, compromising on safety and peace, the girl swore to get educated and help not only her family but also those who continued to live the same life as her. This is Neetu Singh, founder of Sab ki Paathshala. Hers is a story that must be shared, for the sake of hundreds of neglected children out on the streets.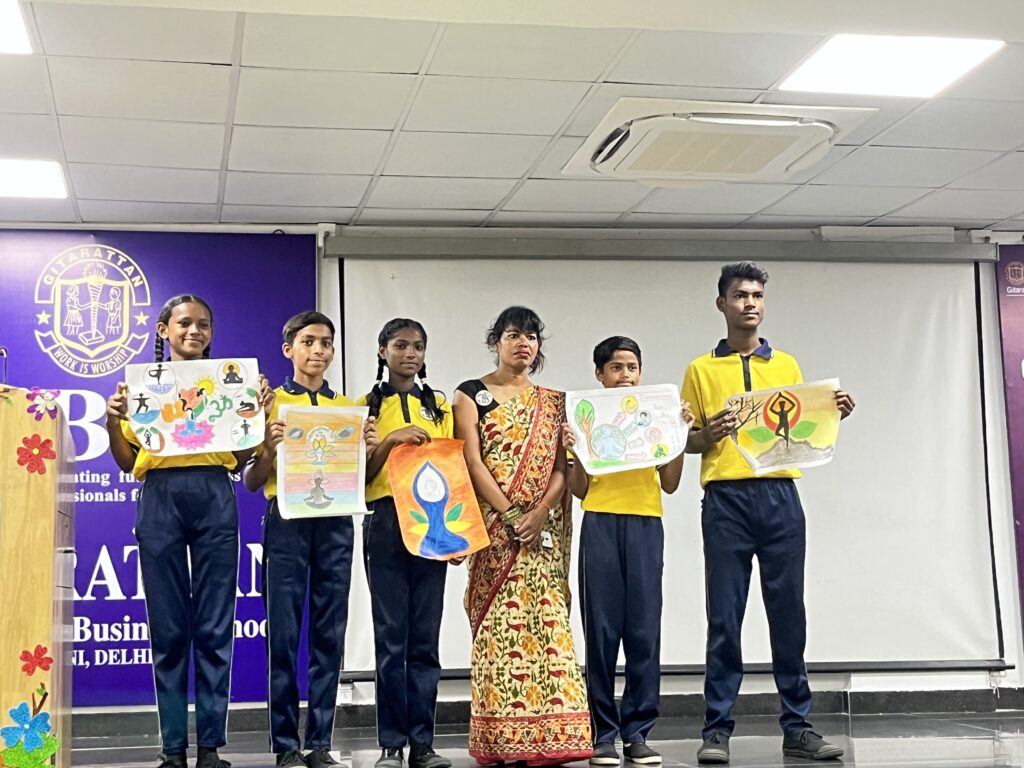 Challenges along the way
Neetu worked hard to finish school and battled every challenge with her strong willpower. She pursued her Bachelors in Education from Kurukshetra University and masters from Hansraj College of Delhi University. She worked as a guest teacher in a government school for two good years, until she lost the job.
While sitting idle at home, the itch to make a difference only grew stronger. She came up with a plan to start teaching the little children living around her house till she found another job. She began by meeting the parents of the children she would spot begging near the traffic signals. "I was surprised that I was conversing with parents who had made a four-year-old boy responsible for bringing money to the house. That little boy would wake up at 5 a.m. and work in unsafe, harsh conditions, while a healthy father sat at home doing nothing," Neetu said. "The kids were forced into the world before they could even understand it. My simple question to the parents was, what would they do after these kids would be able to distinguish between right and wrong and refuse to beg or engage in illegal activities? Wouldn't it be better that they study, get skills that can help them lead a dignified life?"
The straight talk stirred a positive change in only a few families. Nevertheless, she started teaching the four-five students who came to her. Her focus was primarily on girls but, she invited any student who wanted to study. The plan that was only designed for a few months has completed eight years now. Started in 2014, Sab ki Paathshala was her initiative of contributing to society and working towards improving the lives of as many as she could.
Neetu conducted the classes on a small piece of ground near a temple. The temple was located opposite gate number one of Pragati Maidan, Delhi. She thought it would not only be a safe place but, people of the temple or visitors might notice and help this noble cause. Instead, she was only met with unfriendly and troublesome people. The staff of the temple would often dump water, intentionally just before she was to take the class. The ground would take almost two days to dry, in which case, she would either call off the class or the students had to sit on the damp ground to study. She was denied the request for bringing seating mats or tying a plastic sheet roof over the seating area to protect the children from heat. As a result, the teachers and students, both fought through the harsh weather of the city to study. The people living in the neighbourhood demanded she stops ruining the atmosphere. The comments did not distract Neetu; she continued to teach on the same piece of land and began writing to the government for aid to deal with the troublemakers.
Neetu was relentlessly trying to explain the positive aspects of education to the parents to encourage them. If that wasn't a challenge big enough, goons were sent to threaten her and stop her from educating the children. The police did not provide any assistance for a long time.
"When I think about that day, I feel grateful as ever for being alive," Neetu said. "Some of these young children used to steal, some were sent to deliver drugs, and run errands, only because police would never doubt kids. With me, they were learning the difference between good and bad. So, the goons came knocking on my door, not only threatening me but also some of the little girls who were studying with me. I stood my ground because I knew that neither my actions, nor intentions were wrong. To look at them in the eye and ask them to leave while they went on warning and swearing at us, I never knew I had that kind of courage. It was the faces of these children that motivated me to continue working with them," she added.
After the incident, Neetu sent letters to Mahila Ayog Delhi, the commissioner and the public grievance portal of the Prime Minister. It took two years for the threats to stop. The replies to her letters were sent directly to the police station of the responsible area, explaining her work and stating that she had no other intention but to teach the children. It was then that the police went to her, this time with no harsh words, and assured her of protection.
Just when the challenges seemed to be coming to end, the Covid-19 pandemic hit the world, and Sab ki Paathshala. Teachers who would conduct classes stopped coming, the number of volunteers reduced and children were confined to their houses. Yet, the thought of giving up never crossed her mind.
Now, in the post-pandemic era, she shares her resources and time with anyone who visits the school. She organizes festive activities and annual days for the students to strike a balance between education and extra-curricular activities. She also engages with teachers of other schools who come as guest lecturers for the students.
Innovative method of teaching
"In the beginning years, I had as many as fifty students coming to study. They were used to temporary initiatives and thought that I was doing the same. With time, they understood that I am very serious and here to stay. So, the number of students reduced after some time. Those who wanted to study, are still associated with our school. Some have been with us from grade 2 and have just given grade 10 state board exams," Neetu said.
In the beginning years at Sab ki Paathshala, the children are not taught subjects like in regular schools. They start by learning the basics of reading and writing in Hindi. Any Hindi language book is helpful to carry out the exercises. The children also learned English the same way. They are made to read out paragraphs, discuss the difficult words and their use in a sentence, and write letters or essays in the same language. When the students reaches higher grade 9, Math has been introduced because the students aim to appear for the grade 10 exams. With their basics strong, they are able to understand what is taught and enrol in government schools around the neighbourhood, continuing to take the two-hour class at Sab ki Paathshala. In extra-curricular activities too, Neetu's students are shining bright in their respective schools.
"I was never allowed to be a part of the annual dance shows or performances when I was in school. My parents were already going above and beyond to let me study. Any extra-curricular activities were only a distraction, according to them. So, I taught my children the beauty of arts and expression. This has led them to confidently get on stage and bag prizes and medals for both, themselves and the school," Neetu said. "A group of my students go to the nearby school and they tell me how the teachers insist that the students of Sab ki Paathshala go for inter-school competitions and performances. I live my school life all over again when I see the excitement in their eyes."
Sab ki Paathshala, with the help of professional volunteer teachers, engage in teaching yoga, gardening, poster making, drawing, theatre and dance to the students of the school.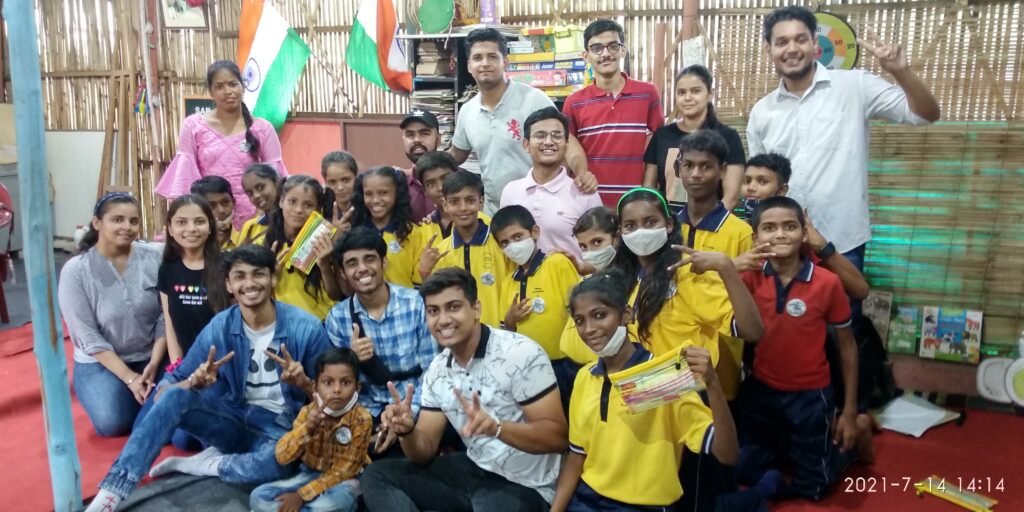 Views on NEP 2020
"I have high hopes for the new policy. Earlier the education system was based on memorization i.e. you teach the students while they learn just enough to pass the exams. The grades in exams were the overall report of the student, the teachers or the government was not bothered by anything else. I know this because I have also been a part of the same education system," Neetu said. "The policy is very beneficial for the overall development of the students and I wish it had been applied sooner. I also like how the Fundamental Right of Education that was set at 14 years of age has now been changed to 18 years. This was a very necessary step. The students will now learn more about our culture and will be able to pursue their interests. However, I would request the government to also consider the growth of underprivileged children. The government could collaborate with NGOs to develop schools in the nearby slums. I would often ask the reason for not going to school and many children were not even aware what schools were or how they functioned," she added.
Pat on the back
"One has to be extremely patient; there is no other way to do this," Neetu said, in a message for educators who are following the same path as her. "Perform at your full, follow your intuitions and, in the end, let your work speak for you. I could only explain so much to the parents of these children. It was the change in their behaviour, attitude and understanding of the child that convinced them."
A teacher once visited Sab ki Paathshala and observed the children and staff of the school. With many people visiting the school, Neetu thought the teacher was also a well-wisher like others. Soon, she found herself receiving an award from The Rotary Club of Delhi. The teacher had seen her efforts and the growth of the children and had nominated her for the award. This helped in spreading the good word for Sab ki Paathshala and people started contributing to the school as volunteers, with a donation or bringing students to her for quality education. Every time a student performs well, she adds it as an achievement to her list.
"I understood very early in my life that education was the only way to change my life. However, it was not a cakewalk to get here. I have clear pictures in my mind of a few incidents. Like, my first day at school; the day I was slapped and humiliated by my teacher for not being able to read and write; the days I went to school without food and sometimes survived only on a fruit given during the mid-day meals," Neetu said. "When I look back at the eight-year-long journey of Sab ki Paathshala, it motivates me to keep going. I have taught my students the impact and importance of education. I also remember the first girl I took as my student, the first time my students won a prize or scored well in their academics, and their smiles when they felt the rush of energy talking to me about their dreams. I am working towards my goal of educating one-lakh students of the country and I hope I achieve that soon because I cannot wait to see these children join the army, join the government and become great artists."
Call for action
From being on the streets to helping those on the streets now, Neetu's journey has been an incredible one.
Sab ki Paathshala takes donations in both, cash and kind. One could offer to be a volunteer teacher for the children, donate uniforms and stationery, sponsor a student or contribute to the infrastructure of the one-classroom school. Their website has information on fund links as well as the goals they are trying to reach. Neetu urges people to visit the school, meet the children and then decide how they can help them. We urge the readers to visit their website and reach out to the members to engage with this cause for change.