Awards, Cheers, Dances … Annual Day Celebration at Subodh Public School, Airport
It was not just another annual function at Subodh Airport, it was a celebration, a rendition that was created on 5 December 2015 at the school. To sum it, the event was all about happy faces … students, faculty and the management beamed with a sense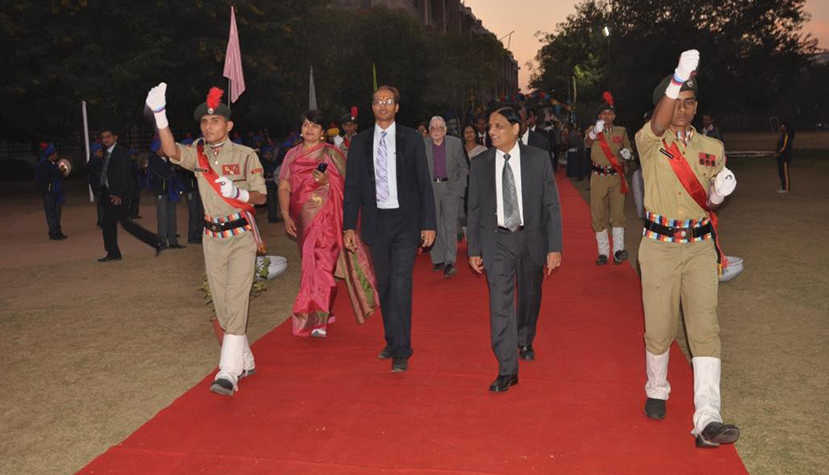 Schools wait for this event for the whole year; students anticipate the day; the teachers hold their breath for the day. The entire school works hard for this day.
The Annual Function!
Anticipation, hard work, wait … it all reflected when Subodh Public School, Airport celebrated their annual function. The day at the school, located away from the hustle bustle of the city, displayed excellence, highlighting academic achievements of the school. Other than celebrating their success, the school had other ideas behind it and so called it SHUBHRANILIKA – Journey from Earth to Universe.
Principal Ma'am, Mrs. Kamaljeet Yadav, along with eminent guests lighting the lamp
Zeal was in the air and we felt it as soon as we entered the school premises. The school lawns glowed with lights, yet shining brighter were the shining faces of students. It was made yet brighter with the lamp lighting by the chief guest, Shri Kuldeepji Ranka, IAS (Secretary and Commissioner, Agriculture and Horticulture, Rajasthan) as he was welcomed by Shri Sumer Singh ji Bothra (Hony. Secretary). Shri N R Khothari, President of S. S. Jain Subodh Siksha Samiti, addressed the audience and blessed with his kind words. This was followed by annual report reading by Principal Ma'am, Mrs. Kamaljeet Yadav.
Rockers of the School: The Band
And then comes the highlight of the most-anticipated day … prize distribution! Beaming faces were seen coming back from the stage as prizes were given away to meritorious and outperforming students by the guest of honor. Soon there was a moment of absolute silence as the names for this year's Subodh Jewel, Pride and Crystal were to be announced. Teachers, parents and students went into a state exhilaration as Ayushi Sharma was called upon the stage for Subodh Jewel, Vaishnavi Vaishnav for Subodh Pride and Hemang Gautam for Subodh Crystal awards!
From left to right – The Jewel of Subodh: Ayushi Sharma; Subodh takes pride in her: Vaishnavi Vaishnav, Subodh Pride; The shining crystal with his title Subodh Crystal: Hemang Gautam
Award ceremony gave way to SHUBHRANILIKA, celebration of life, of our planet, of the beauty on our planet. The magic of the universe lies in the versatility, vividness and variedness; Earth happens to be the most beautiful of all planets … thanks to the life on this planet, where every life experiences diversity, shades, basically evolution. This journey of lives was depicted in the cultural performances through various dances and song presentations.
It was flagged off with a group of students performing a qawwali who took the stage along with their trainers. It surely was a proud moment for Mr Bhanu Rao, the school trumpet band trainer and Mr Shambhu Jain.
Welcoming the guests
Mrs. Mamta Sharma had something worth pondering upon when she trained her students to perform on Sarva Bhavantu Sukhina, Sarva Santu Niramya, where the students appreciated their motherland and duties towards the country.
In respect of Mother India: Sarva Bhavantu Sukhina, Sarva Santu Niramya
Tiny tots love to live in the world of imagination and fantasy, full of enthusiasm, hopes and dreams. Three teachers of the school got together to bring out the real energy of kids to the front; on the way, they brought out the child in them too! Students trained by Mrs. Bijal Kothari jumped to the tunes of Let's Start Jump. And soon was the stage glittering with young stars as performers grooved to the tunes of Chand Tare Jeb Mein Hain, beautifully choreographed by Mrs. Sangeeta Mathur. Mrs. Preeti Rastogi aptly depicted children's curiosity when she helped them prepare for Tell Me Why the Sky is Blue, the Fields are Green ….
Keeping the audience glued
A healthy mind lives in healthy body. Health is wealth. Such proverbs were explained and portrayed beautifully through Yoga presentation by the students under the guidance of Ms. Dolly.
The way to good health: Yoga
Mrs. Samiksha Jain initiated some serious discussions through Khula Aasman, Beparwah Sama, wherein the performing students sent out a message saying how dearly our planet needs to be saved.
Students performing on Har kahani ki ho happy ending, sabka bhala ho made the audience groove with them as the performers wished welfare and good for all. And we saw Mrs. Mamta Tiwari, who was the choreographer for this one, standing in a corner, silently smiling to herself.
Towards a happy ending: Performing on Har kahani ki ho happy ending
The programme concluded with National Anthem and vote of thanks by Shri Vinodji Lodha, Joint Secretary and Convener of the school.
SHE STEM 2022 honours and celebrates women
SHE STEM 2022 encourages students to 'Unleash their imagination' as part of the Sweden India Nobel Memorial Week.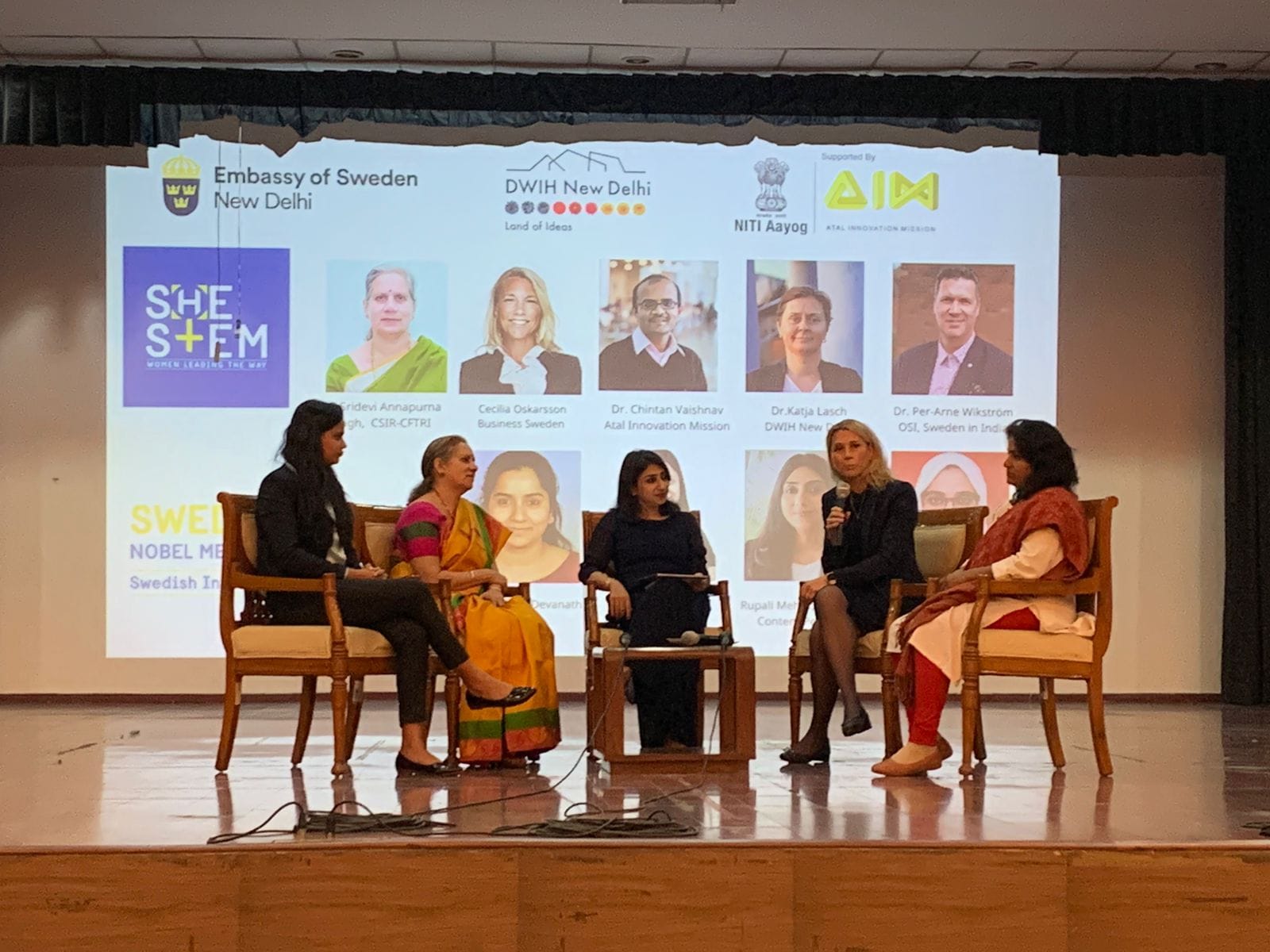 As part of the Sweden-India Nobel Memorial Week, SHE STEM, the annual event to celebrate women in the fields of science, technology, engineering, mathematics, and sustainability, was successfully held for the third year in a row.
The annual event is organized by the Sweden Embassy in India in partnership with the Atal Innovation Mission of the Government of India and the German Centre of Innovation and Research (DWIH New Delhi).
Ambassador of Sweden to India H.E. Jan Thesleff, who also addressed the students via a video message said, "We are very happy to continue the tradition of SHE STEM – it is a flagship event of the Sweden-India Nobel Memorial Week. Congratulations to all the winners of this year's SHE STEM Video challenge."
Dr. Chintan Vaishnav, Director of ATAL Innovation Mission said, "Today, the face of women's involvement in STEM is changing and the rate of participation has increased. It was in ATL Marathon 2021, that there was a spike where the women's participation was 49%. A strong STEM education will go a long way in cultivating such critical thinkers."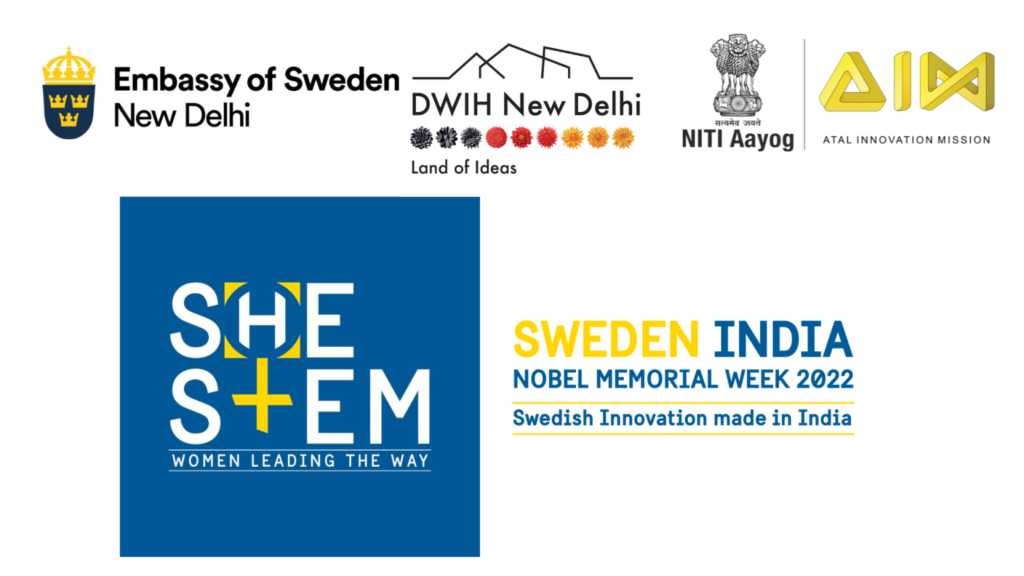 SHE STEM 2022 began with a musical performance by the students of Darbari Lal DAV Model School, New Delhi, the host school for SHE STEM 2022, followed by talks, and a panel discussion with women in the fields of STEM and business, including D. Sridevi Annapurna Singh, Director of Council of Scientific and Industrial Research – Central Food Technological Research (CSIR-CFTRI), Ministry of Science and Technology, Government. of India.
Dr. Annapurna Singh has done extensive work in the development of supplementary foods for undernourished children and in studying the impact of protein-rich food on children. She spoke to the audience about the need for women in fields of STEM to bring in their unique perspectives to problem-solving for a sustainable future.
Other participants included Cecilia Oskarsson, Trade, and Invest Commissioner of Sweden to India, who shared her thoughts on the role of diversity in triggering and enabling positive changes for girls and women, Mamta Kumari, co-founder and CEO of Prepbytes, an ed-tech company in India, and Dr. Vasudharani Devanathan, Neurobiologist and Professor of Biology at the Indian Institute of Science Education Research (IISER). Rupali Mehra, Founder of Content People AB moderated the event.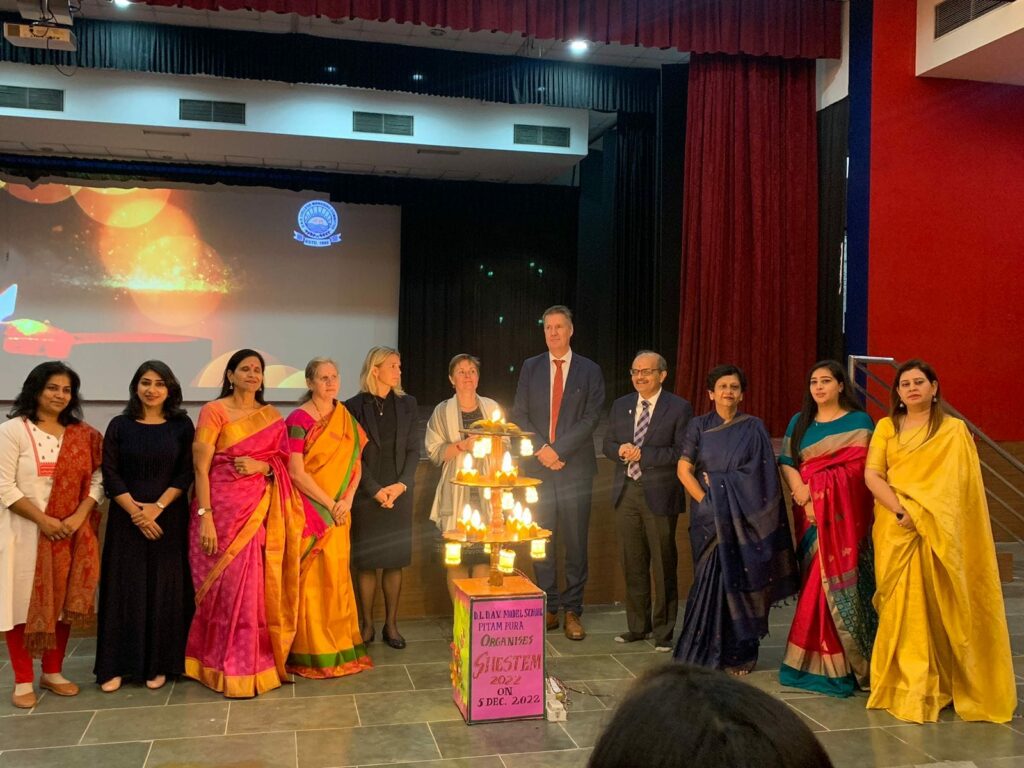 Dr. Per-Arne Wikström, Head of Office of Science & Innovation, Embassy of Sweden in New Delhi said: "When women and girls provide their talent, their knowledge, and their capabilities to science and technology on equal terms with men and boys, then we know that societies prosper and that innovation capacity actually increases. So for us, gender equality is an integrated part and an important aspect of everything that we do. We would like to thank our Indian partners for their support for this very important initiative."
"As Johann Wolfgang von Goethe said, 'who is not curious will not gain knowledge,' so keep your curiosity on, drive your knowledge forward and who knows maybe one or other idea will be implemented," said Dr. Katja Lasch, responsible for Strategy Management at the German Centre for Research and Innovation (DWIH New Delhi) and head of German Academic Exchange Service (DAAD) Regional Office in New Delhi.
Following the success of the Insta-reels Video Challenge in 2021, SHE STEM hosted the #SHESTEM2022 Video Challenge across Instagram, Youtube, Facebook, and Google Drive for students of ages 13 to 17, asking them to imagine themselves in the year 2047, and speak about an innovation of theirs that has helped in tackling climate change. The response was overwhelming with over 930 videos of which 15 were shortlisted. SHE STEM had an extensive jury round of 3 jury teams; Atal Innovation Mission Team led by Dr. Chintan Vaishnav, the Swedish Embassy team, led by Dr. Per-Arne Wikström, and the German Centre for Research and Innovation, represented by Dr. Katja Lasch.
The videos were assessed on the:
Novelty of idea
Clarity of thought and articulation
Sustainability or climate action angle
G. Nivethiga Rani who created a video on how she as a STEM Leader in 2047 had invented a robot that collected and converted biodegradable and non-biodegradable waste into electricity, won the first prize in the video challenge. The second prize was tied between T Shatananda Dhanwantari and Shreya Singh and Nistha Aswal, who participated as a team. Gaurav Hanjoora won third place.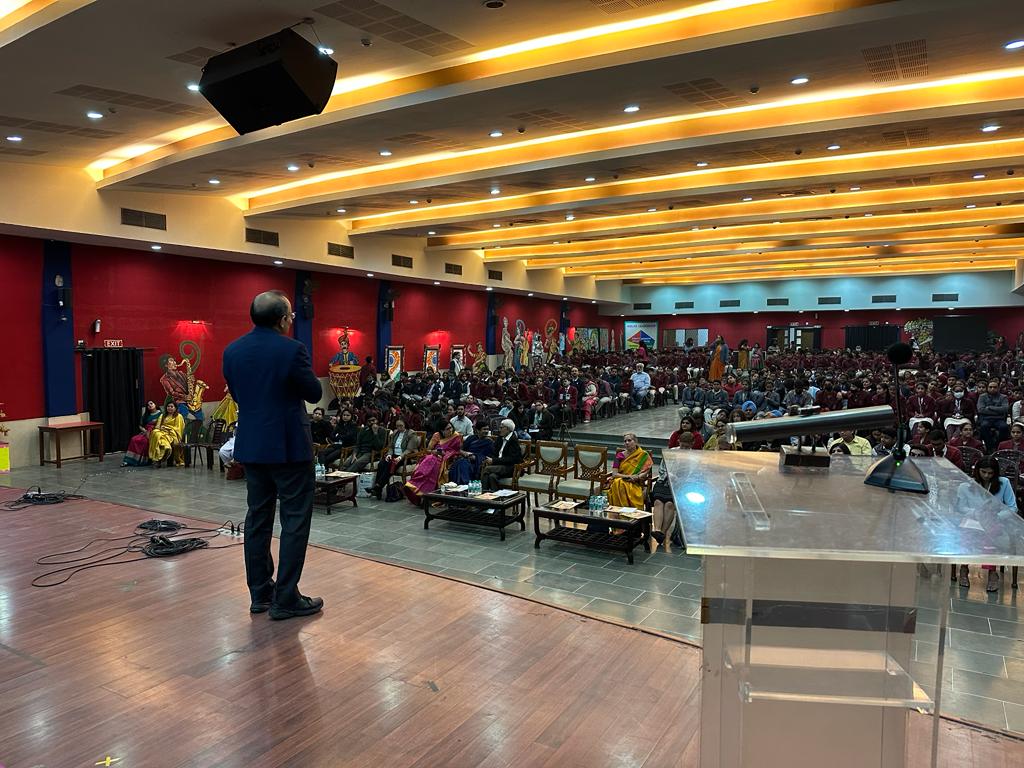 "I congratulate all the winners of the SHE STEM 2022. I have to say what caught my attention was that every single idea was addressing a fundamental constraint confronting us," said Dr. Chintan Viashnav.