Awards, Cheers, Dances … Annual Day Celebration at Subodh Public School, Airport
It was not just another annual function at Subodh Airport, it was a celebration, a rendition that was created on 5 December 2015 at the school. To sum it, the event was all about happy faces … students, faculty and the management beamed with a sense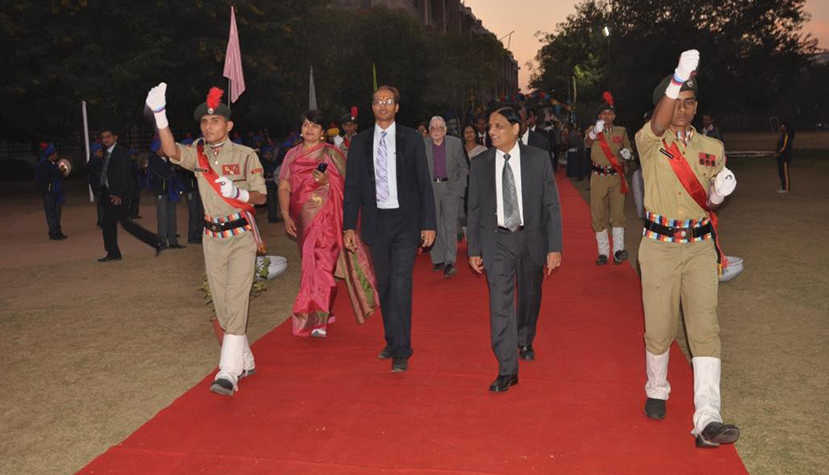 Schools wait for this event for the whole year; students anticipate the day; the teachers hold their breath for the day. The entire school works hard for this day.
The Annual Function!
Anticipation, hard work, wait … it all reflected when Subodh Public School, Airport celebrated their annual function. The day at the school, located away from the hustle bustle of the city, displayed excellence, highlighting academic achievements of the school. Other than celebrating their success, the school had other ideas behind it and so called it SHUBHRANILIKA – Journey from Earth to Universe.
Principal Ma'am, Mrs. Kamaljeet Yadav, along with eminent guests lighting the lamp
Zeal was in the air and we felt it as soon as we entered the school premises. The school lawns glowed with lights, yet shining brighter were the shining faces of students. It was made yet brighter with the lamp lighting by the chief guest, Shri Kuldeepji Ranka, IAS (Secretary and Commissioner, Agriculture and Horticulture, Rajasthan) as he was welcomed by Shri Sumer Singh ji Bothra (Hony. Secretary). Shri N R Khothari, President of S. S. Jain Subodh Siksha Samiti, addressed the audience and blessed with his kind words. This was followed by annual report reading by Principal Ma'am, Mrs. Kamaljeet Yadav.
Rockers of the School: The Band
And then comes the highlight of the most-anticipated day … prize distribution! Beaming faces were seen coming back from the stage as prizes were given away to meritorious and outperforming students by the guest of honor. Soon there was a moment of absolute silence as the names for this year's Subodh Jewel, Pride and Crystal were to be announced. Teachers, parents and students went into a state exhilaration as Ayushi Sharma was called upon the stage for Subodh Jewel, Vaishnavi Vaishnav for Subodh Pride and Hemang Gautam for Subodh Crystal awards!
From left to right – The Jewel of Subodh: Ayushi Sharma; Subodh takes pride in her: Vaishnavi Vaishnav, Subodh Pride; The shining crystal with his title Subodh Crystal: Hemang Gautam
Award ceremony gave way to SHUBHRANILIKA, celebration of life, of our planet, of the beauty on our planet. The magic of the universe lies in the versatility, vividness and variedness; Earth happens to be the most beautiful of all planets … thanks to the life on this planet, where every life experiences diversity, shades, basically evolution. This journey of lives was depicted in the cultural performances through various dances and song presentations.
It was flagged off with a group of students performing a qawwali who took the stage along with their trainers. It surely was a proud moment for Mr Bhanu Rao, the school trumpet band trainer and Mr Shambhu Jain.
Welcoming the guests
Mrs. Mamta Sharma had something worth pondering upon when she trained her students to perform on Sarva Bhavantu Sukhina, Sarva Santu Niramya, where the students appreciated their motherland and duties towards the country.
In respect of Mother India: Sarva Bhavantu Sukhina, Sarva Santu Niramya
Tiny tots love to live in the world of imagination and fantasy, full of enthusiasm, hopes and dreams. Three teachers of the school got together to bring out the real energy of kids to the front; on the way, they brought out the child in them too! Students trained by Mrs. Bijal Kothari jumped to the tunes of Let's Start Jump. And soon was the stage glittering with young stars as performers grooved to the tunes of Chand Tare Jeb Mein Hain, beautifully choreographed by Mrs. Sangeeta Mathur. Mrs. Preeti Rastogi aptly depicted children's curiosity when she helped them prepare for Tell Me Why the Sky is Blue, the Fields are Green ….
Keeping the audience glued
A healthy mind lives in healthy body. Health is wealth. Such proverbs were explained and portrayed beautifully through Yoga presentation by the students under the guidance of Ms. Dolly.
The way to good health: Yoga
Mrs. Samiksha Jain initiated some serious discussions through Khula Aasman, Beparwah Sama, wherein the performing students sent out a message saying how dearly our planet needs to be saved.
Students performing on Har kahani ki ho happy ending, sabka bhala ho made the audience groove with them as the performers wished welfare and good for all. And we saw Mrs. Mamta Tiwari, who was the choreographer for this one, standing in a corner, silently smiling to herself.
Towards a happy ending: Performing on Har kahani ki ho happy ending
The programme concluded with National Anthem and vote of thanks by Shri Vinodji Lodha, Joint Secretary and Convener of the school.
Special show by special students wows Jaipur
As much as the students are special so was their performance, although few expected it to be such an outstanding show. Read how students of Disha, a school for special children, proved their mettle.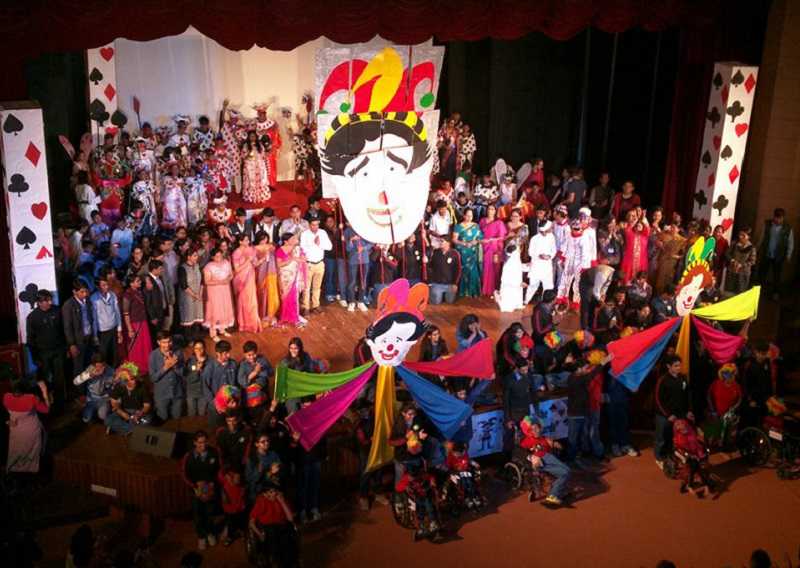 This was not one of those regular annual functions. What was experienced at Birla Auditorium Jaipur on Saturday had six months of hard work written all over it.
Celebrating their school's 20th anniversary, the students of Disha, A Resource Center for Multiple Disabilities, Jaipur put up a sparkling adaptation of Rabindranath Tagore's Tasher Desh, wowing their school chums, parents, educators and other people from the city.
Titled 'Jokers in the Kingdom of Cards', the play revolved around a prince with a deep desire to escape his royal destiny. In pursuance of it, he lands up on an authoritarian island where people blindly follow rules, who are ultimately invoked by the prince to follow their heart and mind, thus starting a revolution.
As the play unfolded, the audience sat spellbound. Some actors couldn't walk, others couldn't talk, yet they tried… and emerged winners. The audience went along, tapping their feet and clapping along with the children.
Bhavya's father, Hemant Mishra, sat teary-eyed. It had been two years now that his daughter had been at Disha, and the outcome had been beyond expectation, he said. She can now perform onstage!
"What Disha is doing is wonderful; it provides an unexpected platform to special children," said Arun Dhandhania, an elderly gentleman in the audience. "The teachers here are very dedicated to helping students perform well as all-rounders."
It wasn't just the audience that enjoyed the show, but also students from other, mainstream schools like MGD School, Jayshree Periwal High School, Sanskar School, etc. But it wasn't just for fun that they were here, what the students learnt here is something that we need to advocate to the rest of the society too.
Kshitiz Khandelwal from Jayshree Periwal School, volunteering for a couple of weeks with Disha in the run-up to the show, said that it was 'love and affection' that he had learnt from these children, while Pooja Khandelwal, also a volunteer, said she had learnt the value of 'acceptance in life'.
"It is not sympathy, what these children need is empathy," Stuti Uppal and Jyotiraditya, wise beyond their years, tried to explain it better. "They too have abilities, some special ones, which we need to recognise and appreciate and help them develop it."
And the special educators were delighted as they handed over the children to their parents after the show. None could hold their smiles. "Yes, these children are special and inspiring. It took us all six months to get to the stage, yet all these days not once did we see any sign of negligence or tiredness on their faces," teacher Shail Gupta said emotionally. "What more can we ask for, we got a standing ovation…."
Needless to say, the show was a huge success with the audience giving a standing ovation to not just the students, but also the teachers whose hard work was clearly visible.
Earlier, the evening began with the lamp being lit by Disha chairperson Dr Ashok Panagariya, trustee chairperson Basantt Khaitan, Prof VS Vyas, Dr Sudhir Bhandari, Advisor PN Kavoori with Suniti Sharma, the principal of MGD Girls School, Krishna Bhati, the principal of MSMSV, Rama Dutt, the principal of Sanskar School, and Jayshree Periwal of the Jayshree Periwal group, etc, marking their eminent presence. The school founder and advisor PN Kavoori then thanked the special educators, foreign donors, council members, parents and donors for their support through the journey that began in 1995. This was followed by a school report card presentation, which talked about how the so-called disabled students had outperformed limits set by the world.