Amnesty International India brings the 'Bully no more' campaign
Seeing that 70% of schools have bullying cases in India, Amnesty International India has launched an anti-bullying campaign addressing the whole school approach.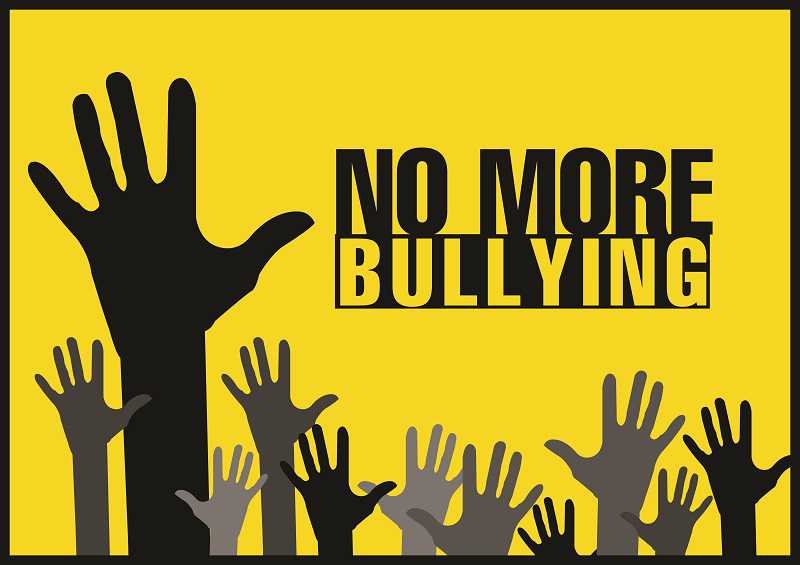 Amnesty International India has created an anti-bullying campaign – 'Bully no more' which is also a part of the Human Rights Education Programme.
The Human Rights Education programme works with schools in India to integrate human rights in daily school life. The programme follows the belief that if dignity, respect, inclusion and non-discrimination become an everyday occurrence, children start living a culture of human rights – a life where they can thrive and grow.
According to a survey conducted by the Parents Teachers Association United Forum (PTAUF) in 150 schools across Mumbai and Thane, 70 % of students experience bullying in school. This shows that its a very prevalent practice in schools and hence the need for the 'Bully no more' campaign.
Besides the wide spread nature of this problem, studies have also shown that children who are bullied could experience the effects long into adulthood. The results show that people who were bullied as children were twice as likely to have difficulty in keeping a job in adulthood, while many showed signs of having difficulty in forming social relationships. One group in particular – the bully-victims – so named because to identify people who turned to bullying after being bullied themselves, are allegedly the most vulnerable. They are at greatest risk for health problems in adulthood, over six times more likely to be diagnosed with a serious illness, smoke regularly, or develop a psychiatric disorder compared to those not involved in bullying.
Tara rao, Director, Human rights for education programme, Amnesty International India tells us why bullying is more than just a childhood rite of passage. The social acceptance of bullying as a part of "growing up" exacerbates the problem, with many believing it to be a means by which children can "toughen up" and prepare for adulthood.
However, at its core, bullying is a human rights violation. It is a form of violence that takes away students' rights to respect and dignity, and infringes on the basic human rights values of inclusion, participation and non-discrimination.
Dr. Shekhar Seshadri, Department Of Child And Adolescent Psychiatry, Nimhans, Bangalore shares how bullying can affect a child and how a 'whole school approach' is key to addressing the problem.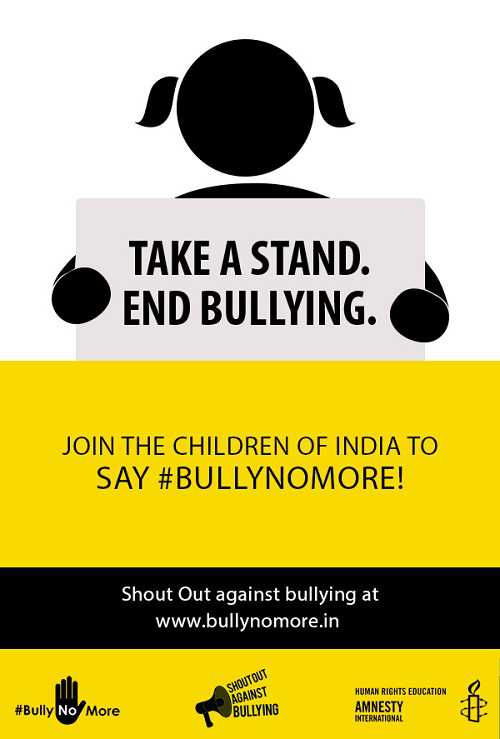 Bullying is a form of systematic abuse of power—the commonest form of aggression in children. It can be 'direct' such as physical, verbal, psychological, sexual even virtual(cyberbullying) or 'indirect' in the form of social aggression like spreading rumours, refusing to socialise with victim, bullying others who socialise with the target, criticising the victim's dress or other socially significant markers. Bullying seems to increase from elementary classes to high school years. Though in senior high school level, physical form tends to drop a bit.
Bullying can result in serious consequences in young ones' life and future. Anxiety, lack of confidence, depression even suicide are not rare consequences in victims.
Anti-bullying programs across the globe have some common elements like awareness of school community especially the teaching staff and parents about the problem. A carefully coordinated 'Whole School' approach may be the key for success. For this, first a strict 'anti-bullying policy' of the school needs to be formulated and implemented.
These programs vary in many aspects. Intervention strategy variation is the most striking of these. It varies from non-punitive approaches like 'No Blame' approach where problem solving is left to students under supervision, or 'Shared Concern Method' for adolescents where mediation is done between victim and perpetrator groups through a trained mediator. Victims can also be trained in assertiveness, social skills and empowered to initiate the formation of friend circle or supportive peer group to develop resilience.
While many schools in India are already proactively working against this silent menace, it is getting a big fillip by the involvement of a body like Amnesty International India. Hopefully, with the gradual roll out and implementation of this campaign we will see a reduction in the cases of school bullying across the nation.
NIOS celebrates 33rd Foundation Day
Dr. Subhas Sarkar addresses the 33rd Foundation Day Celebrations of NIOS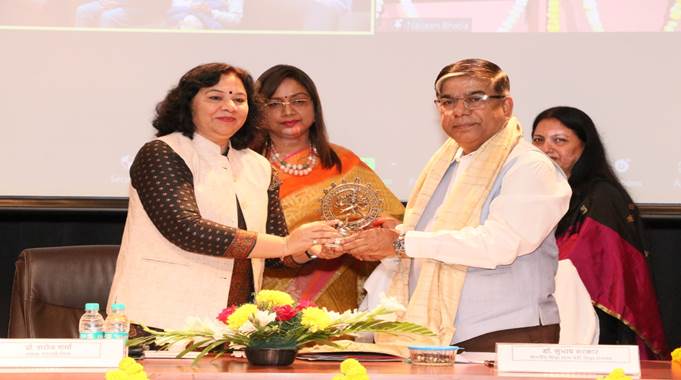 Union Minister of State for Education, Dr. Subhas Sarkar addressed the 33rd Foundation Day Celebrations of NIOS as the Chief Guest.
The function was attended by senior officials of the Ministry of Education, Chairpersons of educational institutions, Heads of Departments, officers, and staff of NIOS. Prof. Naval Kishore Ambasht, former Chairman, of NIOS and Pro-Vice Chancellor, of the Central University of Haryana, Prof. Sushma Yadav graced the occasion.
Dr. Subhas Sarkar in his address appreciated the various programmes and schemes of NIOS and said that NIOS is lighting the lamp of knowledge all over the world. Talking about the Azadi Ka Amrit Mahotsav, he mentioned that today's children will be young people in the age group of 30-40 years on the completion of 100 years of independence and will be responsible for building our nation.
He said that the Ministry of Education has entrusted NIOS with several responsibilities such as developing inclusive education resources, expanding the open and distance education system in states/UTs, translating all courses into more languages as required, creating Indian Knowledge Tradition based courses and propagating Indian culture by translating them into major foreign languages. He also praised the programmes of NIOS enrolling 10 crore adults under 'Basic Literacy Assessment', training of in-service teachers, Gender Green Project, and training in Yoga. He said that Indian Sign Language as a subject at the secondary level has been acknowledged on national and international platforms. He described the launch of an e-library called 'DEEP' by NIOS as a big step forward.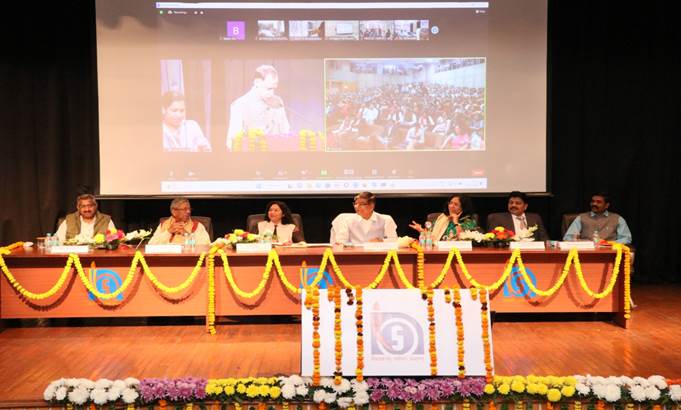 Prof. Saroj Sharma spoke about the journey of 33 years of NIOS and highlighted the special achievements. She said that NIOS is one of the two National Boards of Education under the Ministry of Education, which provides school education through Open and Distance Learning (ODL) for secondary, senior secondary, and vocational education. She elaborated on the role of NIOS in the field of education, efforts being made by NIOS for the successful implementation of the New Education Policy, Virtual Open School, Digital Library (DEEP), NEPIA Project, MoU with Ministry of Defence for Agniveer Project, setting up of Mukta Kaushal Kendras and subjects offered under Indian knowledge Tradition.
It was also conveyed by her that a curriculum called 'Aarambhika' is being developed by NIOS for catering to the Indian Diaspora.
A documentary based on the journey of 33 years of educational endeavours of NIOS was presented on the occasion. In this documentary, 'All England Badminton winner Pullela Gopichand said that most of the players in his badminton academy are getting an education from NIOS.
NIOS alumni, Ms. Niranjana and Vinod Kumar Chaudhary were also felicitated on the occasion. Shri Vinod Kumar said that only due to his education in NIOS, he was able to get the credit of making the Guinness Book of World Records 10 times (8 in Typing and 2 in sports). A proud learner of NIOS, Ms. Niranjana is a successful ventriloquist. Prof. N. K. Ambasht, former Chairman, NIOS said that in this age of technology, innovations must lead to developing 'standalone' courses for the Indian Diaspora, to achieve the goals of the National Education Policy- 2020. Pro-Vice Chancellor, Prof. Sushma Yadav said that the role of NIOS increases in the light of New Education Policy. NIOS has such potential that the institute will be able to achieve the ambitious goals of National Education Policy 2020 in the coming years.
The half-yearly magazine of NIOS 'Pragyan' was released by Dr. Subhas Sarkar on this occasion.