Amnesty International India brings the 'Bully no more' campaign
Seeing that 70% of schools have bullying cases in India, Amnesty International India has launched an anti-bullying campaign addressing the whole school approach.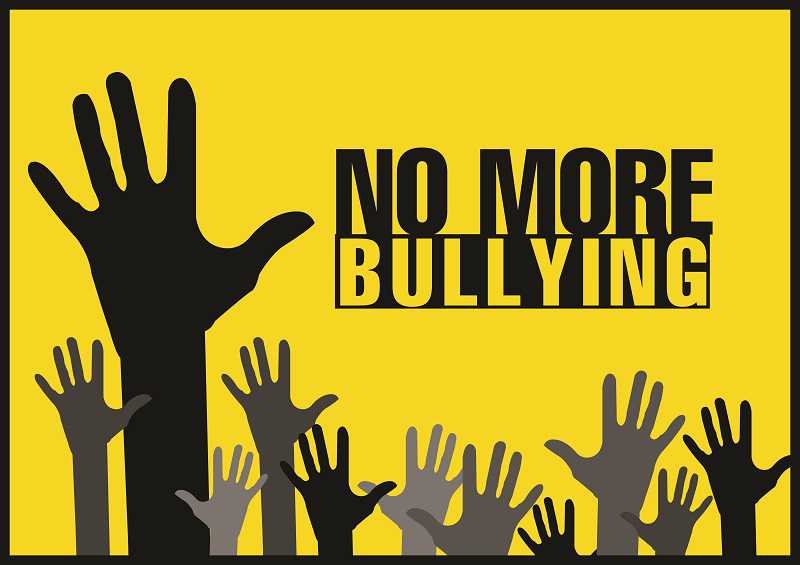 Amnesty International India has created an anti-bullying campaign – 'Bully no more' which is also a part of the Human Rights Education Programme.
The Human Rights Education programme works with schools in India to integrate human rights in daily school life. The programme follows the belief that if dignity, respect, inclusion and non-discrimination become an everyday occurrence, children start living a culture of human rights – a life where they can thrive and grow.
According to a survey conducted by the Parents Teachers Association United Forum (PTAUF) in 150 schools across Mumbai and Thane, 70 % of students experience bullying in school. This shows that its a very prevalent practice in schools and hence the need for the 'Bully no more' campaign.
Besides the wide spread nature of this problem, studies have also shown that children who are bullied could experience the effects long into adulthood. The results show that people who were bullied as children were twice as likely to have difficulty in keeping a job in adulthood, while many showed signs of having difficulty in forming social relationships. One group in particular – the bully-victims – so named because to identify people who turned to bullying after being bullied themselves, are allegedly the most vulnerable. They are at greatest risk for health problems in adulthood, over six times more likely to be diagnosed with a serious illness, smoke regularly, or develop a psychiatric disorder compared to those not involved in bullying.
Tara rao, Director, Human rights for education programme, Amnesty International India tells us why bullying is more than just a childhood rite of passage. The social acceptance of bullying as a part of "growing up" exacerbates the problem, with many believing it to be a means by which children can "toughen up" and prepare for adulthood.
However, at its core, bullying is a human rights violation. It is a form of violence that takes away students' rights to respect and dignity, and infringes on the basic human rights values of inclusion, participation and non-discrimination.
Dr. Shekhar Seshadri, Department Of Child And Adolescent Psychiatry, Nimhans, Bangalore shares how bullying can affect a child and how a 'whole school approach' is key to addressing the problem.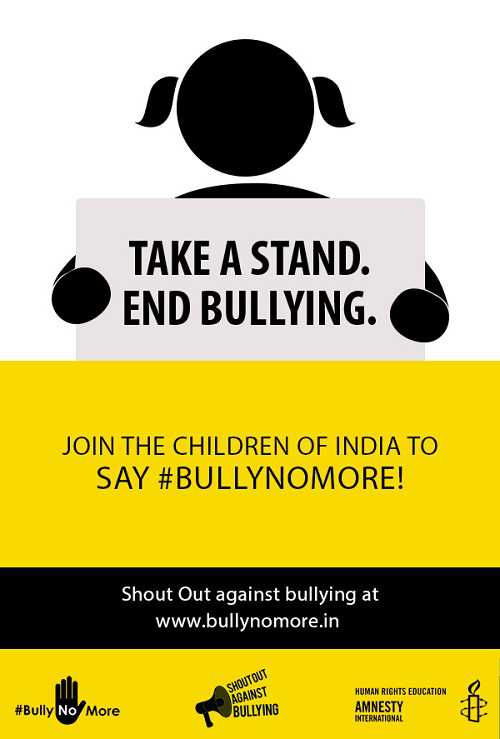 Bullying is a form of systematic abuse of power—the commonest form of aggression in children. It can be 'direct' such as physical, verbal, psychological, sexual even virtual(cyberbullying) or 'indirect' in the form of social aggression like spreading rumours, refusing to socialise with victim, bullying others who socialise with the target, criticising the victim's dress or other socially significant markers. Bullying seems to increase from elementary classes to high school years. Though in senior high school level, physical form tends to drop a bit.
Bullying can result in serious consequences in young ones' life and future. Anxiety, lack of confidence, depression even suicide are not rare consequences in victims.
Anti-bullying programs across the globe have some common elements like awareness of school community especially the teaching staff and parents about the problem. A carefully coordinated 'Whole School' approach may be the key for success. For this, first a strict 'anti-bullying policy' of the school needs to be formulated and implemented.
These programs vary in many aspects. Intervention strategy variation is the most striking of these. It varies from non-punitive approaches like 'No Blame' approach where problem solving is left to students under supervision, or 'Shared Concern Method' for adolescents where mediation is done between victim and perpetrator groups through a trained mediator. Victims can also be trained in assertiveness, social skills and empowered to initiate the formation of friend circle or supportive peer group to develop resilience.
While many schools in India are already proactively working against this silent menace, it is getting a big fillip by the involvement of a body like Amnesty International India. Hopefully, with the gradual roll out and implementation of this campaign we will see a reduction in the cases of school bullying across the nation.
Smile Foundation and Shell Launch STEM Project on Pi Day
The initiative will benefit less-privileged students from government schools.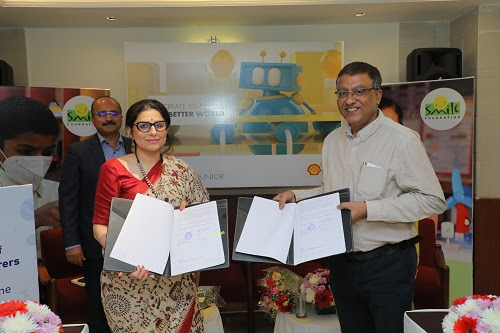 On the occasion of International Pi (π) Day, Smile Foundation and Shell launch 'NXplorers Junior' programme in three Indian states. NXplorers is Shell's global flagship Social Investment STEM (Science, Technology, Engineering, and Mathematics) educational programme aims to benefit over 25,000 children during the first year by enabling them to understand, navigate and address local and global challenges, as underlined in the Sustainable Development Goals (SDGs). NXplorers is also aligned with the National Education Policy 2020 and delivers societal benefits.
The innovative initiative will benefit less-privileged students from government schools and affordable private schools, studying in rural and hard-to-reach areas in the states of Andhra Pradesh, Telangana and Kerala. Its design also includes endeavour to create awareness amongst parents on the importance of STEM education, especially for girl children.
"Shell firmly believes that, provided with the necessary skills and guidance, young people can be a driving force to find sustainable solutions to the major global challenges of our time. Launched in 2018, Shell's global flagship STEM programme NXplorers is aligned with the National Education Policy 2020 that aims to transform India into an equitable and vibrant knowledge society. With the Smile Foundation partnership, we aim to expand this programme to Andhra Pradesh, Kerala, and Telangana and offer young minds the platform to design sustainable solutions to ease the pressure on food, water, and energy," said Ms. Latika Taneja, Head of Corporate Relations – India.
The programme is being rolled out in concurrence with the educational authorities of the respective state governments. Besides students, teachers, parents and communities are involved actively while implementing the programme so that it remains sustainable in the long-term.
"We are excited to roll out this innovative programme in India. We are hopeful that our children will not only leverage STEM education in building their future career but also will grow up and develop leadership ability in finding sustainable solutions in various walks of life," said Mr. Santanu Mishra, Co-founder & Executive Trustee, Smile Foundation.
The NXplorers Juniors will train both 6th and 7th grade students. NXplorers Juniors Level-I course will be delivered through a combination of teacher's guide, PowerPoint slides, and several instructional videos. The facilitator guide will outline the essentials to be covered in each session, exercises, discussion, checkpoint questions, a summary, assessment, and research to be undertaken by students after the session.
The United Nations Sustainable Development Goals (SDGs), exploring SDG Solutions, researching global goals, and developing a challenge and choosing a solution etc. are covered in the NXplorers Juniors Level-1.
NXplorers – Learning for a Life Time, envisions to provide a minimum of 3-5 years of NXplorers exposure to the students at various levels. The objectives include developing strong knowledge and skill set among students so that local and global challenges can be addressed by them. Developing sustainable models of implementation by engaging teachers, school leaders and communities effectively, creating awareness amongst parents regarding the importance of STEM education, especially concerning girl education are part of the overall goals.
About Smile Foundation
Smile Foundation is a national development organization directly benefiting over 1.5 million underprivileged children and their families every year through more than 400 welfare projects in education, healthcare, livelihood and women empowerment spread across 2,000 remote villages and urban slums in 25 states of India.
About Shell
Shell is one of the most diversified international energy company in India with over 10,000 employees and presence across upstream, integrated gas, downstream, renewable energy, and deep capabilities in R&D, digitalisation, and business operations; with a retail presence across six states – Karnataka, Tamil Nadu, Telangana, Maharashtra, Gujarat, and Assam.