Child & Adolescent Psychiatrist Dr Zirak Marker on Why Letting Kids Fail is Important
Children who don't have opportunities to fail or struggle and recover have lower self-confidence and a less-developed self-concept. They tend to be more fearful of failure and less willing to try new things because they don't know how they will handle it.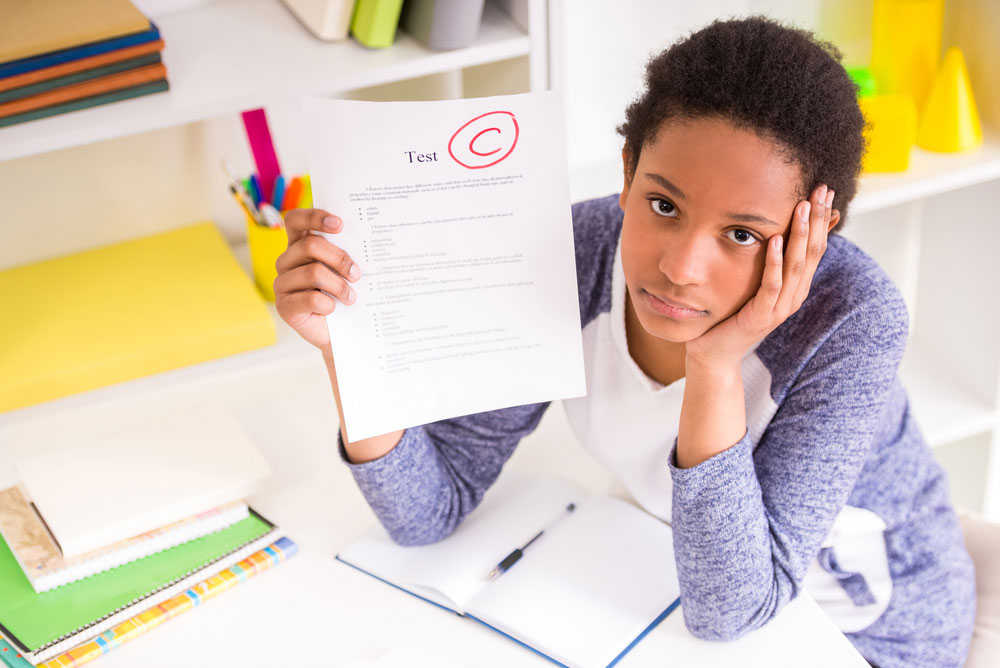 The Success In Failure
From the moment our children are born, that protective parental instinct kicks in after which we become almost fierce in not allowing them to fall, fail, lose or get hurt. While it is absolutely necessary to give them security and work towards building on their self-confidence and achievements, we also need to provide opportunities for learning that come from making mistakes.
In this ever-competitive parental world, right from a young age, we want what's 'best' for our children. Toddlers are put through hours of preschool interview training, phonics tuitions, gym classes and storytelling groups. No stone is left unturned to ensure these kids get into the school of their choice and after that, there is a new breed of parents emerging called the 'Snow-ploughing parents'! They will not let anything come in their child's way of success. They do not allow their child to go through obstacles, challenges or failures – whether it is academic, social, behavioural or emotional. This leaves them unequipped to deal with life in general. They do not have the means to cope healthily through life's enumerable stressors or difficulties. Thus they've never experienced what failure means.
One of the largest causes of suicide or self-harm is perceived failure. Adolescents or young adults feel that they cannot live up to their parents' expectations or their own. They feel they have let down their families or schools or their friends/peers. They get stressed and overwhelmed with failures in academics, relationships or opportunities.
We as parents and stakeholders of education need to alter this perception of failure and be able to understand its importance –
1) Let certain things go wrong: Consider the learning that occurs when a child and a classmate or friend get into a fight and have an altercation. Even though it is unpleasant for both parents and the child, children learn to understand their own feelings and emotions, reflect on their own actions and behaviours, take another's perspective, and in some cases compromise. They decide how they need to resolve the problem, and in most cases do so better than adults. If parents swoop in to fix those problems, children miss out on that critical skill-building that results from learning from mistakes.
Even in small day to day tasks, it is so important for them to struggle a bit, then perhaps try again and find a way to make it work. It could be managing a household item, figuring out a game or puzzle, electronics or the iPad. It could be navigating them through instructions to build something; allowing them to follow airport signs to find a gate number; giving them such situations in life and asking them what they think they should do.
If a child is able to solve problems on their own, they will be happier, more confident and more independent. They will be able to take the lead and make important decisions for themselves. They will not feel frustrated or anxious when things do not work out as they had planned.
When your child makes a mistake, don't berate the child for the mistake but make it into a question of 'What are you going to learn from it?' 'What's one way you could do that differently?' – Michele Borba
2) Let academic performance slide: Our biggest worry through school years is academic failure or them not being able to maximise their potentials and take on the challenges. From getting all their homework checked and done (sometimes even actually doing the work ourselves!), making elaborate print outs and artworks for their projects (which is commonly even outsourced nowadays!), to sitting up late into the night solving math problems or reading out answers repeatedly for an exam the next day. Which child will not get complacent and allow all the work to get done for them? There is no independent work and no inner drive and motivation which is so important for any achievements in life. In fact, children develop a sense of false entitlement and get angry or helpless when this support is reduced or withdrawn.
Further, children who don't have opportunities to fail or struggle and recover have lower self-confidence and a less-developed self-concept. They tend to be more fearful of failure and less willing to try new things because they don't know how they will handle it. It is so important to sometimes let them face consequences and get low marks or even fail. This will make them realise that there's no substitute for hard work and perseverance.
They need to take responsibility from within. The minute they achieve the mastery of independence and decide for themselves to make a change – the drive and motivation go up and the results seem more real and valuable to them.
Stand up for something, even if it means standing alone. Because often sometimes, the one who flies solo, has the strongest wings.
3) Let them struggle and ask for help: It is so important for children to ask for help and so imperative for us to not give in to imparting all our knowledge or give them quick ready-made answers or solutions. We live in an age of 'impulsiveness' and 'instant gratification' wherein everything needs to happen here and now. Children don't have the patience to take the trouble in finding out or researching things; giving a few aspects of life the luxury of time and enjoy the suspense of not knowing things over a few days. They do not want the suspense or have the thirst to build as they've never experienced it. We give them most things on demand. Whether it's a new Lego set, answers of a quiz or research-based answers for a project to something materialistic that they've wanted. Gone are those days where we were given two or three weeks to complete a project where we painstakingly cut out pictures from the National Geographic magazines and hand wrote content copied from Encyclopaedias. But those readings and learning have stayed with us for years to come. We were given time to be curious, 'think' and reflect.
Thinking skills are so crucial for cognitive development. We use critical thinking skills every day of our lives. They help us make good decisions, understand the consequences of our actions and helps problem-solving.
The essence of the independent mind lies not in what it thinks, but in how it thinks. – Christopher Hitchens
4) Letting them see Us fail: It is healthy to allow our children to see and realise that we as parents are not perfect too. Let them watch us struggle, make mistakes, fail, navigate our feelings, brainstorm, ask for help and come up eventually with a strategy or solution and implement healthy coping mechanisms to curb the stress. This is great for role modelling resilience.
When we as parents have better insight into ourselves, we have more realistic expectations of our children. We need the most effective role models for them in order to harness their Emotional Intelligence. Through this only can we impart the values of gratitude, mindfulness, empathy, acceptance, tolerance and compassion. These are some of the most important learning's for a child to take on life and it's challenging. Sometimes the failures are not in our control and can have damaging repercussions in a family. Yet how we come together during a time of crisis, how we empathise with the situation, accept the problems and generate possible solutions – gives us the ever most important skill and a gift of 'Resilience.'
Failure is part of life, and if our children don't have the opportunity to fail or make mistakes, they'll never realize they can bounce back. That's what resilience is all about. – Michele Borba.
Dr Zirak Marker Child & Adolescent Psychiatrist Advisor – Mpower Medical Director- The Aditya Birla Integrated School Author – Parenting In The Age of Anxiety.
What is Hybrid/Blended Learning?
We are lifelong learners and need to keep pace with the fast-paced technology so that our students are ready to take the next leap. Our classrooms have to echo that thought and vision at all times through new pedagogies and teaching-learning strategies.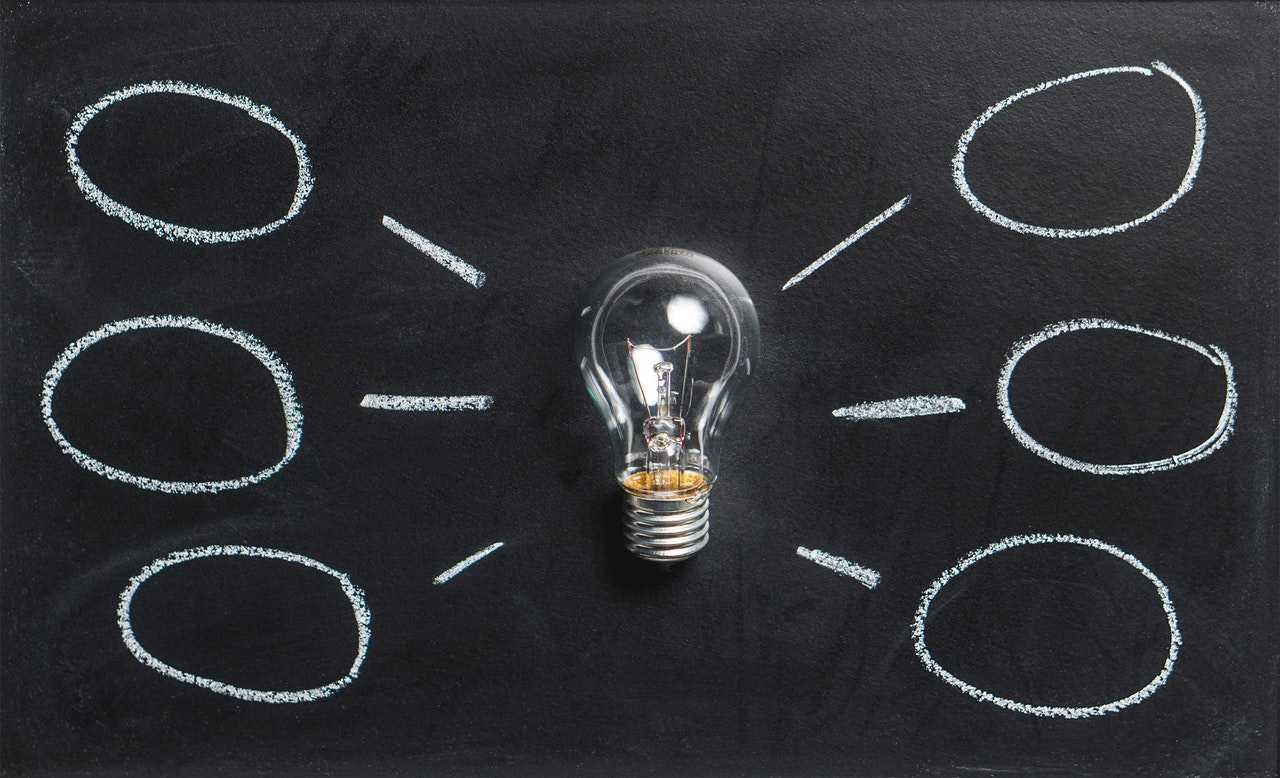 The COVID wave – consider it a bane or boon – but it somersaulted us to an array of digital world experiences. It propelled us to rethink and reorganize our mindsets, our practices, and our expectations. Overnight, we moved from an offline teaching mode to online, and credit to the teaching community for doing it so seamlessly. Now, we are back to offline teaching but do we continue with our old practices? An obvious no so we need to infuse our online experiences within the offline to ensure that quality education reaches one and all.
One key pedagogy to achieve the goal is blended learning, an approach that combines face-to-face learning with online learning incorporating certain elements that support students to have control over the pace, time, and place. The material resource investment is minimal but human resource investment is high till the ethos is assimilated within all.
So let's understand the varied types of blended learning and its implementation in the school teaching-learning process.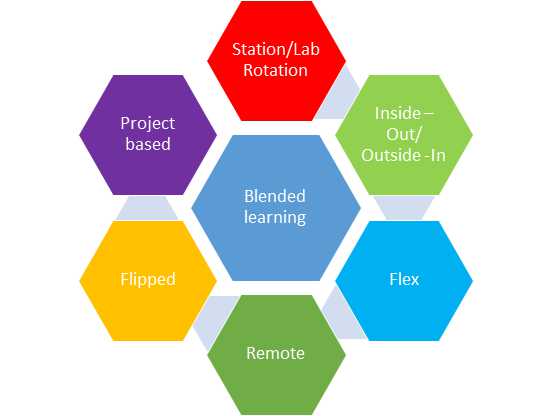 1. Station Rotation
In Station Rotation, students will rotate on a fixed schedule as per the teacher's discretion. The teacher begins her class of 40 students with instruction on narrative writing from 9:00 am to 9:15 am. She then splits the class into three groups where one group continues to learn with her. The second group works on a collaborative assignment on narrative writing and the third use their laptops or computers placed in the class and researches blended learning and after 15 minutes the group switches so that every group has varied experiences. A block class of English can support the various transactions and supports students to build research, collaborative and knowledge skills.
In the same format, if computers or laptops are not available in class then students use the computer laboratory in school and this rotation would then be called as Lab Rotation.
In this methodology, all students with varied learning needs are supported. The only challenge is the Technology and time management skills.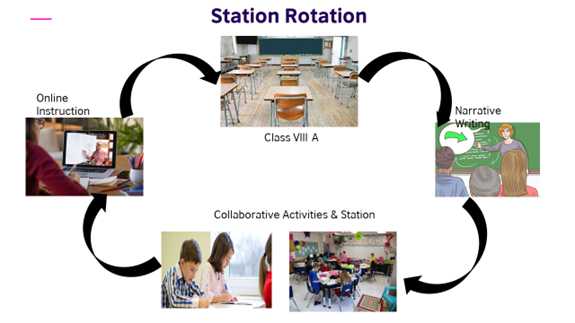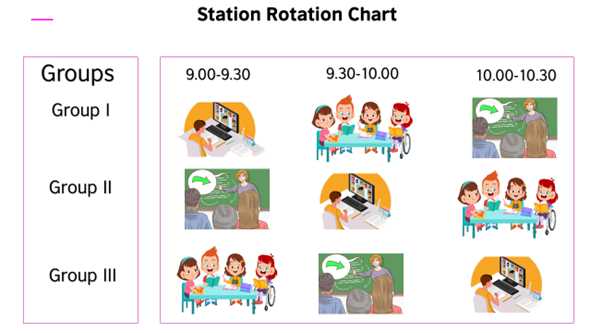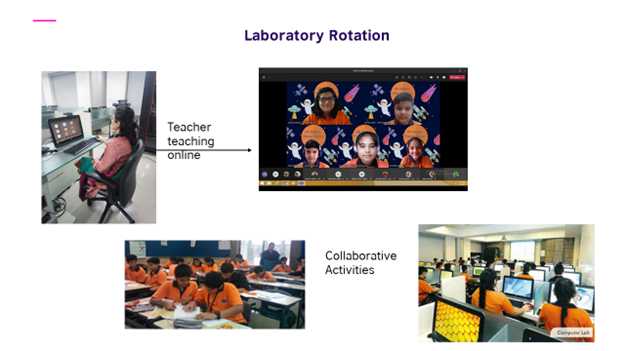 2. Remote & enriched virtual learning
It is a course or subject in which students have required face-to-face learning sessions with their teacher of record and then are free to complete their remaining coursework remote from the face-to-face teacher. In class, the teacher gives a project to students on 'Analysing any work of Shakespeare's or Rabindranath Tagore's Kabuliwalla' w.r.t. the criterion of plot, characters, theme, language, thought and values.
She briefs students on works of Shakespeare and the elements of a play within the school timetable and they complete all the work at home.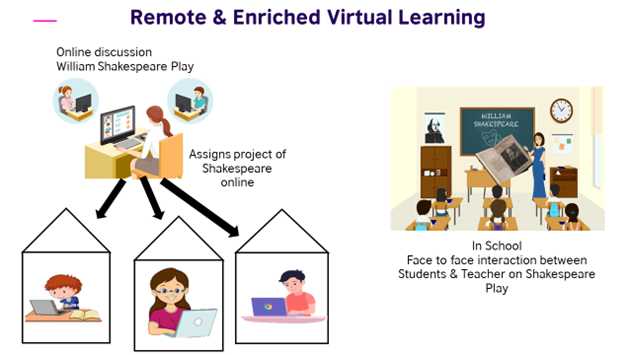 3. Flex blended learning
During certain weekends if the teacher wishes to support the students further in class especially if the concept has been challenging or students have underperformed in an evaluation, the teacher records her remedial teaching and uploads in-class computers. She designs a task around remedial teaching. She expects students to report to school wherein students enter the class on their own time, access the teaching, complete the task and leave. If they have any further doubts, they could approach the teacher in the school or their peers. A useful TIP would be for the teacher to Collaborate with their colleagues in club activities.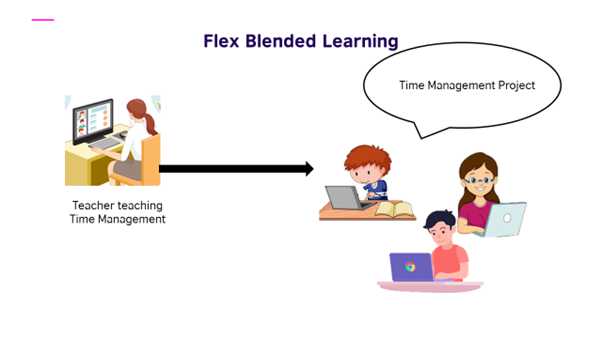 4. Flipped learning
As per TeachThought, a flipped classroom is a type of blended learning where students are introduced to content at home and practice working through it at school. This is the reverse of the more common practice of introducing new content at school, then assigning homework and projects to be completed by the students independently at home.
This methodology is most useful when you want students to have some knowledge of the content before analyzing it further. So if a teacher wishes to conduct a 'Book review'. She shares the e-book, 'Totto-chan' with the students. She asks them to read and shares certain discussion points. In school, students discuss the book and write personal book reviews. The teacher has used her class time constructively and has been to achieve greater learning outcomes.
5. Individual rotation blended learning
As per https://www.blendedlearning.org/models/, the Individual Rotation model allows students to rotate through stations, but on individual schedules set by a teacher or software algorithm. Unlike other rotation models, students do not necessarily rotate to every station; they rotate only to the activities scheduled on their playlists.
The teacher allows students to rotate through different kinds of classrooms called stations. A specific ILP [Individual learning plan] is created for each student. For example: Parth and Mona's examples work on clauses, Mona is struggling with Clauses so she attends classes and solves assignments whereas Parth will attend classes, watch a few videos, and also complete a research project on clauses. Thus the teacher knows her students' skills in greater depth and supports them individually to achieve her target learning outcomes.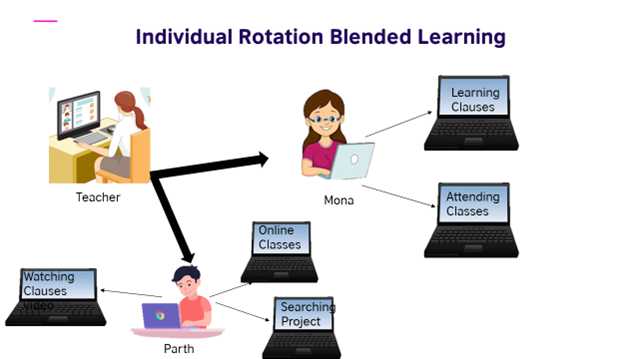 6. Inside-out and outside-in blended learning
In Inside-out, teaching and learning begin inside the classroom and move to an outside environment and in an outside-in classroom, it begins in an outside environment and moves inside the classroom. In a class environment, the Teacher discusses with students about 'Sound of Music' in class and ends the lesson by taking them to the theatre to watch the play. In Outside-In, Students watch the play in a digital environment and end the lesson in a physical environment by conducting role-plays.
The list of models is many but one has to review their resources and plan accordingly.
One can mention that they may face challenges in terms of technology, lack of training on digital platforms, lack of resources to create self-paced learning environments, or time management with vast syllabuses to complete.
Certain tips that can come useful are:
1. Teachers can begin with easily available digital content like Khan Academy, Pinterest, discovery Education, PBS Learning Media, and much more.
2. Review the available resources and plan a timetable. Most importantly, a team achieves more so collaborate with your colleagues in club activities.
3. Take small simple steps – "The journey of a thousand miles begins with one step." Lao Tzu. Choose the model that you are comfortable executing and then move forward.
As teachers, we are ever-evolving and we are that one profession that creates more professions so our responsibility and accountability stretch beyond the classroom. We are lifelong learners and need to keep pace with the fast-paced technology so that our students are ready to take the next leap. Our classrooms have to echo that thought and vision at all times through new pedagogies and teaching-learning strategies.
References:
Christensen Institute, Blended Learning definitions, https://www.christenseninstitute.org/blended-learning-definitions-and-models/
About the author:
Kavita Sanghvi holds a Masters in Physics, Masters in Education, Masters in Philosophy of Education, and CAEL [Certificate in Advanced Course in Educational Leadership] Diploma from Harvard University. She heads SVKM's CNM School, in Mumbai. She is a Teach SDG's Ambassador, Climate Action Ambassador, and Scientix Ambassador for India. She is a British Council Trainer and Ambassador.