Does India have what it takes to become a knowledge economy?
India has the sheer numbers. By 2050 our population will surpass China's. However, do we have what it takes to become a knowledge economy? The government is working on some initiatives but a strong focus on our education system will help.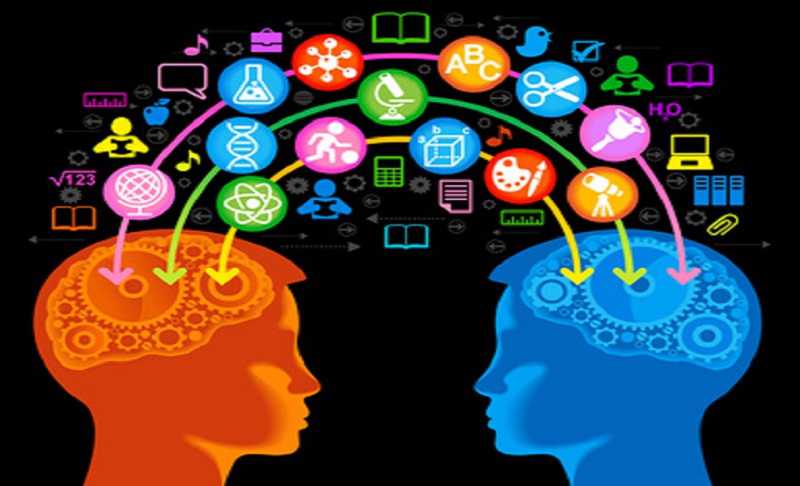 For a very long time India has been synonymous with the IT industry and software exports across the globe. Since the country's performance has been so good in this field, it warrants a look at what have been doing right so far and what further steps need to be taken to transform India into a knowledge economy.
That India's policymakers are concerned with the employability of the working-age populations is clear by the fact that within 6 months of assuming office, the new administration established a Ministry of Skill Development and Entrepreneurship, boosting the skill development initiatives of the previous regime in a major way. Within the next 6 months, it also brought out a highly promising 'National Policy for Skill Development and Entrepreneurship 2015'.
However, like its precursor, the 'National Policy on Skill Development 2009', it takes 2022 as the timeframe for its skilling initiatives. Its focus is on those who are in the workforce at the moment and those who will enter it up to that year.
It is important to note that these initiatives aim largely for low and semi-skilled manufacturing jobs which is significant. However, if we have to realise the vision of developing India into a knowledge economy then policymakers need to concurrently focus on preparing a highly skilled and dynamic workforce.
In this context, it is important to realize that India is sitting on a potential goldmine of human talent. Our workforce will surpass that of China's in 2030, and peak in 2050, so we have a wide window of opportunity to realize our workforce ambitions for a knowledge economy in the next 2 decades.
The World Economic Forum's Human Capital Report 2013 argues that while, 'long-term thinking around human capital often does not fit political cycles or business investment horizons … lack of such long term planning can perpetuate continued wasted potential in a country's population and losses for a nation's growth and productivity'. Using measures to indicate the quality of early childhood, the report ranked India 78th on overall human capital status out of 122 countries – 63rd in education and 112th in health and wellness.
While technical and vocational education and training might enhance the employability prospects of the present and near-term labour force, if we wish to truly become a knowledge economy, with highly skilled and dynamic rather than abundant, cheap labour force, we should revamp our profoundly inadequate, inefficient and inequitable early health and education systems.
Preprimary schools (with families) inculcate a set of employability skills, referred to as non-cognitive, soft, generic or life skills. While these skills are difficult to measure, they play a significant role in determining formal schooling and later labour market success. They foster emotional security and motivation in children – traits that trigger child exploration in early years of life. The chart below shows how preprimary enrollment is clearly graded by income status.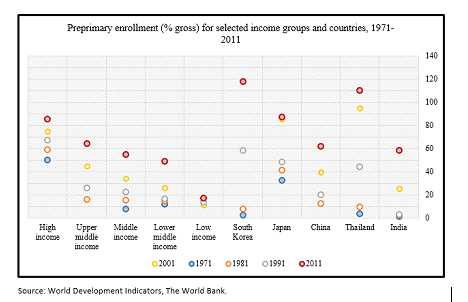 This is also supported by emerging empirical evidence based on employer surveys. Soft skills enhance employability directly as well as through their indirect impact on professional trainability.
A case in point is the Chinese education system which has been criticized for promoting memorization and conformity at the cost of creativity and analytical rigor. As a result of which, multinational employers in China complain, while it is easy to find employees for junior positions, it is difficult to get good managers.
The World Bank's STEP framework offers relevant guidelines to policymakers, particularly in developing countries, to develop employable skills and enhance the productivity of their labour force, starting with 'getting children off to the right start'. Indian policymakers need to pay heed to this neglected aspect of policy.
As innocuous as it may seem, soft skills may actually hold the key for India to become a knowledge economy tomorrow. As all big achievements go, we need to start preparing for it from today itself and make no mistake it isn't only about schools; children learn a lot of soft and people skills at home too. Are you prepared to teach them?
image courtesy www.cciq.com.au
SHE STEM 2022 honours and celebrates women
SHE STEM 2022 encourages students to 'Unleash their imagination' as part of the Sweden India Nobel Memorial Week.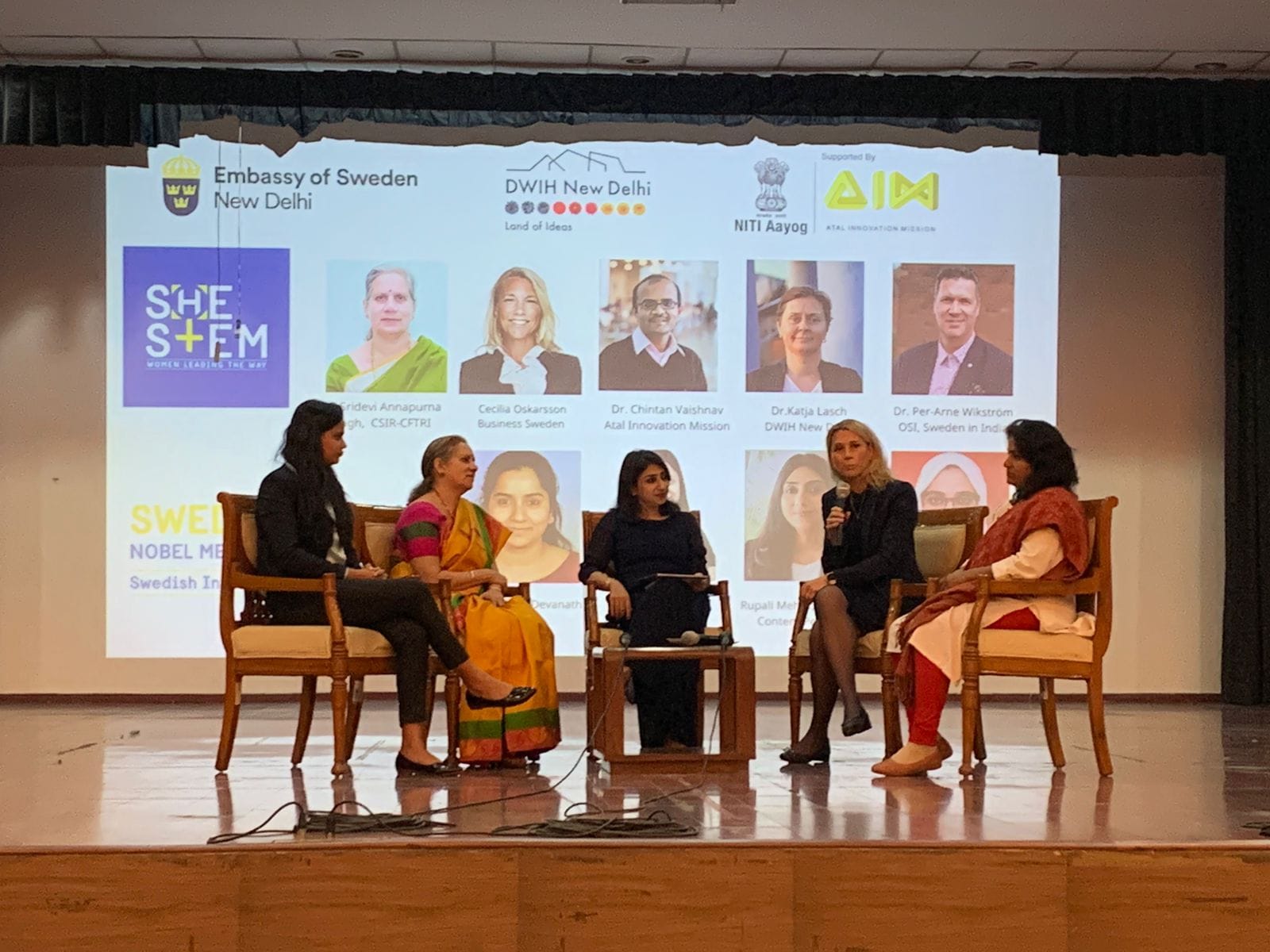 As part of the Sweden-India Nobel Memorial Week, SHE STEM, the annual event to celebrate women in the fields of science, technology, engineering, mathematics, and sustainability, was successfully held for the third year in a row.
The annual event is organized by the Sweden Embassy in India in partnership with the Atal Innovation Mission of the Government of India and the German Centre of Innovation and Research (DWIH New Delhi).
Ambassador of Sweden to India H.E. Jan Thesleff, who also addressed the students via a video message said, "We are very happy to continue the tradition of SHE STEM – it is a flagship event of the Sweden-India Nobel Memorial Week. Congratulations to all the winners of this year's SHE STEM Video challenge."
Dr. Chintan Vaishnav, Director of ATAL Innovation Mission said, "Today, the face of women's involvement in STEM is changing and the rate of participation has increased. It was in ATL Marathon 2021, that there was a spike where the women's participation was 49%. A strong STEM education will go a long way in cultivating such critical thinkers."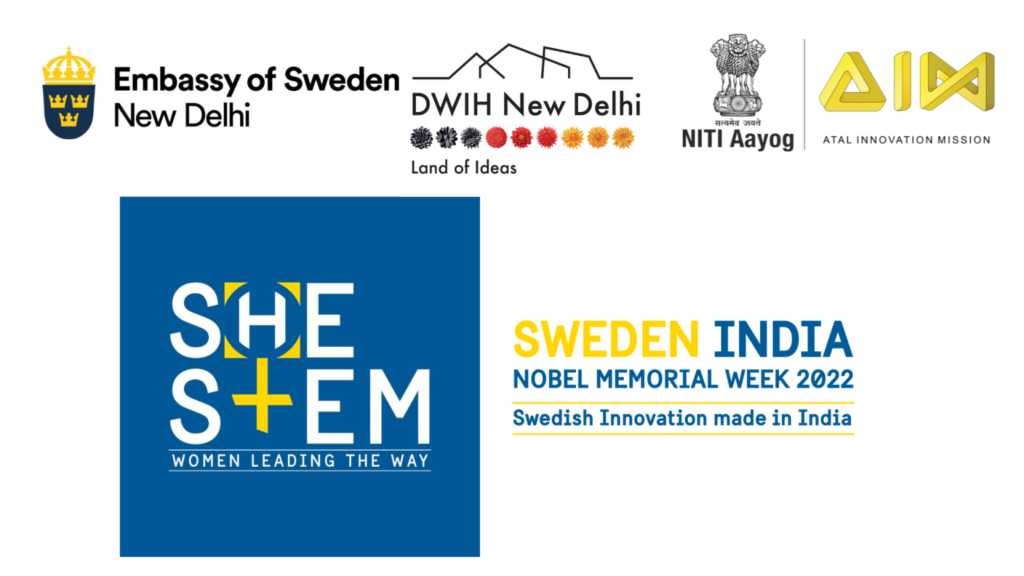 SHE STEM 2022 began with a musical performance by the students of Darbari Lal DAV Model School, New Delhi, the host school for SHE STEM 2022, followed by talks, and a panel discussion with women in the fields of STEM and business, including D. Sridevi Annapurna Singh, Director of Council of Scientific and Industrial Research – Central Food Technological Research (CSIR-CFTRI), Ministry of Science and Technology, Government. of India.
Dr. Annapurna Singh has done extensive work in the development of supplementary foods for undernourished children and in studying the impact of protein-rich food on children. She spoke to the audience about the need for women in fields of STEM to bring in their unique perspectives to problem-solving for a sustainable future.
Other participants included Cecilia Oskarsson, Trade, and Invest Commissioner of Sweden to India, who shared her thoughts on the role of diversity in triggering and enabling positive changes for girls and women, Mamta Kumari, co-founder and CEO of Prepbytes, an ed-tech company in India, and Dr. Vasudharani Devanathan, Neurobiologist and Professor of Biology at the Indian Institute of Science Education Research (IISER). Rupali Mehra, Founder of Content People AB moderated the event.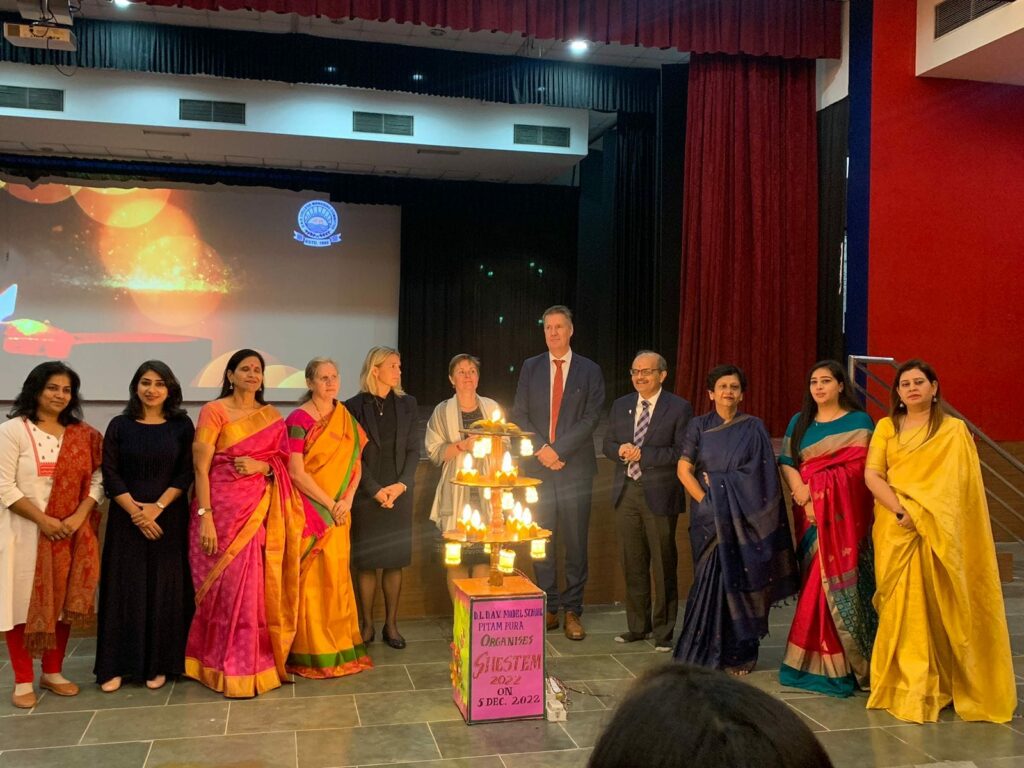 Dr. Per-Arne Wikström, Head of Office of Science & Innovation, Embassy of Sweden in New Delhi said: "When women and girls provide their talent, their knowledge, and their capabilities to science and technology on equal terms with men and boys, then we know that societies prosper and that innovation capacity actually increases. So for us, gender equality is an integrated part and an important aspect of everything that we do. We would like to thank our Indian partners for their support for this very important initiative."
"As Johann Wolfgang von Goethe said, 'who is not curious will not gain knowledge,' so keep your curiosity on, drive your knowledge forward and who knows maybe one or other idea will be implemented," said Dr. Katja Lasch, responsible for Strategy Management at the German Centre for Research and Innovation (DWIH New Delhi) and head of German Academic Exchange Service (DAAD) Regional Office in New Delhi.
Following the success of the Insta-reels Video Challenge in 2021, SHE STEM hosted the #SHESTEM2022 Video Challenge across Instagram, Youtube, Facebook, and Google Drive for students of ages 13 to 17, asking them to imagine themselves in the year 2047, and speak about an innovation of theirs that has helped in tackling climate change. The response was overwhelming with over 930 videos of which 15 were shortlisted. SHE STEM had an extensive jury round of 3 jury teams; Atal Innovation Mission Team led by Dr. Chintan Vaishnav, the Swedish Embassy team, led by Dr. Per-Arne Wikström, and the German Centre for Research and Innovation, represented by Dr. Katja Lasch.
The videos were assessed on the:
Novelty of idea
Clarity of thought and articulation
Sustainability or climate action angle
G. Nivethiga Rani who created a video on how she as a STEM Leader in 2047 had invented a robot that collected and converted biodegradable and non-biodegradable waste into electricity, won the first prize in the video challenge. The second prize was tied between T Shatananda Dhanwantari and Shreya Singh and Nistha Aswal, who participated as a team. Gaurav Hanjoora won third place.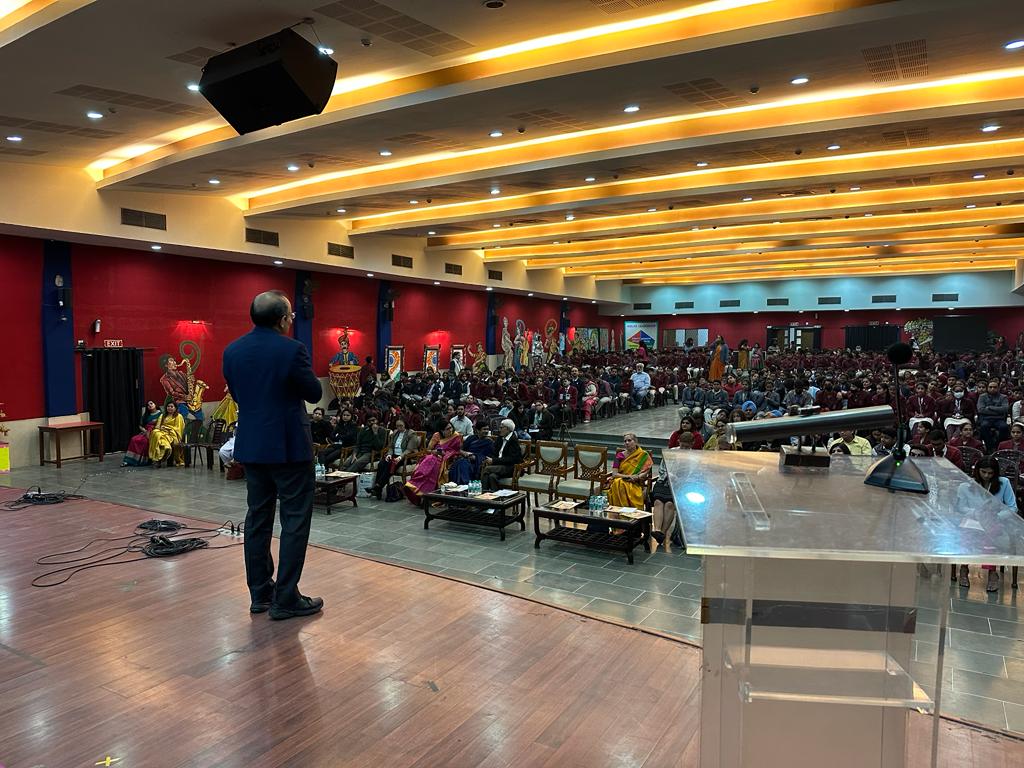 "I congratulate all the winners of the SHE STEM 2022. I have to say what caught my attention was that every single idea was addressing a fundamental constraint confronting us," said Dr. Chintan Viashnav.