Dubai is a city of possibilities, declares this dynamic real estate consultant and Apeejay Panchsheel Park alumnus
Urban Terrace Co-Founder Vaneesh Manchanda says sitting at the crossroads of Europe, Asia, and Africa, the UAE has a lot going for it, including a stable currency, good law, and order, ease of doing business, zero income tax, and a highly liquid property market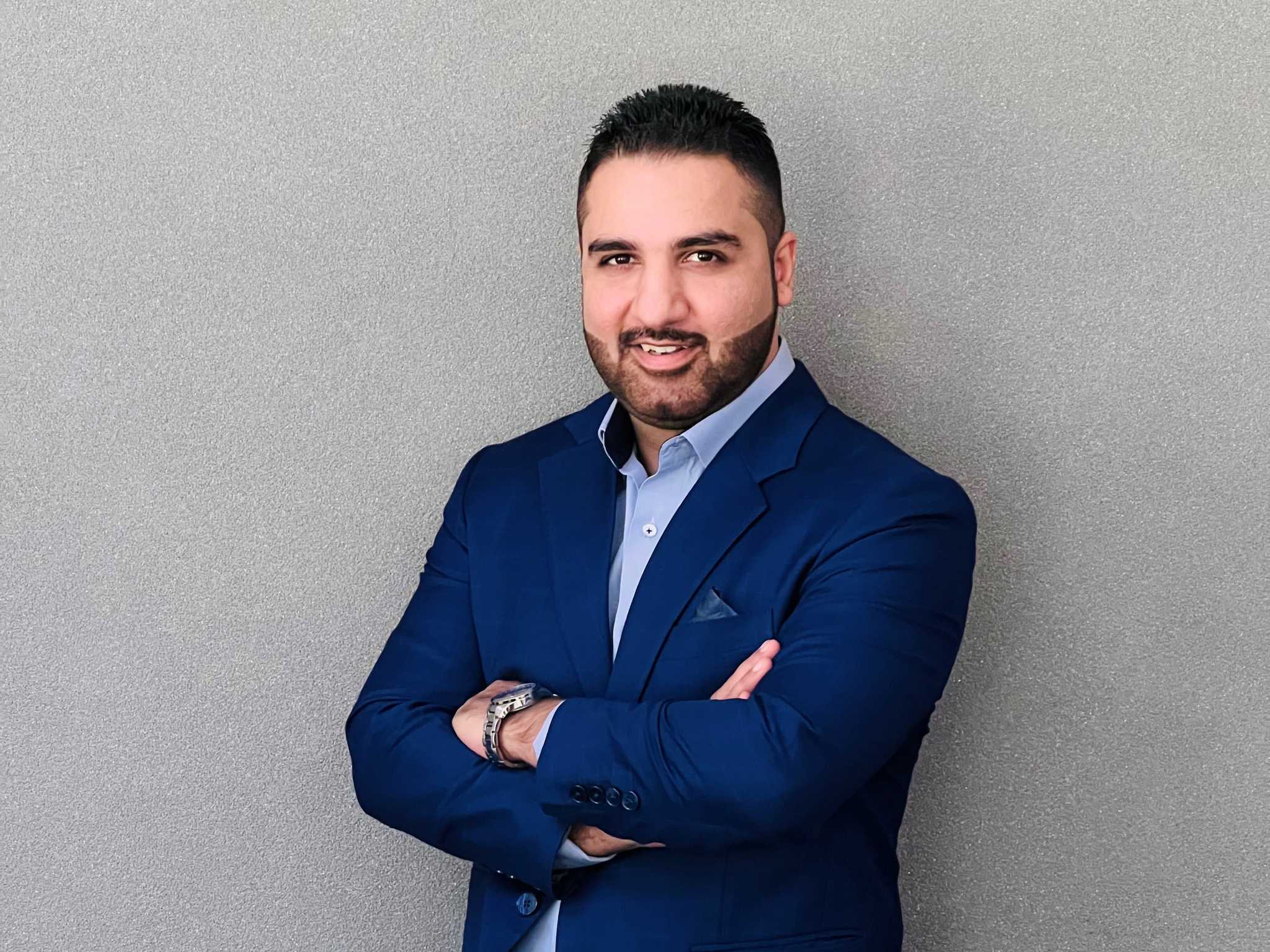 Dubai is a city of possibilities, declares this dynamic real estate consultant and Apeejay Panchsheel Park alumnus
Urban Terrace Co-Founder Vaneesh Manchanda says sitting at the crossroads of Europe, Asia, and Africa, the UAE has a lot going for it, including a stable currency, good law, and order, ease of doing business, zero income tax, and a highly liquid property market
Based in Dubai in the United Arab Emirates, Apeejay School, Panchsheel Park alumnus Vaneesh Manchanda is Co-Founder and Managing Partner of Urban Terrace Real Estate, a leading real estate consultancy. Armed with a degree in Commerce from Delhi University, Vaneesh cut his teeth in the corporate world and worked in a range of eclectic brands such as Microsoft in India and ABN AMRO Bank Dubai and RBS Bank Dubai before venturing into real estate with DAMAC Properties, in the United Arab Emirates. After another few years of learning the nuances of the real estate market, his entrepreneurial dreams took off in the form of Urban Terrace Real Estate, where he is the Co-Founder and Managing Partner. In a wide-ranging interview, he discusses, among other things, the edge that tax-free and low-crime destinations such as UAE enjoy over many other countries, the secrets of being a successful real estate entrepreneur, overcoming the Covid-19 challenge and the profound life lessons that he picked up at Apeejay School, Panchsheel Park. Edited excerpts:
From schooling at Apeejay in New Delhi, to forming your own real estate consultancy firm in the United Arab Emirates. Please tell us about your education and professional journey so far.
Well you can say it has been an eventful 18-year-old journey. In a nutshell, if I have to mention the important milestones after completing school from Apeejay Panchsheel Park, I did my graduation in Commerce from Delhi University. Since then, before getting into real estate, I gained valuable work experience in diverse sectors such as ABN AMRO Bank in Dubai, RBS Bank in Dubai and in Microsoft at Gurgaon. Then in 2012, I received a job offer with DAMAC Properties, one of the biggest real estate Companies in Dubai. This is how my real estate journey began. After having worked in various profiles at different companies, I finally discovered a professional career that I thoroughly enjoyed. Then, in 2018, we started Urban Terrace Real Estate, in Dubai. Today, I have a team of 20 people working with us and we are still growing.
How did you develop an interest in a career in real estate consultancy?
As I've mentioned before, after having experienced working in a number of profiles in diverse industries, real estate is the one which I enjoyed the most. The best part about being a real estate consultant is persuading your client to trust you and invest money on your advice. Plus, we meet different people who've achieved something in life. Also, helping someone find their first home or their dream home is a really satisfactory feeling that finds few parallels.
What are the special characteristics of the UAE real estate market? How does it stand out from other markets that you have worked in such as India?
Dubai is a city of possibilities and UAE is one of the fastest developing nations in the world today. We have the best of everything in Dubai: whether it is infrastructure, transport system, medical facilities, education, or quality of living. Also, there are a few other special characteristics that only UAE offers:
Strategic Location: Dubai sits at the crossroads of Europe, Asia, and Africa.
Highly liquid property market: Some of the highest rental yields in the world, strong capital appreciation, readily-available financing options, and zero income tax!
Ease of setting up a business: Free Zones give companies 100% foreign ownership; exemption from all import duties; 100% repatriation of capital and profits; and freedom from corporate taxation.
Safest destination: The UAE is the second safest place in the world in which to live.
Stable currency: The UAE Dirham being pegged with US dollars means the value of the currency has enjoyed the balance and growth, as well as the stability to export and import trade.

The UAE's unique benefits – the quality of life, safety, and world-class infrastructure– have influenced an increasing number of people to consider investing in the country and relocating there. Some of them believe the economy in UAE coped better with the Covid-19 pandemic than many others. What is your view?
Well, it's the vision of the leaders of the country to make it the best, happy, and safe place to live, which helped us overcome the economic challenges, not only in real estate but in other major sectors as well.
Please share some success tips for those who want to be successful as a real estate consultant and follow your career trajectory.
My mantra for success is to do what you love. However not everyone is able to find what they love. In order to find it, don't be scared to take risks and work in different fields or try out new things. You never know where you might find your passion. As a real estate person, persistence is the key. It isn't an easy game, but if you're passionate about it, it's the best game you would want to play.
What are your memories of the time you spent at Apeejay School, Panchsheel Park?
I have numerous memories of my time at Apeejay School, Panchsheel Park, or as it was then known, Apeejay School, Sheikh Sarai, which bring a smile to my face. I fondly remember the faculty members — Girish Magoo Sir, Urvashi Ma'am, Sameera Gulati Ma'am, Ajeet Singh Sir, Virender Pal Sir, Rita Kale Ma'am, and Anju Sinha Ma'am — among many others. All of them worked really hard and patiently with all the students since some of us were quite the mischievous troublemakers in school.
Are there any life lessons that you picked up in school that have helped you in your career?
Of course, a school is a place where our base is set, as we say in our industry if the base is not strong it is impossible for it to support a building. Things such as accountability, hard work, teamwork, and developing a positive mindset are the traits that we picked up in school and they have stood the test of time to act as our navigators.
How did the Covid-19 pandemic affect your sector and how did you overcome the challenge?
Covid-19 was a difficult time for everyone around the globe. It took a lot of hard work to overcome the challenges triggered by the pandemic. We had to adopt a lot of new and different ways of approaching clients, plus a positive attitude from the government really helped us bounce back from the crisis, even better than before.
Source: apeejay.news
What is Hybrid/Blended Learning?
We are lifelong learners and need to keep pace with the fast-paced technology so that our students are ready to take the next leap. Our classrooms have to echo that thought and vision at all times through new pedagogies and teaching-learning strategies.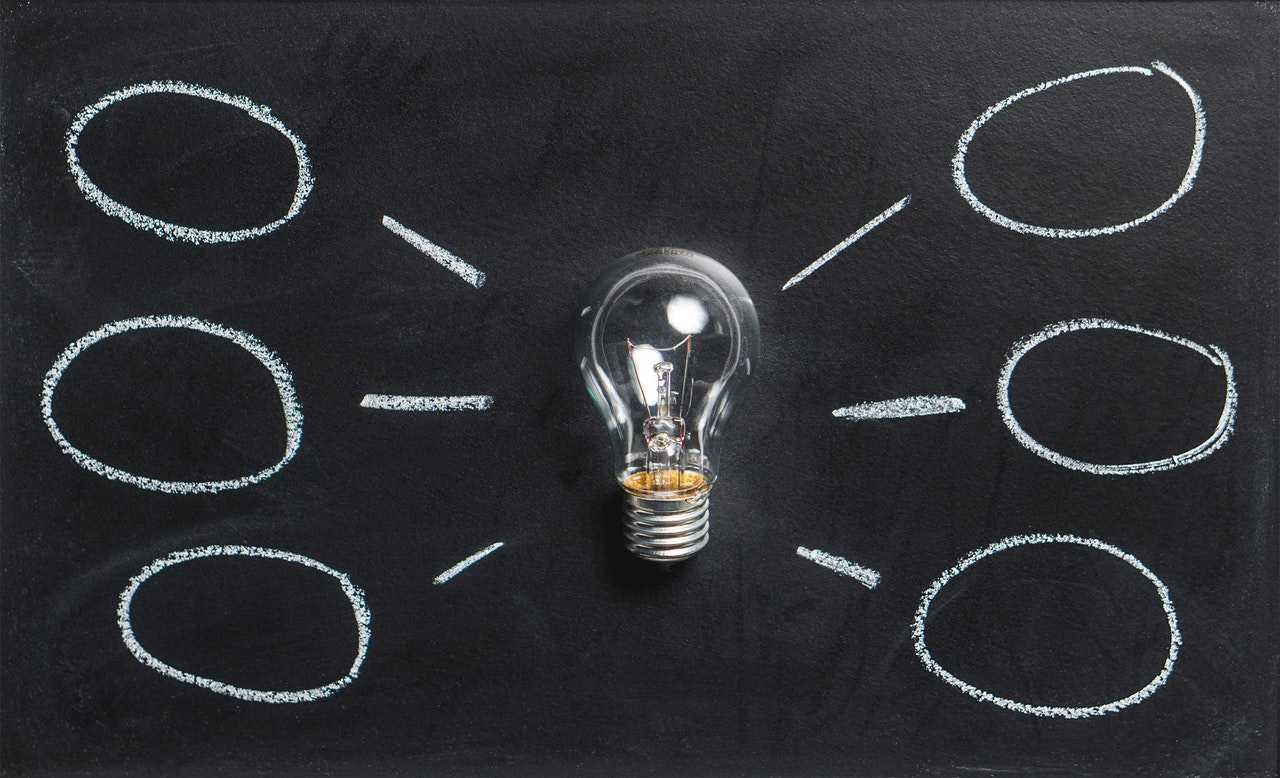 The COVID wave – consider it a bane or boon – but it somersaulted us to an array of digital world experiences. It propelled us to rethink and reorganize our mindsets, our practices, and our expectations. Overnight, we moved from an offline teaching mode to online, and credit to the teaching community for doing it so seamlessly. Now, we are back to offline teaching but do we continue with our old practices? An obvious no so we need to infuse our online experiences within the offline to ensure that quality education reaches one and all.
One key pedagogy to achieve the goal is blended learning, an approach that combines face-to-face learning with online learning incorporating certain elements that support students to have control over the pace, time, and place. The material resource investment is minimal but human resource investment is high till the ethos is assimilated within all.
So let's understand the varied types of blended learning and its implementation in the school teaching-learning process.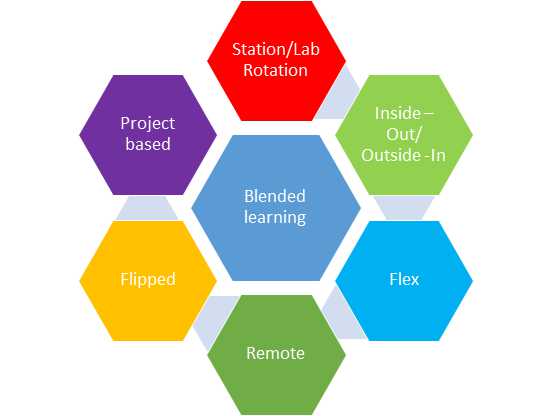 1. Station Rotation
In Station Rotation, students will rotate on a fixed schedule as per the teacher's discretion. The teacher begins her class of 40 students with instruction on narrative writing from 9:00 am to 9:15 am. She then splits the class into three groups where one group continues to learn with her. The second group works on a collaborative assignment on narrative writing and the third use their laptops or computers placed in the class and researches blended learning and after 15 minutes the group switches so that every group has varied experiences. A block class of English can support the various transactions and supports students to build research, collaborative and knowledge skills.
In the same format, if computers or laptops are not available in class then students use the computer laboratory in school and this rotation would then be called as Lab Rotation.
In this methodology, all students with varied learning needs are supported. The only challenge is the Technology and time management skills.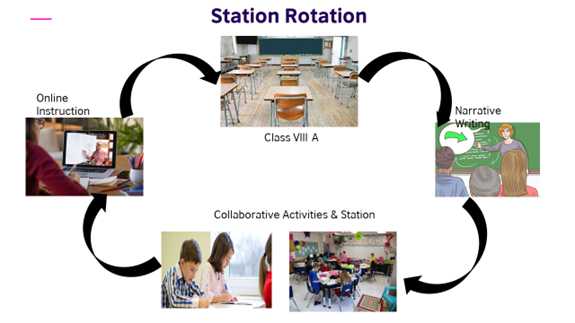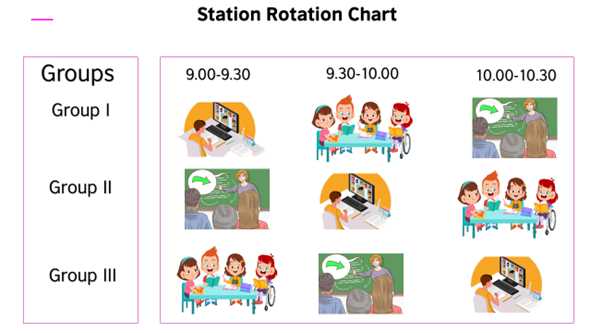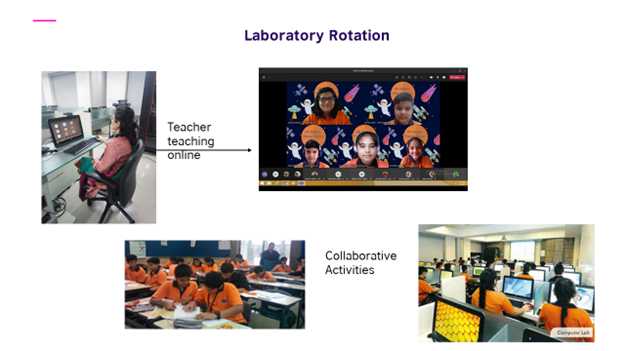 2. Remote & enriched virtual learning
It is a course or subject in which students have required face-to-face learning sessions with their teacher of record and then are free to complete their remaining coursework remote from the face-to-face teacher. In class, the teacher gives a project to students on 'Analysing any work of Shakespeare's or Rabindranath Tagore's Kabuliwalla' w.r.t. the criterion of plot, characters, theme, language, thought and values.
She briefs students on works of Shakespeare and the elements of a play within the school timetable and they complete all the work at home.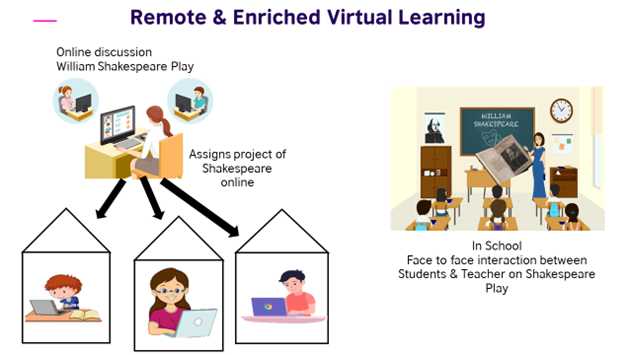 3. Flex blended learning
During certain weekends if the teacher wishes to support the students further in class especially if the concept has been challenging or students have underperformed in an evaluation, the teacher records her remedial teaching and uploads in-class computers. She designs a task around remedial teaching. She expects students to report to school wherein students enter the class on their own time, access the teaching, complete the task and leave. If they have any further doubts, they could approach the teacher in the school or their peers. A useful TIP would be for the teacher to Collaborate with their colleagues in club activities.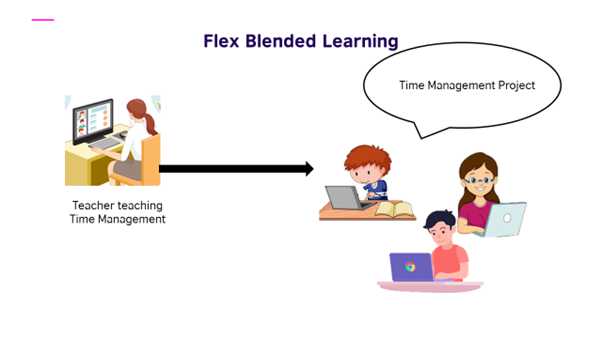 4. Flipped learning
As per TeachThought, a flipped classroom is a type of blended learning where students are introduced to content at home and practice working through it at school. This is the reverse of the more common practice of introducing new content at school, then assigning homework and projects to be completed by the students independently at home.
This methodology is most useful when you want students to have some knowledge of the content before analyzing it further. So if a teacher wishes to conduct a 'Book review'. She shares the e-book, 'Totto-chan' with the students. She asks them to read and shares certain discussion points. In school, students discuss the book and write personal book reviews. The teacher has used her class time constructively and has been to achieve greater learning outcomes.
5. Individual rotation blended learning
As per https://www.blendedlearning.org/models/, the Individual Rotation model allows students to rotate through stations, but on individual schedules set by a teacher or software algorithm. Unlike other rotation models, students do not necessarily rotate to every station; they rotate only to the activities scheduled on their playlists.
The teacher allows students to rotate through different kinds of classrooms called stations. A specific ILP [Individual learning plan] is created for each student. For example: Parth and Mona's examples work on clauses, Mona is struggling with Clauses so she attends classes and solves assignments whereas Parth will attend classes, watch a few videos, and also complete a research project on clauses. Thus the teacher knows her students' skills in greater depth and supports them individually to achieve her target learning outcomes.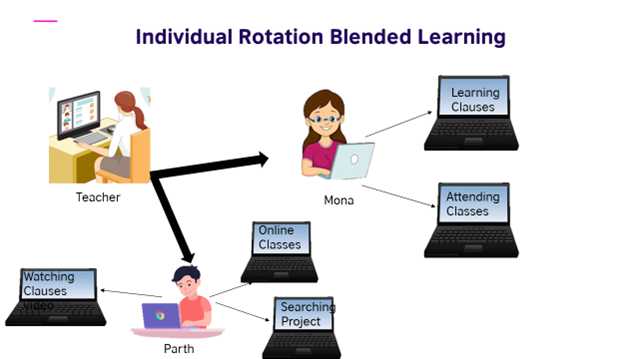 6. Inside-out and outside-in blended learning
In Inside-out, teaching and learning begin inside the classroom and move to an outside environment and in an outside-in classroom, it begins in an outside environment and moves inside the classroom. In a class environment, the Teacher discusses with students about 'Sound of Music' in class and ends the lesson by taking them to the theatre to watch the play. In Outside-In, Students watch the play in a digital environment and end the lesson in a physical environment by conducting role-plays.
The list of models is many but one has to review their resources and plan accordingly.
One can mention that they may face challenges in terms of technology, lack of training on digital platforms, lack of resources to create self-paced learning environments, or time management with vast syllabuses to complete.
Certain tips that can come useful are:
1. Teachers can begin with easily available digital content like Khan Academy, Pinterest, discovery Education, PBS Learning Media, and much more.
2. Review the available resources and plan a timetable. Most importantly, a team achieves more so collaborate with your colleagues in club activities.
3. Take small simple steps – "The journey of a thousand miles begins with one step." Lao Tzu. Choose the model that you are comfortable executing and then move forward.
As teachers, we are ever-evolving and we are that one profession that creates more professions so our responsibility and accountability stretch beyond the classroom. We are lifelong learners and need to keep pace with the fast-paced technology so that our students are ready to take the next leap. Our classrooms have to echo that thought and vision at all times through new pedagogies and teaching-learning strategies.
References:
Christensen Institute, Blended Learning definitions, https://www.christenseninstitute.org/blended-learning-definitions-and-models/
About the author:
Kavita Sanghvi holds a Masters in Physics, Masters in Education, Masters in Philosophy of Education, and CAEL [Certificate in Advanced Course in Educational Leadership] Diploma from Harvard University. She heads SVKM's CNM School, in Mumbai. She is a Teach SDG's Ambassador, Climate Action Ambassador, and Scientix Ambassador for India. She is a British Council Trainer and Ambassador.