Education Minister launches Bhasha Sangam initiative for schools, Bhasha Sangam Mobile App and Ek Bharat Shreshtha Bharat Mobile Quiz
Language learning to be promoted as a skill with the formal credit-earning system said Union Education and Skill Development Minister Shri Dharmendra Pradhan during the launch of Bhasha Sangam Initiative for schools, Bhasha Sangam Mobile App, and Ek Bharat Shreshtha Bharat Quiz App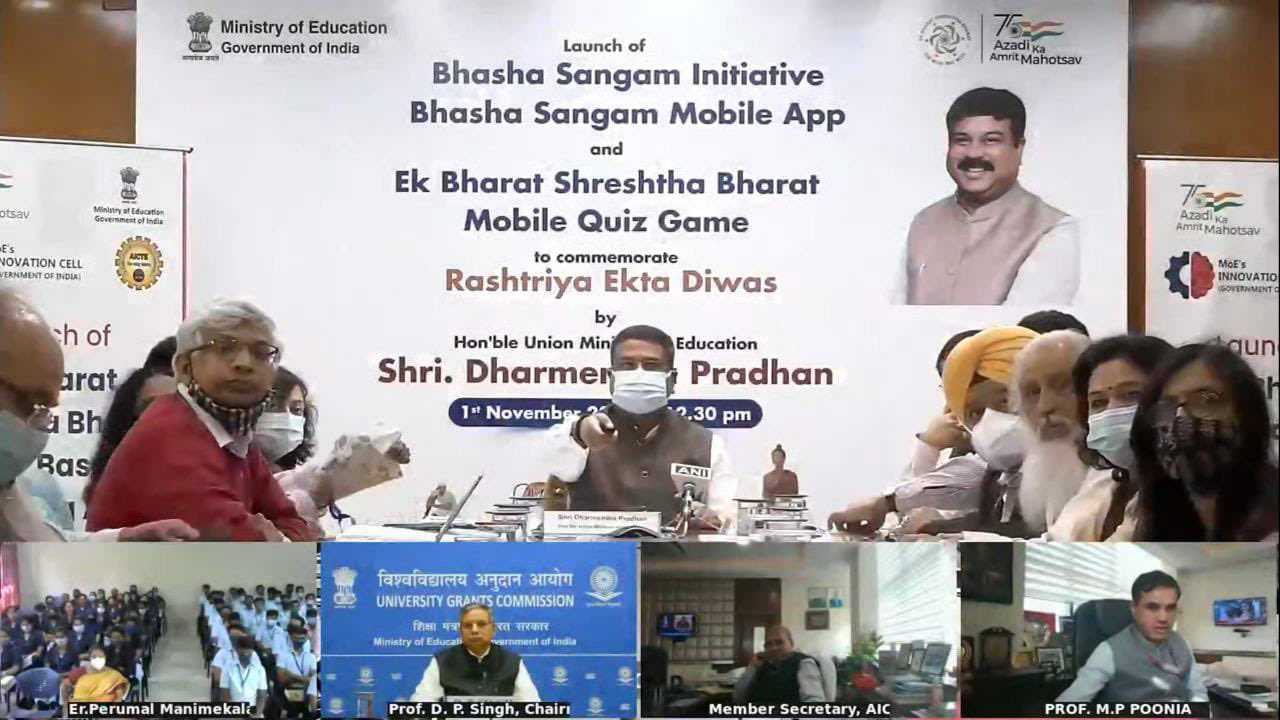 Language learning to be promoted as a skill with the formal credit-earning system said Union Education and Skill Development Minister Shri Dharmendra Pradhan during the launch of Bhasha Sangam Initiative for schools, Bhasha Sangam Mobile App and Ek Bharat Shreshtha Bharat Quiz App, to commemorate Rashtriya Ekta Diwas which is celebrated on October 31 every year to mark the birth anniversary of Shri Sardar Vallabhbhai Patel.
Shri Pradhan stated that the National Education Policy 2020 outlines the vision to lay emphasis on the promotion of Indian languages. Going forward, language learning will be promoted as a skill with a formal credit-earning system, he added. The Minister said that the country is celebrating Azadi ka Amrit Mahotsav to mark 75 years of India's independence. The initiatives launched today will facilitate our students to embrace the linguistic diversity of our nation and sensitize them about the richness of our culture, heritage, and diversity, he added.
Bhasha Sangam is an initiative of the Ministry of Education under Ek Bharat Shreshtha Bharat, to teach basic sentences of everyday usage in 22 Indian languages. The idea is that people should acquire basic conversational skills in an Indian language other than their mother tongue. We are aiming that at least 75 lakh people should acquire this skill during the Azadi Ka Amrit Mahotsav period.
Launched the Bhasha Sangam program, an initiative of the Ministry of Education under Ek Bharat Shreshtha Bharat, to teach basic sentences of everyday usage in 22 Indian languages. pic.twitter.com/gJTxITO3BK

— Dharmendra Pradhan (@dpradhanbjp) November 1, 2021
Initiatives launched under Bhasha Sangam:
An initiative for school children that is being made available on DIKSHA, ePathshala, and through 22 booklets
Bhasha Sangam Mobile App developed in collaboration with myGov, by a start-up called Multibhashi
A Mobile App based quiz with over 10,000 questions on states of India developed by Nazara Technologies through the Innovation Cell of this Ministry
Bhasha Sangam Initiative for schools
Developed by NCERT
100 sentences in 22 scheduled languages are presented in such a way that children in school will be able to read in the Indian language, in Devanagari script, in roman script and translations into Hindi and English.
100 sentences are presented in audio and video form with Indian Sign Language.
Through this programme of Bhasha Sangam learners in school will be able to get acquainted with all the languages-their scripts, pronunciation
Available on DIKSHA, ePathshala, and 22 booklets
Bhasha Sangam Mobile App
This is an initiative of DoHE, in collaboration with MyGov
The App has been developed by a start-up Multibhashi, selected by myGov through a competition
The App initially has 100 sentences of everyday usage in 22 Indian languages. These sentences are available in both Roman script and in the script of the given language, and also in audio format. More sentences will be added to the list
A learner will pass through stages on the basis of testing. There is also detailed testing in the end with the generation of digital certificate
Available in both Android and iOS
EBSB Quiz App
EBSB Quiz game is targeted toward children and youngsters of Bharat for helping them learn more about our different regions, states, culture, national Heroes, monuments, traditions, tourist locations, languages, geography, history, topography,
We already have more than 10,000 questions as part of this quiz. The gameplay is simple – Play Quizzes, Learn & Achieve Grades. Moreover, this quiz has 15 different levels of toughness.
Currently, the EBSB quiz is available on android OS, the iOS version will be made available soon.
This game is currently available in English and Hindi. In the next 3 months, the EBSB quiz will be also available in 12 other different regional languages.
Shri R. R Singh, MoS for Education; Smt Anita Karwal, Secretary DoSEL; Shri Sanjay Murthy, Secretary Higher Education; Shri Abhishek Singh, CEO, MyGov; students and teachers of schools & universities attended the event.
UNESCO launches 2022 State of the Education Report for India
The United Nations Educational, Scientific and Cultural Organization (UNESCO) launches it's 2022 State of the Education Report (SOER) for India: Artificial Intelligence in Education – Here, There and Everywhere.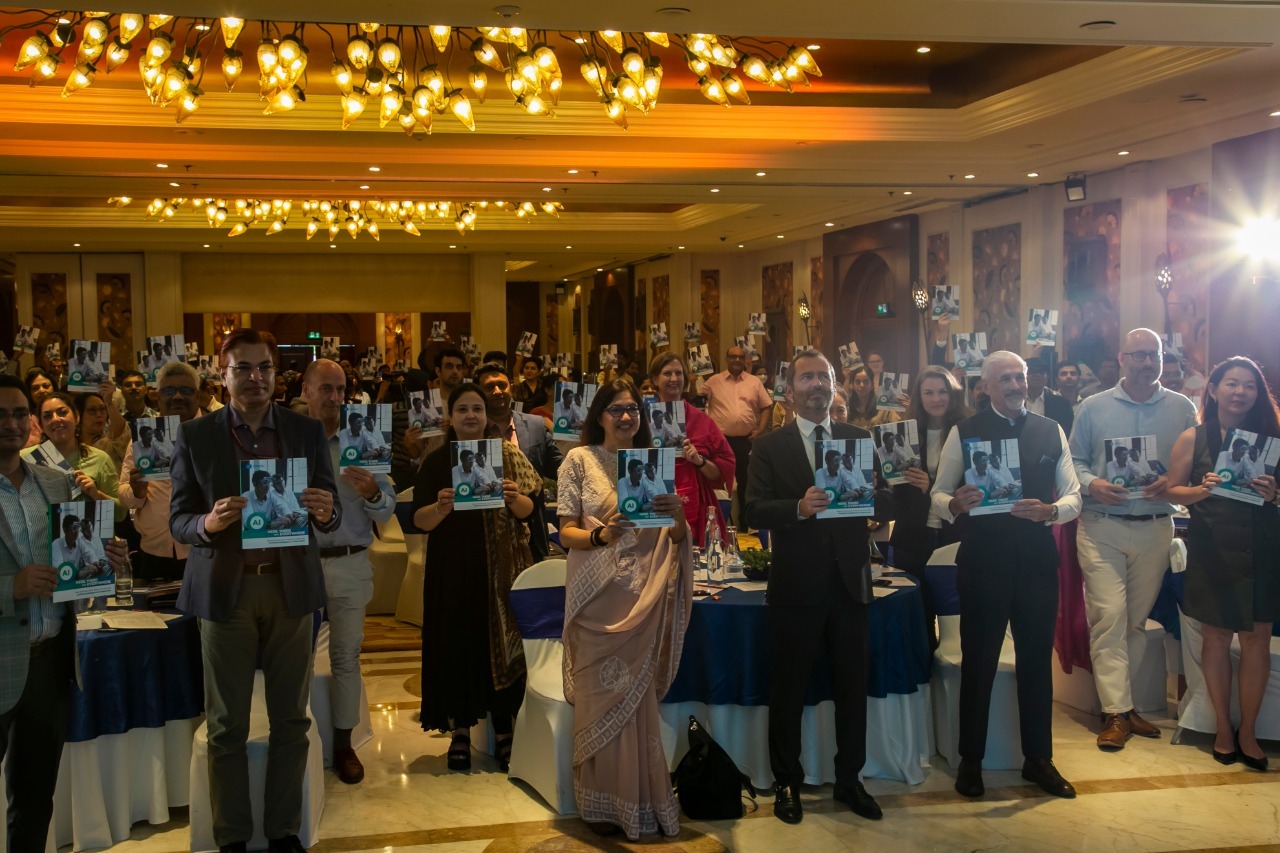 The United Nations Educational, Scientific and Cultural Organization (UNESCO) launched its 2022 State of the Education Report (SOER) for India: Artificial Intelligence in Education – Here, There and Everywhere.
This publication is the annual flagship report of the UNESCO New Delhi Office and is based on extensive research.
This fourth edition of the State of Education Report provides an introduction to Artificial Intelligence (AI) to demystify a subject that has endured various misconceptions. This is supplemented by an overview of challenges and opportunities in the Indian education sector that Artificial Intelligence can address.
"Today, improving the quality of education and the learning outcomes of students are the utmost priorities of all countries. India has made significant strides in its education system and strong indicators point to the country's notable efforts to enhance learning outcomes, including by using Artificial Intelligence-powered education technology," said Eric Falt, Director, UNESCO New Delhi.
"The Ministry of Electronics & Information Technology (MeitY) is really pleased to note that UNESCO has dedicated the theme of its 2022 'State of the Education Report for India' to Artificial Intelligence in Education. We believe that this report is timely, as it can contribute towards transforming India into a digitally empowered society and knowledge economy and make Digital India, a reality," said Dr. Rajendra Kumar, Additional Secretary, Ministry of Electronics and Information Technology.
It is reported that the AI market in India is expected to reach US$7.8 billion by 2025 at the rate of 20.2 percent compound annual growth. To align India's curriculum to the 21st century and to prepare the students for the AI economy, India's National Education Policy (NEP) 2020 lays profound emphasis on the need to impart the necessary technical knowledge at all levels of education.  It emphasizes the integration of AI in Education to also promote quality and skill-based education.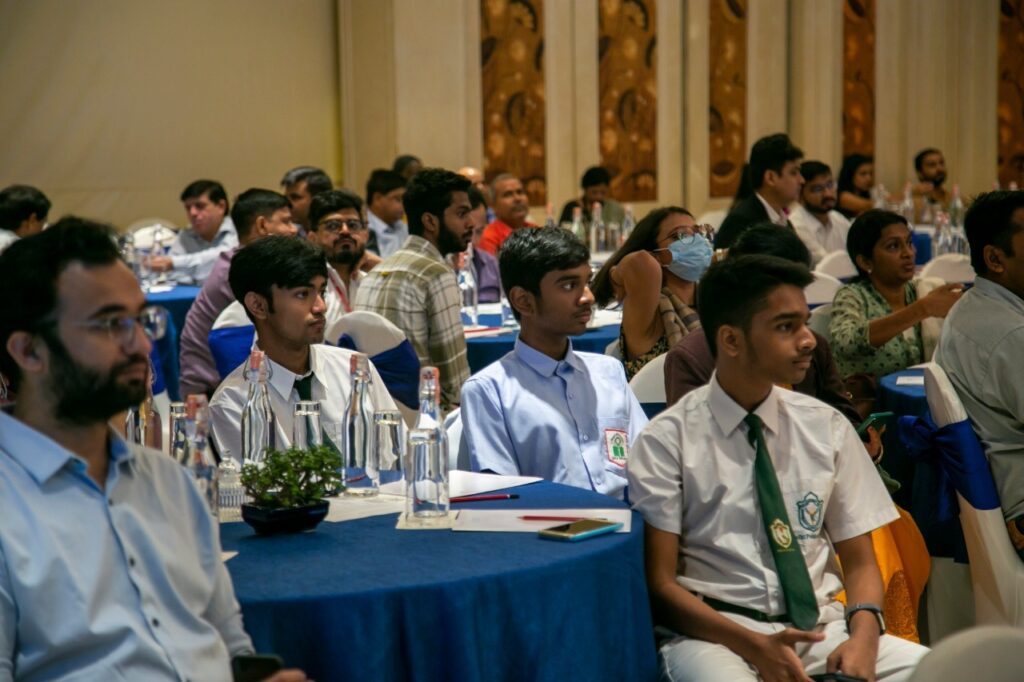 With this Report, UNESCO offers a glimpse of the varied dimensions and suggestions for future uses of Artificial Intelligence in the school setting. We hope this publication will serve as a useful reference tool for enhancing and influencing programmes and policies related to technology and, in particular, Artificial Intelligence; while at the same time, never losing the focus that all technology should be human-centered and benefit the greater interest of humanity.
In line with the national vision of Digital India, the report concludes with a set of ten action-oriented recommendations that we hope will catalyze India's transformational journey through technological education and advanced tech-driven solutions in the educational processes.
The ten recommendations are: 
Consider the ethics of Artificial Intelligence in Education as an utmost priority
Rapidly provide an overall regulatory framework for Artificial Intelligence in Education
Create effective public-private partnerships
Ensure that all students and teachers have access to the latest technology
Expand AI literacy efforts
Attempt to correct algorithmic biases and the resulting discrimination
Improve public trust in Artificial Intelligence
Request the private sector to better involve students and educationists in developing AI products
Place ownership of data with the students
Embrace the versatility of Artificial Intelligence in Education systems
The substance of the Report has been developed by an expert team of researchers under the guidance of the UNESCO New Delhi Office.  The Office extends its gratitude to Intel India and Vantage for their timely support and cooperation.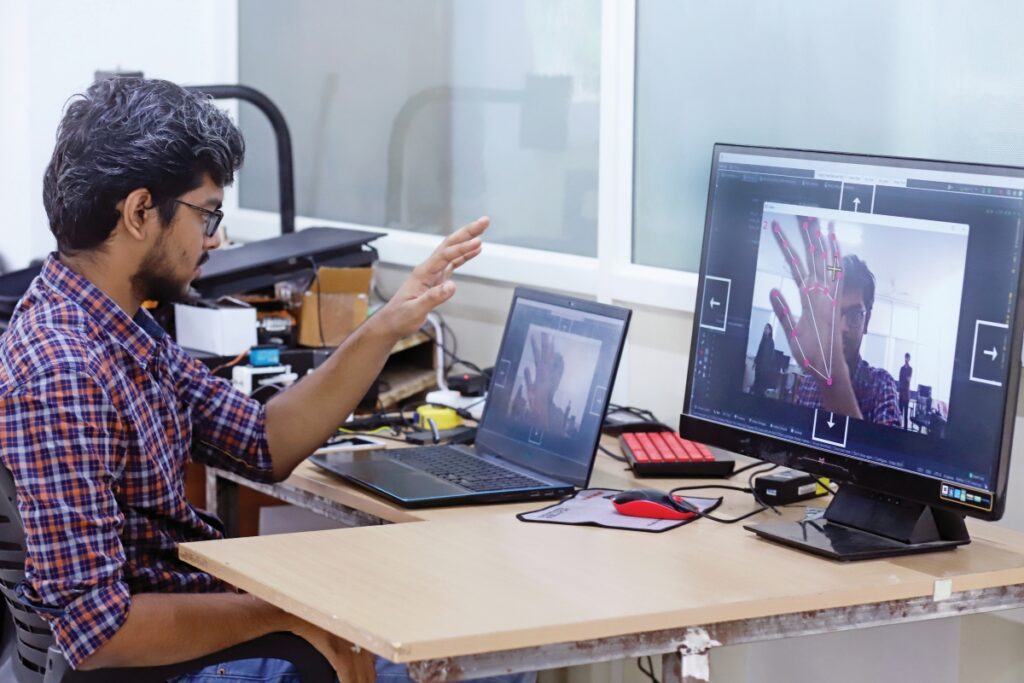 To illustrate the report, the following audio-visual package is also available free of copyright:
Summary video underlining the recommendations of the Report
Thematic videos:
The Artificial Intelligence and the Futures of Learning project builds on the Recommendation on the Ethics of Artificial Intelligence that was adopted at the 41st session of the UNESCO General Conference.
Previous editions
About UNESCO
UNESCO is the United Nations Educational, Scientific, and Cultural Organization. It seeks to build peace through international cooperation in Education, the Sciences, and Culture. UNESCO's programmes contribute to the achievement of the Sustainable Development Goals defined in Agenda 2030, adopted by the UN General Assembly in 2015.
In this spirit, UNESCO develops educational tools to help people live as global citizens free of hate and intolerance. UNESCO works so that each child and citizen has access to quality education. By promoting cultural heritage and the equal dignity of all cultures, UNESCO strengthens bonds among nations. UNESCO fosters scientific programmes and policies as platforms for development and cooperation. UNESCO stands up for freedom of expression, as a fundamental right and a key condition for democracy and development. Serving as a laboratory of ideas, UNESCO helps countries adopt international standards and manages programmes that foster the free flow of ideas and knowledge sharing.