GEMS Modern Academy receives coveted award for actively supporting the SAP Young Thinkers Network Program
GEMS Modern Academy becomes the only school in the country to have got permission to run the SAP program.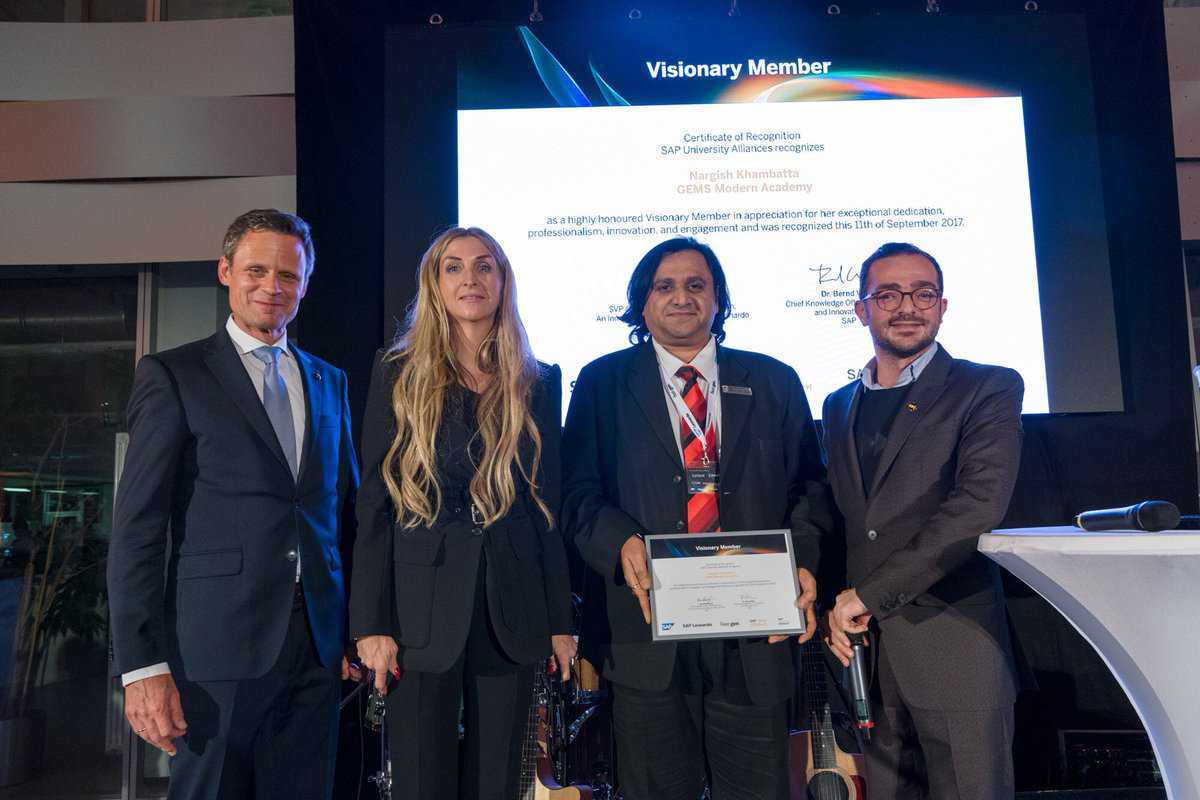 GEMS Modern Academy was recognised with the prestigious SAP Visionary Award for being the only school in the UAE to successfully run the SAP Young Thinkers Network Program for four continuous years. The award was received by Ritesh Dhanak, Supervisor for Digital Learning, GEMS Modern Academy, at the SAP Academic Conference in Karlsruhe, Germany.
The SAP University Alliances program opens the world of SAP to more than 2,600 universities in more than 90 countries worldwide, and aims to develop highly qualified graduates with critical skills for the 21st century workforce.
Nargish Khambatta, Principal, GEMS Modern Academy, said: "In this ever-evolving information age, machine learning helps students decipher patterns emerging from data analysis and to solve problems more effectively. This helps make artificial intelligence more purposeful to human society. Through our partnership with SAP, our students acquire skills that are so essential for their future."
GEMS Modern Academy offers its students the Young Thinkers Program – part of the SAP University Alliance Program – to stimulate interest in STEM (science, technology, engineering and math) learning and careers. This facilitates young thinkers to find and develop their talent. The program also addresses the skills shortage that is prevalent around the world by encouraging young thinkers to build up the required skills and become university and workforce ready.
The school has implemented this as part of the ACE program (Afternoon Curriculum Enrichment) program for grades 11 and 12. As an extension of this program, students also go through design-thinking workshops, visit SAP centres and take part in local and international codeJam / Innojam coding events.
Nargish further added: "The SAP award re-affirms our commitment towards providing our students with the opportunities to equip themselves for skills they will need after they leave us."
The Young Thinkers Network aligns with traditional University Alliances offering, taking advantage of existing content, events and resources wherever possible – and is supplemented with Young Thinkers specific curriculum and events when needed.
Wissam Kadi, Regional Director, SAP Next-Gen, EMEA South, said: "It has been a very exciting collaboration with GEMS Modern Academy working on several innovation initiatives focused on youth development for the digital economy. The visionary award received by GEMS Modern reflects how both the SAP Young Thinkers program and GEMS are committed to driving innovation in STEM education. We look forward to accelerating the SAP Young Thinkers community in the region through our incredible partnership."
Through a community of over 8,000 faculty members as well as engagement at over 1.500 events annually, SAP University Alliances has inspired students around the world about SAP. As an education initiative, it focuses education around digitalisation and addresses all types of schools with the aim to enable young people to shape the digital world of tomorrow.
GD Goenka's Shooting Championship 2023 to Honour the legacy of Abhinav Bindra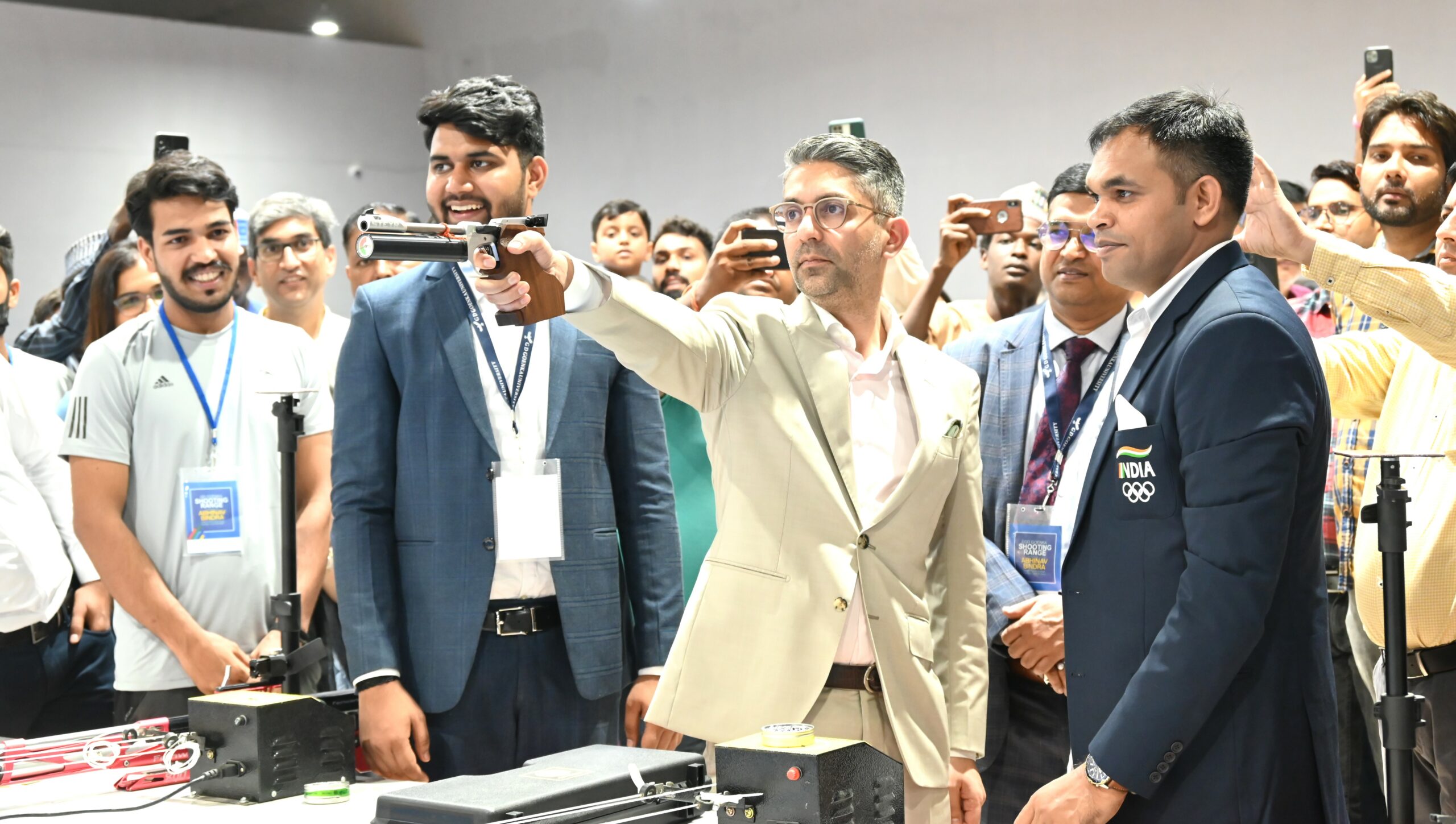 GD Goenka University is excited to introduce the inaugural Gayatri Devi Goenka Memorial Shooting Championship, a remarkable event that underscores the university's unwavering commitment to nurturing sports excellence and paying tribute to the exceptional sharpshooters from all corners of India. Set to be held from September 26 to September 29, 2023, at the GD Goenka Shooting Range featuring 25 professional lanes, this championship is poised to become one of the nation's most prestigious shooting competitions and will be conducted using Electronic Scoring Target System (EST).
This championship serves as a testament to promoting sportsmanship and fostering the talents of both emerging and seasoned shooters. With participation from over 500 competitors hailing from across India, the event promises to be a grand spectacle, celebrating the passion and precision of shooters who have honed their craft to perfection.
Notably, this championship holds particular significance as it pays homage to Abhinav Bindra, India's first individual Olympic gold medalist. The GD Goenka Shooting Range, dedicated in his honor in 2022, stands as a guiding light for aspiring shooters, offering world-class facilities and expert guidance to nurture their talents.
During the inauguration, Abhinav Bindra expressed his thoughts, stating, "I extend my heartfelt congratulations to GD Goenka for the remarkable facilities they have established and the emphasis they place on sports across their educational institutions. I am confident that the students will achieve remarkable success in various tournaments, but more importantly, they will imbibe the values that sports instill in us."
Nipun Goenka, Managing Director of GD Goenka Group, aptly remarked, "The Gayatri Devi Goenka Memorial Shooting Championship transcends mere competition; it's a celebration of the essence of sportsmanship, camaraderie, and unwavering dedication. We take immense pride in providing a platform for India's talented marksmen and markswomen to shine, and we firmly believe that this championship will serve as an inspiration to a new generation of shooting enthusiasts."