Highlights from the Bett Asia Leadership Summit and Expo in Kuala Lumpur, Malaysia
This year, the Bett Asia Leadership Summit and Expo took place at the Mandarin Oriental, Kuala Lumpur, Malaysia. The two-day conference on November 15 and 16 was witness to individuals and organisations in the forefront of innovation.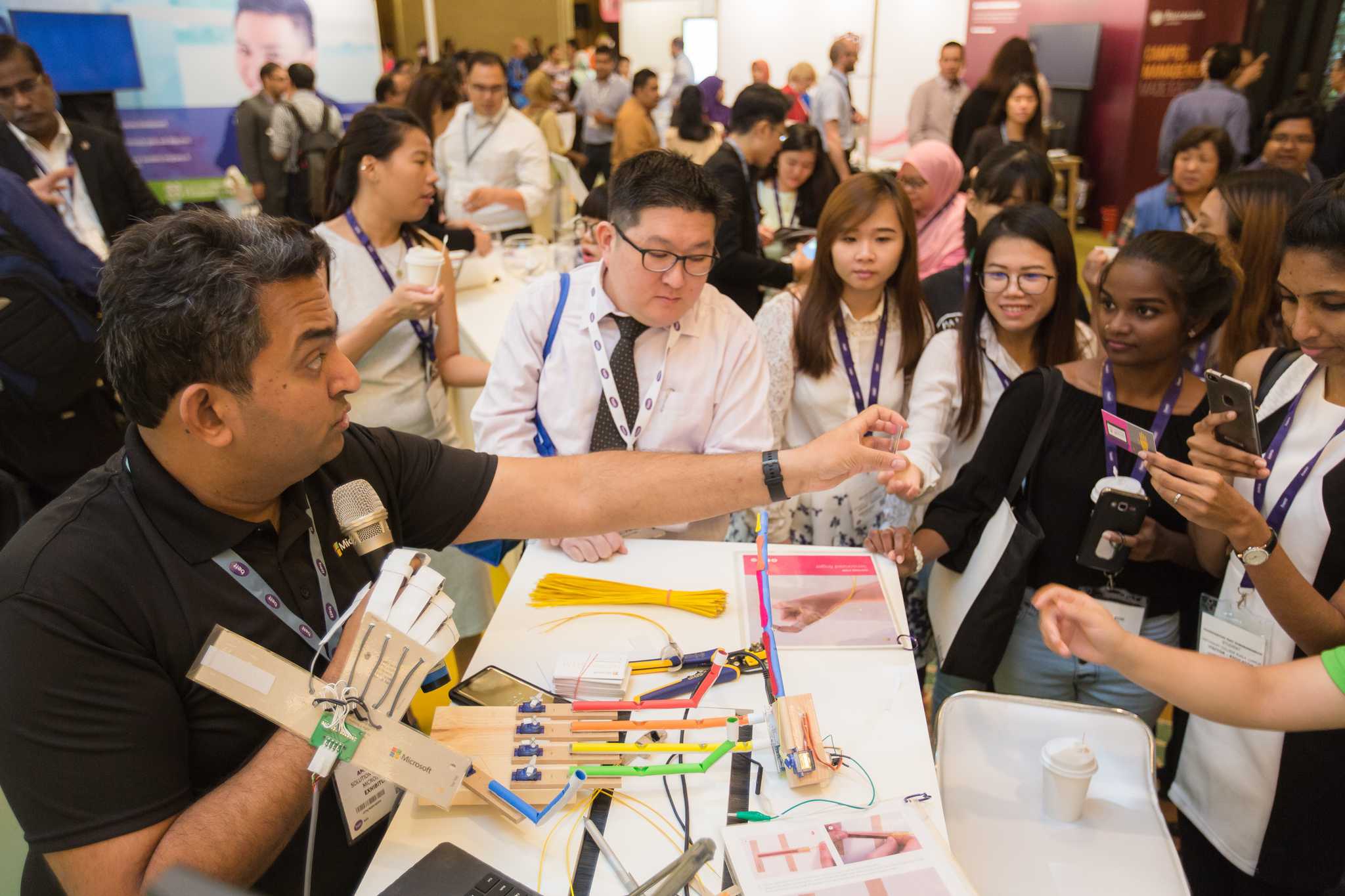 This year, the Bett Asia Leadership Summit and Expo took place at the Mandarin Oriental, Kuala Lumpur, Malaysia. The two-day conference on November 15 and 16 was witness to individuals and organisations in the forefront of innovation. Experts discussed topics nominated by policy and decision-makers from K-12 to TVET (Technical and Vocational Education and Training) which addressed key opportunities to improve education systems and further student outcomes across the region. Along with the summit, an expo showcased the latest tools and technologies set to transform the learning environment. Educators could drop into CPD (Continuing Professional Development) accredited Learn Live sessions and attend practical hands-on demonstrations which provide opportunities to network, collaborate and share with peers.
This year truly saw the convergence of technology and education. Addressing key opportunities to support collaboration and improve education systems across the Asia Pacific region, the action-packed event paved the way for thought-provoking discussions, interactive exhibits and business opportunities.
Bett Asia was officiated by YB Dato' Seri Mahdzir bin Khalid, Minister of Education – Malaysia, and brought together over 1,700 attendees comprising policy makers, leaders and experts in education and technology sectors around the world. The two-day event was themed 'Cultivating Global Collaboration in Education' in honour of the 50th anniversary of ASEAN.
Simon Presswell, Managing Director for Education, Technology and Broadcasting at Ascential (Bett Asia) commented, "We are delighted with the participation and support that we received for this year's event. It is Bett Asia's intention to make a positive impact in transforming and advancing the educational system to one that meets and exceeds the challenges of modern times."
Esteemed panellists at the event included Sir Michael Wilshaw, Her Majesty's Former Chief Inspector of Schools, Ofsted, and Senior Advisor, GEMS Education; H. E. Mme Sengdeuane Lachanthaboun, Minister of Education and Sports – Laos; and Dr Sophon Napathorn, Vice Minister for Education – Thailand. Throughout the empowering discussion, the panellists reflected on ASEAN's past successes and shared their outlook on the Work Plan on Education 2016-2020, which was designed to unify collaborative efforts on education and develop a coordinated ASEAN position on global education issues.
Leaders at Bett Asia talked about the great need for new methods of teaching and learning because the accelerated pace of technological development in the new millennium demands an education system that has a focus beyond just examinations and discipline.
Malaysian Education Minister Mahdzir Khalid said, "We must widen the focus of our education system beyond examinations and discipline, reconceptualise teaching and learn to maximise positive social transformation and innovation."
He referred to studies that suggest that 65 per cent of children in primary school today will have jobs that do not yet exist. This is why students should be given the opportunity to apply their learning experience in ways that are relevant to their future, he said. In addition to digital literacy, education should give learners the understanding of how to apply and innovate technology.
A keynote session by Anthony Salcito, Vice President – Worldwide Education, Microsoft USA on Digital transformation in Learning, device demos, partner solutions, the passport adventure competition, and the Microsoft School Leaders and the Teachers Academy was one of the highlights of the event.
There were panel discussions on topics such as 'Shifting cultural expectations around traditional learning' which explored the idea of adjusting the emphasis from rote memorisation to project-based, holistic learning to stimulate critical thinking in students; 'Encouraging self-direction in Higher and Vocational Education', where the idea of how to stimulate students to take responsibility and identify gaps in their own learning and plan their own trajectory to the workforce was discussed; and 'Smashing gender stereotypes', a discussion which celebrated the pivotal role women have in STEM, Higher Education and research positions and the importance of encouraging female students to follow suit.
The expo attracted over 1,700 educators of all levels, education professionals and decision-makers from across ASEAN to share intelligence on how to improve learning in the 21st century. Educators from 175+ schools and universities and 160+ Government leaders attended to discover, experiment and source new technologies and resources.
The Bett Asia Awards celebrated and rewarded the creativity and innovation found throughout Asia's education sector. The game changer award was won by Apurba Kumar Das – Assistant Teacher, Faridpur Govt. Girls' High School, Bangladesh, GL Education – Whole Student View Assessments, United Kingdom won the award for innovation, Raymond Mitchel Africa – Science and Design Educator, CAS and Personal Project Coordinator, Manila Xiamen International School, Philippines won the award for leadership and Yayasan Generasi Gemilang – Malaysia won the award for collaboration.
The Bett Asia Leadership Summit and Expo was powered towards enhancing the quality of education through innovation and global collaborations. Bett is a leading global technology exhibition and congress series for teaching and learning-related data and management tools. Covering the breadth of lifelong learning, the series brings together industry leaders, practitioners, professionals and inspirational figures to share ideas on how to support learning together through technology. The Bett global series covers events in the United Kingdom, Latin America, Asia and the Middle East.
28th edition of CBSE Sahodaya Schools Conference begins at Vadodara
The 28th National Annual Conference of Sahodaya School Complexes on the theme of Education 4.0-Reinventing
Education 2030 and beyond begins.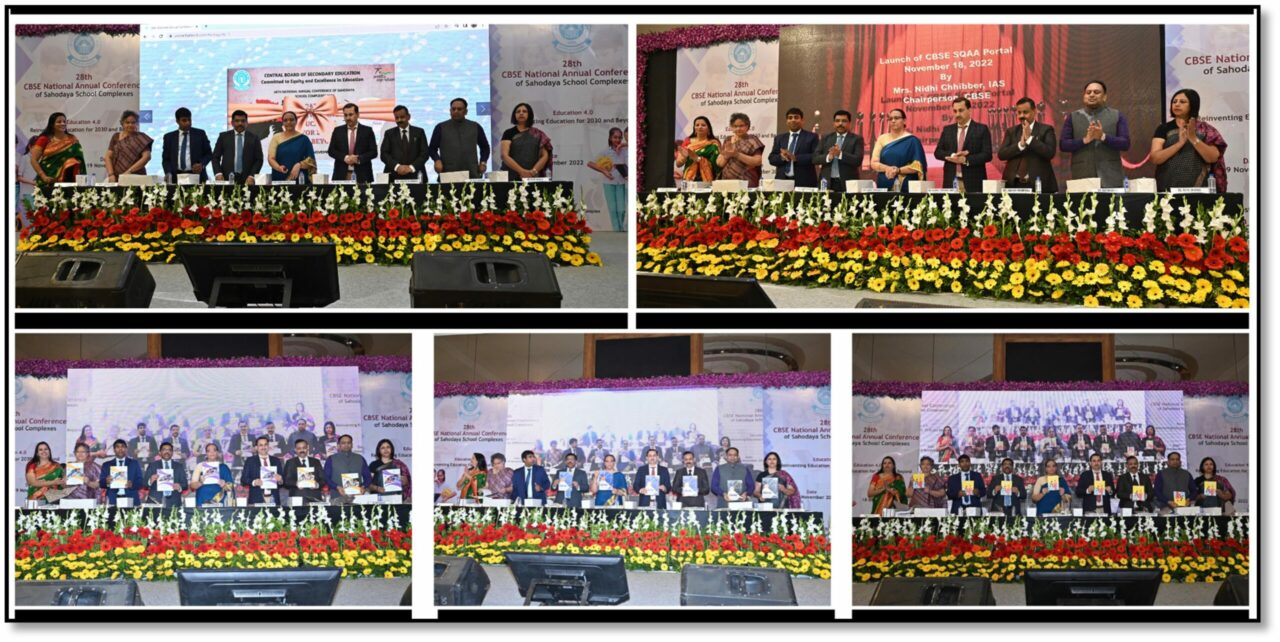 The 28th National Annual Conference of Sahodaya School Complexes (2022) began on 18th November 2022. This year the conference is being held in collaboration with Gyan Sarovar Sahodaya –The Central Gujarat CBSE Schools Sahodaya Complex.
The theme of the conference is "Education 4.0: Reinventing Education for 2030 and Beyond" with the objective to sensitize school leaders and prepare them for the era of education 4.0 with the necessary changes in the design of curriculum and pedagogy.
Sub Themes
Social dynamics and development of education
School Leadership for futuristic schools
Technology is indispensable for education
Capacity Building of teachers
AI in school education
Creative Learning
Positioning curriculum for 2030 and beyond
Moving from Transactional Leadership to Transformational Leadership
Building Learning Communities
Schooling Vs. Education: Bridging the gap for a better India for 2030 and beyond
Community School Partnership for quality education
This year's conference is hosting the representatives of more than 200 Sahodaya School Complexes and educationists from around the world in a two-day event at Vadodara.
Principals from 800 plus CBSE affiliated schools in the country and abroad, academics, and senior officers of the Board are participating in this two-day conference which will dwell upon various themes such as Community School Partnership, Schooling versus Education, Technology for Education, Artificial Intelligence in Education, Building Learning Communities, Leadership, Creative Learning, and Capacity Building of Teachers.
The inaugural session of the conference began with the address of the Chairperson CBSE Smt. Nidhi Chhibber highlighting the roles and responsibilities of school principals and administrators in realizing the objectives of NEP 2020 and making schools future ready.
A number of publications prepared by the Board were also launched by the Chairperson, on this occasion.
Conference Souvenir
A compilation of the probable best practices received from different schools across the country in the area of curriculum, pedagogy, capacity building of teachers, school leadership, school community partnership, and use of technology.
CBSE SQAA Portal
As per NEP 2020 recommendations, CBSE has developed a 'School Quality Assessment and Assurance (SQAA)' Framework based on 7 domains covering all the aspects of school functioning and can be useful as a tool for accomplishing individual and institutional excellence.
Practice Books in Science and Mathematics have been developed for Students of classes IX and X in the subjects of Mathematics and Science to strengthen the skills and competencies of students and help them apply the learned concepts in real-life situations and draw inferences.
These workbooks present a series of questions organised as themes, mapped to concepts from the curriculum of the respective class.
Item Banks
The board has designed and developed Competency Focussed Practice Questions aligned to the NCERT curriculum in the subjects of English, Mathematics, Science, and Social Science for Class X students to test conceptual understanding and application.
SAFAL Assessment Frameworks for grades 3, 5, and 8 were also launched today in the subjects of Language (English/Hindi), Mathematics, and EVS/Science. These include domains, strands, and competencies, and define learning outcomes at various proficiency levels.
PRAYOG
Pradhanacharya Yojna for Growth, has been designed in view of the important role of the Principals in the effective implementation of NEP 2020 in CBSE schools and covers various themes such as Innovative Pedagogy, Competency Focussed Education, Experiential Learning, Art integrated learning, Story Telling and Sports Integrated Learning, Systemic Reforms via initiatives such as SAFAL, HPC, SQAA, and Competency-based assessments, and other topics like Peer Education and Life Skills, Inclusive Education, Environmental Education, Pedagogy Leadership and Expectations from Principals.
Skill Education
A number of Skill Modules for Class VI-VIII on Travel and Tourism, Marketing, Media, Beauty & Wellness, Design Thinking, and Innovation were also launched today along with new modules for classes IX-XII in Library and Information Science, Cost Accounting, Early Childhood Care and Education.
Hand Book on Positive Parenting – A Ready Reckoner
The Board has always been sensitive and proactive regarding the mental health and wellness of students. Positive Parenting – A Ready Reckoner has been brought out by CBSE with the hope of adding value to the nuances of parenting and nurturing skills in a very simplistic and easy-to-follow manner. This publication by no means attempts to undermine the concerns and care of the parents already in place but may help in deepening the understanding and in building positive relationships amongst schools, parents, and students. The contents have been carefully curated post-COVID challenges and include topics such as the Mental and Emotional Wellness of Children, Parenting the Pre- teens, Gender Equality and Child Abuse Protection, Children with Special Needs, Online Learning for Parents, and more.