Housing.com genius Advitiya creates Genius Teacher
Housing.com co-founder Advitiya Sharma has plans for the edutech sector. He has set up 'Genius Teacher' a platform that will encourage adaptive learning and connect students and teachers at the hyperlocal level.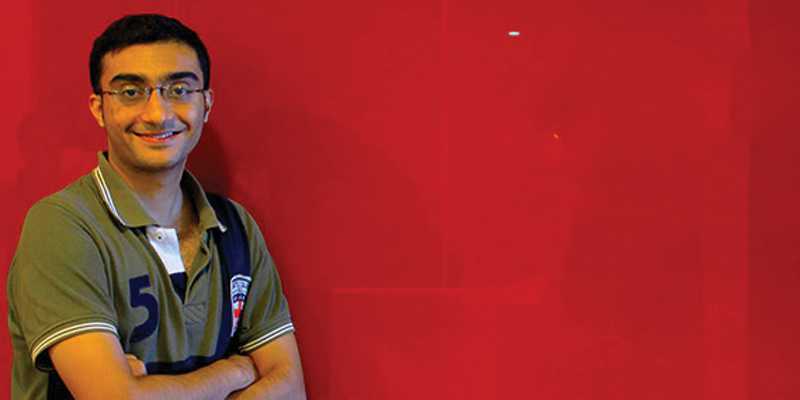 There is a saying in Bollywood, once bitten by the acting bug you cannot live without it. It is the same with starting a business, once bitten by the entrepreneurial bug, the itch never leaves. Advitiya Sharma, the Co-founder of Housing.com, recently spelled out his intentions to 'make a dent' in the edutech space with his new startup – Genius Teacher.
The genesis of 'Genius Teacher' lies in a vipassana meditation camp that he attended after resigning from Housing.com in March 2016. On day 5 of the camp, he had strong recollections from his childhood and the time that he spent with his parents and grandparents in Jammu. He vividly remembers his grandfather, otherwise passionate about writing, taking up teaching during lean times.
Through 'Genius Teacher' Advitiya is paying a tribute to his grandfather as the start-up focuses on making the lives of teachers easier and create 'micro-entrepreneurs'. He said, "Currently teachers are not given the respect they deserve in the society. With technology, I want to help improve the situation for parents, students, and teachers."
Market research coupled with personal experience revealed a lot of problems in the education space. The biggest being the composition of classroom which considers the age and not the learning aptitude of the student. In other words, the one-size-fits-all approach currently is increasing learning disparity as smart students who grasp quickly get bored easily, while the slow learners feel left out when they don't understand a concept.
As a result, in both cases students are 'disconnected' from the rest of the class and it is difficult for teachers to assess and address students interest levels constantly.
Technology has already made inroads in the field of education technology (edutech) and Advitiya admits that it has made easier for students to learn at their own pace through video or audio content. However, these cannot completely replace teachers. He said, "While platforms like Coursera and Khan Academy provide good platforms for learning, the number of students who actually complete a particular course are very low (below 13 %). The dropout rate after the first few lectures is alarmingly high."
Advitiya's key driving belief is that education and learning need to be pro-active while leveraging technology. So after exhaustive market research and running a few pilot programs, he came up with Genius Teacher, which is at the confluence of AltSchool and the Montessori methodology of learning.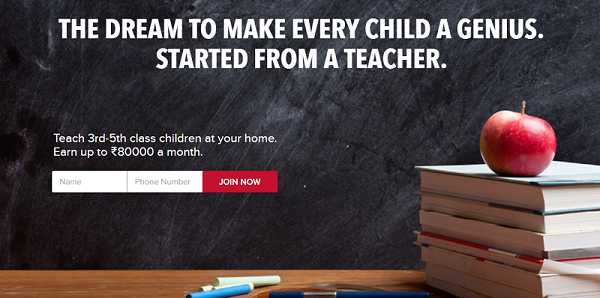 With Genius Teacher, Advitiya aims to create an 'adaptive learning' environment by connecting students and teachers hyperlocally. Operating through a marketplace model, Advitiya and his team want to train teachers that sign up with them about the best practices and how to keep students engaged.
So how does Genius Teacher work?
Driven by an amalgamation of the principles of neuroscience and big data on smartphones and tablets, the Genius Learning Technology will be able to record different classroom interactions, and learn from it to provide students with an adaptive learning experience.
The current thrust of Genius Teacher is to provide 'after-school' training to students from grade III to V. The initial batch size will be a conservative 5 to 8 students and then will be scaled up to 25 students per batch for every teacher. The website also estimates that teachers will be able to earn up to ₹ 80,000 a month through their platform from the comfort of their homes.
The pilot program has been received with great enthusiasm with over a thousand new teacher sign-ups. After a screening process and a 5-day workshop, selected teachers can start training students using the platform and proprietary technology.
The start-up team consists of techies from India as well as from Silicon Valley, but some of them are yet to join as they are currently in their notice periods.
According to estimates, the platform will be launched publicly around June 2016 when schools across India re-open. On strategy, he revealed that mini-heat maps of potentially great markets have been created and will target the top 5 cities first. The collected student data will help create knowledge graphs, which teachers (and students) can leverage later.
Advitiya also confirmed that the startup is currently bootstrapped. He said, "Because of my past work at Housing and the relationships I have built, a few VCs had offered to back Genius Teacher, but I politely declined as I wanted to prove myself and the business to them first before taking the next step."
NIOS celebrates 33rd Foundation Day
Dr. Subhas Sarkar addresses the 33rd Foundation Day Celebrations of NIOS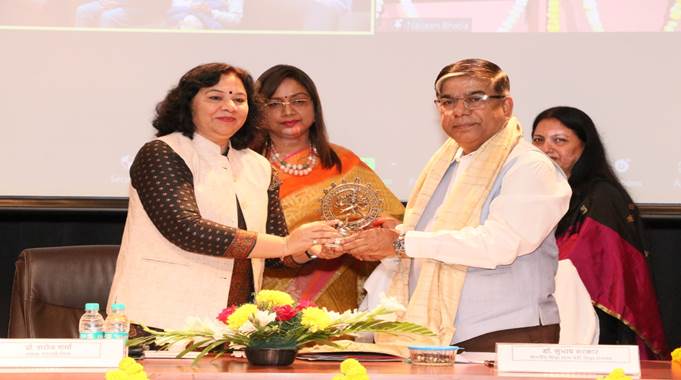 Union Minister of State for Education, Dr. Subhas Sarkar addressed the 33rd Foundation Day Celebrations of NIOS as the Chief Guest.
The function was attended by senior officials of the Ministry of Education, Chairpersons of educational institutions, Heads of Departments, officers, and staff of NIOS. Prof. Naval Kishore Ambasht, former Chairman, of NIOS and Pro-Vice Chancellor, of the Central University of Haryana, Prof. Sushma Yadav graced the occasion.
Dr. Subhas Sarkar in his address appreciated the various programmes and schemes of NIOS and said that NIOS is lighting the lamp of knowledge all over the world. Talking about the Azadi Ka Amrit Mahotsav, he mentioned that today's children will be young people in the age group of 30-40 years on the completion of 100 years of independence and will be responsible for building our nation.
He said that the Ministry of Education has entrusted NIOS with several responsibilities such as developing inclusive education resources, expanding the open and distance education system in states/UTs, translating all courses into more languages as required, creating Indian Knowledge Tradition based courses and propagating Indian culture by translating them into major foreign languages. He also praised the programmes of NIOS enrolling 10 crore adults under 'Basic Literacy Assessment', training of in-service teachers, Gender Green Project, and training in Yoga. He said that Indian Sign Language as a subject at the secondary level has been acknowledged on national and international platforms. He described the launch of an e-library called 'DEEP' by NIOS as a big step forward.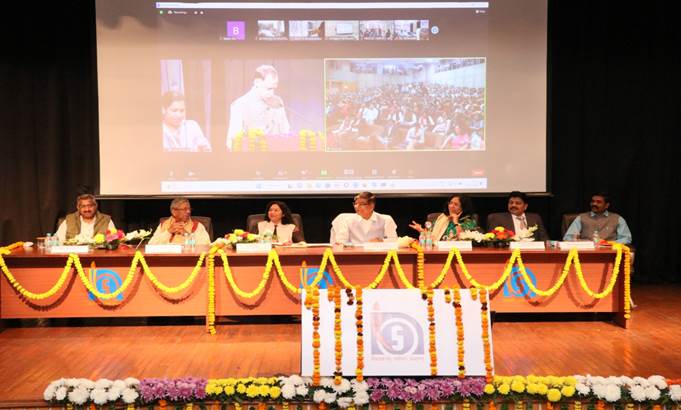 Prof. Saroj Sharma spoke about the journey of 33 years of NIOS and highlighted the special achievements. She said that NIOS is one of the two National Boards of Education under the Ministry of Education, which provides school education through Open and Distance Learning (ODL) for secondary, senior secondary, and vocational education. She elaborated on the role of NIOS in the field of education, efforts being made by NIOS for the successful implementation of the New Education Policy, Virtual Open School, Digital Library (DEEP), NEPIA Project, MoU with Ministry of Defence for Agniveer Project, setting up of Mukta Kaushal Kendras and subjects offered under Indian knowledge Tradition.
It was also conveyed by her that a curriculum called 'Aarambhika' is being developed by NIOS for catering to the Indian Diaspora.
A documentary based on the journey of 33 years of educational endeavours of NIOS was presented on the occasion. In this documentary, 'All England Badminton winner Pullela Gopichand said that most of the players in his badminton academy are getting an education from NIOS.
NIOS alumni, Ms. Niranjana and Vinod Kumar Chaudhary were also felicitated on the occasion. Shri Vinod Kumar said that only due to his education in NIOS, he was able to get the credit of making the Guinness Book of World Records 10 times (8 in Typing and 2 in sports). A proud learner of NIOS, Ms. Niranjana is a successful ventriloquist. Prof. N. K. Ambasht, former Chairman, NIOS said that in this age of technology, innovations must lead to developing 'standalone' courses for the Indian Diaspora, to achieve the goals of the National Education Policy- 2020. Pro-Vice Chancellor, Prof. Sushma Yadav said that the role of NIOS increases in the light of New Education Policy. NIOS has such potential that the institute will be able to achieve the ambitious goals of National Education Policy 2020 in the coming years.
The half-yearly magazine of NIOS 'Pragyan' was released by Dr. Subhas Sarkar on this occasion.