Housing.com genius Advitiya creates Genius Teacher
Housing.com co-founder Advitiya Sharma has plans for the edutech sector. He has set up 'Genius Teacher' a platform that will encourage adaptive learning and connect students and teachers at the hyperlocal level.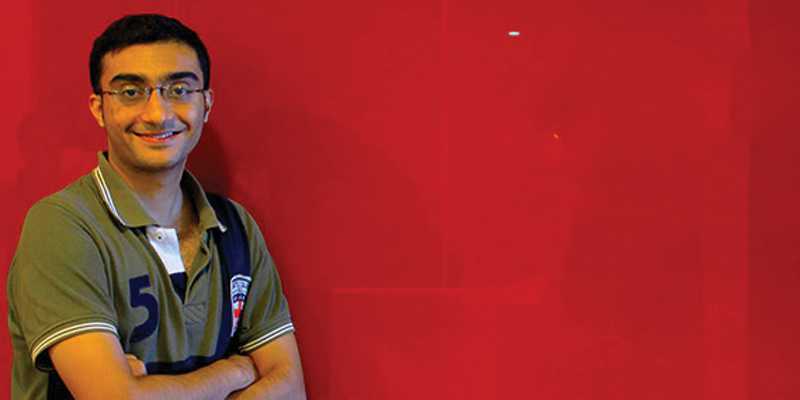 There is a saying in Bollywood, once bitten by the acting bug you cannot live without it. It is the same with starting a business, once bitten by the entrepreneurial bug, the itch never leaves. Advitiya Sharma, the Co-founder of Housing.com, recently spelled out his intentions to 'make a dent' in the edutech space with his new startup – Genius Teacher.
The genesis of 'Genius Teacher' lies in a vipassana meditation camp that he attended after resigning from Housing.com in March 2016. On day 5 of the camp, he had strong recollections from his childhood and the time that he spent with his parents and grandparents in Jammu. He vividly remembers his grandfather, otherwise passionate about writing, taking up teaching during lean times.
Through 'Genius Teacher' Advitiya is paying a tribute to his grandfather as the start-up focuses on making the lives of teachers easier and create 'micro-entrepreneurs'. He said, "Currently teachers are not given the respect they deserve in the society. With technology, I want to help improve the situation for parents, students, and teachers."
Market research coupled with personal experience revealed a lot of problems in the education space. The biggest being the composition of classroom which considers the age and not the learning aptitude of the student. In other words, the one-size-fits-all approach currently is increasing learning disparity as smart students who grasp quickly get bored easily, while the slow learners feel left out when they don't understand a concept.
As a result, in both cases students are 'disconnected' from the rest of the class and it is difficult for teachers to assess and address students interest levels constantly.
Technology has already made inroads in the field of education technology (edutech) and Advitiya admits that it has made easier for students to learn at their own pace through video or audio content. However, these cannot completely replace teachers. He said, "While platforms like Coursera and Khan Academy provide good platforms for learning, the number of students who actually complete a particular course are very low (below 13 %). The dropout rate after the first few lectures is alarmingly high."
Advitiya's key driving belief is that education and learning need to be pro-active while leveraging technology. So after exhaustive market research and running a few pilot programs, he came up with Genius Teacher, which is at the confluence of AltSchool and the Montessori methodology of learning.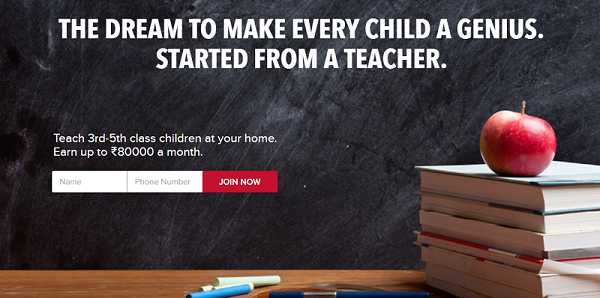 With Genius Teacher, Advitiya aims to create an 'adaptive learning' environment by connecting students and teachers hyperlocally. Operating through a marketplace model, Advitiya and his team want to train teachers that sign up with them about the best practices and how to keep students engaged.
So how does Genius Teacher work?
Driven by an amalgamation of the principles of neuroscience and big data on smartphones and tablets, the Genius Learning Technology will be able to record different classroom interactions, and learn from it to provide students with an adaptive learning experience.
The current thrust of Genius Teacher is to provide 'after-school' training to students from grade III to V. The initial batch size will be a conservative 5 to 8 students and then will be scaled up to 25 students per batch for every teacher. The website also estimates that teachers will be able to earn up to ₹ 80,000 a month through their platform from the comfort of their homes.
The pilot program has been received with great enthusiasm with over a thousand new teacher sign-ups. After a screening process and a 5-day workshop, selected teachers can start training students using the platform and proprietary technology.
The start-up team consists of techies from India as well as from Silicon Valley, but some of them are yet to join as they are currently in their notice periods.
According to estimates, the platform will be launched publicly around June 2016 when schools across India re-open. On strategy, he revealed that mini-heat maps of potentially great markets have been created and will target the top 5 cities first. The collected student data will help create knowledge graphs, which teachers (and students) can leverage later.
Advitiya also confirmed that the startup is currently bootstrapped. He said, "Because of my past work at Housing and the relationships I have built, a few VCs had offered to back Genius Teacher, but I politely declined as I wanted to prove myself and the business to them first before taking the next step."
Smile Foundation and Shell Launch STEM Project on Pi Day
The initiative will benefit less-privileged students from government schools.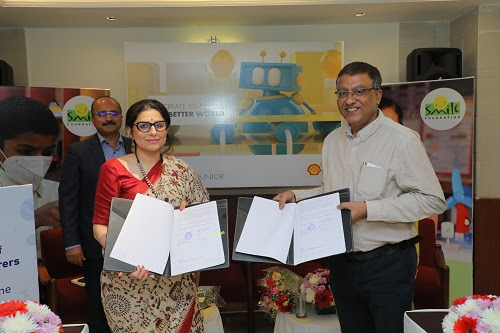 On the occasion of International Pi (π) Day, Smile Foundation and Shell launch 'NXplorers Junior' programme in three Indian states. NXplorers is Shell's global flagship Social Investment STEM (Science, Technology, Engineering, and Mathematics) educational programme aims to benefit over 25,000 children during the first year by enabling them to understand, navigate and address local and global challenges, as underlined in the Sustainable Development Goals (SDGs). NXplorers is also aligned with the National Education Policy 2020 and delivers societal benefits.
The innovative initiative will benefit less-privileged students from government schools and affordable private schools, studying in rural and hard-to-reach areas in the states of Andhra Pradesh, Telangana and Kerala. Its design also includes endeavour to create awareness amongst parents on the importance of STEM education, especially for girl children.
"Shell firmly believes that, provided with the necessary skills and guidance, young people can be a driving force to find sustainable solutions to the major global challenges of our time. Launched in 2018, Shell's global flagship STEM programme NXplorers is aligned with the National Education Policy 2020 that aims to transform India into an equitable and vibrant knowledge society. With the Smile Foundation partnership, we aim to expand this programme to Andhra Pradesh, Kerala, and Telangana and offer young minds the platform to design sustainable solutions to ease the pressure on food, water, and energy," said Ms. Latika Taneja, Head of Corporate Relations – India.
The programme is being rolled out in concurrence with the educational authorities of the respective state governments. Besides students, teachers, parents and communities are involved actively while implementing the programme so that it remains sustainable in the long-term.
"We are excited to roll out this innovative programme in India. We are hopeful that our children will not only leverage STEM education in building their future career but also will grow up and develop leadership ability in finding sustainable solutions in various walks of life," said Mr. Santanu Mishra, Co-founder & Executive Trustee, Smile Foundation.
The NXplorers Juniors will train both 6th and 7th grade students. NXplorers Juniors Level-I course will be delivered through a combination of teacher's guide, PowerPoint slides, and several instructional videos. The facilitator guide will outline the essentials to be covered in each session, exercises, discussion, checkpoint questions, a summary, assessment, and research to be undertaken by students after the session.
The United Nations Sustainable Development Goals (SDGs), exploring SDG Solutions, researching global goals, and developing a challenge and choosing a solution etc. are covered in the NXplorers Juniors Level-1.
NXplorers – Learning for a Life Time, envisions to provide a minimum of 3-5 years of NXplorers exposure to the students at various levels. The objectives include developing strong knowledge and skill set among students so that local and global challenges can be addressed by them. Developing sustainable models of implementation by engaging teachers, school leaders and communities effectively, creating awareness amongst parents regarding the importance of STEM education, especially concerning girl education are part of the overall goals.
About Smile Foundation
Smile Foundation is a national development organization directly benefiting over 1.5 million underprivileged children and their families every year through more than 400 welfare projects in education, healthcare, livelihood and women empowerment spread across 2,000 remote villages and urban slums in 25 states of India.
About Shell
Shell is one of the most diversified international energy company in India with over 10,000 employees and presence across upstream, integrated gas, downstream, renewable energy, and deep capabilities in R&D, digitalisation, and business operations; with a retail presence across six states – Karnataka, Tamil Nadu, Telangana, Maharashtra, Gujarat, and Assam.