Is CBSE giving marks liberally to class XII students in order to compete with other boards?
Something is fishy in the state of affairs of the CBSE. On hand it admits there are no differences in difficulty levels of exams across the nation and on the other says that the standardisation process compensates for differences in difficulty levels.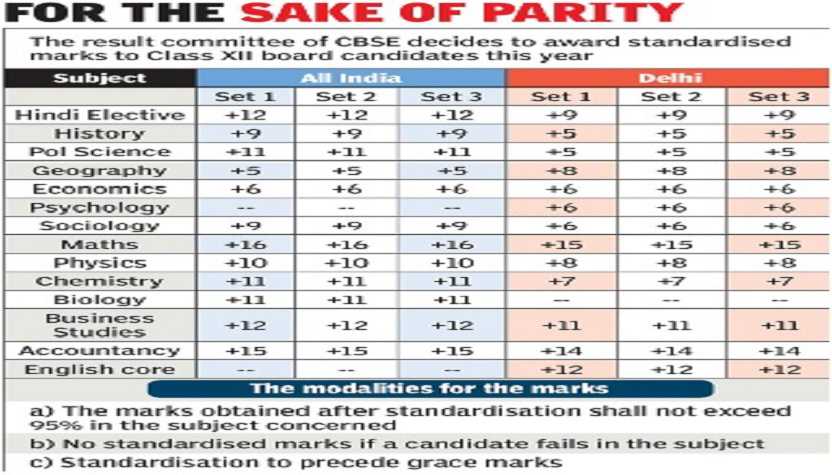 Fingers are being pointed at the Central Board of Secondary Education (CBSE) for inflating marks to protect its students from a "disadvantage" on the assumption that other boards are doing so too. How much of these allegations are true? Here is an attempt to view the situation in a different light.
The latest reports coming out of Delhi claim that up to 80% of students so far admitted in DU's Shri Ram College of Commerce (SRCC) are from Tamil Nadu board. Behind this fact is lurking the ugly fact that there exists an unhealthy competition among various school boards to be 'liberal' in marking answer sheets and grant extra marks in the name of 'standardisation'.
Here is a quick look at the fact sheet for this year. CBSE gave 16 marks extra in the class XII maths exam this year in the all-India set of papers and 15 marks in the Delhi set during the process of standardisation. In 9 subjects, the marks were 'standardised' up by more than 10%. The standardisation process balloons a student's marks in mathematics from 77 to 93. Similarly, a student of business studies who would have otherwise received 80 marks may end up with 92 in the subject.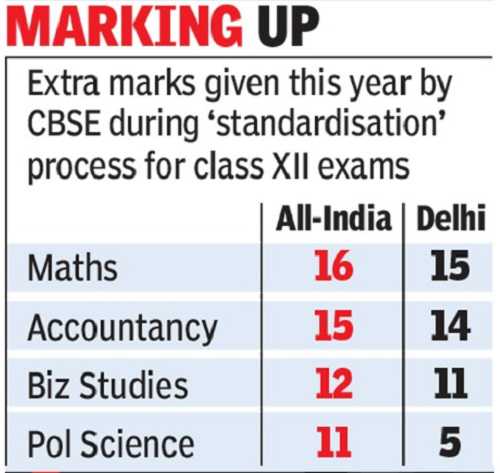 Although CBSE doesn't follow the practice of grouping together subjects on the basis of streams, a student with physics, chemistry, mathematics and English core from Delhi region may end up 42 'extra' marks, a spike of an amazing 10 percentage points or more in best of 4 aggregate.
Similarly, a student from the all-India pool with accountancy, business studies, economics, mathematics and English core combination could get an additional 49 'moderated' marks, again a phenomenal 10 percentage point jump.
While the moderation of marks or the standardisation process exists to even out different difficulty levels and other factors in an exam of such huge scale and spread, sources say that this exercise was conducted prudently earlier. "It would never lead to an increase of more than 5 marks," said a former CBSE chairman.
One of the reasons given by the CBSE sources for such huge jumps in marks was that students of other boards were being given both 'moderation' and 'grace' liberally. The official CBSE statement is that its standardisation process is not in response to the liberal marking by other boards.
However, the minutes of the board's result committee meeting belies this claim. It says, "…members were of the opinion that the statistics shown will lead to CBSE's students in disadvantageous position in higher education in comparison to the students of other boards (like ICSE, UP board etc) who had given both moderation and grace liberally to their students."
Admitting to a growing competition among boards, former CBSE chairman Ashok Kumar Ganguly has called upon the HRD ministry and the Council of Boards of School Education in India to intervene.
"There is a very unhealthy competition going on between the state and national boards. This should be nipped in the bud. We have seen what is happening in one of the colleges, where 75% to 80% of students are from a single board. This calls for a rationalization of marks before things worsen," Ganguly said.
Also there seems to be inconsistent difficulty levels between the question papers of the all-India and Delhi regions. Here the CBSE contradicts itself.
On one hand it says that the exercise aimed to "level up the mean achievements in the set-wise performance of the candidates attributable to the difference in the difficulty level of different set of question papers in the multiple sets scheme." On the other it says, "There is no inconsistency in question paper design and difficulty level of the question papers administered under the All India Scheme, vis-a-vis the question papers administered anywhere."
Ok, so if that's the case then please explain the 11 moderated marks for the all India question paper in biology as against zero for Delhi region, or 12 marks for Delhi students in English (core) to zero for others, if the difficulty levels were the same?
"Moderation should never exceed 5%. Its specific purpose is in case of difference in difficulty level within different sets of question papers and not because other boards are giving high marks. Let CBSE put up on its website the moderated marks for each subject and the reasons," said Ganguly.
Calling for strict guidelines for school boards, Ganguly added that in case there were no multiple sets of question papers, as is the case in many state boards, "there is no business of moderation".
Smile Foundation and Shell Launch STEM Project on Pi Day
The initiative will benefit less-privileged students from government schools.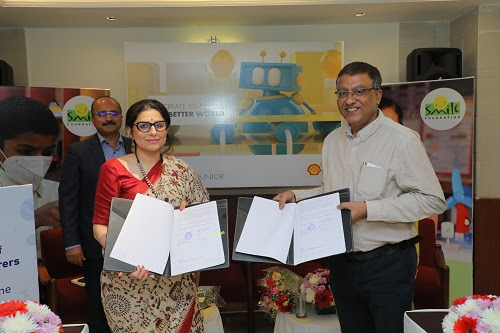 On the occasion of International Pi (π) Day, Smile Foundation and Shell launch 'NXplorers Junior' programme in three Indian states. NXplorers is Shell's global flagship Social Investment STEM (Science, Technology, Engineering, and Mathematics) educational programme aims to benefit over 25,000 children during the first year by enabling them to understand, navigate and address local and global challenges, as underlined in the Sustainable Development Goals (SDGs). NXplorers is also aligned with the National Education Policy 2020 and delivers societal benefits.
The innovative initiative will benefit less-privileged students from government schools and affordable private schools, studying in rural and hard-to-reach areas in the states of Andhra Pradesh, Telangana and Kerala. Its design also includes endeavour to create awareness amongst parents on the importance of STEM education, especially for girl children.
"Shell firmly believes that, provided with the necessary skills and guidance, young people can be a driving force to find sustainable solutions to the major global challenges of our time. Launched in 2018, Shell's global flagship STEM programme NXplorers is aligned with the National Education Policy 2020 that aims to transform India into an equitable and vibrant knowledge society. With the Smile Foundation partnership, we aim to expand this programme to Andhra Pradesh, Kerala, and Telangana and offer young minds the platform to design sustainable solutions to ease the pressure on food, water, and energy," said Ms. Latika Taneja, Head of Corporate Relations – India.
The programme is being rolled out in concurrence with the educational authorities of the respective state governments. Besides students, teachers, parents and communities are involved actively while implementing the programme so that it remains sustainable in the long-term.
"We are excited to roll out this innovative programme in India. We are hopeful that our children will not only leverage STEM education in building their future career but also will grow up and develop leadership ability in finding sustainable solutions in various walks of life," said Mr. Santanu Mishra, Co-founder & Executive Trustee, Smile Foundation.
The NXplorers Juniors will train both 6th and 7th grade students. NXplorers Juniors Level-I course will be delivered through a combination of teacher's guide, PowerPoint slides, and several instructional videos. The facilitator guide will outline the essentials to be covered in each session, exercises, discussion, checkpoint questions, a summary, assessment, and research to be undertaken by students after the session.
The United Nations Sustainable Development Goals (SDGs), exploring SDG Solutions, researching global goals, and developing a challenge and choosing a solution etc. are covered in the NXplorers Juniors Level-1.
NXplorers – Learning for a Life Time, envisions to provide a minimum of 3-5 years of NXplorers exposure to the students at various levels. The objectives include developing strong knowledge and skill set among students so that local and global challenges can be addressed by them. Developing sustainable models of implementation by engaging teachers, school leaders and communities effectively, creating awareness amongst parents regarding the importance of STEM education, especially concerning girl education are part of the overall goals.
About Smile Foundation
Smile Foundation is a national development organization directly benefiting over 1.5 million underprivileged children and their families every year through more than 400 welfare projects in education, healthcare, livelihood and women empowerment spread across 2,000 remote villages and urban slums in 25 states of India.
About Shell
Shell is one of the most diversified international energy company in India with over 10,000 employees and presence across upstream, integrated gas, downstream, renewable energy, and deep capabilities in R&D, digitalisation, and business operations; with a retail presence across six states – Karnataka, Tamil Nadu, Telangana, Maharashtra, Gujarat, and Assam.