Is CBSE giving marks liberally to class XII students in order to compete with other boards?
Something is fishy in the state of affairs of the CBSE. On hand it admits there are no differences in difficulty levels of exams across the nation and on the other says that the standardisation process compensates for differences in difficulty levels.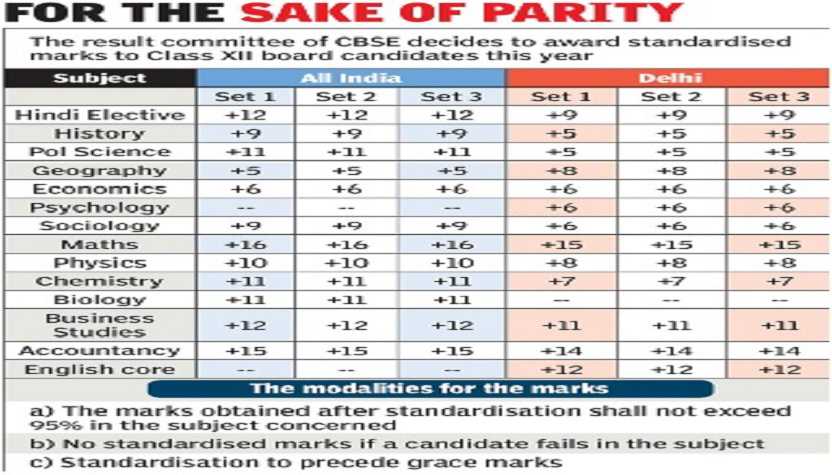 Fingers are being pointed at the Central Board of Secondary Education (CBSE) for inflating marks to protect its students from a "disadvantage" on the assumption that other boards are doing so too. How much of these allegations are true? Here is an attempt to view the situation in a different light.
The latest reports coming out of Delhi claim that up to 80% of students so far admitted in DU's Shri Ram College of Commerce (SRCC) are from Tamil Nadu board. Behind this fact is lurking the ugly fact that there exists an unhealthy competition among various school boards to be 'liberal' in marking answer sheets and grant extra marks in the name of 'standardisation'.
Here is a quick look at the fact sheet for this year. CBSE gave 16 marks extra in the class XII maths exam this year in the all-India set of papers and 15 marks in the Delhi set during the process of standardisation. In 9 subjects, the marks were 'standardised' up by more than 10%. The standardisation process balloons a student's marks in mathematics from 77 to 93. Similarly, a student of business studies who would have otherwise received 80 marks may end up with 92 in the subject.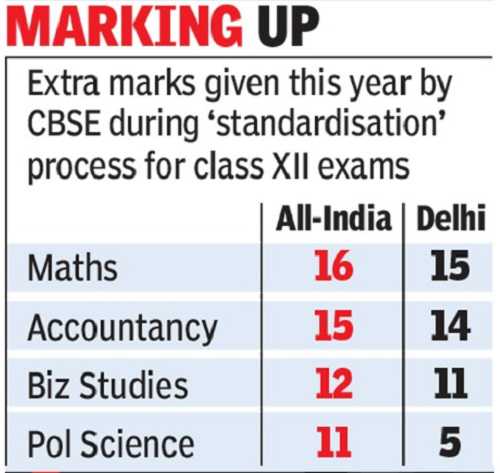 Although CBSE doesn't follow the practice of grouping together subjects on the basis of streams, a student with physics, chemistry, mathematics and English core from Delhi region may end up 42 'extra' marks, a spike of an amazing 10 percentage points or more in best of 4 aggregate.
Similarly, a student from the all-India pool with accountancy, business studies, economics, mathematics and English core combination could get an additional 49 'moderated' marks, again a phenomenal 10 percentage point jump.
While the moderation of marks or the standardisation process exists to even out different difficulty levels and other factors in an exam of such huge scale and spread, sources say that this exercise was conducted prudently earlier. "It would never lead to an increase of more than 5 marks," said a former CBSE chairman.
One of the reasons given by the CBSE sources for such huge jumps in marks was that students of other boards were being given both 'moderation' and 'grace' liberally. The official CBSE statement is that its standardisation process is not in response to the liberal marking by other boards.
However, the minutes of the board's result committee meeting belies this claim. It says, "…members were of the opinion that the statistics shown will lead to CBSE's students in disadvantageous position in higher education in comparison to the students of other boards (like ICSE, UP board etc) who had given both moderation and grace liberally to their students."
Admitting to a growing competition among boards, former CBSE chairman Ashok Kumar Ganguly has called upon the HRD ministry and the Council of Boards of School Education in India to intervene.
"There is a very unhealthy competition going on between the state and national boards. This should be nipped in the bud. We have seen what is happening in one of the colleges, where 75% to 80% of students are from a single board. This calls for a rationalization of marks before things worsen," Ganguly said.
Also there seems to be inconsistent difficulty levels between the question papers of the all-India and Delhi regions. Here the CBSE contradicts itself.
On one hand it says that the exercise aimed to "level up the mean achievements in the set-wise performance of the candidates attributable to the difference in the difficulty level of different set of question papers in the multiple sets scheme." On the other it says, "There is no inconsistency in question paper design and difficulty level of the question papers administered under the All India Scheme, vis-a-vis the question papers administered anywhere."
Ok, so if that's the case then please explain the 11 moderated marks for the all India question paper in biology as against zero for Delhi region, or 12 marks for Delhi students in English (core) to zero for others, if the difficulty levels were the same?
"Moderation should never exceed 5%. Its specific purpose is in case of difference in difficulty level within different sets of question papers and not because other boards are giving high marks. Let CBSE put up on its website the moderated marks for each subject and the reasons," said Ganguly.
Calling for strict guidelines for school boards, Ganguly added that in case there were no multiple sets of question papers, as is the case in many state boards, "there is no business of moderation".
NIOS celebrates 33rd Foundation Day
Dr. Subhas Sarkar addresses the 33rd Foundation Day Celebrations of NIOS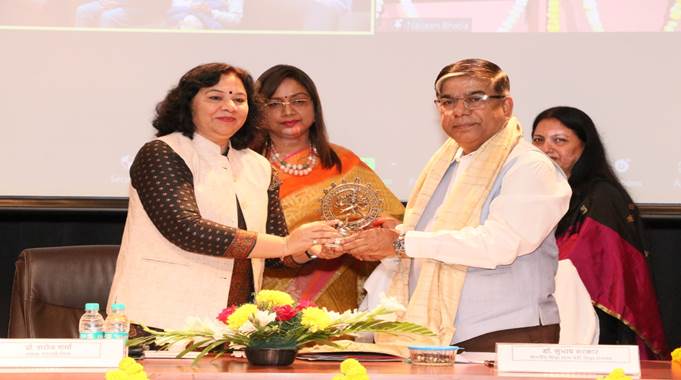 Union Minister of State for Education, Dr. Subhas Sarkar addressed the 33rd Foundation Day Celebrations of NIOS as the Chief Guest.
The function was attended by senior officials of the Ministry of Education, Chairpersons of educational institutions, Heads of Departments, officers, and staff of NIOS. Prof. Naval Kishore Ambasht, former Chairman, of NIOS and Pro-Vice Chancellor, of the Central University of Haryana, Prof. Sushma Yadav graced the occasion.
Dr. Subhas Sarkar in his address appreciated the various programmes and schemes of NIOS and said that NIOS is lighting the lamp of knowledge all over the world. Talking about the Azadi Ka Amrit Mahotsav, he mentioned that today's children will be young people in the age group of 30-40 years on the completion of 100 years of independence and will be responsible for building our nation.
He said that the Ministry of Education has entrusted NIOS with several responsibilities such as developing inclusive education resources, expanding the open and distance education system in states/UTs, translating all courses into more languages as required, creating Indian Knowledge Tradition based courses and propagating Indian culture by translating them into major foreign languages. He also praised the programmes of NIOS enrolling 10 crore adults under 'Basic Literacy Assessment', training of in-service teachers, Gender Green Project, and training in Yoga. He said that Indian Sign Language as a subject at the secondary level has been acknowledged on national and international platforms. He described the launch of an e-library called 'DEEP' by NIOS as a big step forward.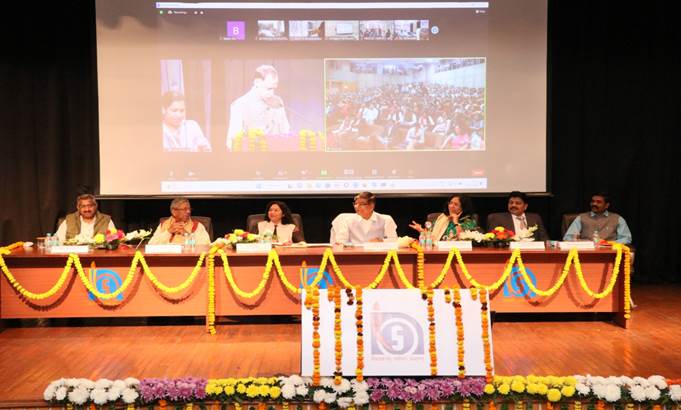 Prof. Saroj Sharma spoke about the journey of 33 years of NIOS and highlighted the special achievements. She said that NIOS is one of the two National Boards of Education under the Ministry of Education, which provides school education through Open and Distance Learning (ODL) for secondary, senior secondary, and vocational education. She elaborated on the role of NIOS in the field of education, efforts being made by NIOS for the successful implementation of the New Education Policy, Virtual Open School, Digital Library (DEEP), NEPIA Project, MoU with Ministry of Defence for Agniveer Project, setting up of Mukta Kaushal Kendras and subjects offered under Indian knowledge Tradition.
It was also conveyed by her that a curriculum called 'Aarambhika' is being developed by NIOS for catering to the Indian Diaspora.
A documentary based on the journey of 33 years of educational endeavours of NIOS was presented on the occasion. In this documentary, 'All England Badminton winner Pullela Gopichand said that most of the players in his badminton academy are getting an education from NIOS.
NIOS alumni, Ms. Niranjana and Vinod Kumar Chaudhary were also felicitated on the occasion. Shri Vinod Kumar said that only due to his education in NIOS, he was able to get the credit of making the Guinness Book of World Records 10 times (8 in Typing and 2 in sports). A proud learner of NIOS, Ms. Niranjana is a successful ventriloquist. Prof. N. K. Ambasht, former Chairman, NIOS said that in this age of technology, innovations must lead to developing 'standalone' courses for the Indian Diaspora, to achieve the goals of the National Education Policy- 2020. Pro-Vice Chancellor, Prof. Sushma Yadav said that the role of NIOS increases in the light of New Education Policy. NIOS has such potential that the institute will be able to achieve the ambitious goals of National Education Policy 2020 in the coming years.
The half-yearly magazine of NIOS 'Pragyan' was released by Dr. Subhas Sarkar on this occasion.