It's the end of the road for 2,168 more govt. primary schools in Karnataka
The total number of schools shut down this year due to having less than 10 enrolments has now reached 2,959. This is an alarmingly high number and my actually lead to abandoning of studies among the very poor or the backward castes.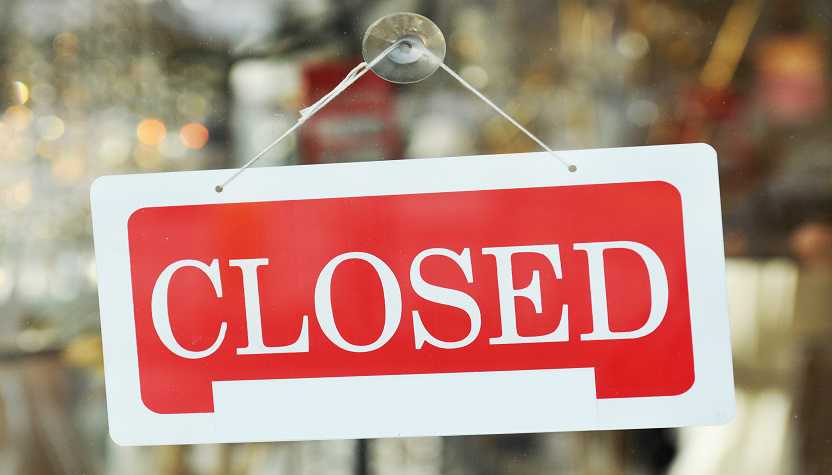 In line with its policy of shutting down government schools with less than 10 students, the Department of Public Instructions (DPI) has released a new order demanding "merger" of 2,168 government schools in 27 education districts, with close by schools.
The latest order now rounds up the total number of government primary schools — mostly Kannada-medium— to be shut down this year to 2,959.
In a circular issued on June 1, Director (Primary) of DPI has directed the Deputy Directors of Public Instructions (DDPI) to "transfer" students from schools that have less than 10 enrolments to schools that have more than 31 students and are located within a 1-km radius.

The DDPI will have an option to get the students admitted in other government, aided or in unaided schools under the RTE quota. In case of absence of any schools nearby, the authorities will also have to make necessary transport arrangements to other schools.
The district which will be the most affected by the circular and will witness the maximum number of government primary schools shutdowns is Hassan, with 320 schools, while the Gadag district has the least number of schools with less than 10 enrolments.
The department officials feel that this move is justified and is the only logical way to overcome the shortage of teachers and provide quality education by pooling existing resources. "That is the only way we can provide adequate teachers in the current financial strength of the State," he said.
A geographical analysis of the districts reveals that most of the schools with low strength are situated in south Karnataka districts and vice versa in north Karnataka districts.
Explaining the rationale for this scenario, a department official said, "There is a chance that in south Karnataka districts there is a demand for English-medium education, which is why parents are not sending their children to government schools. In north Karnataka districts, the demand for English medium is yet to pick up."
Another official provided a different perspective by adding that districts with government schools with low enrolment are in areas with less habitations and scattered houses, like in the Malnad region.
While the education department and the government may view this as an economically elegant solution, not everyone is viewing the directive in a positive light. The headmaster of a government school in Chitradurga district said, "The purpose of having a school in a village is to ensure that the last Dalit girl in the village comes to school. Many times we headmasters go home and bring the students to school. If the school is shifted to a more distant location, this will not be possible."
Meanwhile, there is a third category of schools that have been identified by the department, almost 12,360 schools with between 11 and 30 enrolments. The plan is to redeploy excess teachers from these schools to other schools.
It's a matter of concern that while the education department is going through this complex logistical exercise to rationalise the number of schools, nobody seems to be working to find out the reason behind the dwindling numbers in public schools and what needs to be done to attract them towards State-funded schools.
Image used for representational purpose only
NIOS celebrates 33rd Foundation Day
Dr. Subhas Sarkar addresses the 33rd Foundation Day Celebrations of NIOS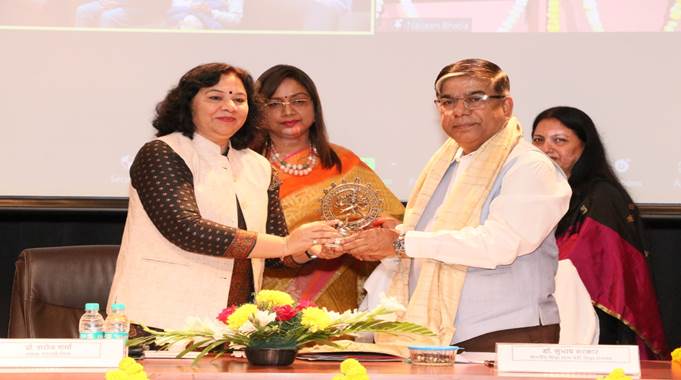 Union Minister of State for Education, Dr. Subhas Sarkar addressed the 33rd Foundation Day Celebrations of NIOS as the Chief Guest.
The function was attended by senior officials of the Ministry of Education, Chairpersons of educational institutions, Heads of Departments, officers, and staff of NIOS. Prof. Naval Kishore Ambasht, former Chairman, of NIOS and Pro-Vice Chancellor, of the Central University of Haryana, Prof. Sushma Yadav graced the occasion.
Dr. Subhas Sarkar in his address appreciated the various programmes and schemes of NIOS and said that NIOS is lighting the lamp of knowledge all over the world. Talking about the Azadi Ka Amrit Mahotsav, he mentioned that today's children will be young people in the age group of 30-40 years on the completion of 100 years of independence and will be responsible for building our nation.
He said that the Ministry of Education has entrusted NIOS with several responsibilities such as developing inclusive education resources, expanding the open and distance education system in states/UTs, translating all courses into more languages as required, creating Indian Knowledge Tradition based courses and propagating Indian culture by translating them into major foreign languages. He also praised the programmes of NIOS enrolling 10 crore adults under 'Basic Literacy Assessment', training of in-service teachers, Gender Green Project, and training in Yoga. He said that Indian Sign Language as a subject at the secondary level has been acknowledged on national and international platforms. He described the launch of an e-library called 'DEEP' by NIOS as a big step forward.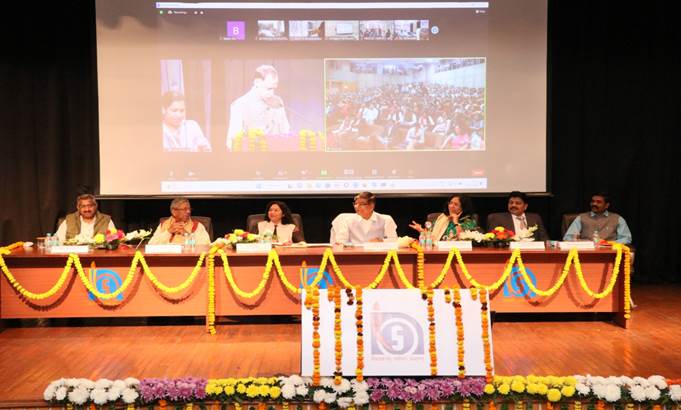 Prof. Saroj Sharma spoke about the journey of 33 years of NIOS and highlighted the special achievements. She said that NIOS is one of the two National Boards of Education under the Ministry of Education, which provides school education through Open and Distance Learning (ODL) for secondary, senior secondary, and vocational education. She elaborated on the role of NIOS in the field of education, efforts being made by NIOS for the successful implementation of the New Education Policy, Virtual Open School, Digital Library (DEEP), NEPIA Project, MoU with Ministry of Defence for Agniveer Project, setting up of Mukta Kaushal Kendras and subjects offered under Indian knowledge Tradition.
It was also conveyed by her that a curriculum called 'Aarambhika' is being developed by NIOS for catering to the Indian Diaspora.
A documentary based on the journey of 33 years of educational endeavours of NIOS was presented on the occasion. In this documentary, 'All England Badminton winner Pullela Gopichand said that most of the players in his badminton academy are getting an education from NIOS.
NIOS alumni, Ms. Niranjana and Vinod Kumar Chaudhary were also felicitated on the occasion. Shri Vinod Kumar said that only due to his education in NIOS, he was able to get the credit of making the Guinness Book of World Records 10 times (8 in Typing and 2 in sports). A proud learner of NIOS, Ms. Niranjana is a successful ventriloquist. Prof. N. K. Ambasht, former Chairman, NIOS said that in this age of technology, innovations must lead to developing 'standalone' courses for the Indian Diaspora, to achieve the goals of the National Education Policy- 2020. Pro-Vice Chancellor, Prof. Sushma Yadav said that the role of NIOS increases in the light of New Education Policy. NIOS has such potential that the institute will be able to achieve the ambitious goals of National Education Policy 2020 in the coming years.
The half-yearly magazine of NIOS 'Pragyan' was released by Dr. Subhas Sarkar on this occasion.