Larger than life expectations fuel student suicides
Suicides among IIT aspirants have lost their shock value while every new incident should goad the authorities to set right the rot in our system which is driving students to take their lives just because they couldn't confirm to a set parameter of success.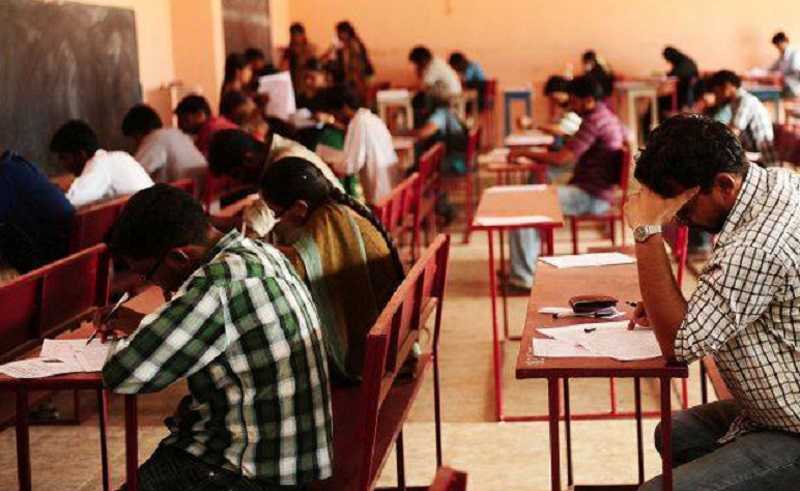 Every year at the beginning of the admission seasons, newspapers are sprinkled with news about student suicides. What's remarkable is that every successive year the print space given to such incidents is shrinking. The names and faces change, yet the hollow look in their eyes remain the same.
However, one particular incident jumps out in public memory. That of Kriti Tripathi who actually passed the examination for which she was studying so hard – the IIT-JEE. Media reports are rife with speculation that she did not wanted to become an engineer in the first place and she was unhappy with her performance. Some also are reporting that she was already depressed due to other reasons.
Whatever the reasons for her suicide, Kriti's suicide is alarming. The statistics which are reproduced every time her death is mentioned are deplorable. She is the 5th IIT-JEE aspirant in Kota to have killed herself this year, the 18th student suicide in the city this year and the 17th suicide in the last 5 years.
Naturally, the IITs have been deemed the root of all evil for all the young lives lost at the altar of the IIT-JEE. Such is the craze for getting into these hallowed institutions that students start taking coaching from grade VI onwards just to get an admission into a preparatory coaching class when they reach grade XI. Who hasn't seen a neighbour's kid or even a cousin who is perpetually overworked and runs on a military schedule of attending school from 8:00 am to 3:00 pm followed by coaching classes from 5:30 pm to 8:30 pm? Then there are the absolutely obsessive kind of students who take a year off to attend intensive coaching centres, where they study up to 18 hours a day taking only snack and bio breaks.
The question is where does the buck stop? Does it stop at the ever demanding parents? Or is it the teachers who set the bar high? Or is it the halo around the brand IIT that literally puts students in a pressure cooker? There is no simple answer to this as no person or institution is to be blamed, it is our culture which has shaped over a period of time.
Indian society sees success in material terms like a degree from an Ivy League institute, a professional degree, a scholarship in a prestigious foreign institution, a work permit abroad or a large house with picket fences and lush lawns familiarised by American television dramas. What's conspicuously missing is the mindset that celebrates each and every student's individuality, their own skill sets, and their strengths.
If a student expresses the desire to choose a career beyond the cookie-cutter career options he is laughed at and discouraged at every step rather than understanding his aptitude for the same and encouraging him. And therein lies the rot of our system.
Fortunately the school education authorities woke up to the fact that academia alone cannot be the judge of a student's potential. In typical government fashion, the officials woke up, took note of things, pondered around a table for some months and presto!, came up with a solution- the Comprehensive and Continuous Evaluation (CCE).
Unfortunately, the CCE is set to make things worse. Not only will the students continue to be judged on their academic performance but also several other aspects. A slip-up in any one will reflect on the overall record. So we have students whose every waking hour is neatly divided into slots for– school, tuition, ballet, tennis, cricket, basketball, yoga.
With such cramped schedules how do we expect our children to sit back and give their imagination a free run? Dream? Set their own pace? Of course they cannot when gigantic expectations are breathing down on their necks so heavily.
Every time a teenager decides he or she is not worthy of living through the next several decades, every time a person becomes a statistic, we should ask ourselves who or what is placing this burden of expectations on them. It is us. It is everything that's happening around them.
To borrow from a very successful Hindi movie, a student suicide is not a suicide but a murder. A murder committed by the extreme pressure to perform and confirm to a standard definition of success.
NIOS celebrates 33rd Foundation Day
Dr. Subhas Sarkar addresses the 33rd Foundation Day Celebrations of NIOS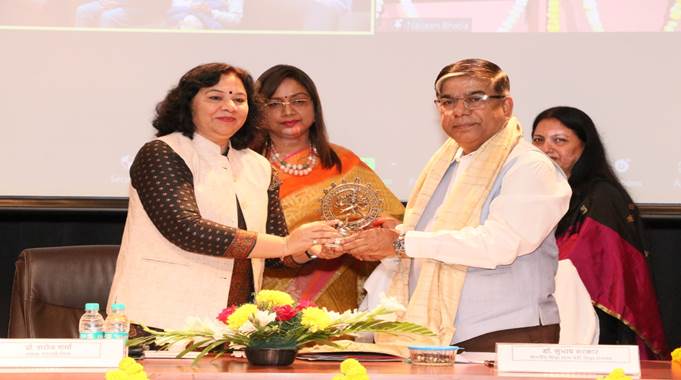 Union Minister of State for Education, Dr. Subhas Sarkar addressed the 33rd Foundation Day Celebrations of NIOS as the Chief Guest.
The function was attended by senior officials of the Ministry of Education, Chairpersons of educational institutions, Heads of Departments, officers, and staff of NIOS. Prof. Naval Kishore Ambasht, former Chairman, of NIOS and Pro-Vice Chancellor, of the Central University of Haryana, Prof. Sushma Yadav graced the occasion.
Dr. Subhas Sarkar in his address appreciated the various programmes and schemes of NIOS and said that NIOS is lighting the lamp of knowledge all over the world. Talking about the Azadi Ka Amrit Mahotsav, he mentioned that today's children will be young people in the age group of 30-40 years on the completion of 100 years of independence and will be responsible for building our nation.
He said that the Ministry of Education has entrusted NIOS with several responsibilities such as developing inclusive education resources, expanding the open and distance education system in states/UTs, translating all courses into more languages as required, creating Indian Knowledge Tradition based courses and propagating Indian culture by translating them into major foreign languages. He also praised the programmes of NIOS enrolling 10 crore adults under 'Basic Literacy Assessment', training of in-service teachers, Gender Green Project, and training in Yoga. He said that Indian Sign Language as a subject at the secondary level has been acknowledged on national and international platforms. He described the launch of an e-library called 'DEEP' by NIOS as a big step forward.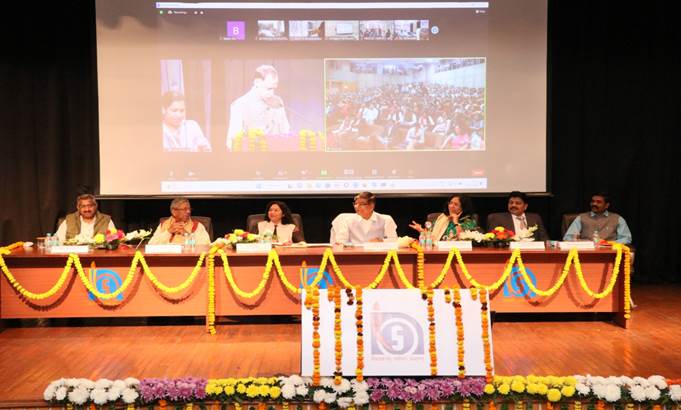 Prof. Saroj Sharma spoke about the journey of 33 years of NIOS and highlighted the special achievements. She said that NIOS is one of the two National Boards of Education under the Ministry of Education, which provides school education through Open and Distance Learning (ODL) for secondary, senior secondary, and vocational education. She elaborated on the role of NIOS in the field of education, efforts being made by NIOS for the successful implementation of the New Education Policy, Virtual Open School, Digital Library (DEEP), NEPIA Project, MoU with Ministry of Defence for Agniveer Project, setting up of Mukta Kaushal Kendras and subjects offered under Indian knowledge Tradition.
It was also conveyed by her that a curriculum called 'Aarambhika' is being developed by NIOS for catering to the Indian Diaspora.
A documentary based on the journey of 33 years of educational endeavours of NIOS was presented on the occasion. In this documentary, 'All England Badminton winner Pullela Gopichand said that most of the players in his badminton academy are getting an education from NIOS.
NIOS alumni, Ms. Niranjana and Vinod Kumar Chaudhary were also felicitated on the occasion. Shri Vinod Kumar said that only due to his education in NIOS, he was able to get the credit of making the Guinness Book of World Records 10 times (8 in Typing and 2 in sports). A proud learner of NIOS, Ms. Niranjana is a successful ventriloquist. Prof. N. K. Ambasht, former Chairman, NIOS said that in this age of technology, innovations must lead to developing 'standalone' courses for the Indian Diaspora, to achieve the goals of the National Education Policy- 2020. Pro-Vice Chancellor, Prof. Sushma Yadav said that the role of NIOS increases in the light of New Education Policy. NIOS has such potential that the institute will be able to achieve the ambitious goals of National Education Policy 2020 in the coming years.
The half-yearly magazine of NIOS 'Pragyan' was released by Dr. Subhas Sarkar on this occasion.