Make teachers your biggest investment
Asha Varma urges preschools to make teachers their biggest investment.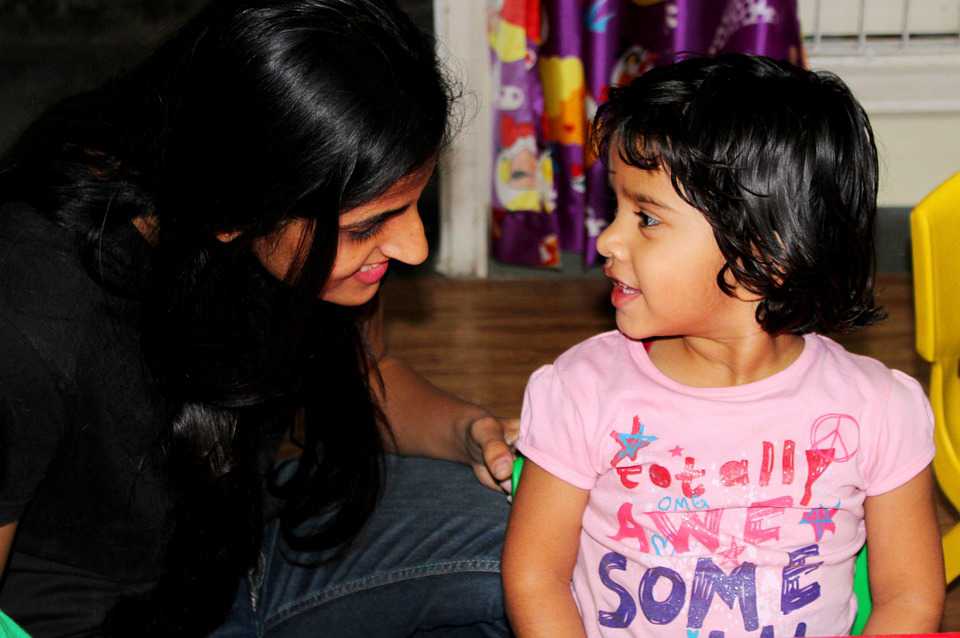 It was a Monday morning and Puja was in a dilemma. She was almost in tears, as she left for school where she was a preschool teacher. The dilemma was the sudden decision of her mother-in-law to spend the next six months with her younger son who lived in Surat. Puja had to be in school at 8.30 am while her son's school bus arrived at 8.45. So far, the grandmother had undertaken the responsibility of seeing off the boy when the bus came. Who would do that now? This was the dilemma. She decided to speak to her headmistress, not knowing what to expect. The headmistress heard her out, and assured her that she would think about it. Later that day an arrangement was made. Puja's co teacher agreed to handle the class alone for 30 minutes, while Puja could come to school after seeing her son off.
In the afternoon the son's bus passed by Puja's school. The driver would drop him off and he would play here till Puja was free to go home with him. A new phrase was coined: 'Break rules, do not break people'. Without being aware of it, the headmistress had made an investment – she had invested in Puja.
WHAT ARE WE TALKING ABOUT? INVESTING IN TEACHERS? SURPRISING, BECAUSE SCHOOLS INVEST IN:
Infrastructure (some school receptions resemble 5-star lobbies)
Competitions (glass cupboards full of trophies lining corridor walls)
Italian floor tiles (even if it means slipping in the rain)
Best school awards (a fortune spent on flights and hotel rooms)
Some schools boast of horse-riding (In Mumbai? Where is the space?)
The well-being of teachers, the heartline of a school, is not on the list of priorities. (They are getting salaries, aren't they?)
We have so often heard statements like, 'Teaching is a noble profession', 'Teachers are nation-builders'. Then you ask someone, 'What is your daughter planning to do?' 'She wants to be a teacher.' 'Oh'. End of conversation.
Dilip Mirchandani, erstwhile director of St. John's school Mumbai, always maintained that the teachers are the Kohinoor diamonds of every school, they need mentoring, nurturing and need to be taken care of. This showed in all his dealings with teachers. He believed in investing in his teachers. The result? Teachers who knew him swear by his name today long after he is no more.
WHY DO WE NEED TO INVEST IN TEACHERS?
The emotional atmosphere in a classroom setting is important to the experiences of students. This atmosphere is affected by the emotional stability of the teacher.
Teachers undergo immense pressure while trying to cope with the never ending, ever changing series of demands they face from moment to moment.
When a student blows his gasket, he is usually given the option of taking time out, or can leave the classroom to cool off; the teacher cannot do this.
Unlike other professions that deal with files, paper, food or brick and mortar, teachers deal with human material which has moods and phases that change from day to day.
Extra work for colleagues, a disrupted curriculum, and obvious financial implications. Teachers face stress.
Former primary head teacher John Illingworth, himself a casualty of chronic stress and strife in the education system, believes that "Depression, anxiety, and burnout have become teacher diseases".
Long term unaddressed stress equals long term teacher absence, generates extra work for colleagues, a disrupted curriculum and obvious financial implications.
Teachers face students, calm irate parents, take flak from superiors; it is all buildup without release.
The education sector is facing recruitment and retention crisis. Many teachers feel overworked, under-appreciated, and stressed. For many, the worklife balance is non-existent, their relationships outside are suffering, and their passion for the profession is waning. It is important therefore to focus on and ensure the well-being of the teaching staff.
Well-being of teachers is not a luxury, for the end of term, it is not a bolt or an added extra. Well-being of teachers is a fundamental prerequisite for healthy constructive quality teaching and learning. Along with less sick leave, higher retention levels, a happy teacher has a profound effect on students. What can we do to ensure our teachers are fit, well, and flourishing? We need to invest in them, by making it a top priority.
HOW DO WE DO THIS? Here is a list which, when adhered to, has shown amazing results…
STRUCTURE AND WORKLOAD
Rules of employment clearly stated in the employment contract, and adhered to, without which the teachers feel helpless and cheated. A school handbook that clearly states the roles of all staff members.
A clear revised job description, when staff is promoted or moved. No expectation of immediate response to mails, and a ban on sending mails on the weekend.
Give thought to individual workload before introducing new initiatives.
Investigate complaints of bullying or harassment, and take steps to stop such behaviour.
An ongoing professional development programme increases job satisfaction and contributes to teacher resilience and well-being.
Remember work-life balance. Accept that teachers have families, social obligations, domestic responsibilities, and they also need to have fun like anyone else.
School working environments need to be good enough to work in, eg. clean toilets, de-cluttering and tidying, essential and timely repairs are affordable changes that reduce stress at the workplace.
Words of appreciation and praise for a job well done, go a long way in building up the self-esteem and confidence of teachers.
Teachers' inputs during meetings need to be valued and acknowledged.
Before any organisational change occurs, managements need to consult staff, take their opinions, provide training and resources to deal with the new system, and let all reflect together on how it will affect the work-life balance.
Hiring additional teachers or teaching assistants at peak times of the year to maintain a healthy workload.
Looking for areas where mentoring, coaching, or administrative and technical support is required and making it available eg. help with photo copying and laminating when required.
Allowing staff to take a "real break" during lunch time.
Limiting after-school meetings.
Having approachable leaders in place.
Reducing time spent on nonteaching activities.
STAFF SURVEY
Have staff surveys which address the following questions…
1. Do you feel stressed at work?
2. Do you feel adequately supported at work?
3. Do you feel equipped to manage your workload?
4. Where/who would you turn to if something went wrong?
5. Would you like to have the opportunity of counselling?
6. What do you enjoy about your job?
7. What do you not like about your job?
HAVE A WELL-BEING TEAM
Have a well-being team comprising some teachers to boost morale by:
Putting fun posters in staffrooms and toilets.
Leaving a mug full of sweets or stationery on some one's table.
Getting extra help to clean up after lunch.
Organising a lunch or a picnic. Remembering birthdays.
"Teachers are at breaking point, It is time to push wellbeing up the agenda" Julian Stanley
Sarala Birla Gyan Jyoti honoured with prestigious 'Climate Action Project School of Excellence' Award
Only 250 schools globally were recognized because of their intense work on climate education in a whole-school approach. The recognition was awarded by Cartoon Network Climate Champions and Climate Action Project.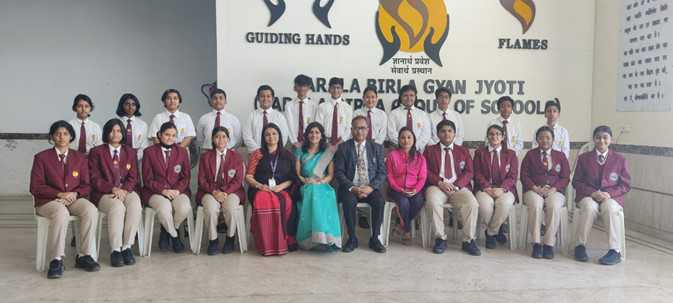 Sarala Birla Gyan Jyoti in Guwahati, India, was awarded the Climate Action Project School of Excellence. Only 250 schools globally were recognized because of their intense work on climate education in a whole-school approach. The recognition was awarded by Cartoon Network Climate Champions and Climate Action Project.
Cartoon Network Climate Champions is a climate change awareness initiative that sets out to inspire kids to take on daily challenges that collectively can make a big difference to the health of our planet. It has been developed in collaboration with WWF, a world-renowned environmental organization.
Climate Action Project is a free, global education project that was launched by Take Action Global, an education non-profit based in the USA, involving 2,700,000 teachers and students across 146 countries. The project aims to help students learn about the climate crisis in authentic ways and disseminate solutions online. The recognized schools submitted their work for the past year and met extensive criteria, including a school-wide commitment to climate education and student solutions.
Sarala Birla Gyan Jyoti has participated in global projects RiseUp4SDGs (India), Let's Be Human, Be One (Serbia), LeapEd Global Learning – Climate Change (Malaysia), the 17 Sustainable Development Goals competitions, implementing the three R's schoolwide and planting gardens in the community, at home and school. Students committed to training to become active Global SDG Ambassadors to raise awareness during virtual Student Hubs with 21 other countries. Students also actively collaborated with students in Brazil, Croatia, South Africa, Sweden and the UK in task-based projects. Currently, all Climate Change projects are student-led.
The selected 250 Climate Action Project Schools of Excellence were announced on 4 November 2021, during Climate Action Day, an annual online live event attended by 250,000 people globally. The event speakers included HRM Prince William, President James Alix Michel, Seychelles, Rick Davis, NASA, Matt Larsen-Daw, WWF, HRM Princess Esmeralda, Belgium, Juan Pablo Celis Garcia, UN Environment Programme, and other world leaders and climate scientists.
The winners were announced by Dan Russell, the voice actor behind several characters in Cartoon Network global hit series The Amazing World of Gumball, and Nandi Bushell, an 11-year-old musician, an influencer, and passionate climate advocate.
Statement by HRM Prince William "We need youth's creativity to repair our planet. We need students to invent and to innovate – to think beyond where we are now and to be optimistic about our future."
Statement by Koen Timmers, Climate Action Project: "Young people have the capacity to do more than learning about climate change. They all can come up with solutions, take small actions, and inspire others to change their lifestyles."
Statement by Dr. Jennifer Williams, Climate Action Project: "Our community of educators has come together in support of climate education for all. We are committed to ensuring students have access to information, ideas, and opportunities to take action for the planet, and, today, these Schools of Excellence are leading the way for the entire world."
Statement by Dr. Diganta Halder, Principal Sarala Birla Gyan Jyoti: "Stopping Climate Change has become a critical issue that needs to be addressed by every human being, but even more importantly in our schools. Students should be aware of Climate Action and the importance of achieving the goals set by the United Nations for peace and prosperity for all by 2030 and to become leaders of impact in the future."