Mathematician Ramanujan's B'day Celebrated with GANIT Week
Srinivasa Ramanujan, the greatest Mathematician ever, His birthday was celebrated with energy and Math at this school …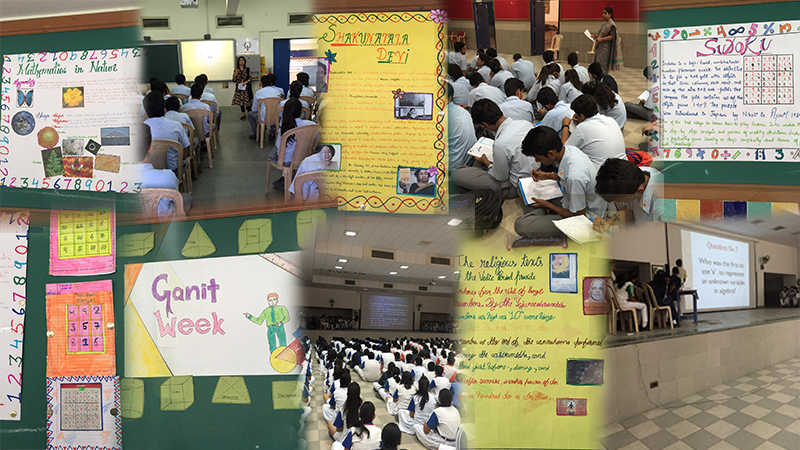 To commemorate the birth anniversary of Sh. Srinivasa Ramanujan and to actively promote interest of students in Mathematics and its applications by promoting Mathematics, Sanskar School celebrated GANIT (Growth Aptitude in Numerical Innovations and Training) Week from 16th December to 22nd December, 2014.
On the 16th of December, students were given a series of questions and the students who solved them quickly and correctly were given appreciation and they have also witnessed a wholly informative session on various eminent scientists in the field of Mathematics. The following day was rather interesting as magic squares were given to the students of classes VI, VII and VIII and discussed about "The History of Zero", "Importance of Mathematics in Our Daily Life" and "The benefits of learning Mathematics" in all the classes.
On 18th interactive activities based sessions were organised for the students on topics "Mathematics in nature" and "Mathematics in Architecture" for classes IX, X, XI and XII, where all the students thoroughly enjoyed refreshing their memories and learning more about the wide details of Mathematics. The same day quiz competition was organised house-wise in which all the students participated with great enthusiasm.
The next day was a very intriguing day, with teachers and students interacting about their experiences with new innovations and ideas, forming a torch-light to the future Mathematicians and scholars from the school.
The 21st was a happening day with students as well as teachers watching the screenings of films produced by Vigyan Prasar which promoted Science through a visual medium, and also featured the upcoming unrecognized scientists who have given a break to the field.
The last day was an amalgam of fun, creativity and learning. The students of III, IV and V painted their pallets with thoughts and expressions relating their interest with Mathematics. In class III, a shapes activity was conducted, where they made different shapes using craft paper. They made hut, dog, face, photo frame, pouch, frog, parrot, fan, flower, almirah, etc., by using the art of Origami. Students enjoyed the activity and they learnt about the basic shapes in a play way manner. In class IV, the students presented their knowledge on the chart papers under various topics like fractions, Tangram, 2D-3D shapes and collage on Mathematics. In Class V, students presented their thoughts through precise charts and creative notions.
All the students participated with great enthusiasm and zeal. The objective, which was to increase interest in Mathematics, was successfully achieved.
NIOS celebrates 33rd Foundation Day
Dr. Subhas Sarkar addresses the 33rd Foundation Day Celebrations of NIOS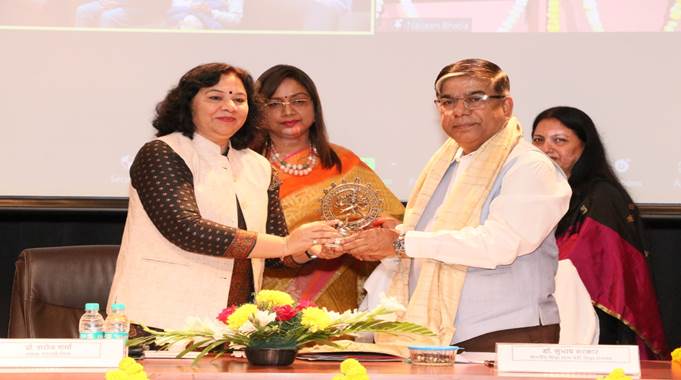 Union Minister of State for Education, Dr. Subhas Sarkar addressed the 33rd Foundation Day Celebrations of NIOS as the Chief Guest.
The function was attended by senior officials of the Ministry of Education, Chairpersons of educational institutions, Heads of Departments, officers, and staff of NIOS. Prof. Naval Kishore Ambasht, former Chairman, of NIOS and Pro-Vice Chancellor, of the Central University of Haryana, Prof. Sushma Yadav graced the occasion.
Dr. Subhas Sarkar in his address appreciated the various programmes and schemes of NIOS and said that NIOS is lighting the lamp of knowledge all over the world. Talking about the Azadi Ka Amrit Mahotsav, he mentioned that today's children will be young people in the age group of 30-40 years on the completion of 100 years of independence and will be responsible for building our nation.
He said that the Ministry of Education has entrusted NIOS with several responsibilities such as developing inclusive education resources, expanding the open and distance education system in states/UTs, translating all courses into more languages as required, creating Indian Knowledge Tradition based courses and propagating Indian culture by translating them into major foreign languages. He also praised the programmes of NIOS enrolling 10 crore adults under 'Basic Literacy Assessment', training of in-service teachers, Gender Green Project, and training in Yoga. He said that Indian Sign Language as a subject at the secondary level has been acknowledged on national and international platforms. He described the launch of an e-library called 'DEEP' by NIOS as a big step forward.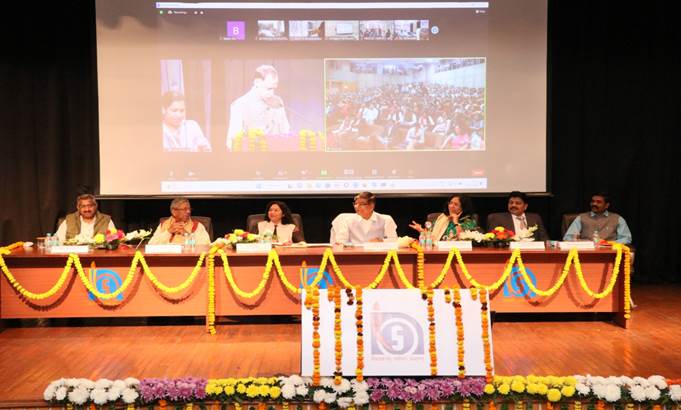 Prof. Saroj Sharma spoke about the journey of 33 years of NIOS and highlighted the special achievements. She said that NIOS is one of the two National Boards of Education under the Ministry of Education, which provides school education through Open and Distance Learning (ODL) for secondary, senior secondary, and vocational education. She elaborated on the role of NIOS in the field of education, efforts being made by NIOS for the successful implementation of the New Education Policy, Virtual Open School, Digital Library (DEEP), NEPIA Project, MoU with Ministry of Defence for Agniveer Project, setting up of Mukta Kaushal Kendras and subjects offered under Indian knowledge Tradition.
It was also conveyed by her that a curriculum called 'Aarambhika' is being developed by NIOS for catering to the Indian Diaspora.
A documentary based on the journey of 33 years of educational endeavours of NIOS was presented on the occasion. In this documentary, 'All England Badminton winner Pullela Gopichand said that most of the players in his badminton academy are getting an education from NIOS.
NIOS alumni, Ms. Niranjana and Vinod Kumar Chaudhary were also felicitated on the occasion. Shri Vinod Kumar said that only due to his education in NIOS, he was able to get the credit of making the Guinness Book of World Records 10 times (8 in Typing and 2 in sports). A proud learner of NIOS, Ms. Niranjana is a successful ventriloquist. Prof. N. K. Ambasht, former Chairman, NIOS said that in this age of technology, innovations must lead to developing 'standalone' courses for the Indian Diaspora, to achieve the goals of the National Education Policy- 2020. Pro-Vice Chancellor, Prof. Sushma Yadav said that the role of NIOS increases in the light of New Education Policy. NIOS has such potential that the institute will be able to achieve the ambitious goals of National Education Policy 2020 in the coming years.
The half-yearly magazine of NIOS 'Pragyan' was released by Dr. Subhas Sarkar on this occasion.