Money plants by Bengaluru engineers!
Engineers or farmers? Well, a smart combination of both, these four professional engineers have given a new meaning to farming. And the meaning is being much loved, with love came success kissing their feet. Engineers or farmers? GenY technical farme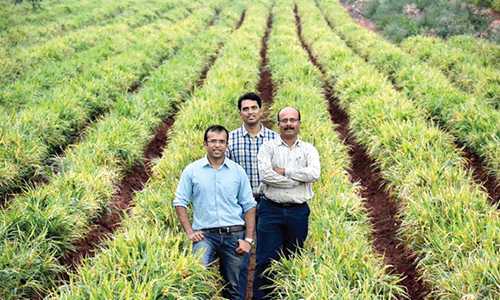 India is a country of agriculture, yet it is one industry that our GenY totally ignores; after all, employing yourself fulltime in agriculture doesn't even sound cool.
Ah! It will suddenly be the 'it' thing as soon you read about these three engineers from Bengaluru. High-profiled engineers, well settled with their lucrative jobs, Sriram Chitlur, Ashok Jayanthi and Srinath Setty decided agriculture was their real 'calling,' and thus happened a startup venture for agricultural asset management. New in the field, with their own set of fears, they called themselves Hosachiguru, Kannada for tender sprouts.
The starting kick
The trio had family-inherited farmlands, to which with their busy professional lives, they were pretty much unable to give time, and thus it were only the weekends that they spent on it. However, the limited time-period that they spent bore quite applaudable results, wooing friends and neighbours alike, eventually inviting queries for managing their farmlands so well.
This gave them the idea to start guiding people as a company, to start helping people judiciously invest in agriculture. Hemanth P, experienced in wealth management and investment soon joined them, bringing in lucrative business. Today, Hosachiguru holds a US$7 million in various areas of agriculture, specialising in horticulture, protected cultivation, nursery and timberland.
Srinath, one among the founder member, had said, "The customer gets a passive income of Rs 1.5 lakh to Rs 2 lakh annually from the crops and an appreciating underlying asset, besides the satisfaction of contributing to the environmental benefits from scientific and socially-conscious farming practices."
Having started in the year 2014, the four of them have today made a strong team, which together chooses a land, ensuring good water and soil conditions as per the budget allotted by the investor, which is then designed and developed according to the season, manages irrigation, labourers, seeds and saplings, fertilisers, etc, for three months, post which if the client would like to, they can continue with Hosachiguru or if they choose to, just their consultation too.
The company also collaborates with the experts of industry, national or international, for regular tips and advices.
What keeps the clients glued to Hosachiguru is the way they provide complete information of each client's farms online, all that the owner would need to do is go online on the website to find the minutest of details.
Since 2013, picking up well till 2014, Hosachiguru has been standing a firm ground now with a huge clientele behind them and yet more looking for their time. With the huge success that they have tasted in a short span of time, today none of them regrets quitting their jobs.
NIOS celebrates 33rd Foundation Day
Dr. Subhas Sarkar addresses the 33rd Foundation Day Celebrations of NIOS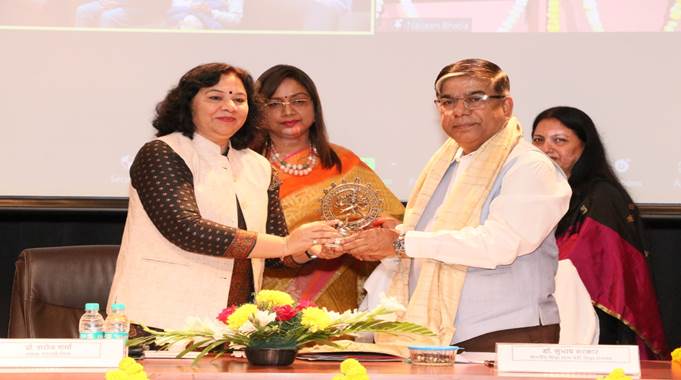 Union Minister of State for Education, Dr. Subhas Sarkar addressed the 33rd Foundation Day Celebrations of NIOS as the Chief Guest.
The function was attended by senior officials of the Ministry of Education, Chairpersons of educational institutions, Heads of Departments, officers, and staff of NIOS. Prof. Naval Kishore Ambasht, former Chairman, of NIOS and Pro-Vice Chancellor, of the Central University of Haryana, Prof. Sushma Yadav graced the occasion.
Dr. Subhas Sarkar in his address appreciated the various programmes and schemes of NIOS and said that NIOS is lighting the lamp of knowledge all over the world. Talking about the Azadi Ka Amrit Mahotsav, he mentioned that today's children will be young people in the age group of 30-40 years on the completion of 100 years of independence and will be responsible for building our nation.
He said that the Ministry of Education has entrusted NIOS with several responsibilities such as developing inclusive education resources, expanding the open and distance education system in states/UTs, translating all courses into more languages as required, creating Indian Knowledge Tradition based courses and propagating Indian culture by translating them into major foreign languages. He also praised the programmes of NIOS enrolling 10 crore adults under 'Basic Literacy Assessment', training of in-service teachers, Gender Green Project, and training in Yoga. He said that Indian Sign Language as a subject at the secondary level has been acknowledged on national and international platforms. He described the launch of an e-library called 'DEEP' by NIOS as a big step forward.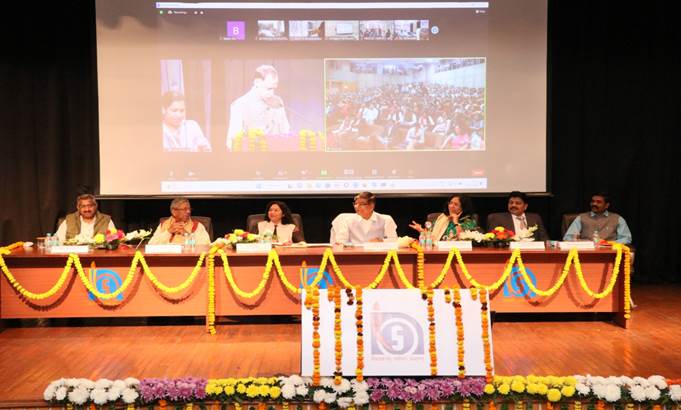 Prof. Saroj Sharma spoke about the journey of 33 years of NIOS and highlighted the special achievements. She said that NIOS is one of the two National Boards of Education under the Ministry of Education, which provides school education through Open and Distance Learning (ODL) for secondary, senior secondary, and vocational education. She elaborated on the role of NIOS in the field of education, efforts being made by NIOS for the successful implementation of the New Education Policy, Virtual Open School, Digital Library (DEEP), NEPIA Project, MoU with Ministry of Defence for Agniveer Project, setting up of Mukta Kaushal Kendras and subjects offered under Indian knowledge Tradition.
It was also conveyed by her that a curriculum called 'Aarambhika' is being developed by NIOS for catering to the Indian Diaspora.
A documentary based on the journey of 33 years of educational endeavours of NIOS was presented on the occasion. In this documentary, 'All England Badminton winner Pullela Gopichand said that most of the players in his badminton academy are getting an education from NIOS.
NIOS alumni, Ms. Niranjana and Vinod Kumar Chaudhary were also felicitated on the occasion. Shri Vinod Kumar said that only due to his education in NIOS, he was able to get the credit of making the Guinness Book of World Records 10 times (8 in Typing and 2 in sports). A proud learner of NIOS, Ms. Niranjana is a successful ventriloquist. Prof. N. K. Ambasht, former Chairman, NIOS said that in this age of technology, innovations must lead to developing 'standalone' courses for the Indian Diaspora, to achieve the goals of the National Education Policy- 2020. Pro-Vice Chancellor, Prof. Sushma Yadav said that the role of NIOS increases in the light of New Education Policy. NIOS has such potential that the institute will be able to achieve the ambitious goals of National Education Policy 2020 in the coming years.
The half-yearly magazine of NIOS 'Pragyan' was released by Dr. Subhas Sarkar on this occasion.