Nita Ambani launches India's biggest international Braille newspaper.
Continuing the efforts to make the world a better place, Reliance Foundation under the leadership of Nita Ambani has launched India's biggest international Braille newspaper – Reliance Drishti, to be circulated free of cost in over 300 institutes.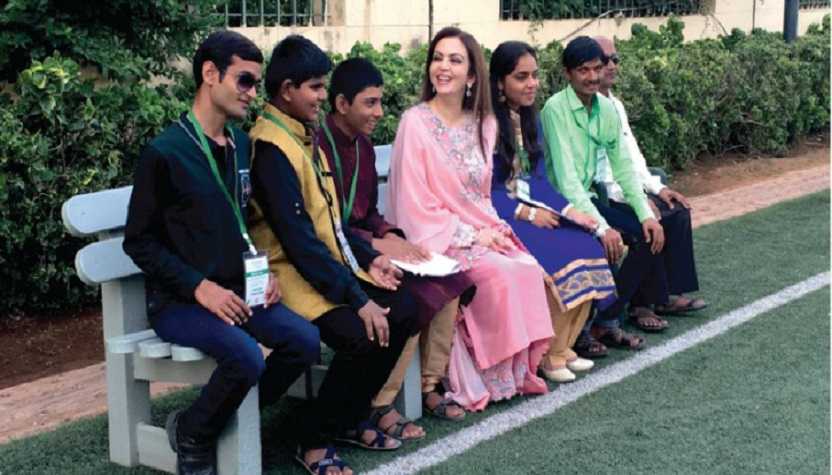 The world of the blind is defined by darkness of sight. Their vision maybe devoid of colour, light and forms but that doesn't mean that their world and their understanding of it should be the same. While there are numerous publications which have been translated to Braille there only a miniscule range of original publications in Braille.
What about their wish to stay abreast with the happenings in the world? For that the blind have to rely on a TV, Radio or a patient voice to explain them the news. It steals the independence from the blind. At such a time, a newspaper in Braille, the universal language of raised dots and dashes, literally has opened a new window to the world.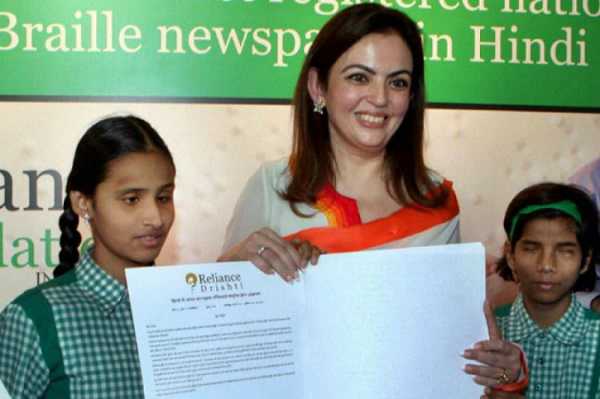 The newspaper offers a blend of news and features across current affairs, politics, social issues, business, science, technology, arts, culture and health. This paper was launched by Nita Ambani, the founder and chairperson of Reliance Foundation at Mumbai's Kamla Mehta School.
Ambani is so committed to the cause of the visually impaired that she has pledged to donate her eyes after her demise. Reliance Foundation has been leading Project Drishti – the largest corneal grafting surgery project by a single corporate in India – under which it has successfully restored sight to over 14,500 Indians, free of cost, across 16 cities. The Foundation wants to take the initiative to India's remotest corners.
The Reliance Foundation is India's biggest Corporate Social Responsibility (CSR) initiative, but for Nita Ambani every charitable project and philanthropic endeavour across education, disaster relief and health care demand equal attention. Set up in 2010, the Foundation has touched the lives of 4 million+ people, across 5,500 rural and urban locations.
Gender Inclusive Holistic Education in NEP
The NEP focuses on 'Equitable and Inclusive Education' which reverberates the idea that no child should be left behind in terms of educational opportunity because of their background and socio-cultural identities.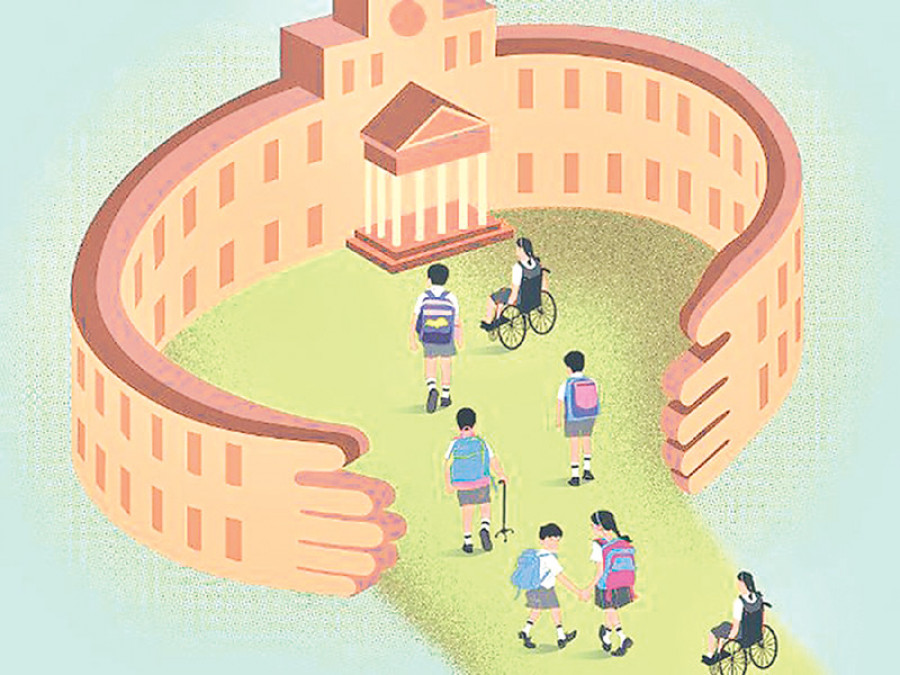 The National Education Policy 2020 envisages an inclusive and structural change in the educational system. It focuses on 'Equitable and Inclusive Education' which reverberates the idea that no child should be left behind in terms of educational opportunity because of their background and socio-cultural identities. It has taken into account the concerns of the Socio-Economically Disadvantaged Groups (SEDGs) which includes female and transgender individuals, Scheduled Castes, Scheduled Tribes, OBCs, minorities, and other categories. This policy aims at bridging the social category gaps in access, participation, and learning outcomes in school education.
The National Council of Educational Research and Training (NCERT) is implementing the Adolescence Education Programme (AEP) as part of the National Population Education Project (NPEP). One of the learning outcomes of AEP is to make the learners aware of the concerns of adolescence, i.e. process of growing up during adolescence & HIV/AIDS, and to inculcate in them a positive attitude regarding these concerns.
Further, the aspects related to gender-inclusive holistic education are covered through age-appropriate integration in different textual materials in the school curriculum, as well as in training and resource materials on the Health and Wellness of School Going Children, especially under the aegis of the School Health Programme under Ayushman Bharat.
As per UDISE+ 2019-20, a total of 61214 transgender children are enrolled in schools, of which 5813 and 4798 transgender children are enrolled in Class 10 and Class 12 respectively.
Department of School Education and Literacy (DoSEL), Ministry of Education is implementing Samagra Shiksha which is an overarching programme for the school education sector extending from pre-school to class XII and aims to ensure inclusive and equitable quality education at all levels of school education. Samagra Shiksha reaches out to girls, and children belonging to SC, ST, Minority communities, and transgender.
Further, National Education Policy (NEP) 2020 also identifies transgender children as Socio-Economically Disadvantaged Groups (SEDGs) and provides for equitable quality education, inter-alia, for all such students. This includes provisions for assisting transgender children in gaining access to education, and support for community-based interventions that address local context-specific barriers to transgender children's access to and participation in education, thereby aiming to eliminate any remaining disparity in access to education (including vocational education) for children from any gender or other SEDGs.
Additionally, under NISHTHA (National Initiative for School Heads' and Teachers' Holistic Advancement), a nationwide integrated teacher training program for teachers under Samagra Shiksha, teachers are trained on the relevance of Gender Dimensions in the Teaching and Learning Process which helps teachers to use and adapt learning activities that foster gender sensitive classroom environment.