Not money, but teaching in a rural school brought happiness to this young man.
Satwik Mishra resigned from a lucrative job to join the SBI Youth For India Fellowship to find himself. His job was paying him well and yet satisfaction eluded him. He finally found some when he gave back to the society rather than getting everything.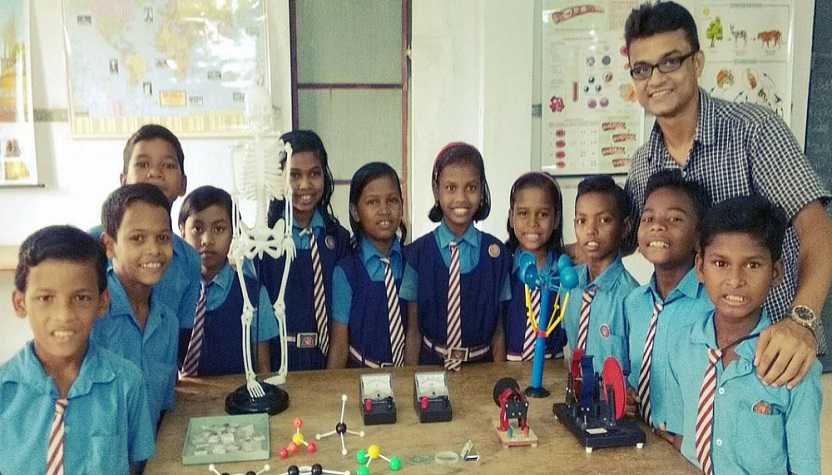 When Satwik Mishra resigned from a lucrative job to join the SBI Youth For India Fellowship, the sole driving force was the urge of self discovery. His job was paying him well and yet satisfaction eluded him. The wandering soul finally decided to look out for the happiness in the remote corners of India and that's when he applied for the fellowship in 2016.
After the orientation of the fellowship program, the applicants were sent to the allocated NGO. As per Satwik's application he got assigned to work for 'Gram Vikas'. Next came the orientation from 'Gram Vikas' which saw him travel to different villages for a field visit, in order to understand what 'Gram Vikas' has been doing since its establishment.
"We explored more than 50 villages where 'Gram Vikas' has been working and we were amazed at the sustainability of development in and around. Some projects, which Gram Vikas has been working on, were water supply to each and every house, disaster-resistant house building, primary schools, livelihood, alternate source of energy, 100 % sanitation facilities etc. Simply one can define these villages as 'Smart Villages'", says Satwik.
Gram Vikas Residential School, Kankia is one of the 4 schools that 'Gram Vikas' has started and is currently operating. 500+ students attend the school from more than 200 tribal villages of Odisha. "Being located in a remote area, 13 km away from the nearest town, this school was a surprise for us. It had a weightlifting center, solar energy supply, solar water filter facility, steam cooking installations, vermi-compost units, a library, computer lab and creativity center", remarked Satwik.
Education and all other facilities are free here. Satwik was wondering if even urban schools offered most of the facilities. Further visits to the school, however, revealed the problems the school was facing. But he quickly resolved to be the solution to the problem and not its critic.
One of the problems the school was encountering was poor student performance in Science and Mathematics. The most obvious reason that struck Satwik was the absence of a science lab where students could learn through experimentation. It struck him as odd as to how could any science teacher teach the methodologies and working principles of scientific instruments efficiently, until and unless they have the facilities to demonstrate them? While the school tried its best to stick to the quantity of teaching hours, it missed out the fact that quality matters as well. Quality, when it integrates with quantity, brings out enormous output on an average.
Sticking with the solution attitude, he decided to set up a Science lab in the school. He has already drafted a lab manual while also taking workshops on various softwares. Their eagerness and zeal makes these students learn much faster.
"I have now realised that satisfaction doesn't come through getting everything we want from the world but from what we give back to it. Happiness is something which increases by sharing. The more you share, the more you get," wise words from a 26-year-old.
NIOS celebrates 33rd Foundation Day
Dr. Subhas Sarkar addresses the 33rd Foundation Day Celebrations of NIOS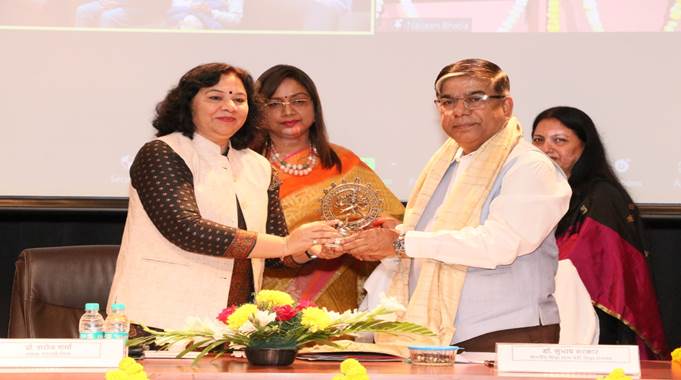 Union Minister of State for Education, Dr. Subhas Sarkar addressed the 33rd Foundation Day Celebrations of NIOS as the Chief Guest.
The function was attended by senior officials of the Ministry of Education, Chairpersons of educational institutions, Heads of Departments, officers, and staff of NIOS. Prof. Naval Kishore Ambasht, former Chairman, of NIOS and Pro-Vice Chancellor, of the Central University of Haryana, Prof. Sushma Yadav graced the occasion.
Dr. Subhas Sarkar in his address appreciated the various programmes and schemes of NIOS and said that NIOS is lighting the lamp of knowledge all over the world. Talking about the Azadi Ka Amrit Mahotsav, he mentioned that today's children will be young people in the age group of 30-40 years on the completion of 100 years of independence and will be responsible for building our nation.
He said that the Ministry of Education has entrusted NIOS with several responsibilities such as developing inclusive education resources, expanding the open and distance education system in states/UTs, translating all courses into more languages as required, creating Indian Knowledge Tradition based courses and propagating Indian culture by translating them into major foreign languages. He also praised the programmes of NIOS enrolling 10 crore adults under 'Basic Literacy Assessment', training of in-service teachers, Gender Green Project, and training in Yoga. He said that Indian Sign Language as a subject at the secondary level has been acknowledged on national and international platforms. He described the launch of an e-library called 'DEEP' by NIOS as a big step forward.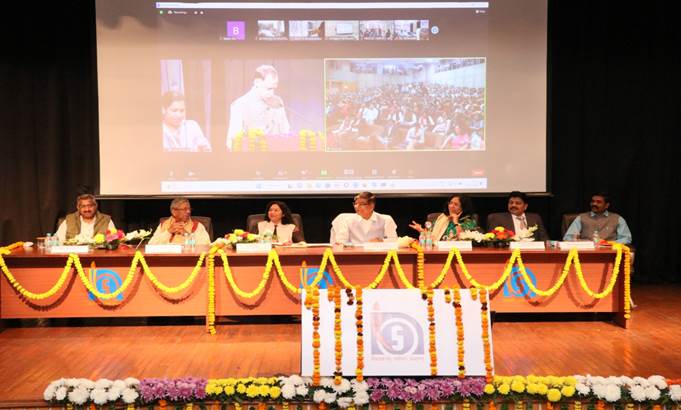 Prof. Saroj Sharma spoke about the journey of 33 years of NIOS and highlighted the special achievements. She said that NIOS is one of the two National Boards of Education under the Ministry of Education, which provides school education through Open and Distance Learning (ODL) for secondary, senior secondary, and vocational education. She elaborated on the role of NIOS in the field of education, efforts being made by NIOS for the successful implementation of the New Education Policy, Virtual Open School, Digital Library (DEEP), NEPIA Project, MoU with Ministry of Defence for Agniveer Project, setting up of Mukta Kaushal Kendras and subjects offered under Indian knowledge Tradition.
It was also conveyed by her that a curriculum called 'Aarambhika' is being developed by NIOS for catering to the Indian Diaspora.
A documentary based on the journey of 33 years of educational endeavours of NIOS was presented on the occasion. In this documentary, 'All England Badminton winner Pullela Gopichand said that most of the players in his badminton academy are getting an education from NIOS.
NIOS alumni, Ms. Niranjana and Vinod Kumar Chaudhary were also felicitated on the occasion. Shri Vinod Kumar said that only due to his education in NIOS, he was able to get the credit of making the Guinness Book of World Records 10 times (8 in Typing and 2 in sports). A proud learner of NIOS, Ms. Niranjana is a successful ventriloquist. Prof. N. K. Ambasht, former Chairman, NIOS said that in this age of technology, innovations must lead to developing 'standalone' courses for the Indian Diaspora, to achieve the goals of the National Education Policy- 2020. Pro-Vice Chancellor, Prof. Sushma Yadav said that the role of NIOS increases in the light of New Education Policy. NIOS has such potential that the institute will be able to achieve the ambitious goals of National Education Policy 2020 in the coming years.
The half-yearly magazine of NIOS 'Pragyan' was released by Dr. Subhas Sarkar on this occasion.