On World Environment Day, Meet 12 Young & Feisty Warriors Protecting The Mother Earth
Read how are they bringing a change in the world through their voice.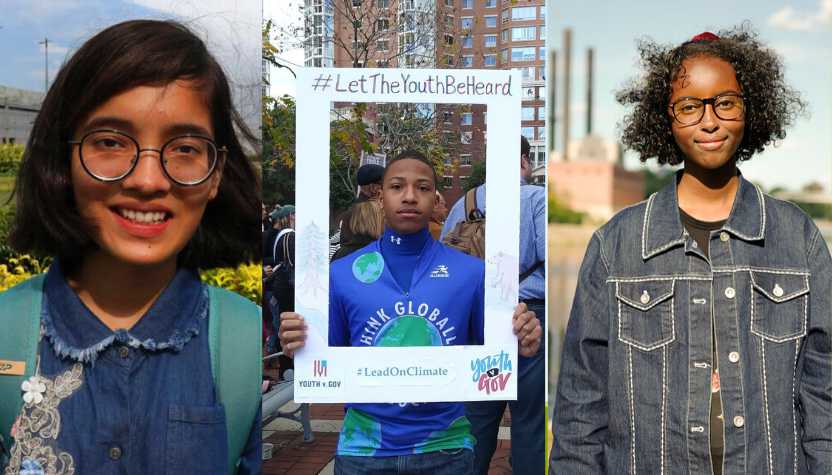 5th of June is worldwide celebrated as World Environment Day – a United Nations day that has been dedicated to build awareness and remind us of our responsibility towards the environment since 1974. It was established by the UN General Assembly on the first day of the Stockholm Conference on the Human Environment in 1972 and two years later, it was celebrated for the first time with the theme "Only One Earth."
Decades later, however, we find ourselves grappling with an unimaginable climate crisis. Generation after generation has been caught in the whirl of development, ignoring the adverse effects of industrialisation and globalisation. It took only one question, "How dare you?" by a teenager to make all of us rethink our daily acts and duty towards the environment. The teenager was Greta Thunberg, a climate activist, who showed us that there is a generation that has decided to stand and fight for its home.
Read about the other 12 young warriors of the Gen Z and Gen Alpha who are working hard to bring a change to the world, both with words and actions, and let your students get inspired by their stories.
1. Licypriya Kangujam | 8 Y.O. | India
Hailing from Manipur, India, Licypriya came to people's attention through her organization The Child Movement, that seeks the attention of world leaders to take immediate action to save the planet. From addressing at the United Nations' Climate Conference 2019 in Spain to waiting a week outside the Indian parliament to seek the PMO's attention to pass the climate law in India, she's been actively participating since such a young age! She has won many accolades and awards for her work.
2. Artemisa Xakriabá | 19 Y.O | Brazil
She is an indigenous climate activist from São João das Missões in Brazil, who has been working to stop environmental destruction across Brazil, and especially, the Amazon rainforest. A representative of the Global Alliance of Territorial Communities, which protects 600 hectares of forest across Brazil, the Amazon Basin, Mesoamerica and Indonesia, she travelled to America last year to attend the climate talks and sought the support of international leaders towards deforestation.
3. Autumn Peltier | 15 Y.O. | Canada
She is an indigenous Canadian water warrior, who has been advocating for clean drinking water. Just at the age of 12, she met with Canada Prime Minister Justin Trudeau and insisted him to do more to prevent Canadian communities from consuming unsafe water. She is now called the 'Water Warrior' and is also the Chief Water Commissioner for the Anishinabek Nation, which is a political advocate for 40 First Nations in Ontario.
4. Jerome Foster II | 18 Y.O. | USA
He is an African-American climate activist from Washington, D.C., USA. Jerome is the Founder and Editor-in-Chief of youth-led climate news outlet The Climate Reporter, which he founded when he was in 10th grade. It now has 11 writers and activists from around the world. He is also the Executive Director and Founder of One Million Of Us, a non-profit that educates youth on climate change issues, immigration reforms, and voting rights. He recently spoke at the UN Youth Climate Summit on the climate crisis.
5. Melati Wijsen | 18 Y.O. | Indonesia
She is an Indonesian-Dutch activist, who has been campaigning against plastic pollution and for the same founded Bye Bye Plastic Bags organization, along with her sister Isabel, in the year 2013. The organization advocates a ban on single-use plastics and encourages the world to adopt alternatives to plastic. Her youth-led climate-driven campaign, beach cleanups, online petitions, and international speaking engagements like at the UN and IMF-World Bank Group forum, played a big role in the Indonesia government banning single-use plastic in Bali in 2019.
6. Jamie Margolin | 18 Y.O. | USA
The 18-year-old climate activist founded Zero Hour when she was just 15 and led the first youth climate rally in Washington, D.C. and 20 other countries in 2018. Her organization aims to amplify young voices against the climate crisis and encourage them to participate in bringing a change to the world. She has also written a book, Youth to Power: Your Voice and How to Use It, which was released on 2 June 2020.
7. Misimi Isimi | 13 Y.O. | Nigeria
This climate activist from Lagos, Nigeria, calls herself Miss Environment and says is on a mission to save Lagos from environmental waste. She is the president of the Eco Kids Green Club, which hosts activities on managing waste and teaches & encourages children on living a sustainable life. The club also educates on wildlife and the frequent challenges that they face like deforestation. She recently shared that her recycling app is in the making.
8. Ayakha Melithafa | 18 Y.O. | South Africa
She is an activist based in Cape Town, who represented South Africa as one of the teen changemakers at the World Economic Forum in Davos, Switzerland. She was one of 16 to sign a legal complaint on the government's inaction toward the climate crisis with the United Nations Convention. She's an active member of the Project 90 by 2030 initiative that's working for a sustainably developed and equitable low-carbon economy. She is a recruitment official and spokesperson for the African Climate Alliance, which is youth-led climate advocacy working with different youth activists from around the world.
9. Lilly Platt | 11 Y.O. | Netherlands
Advocating against plastic pollution, Lilly is the Youth Ambassador for the non-partisan Plastic Pollution Coalition and a child ambassador for World Cleanup Day. She started her plastic-cleanup initiative called Lilly's Plastic Pickup when she was just 7! She cleaned about 8000 pieces of trash from the streets of Holland in the year 2018. She was scheduled to speak at the UN's virtual summit for World Oceans Day on 8 June 2020.
10. Isra Hirsi | 17 Y.O. | USA
An American activist, she is the co-founder and Executive Director of the US Youth Climate Strike. She has led many strikes that highlighted the impact of the climate crisis on the world, especially on the people of colour and low-income communities. In 2019, former President of the USA, Barack Obama, tweeted Hirsi's name among the five young activists that the world should watch out for. Hirsi recently received the Voice of the Future Award.
11.Ridhima Pandey | 12 Y.O.| India
She hails from Haridwar, India, and is one of the young climate activists to file a complaint at the United Nations to protest against the government's inactive action on the climate crisis. She came in news after she filed a petition in the National Green Tribunal against the government for failing to take action on climate change in the year 2017. "India is one of the most vulnerable countries to be affected by climate change," her petition stated as she demanded immediate government action to assess industrial projects, prepare a carbon budget and create a climate recovery plan.
12. Aditya Mukarji | 15 Y.O. | India
This Delhi-based young environmental activist hit the news in the year 2018 after he started a campaign requesting people to replace plastic straws with eco-friendly alternatives by going around cafes and restaurants. He is one of the young volunteers at NGO Chintan that has helped to eliminate around 25 million plastic straws and other single-use plastics from the ecosystem.
This Young Woman From A Tribal Village Is Teaching The Children While Schools Are Closed
The only graduate of a Tamil Nadu village has volunteered to teach the children of the village while the pandemic persists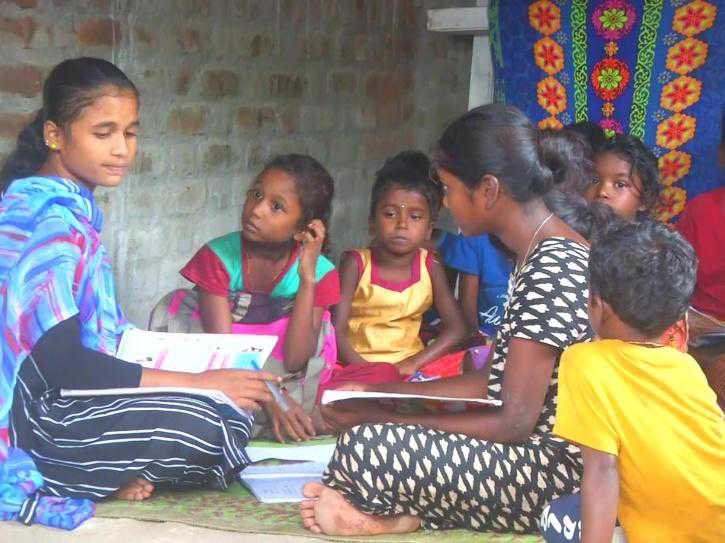 Where the digital network failed these tribal children in the southern part of India, their own stood to support them. Sandhya volunteers in teaching the kids of her village, Chinnampathy in Tamil Nadu. She is a graduate of B.Com, she is the only person from her village to have graduated college. Sandhya told India Today, "If it rains, we can't go to school. We only have one bus to our village and so after a certain age, people drop out of school."
Having gone through struggles herself, Sandhya knows how important a teacher and school is for growing children. So she volunteered to teach the children by herself, so they don't lag behind due to school closure. Sandhya said "When I was a child, I had no one to help me study. These children here have me to help them study."
One must ask the children from a remote rural or economically backward area, how it feels to not have the proper learning opportunities. The pandemic took more than the ability to roam about freely, it snatched away the ability to go to school for children on a global level. While it is easier for families with better income to support their child's online learning, most rural and financially challenged families are struggling.
The Indian government did start many projects for such students, but even learning via a television channel or free online course needs some basic gadgets and network connection. Many remote villages, like the tribal village, Chinnampathy, can not find enough network strength to have their children sit in front of a television and learn via the education channels.
On being asked how her classes are enduring she said, "The children come and ask me very freely all their doubt and they are not afraid of me. I see these children learning well and answering all the questions when I ask them."
Youth like Sandhya, who appreciate and signifies the work educators do and want to help the cause, are the future of the education sector!