Only benefits of education are not strong enough to draw students of marginalised families to attend school
When a team of educators from the UK visit an NGO in Bangalore. They discover that marginalised families need much more than a promise of a good education. They also need assurance of material gains and a stronger relation with the school.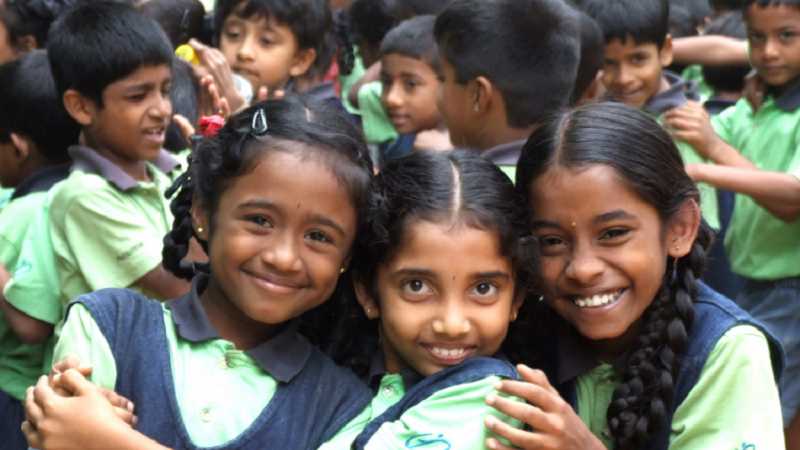 Here is an insightful account of a Professor from the University of Sheffield along with this team of PGDE students who visited Bangalore to teach mathematics, science and geography to mixed-age group of pupils. There biggest takeaway from the trip was that the long-term benefits of education were insufficient to motivate parents to send their children to school. There had to be something more and it was revealed unexpectedly at the Annual day celebrations of the Parikrma School where the team was teaching.
Parikrma is a non-governmental foundation that runs four mixed, 5-18 schools in Bangalore. Students attending school hail from any of the 800 slums areas strewn across the city. Some students had been abandoned or orphaned, and all come from homes where the average income is less than £30 per month.
Parikrma's motto is to support the all-round development of its children and families. In addition to a balanced and high-quality curriculum, delivered in English, all pupils are fed and uniformed.
The proceedings of the Annual Day begin with an opening address by the founder and CEO of the Parikrma Humanity Foundation, Shukla Bose. I settle down in anticipation of the customary notes of encouragement and general bonhomie that is conspicuous back home. But nothing could have prepared me for this. Ms Bose begins by directly challenging the parents.
"How many of you have opened bank accounts since I spoke to you about this last year? Put your hands up!"
Ms Bose continues: "How many of you are saving for your children's higher education costs? Let me see your hands."
A final question from Ms Bose: "And how many of you will not allow your daughters to be betrothed at 14 years old? Show me your hands!"
There is a low murmuring and a long, long silence. "Good," says Ms Bose.
The rest of the evening continues with a semblance that most Annual days bear, with presentations of music and dance. A group of 4, small, junior-aged children perform a Christina Rossetti poem:
"Who has seen the wind?
Neither you nor I.
But when the trees bow their heads,
The wind is passing by."
While travelling home each of the trainees and me are mulling over our experiences. In a week's time, they will be back in their placement schools. Will they encounter the same eagerness to learn as demonstrated by Parikrma pupils? The same sense of vision? Of possibility? Of belief in the power of education? Of ambition and identity? Will their pupils at home share the sentiment– which is rampant in these slums – that education is the best and perhaps the only opportunity for advancement and happiness?
It is meaningless to make comparisons between the attitudes to education of families and children who face difficult and challenging lives in Britain and in India due to dramatic differences in the societies, cultures, expectations and values.
As mentioned earlier, the biggest takeaway from our Parikrma experience is that the educational ambitions of Parikrma are go hand-in-hand with a commitment to improve the material lives of the children, parents, families and communities it serves. The people at Parikrma understand that a hungry child will not learn, neither will a distrustful and suspicious community embrace the opportunities it offers. The education of the children of Parikrma is the result of a demanding and binding contract negotiated with the families and the communities of the slums of Bangalore. Under the contract, the school expects, no actually demands the support of parents and the parents need the trust and reassurance from the school and the teachers.
Parikrma managed to balance expectations and create mutual respect and trust based on a faithful delivery on promises made: promises to work with parents to provide a well balanced care and education for their children and promises of commitment from parents to support their child's schooling.
My mind thinks of ways to integrate this approach in schools serving challenging community contexts in the UK. Could it be possible to build these relationships, and secure these results for the most needy children and families in UK?
In almost every possible way, our Parikrma experience has left us humbled, inspired and transformed.
For more information, visit the Parikrma Foundation or Sangam Projects websites.
Mick Connell is PGDE English tutor at the University of Sheffield's School of Education. He is vice-chair of the National Association for the Teaching of English.
Teacher Warriors 2022: Fighting Goons to Educate Children
This is Neetu Singh, founder of Sab ki Paathshala. Hers is a story that must be shared, for the sake of hundreds of neglected children out on the streets.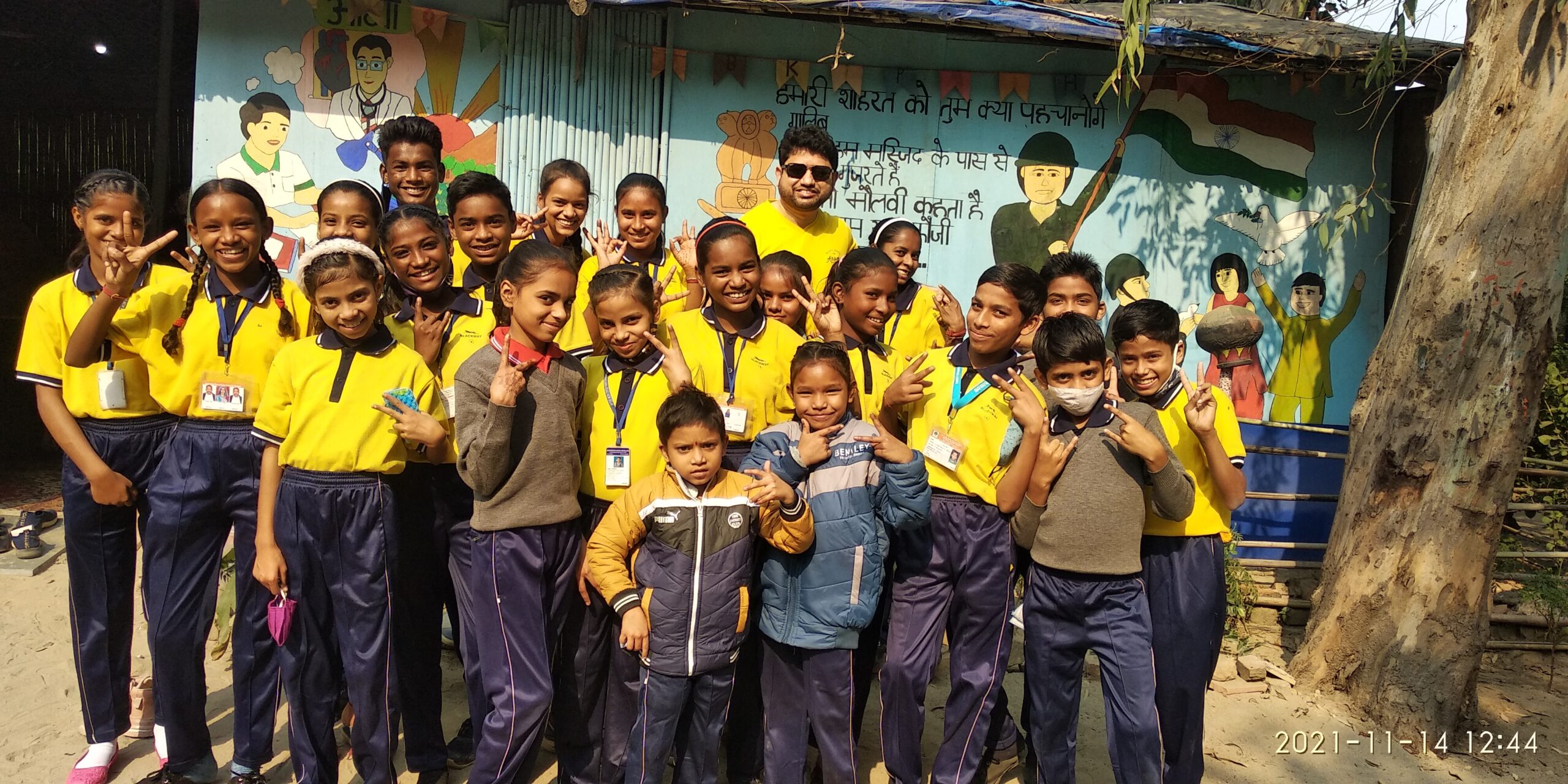 A little girl lived with her family in a slum of Sultanpur, Uttar Pradesh. Her parents worked as labourers earning minimum wage. They moved to Delhi in her early years in search of better opportunities. However, the struggle only increased. Bare minimum civic amenities like safe drinking water, sanitation and waste disposal, were luxuries that she could never experience.
Life in an Indian slum is no secret. The partial shade of high-rise buildings barely hides the poor living conditions of people living there. Amongst millions of people living in such informal settlements lived a girl who was building skyscraper of or in her dreams.
Looking at her family grapple under tin-sheet houses, compromising on safety and peace, the girl swore to get educated and help not only her family but also those who continued to live the same life as her. This is Neetu Singh, founder of Sab ki Paathshala. Hers is a story that must be shared, for the sake of hundreds of neglected children out on the streets.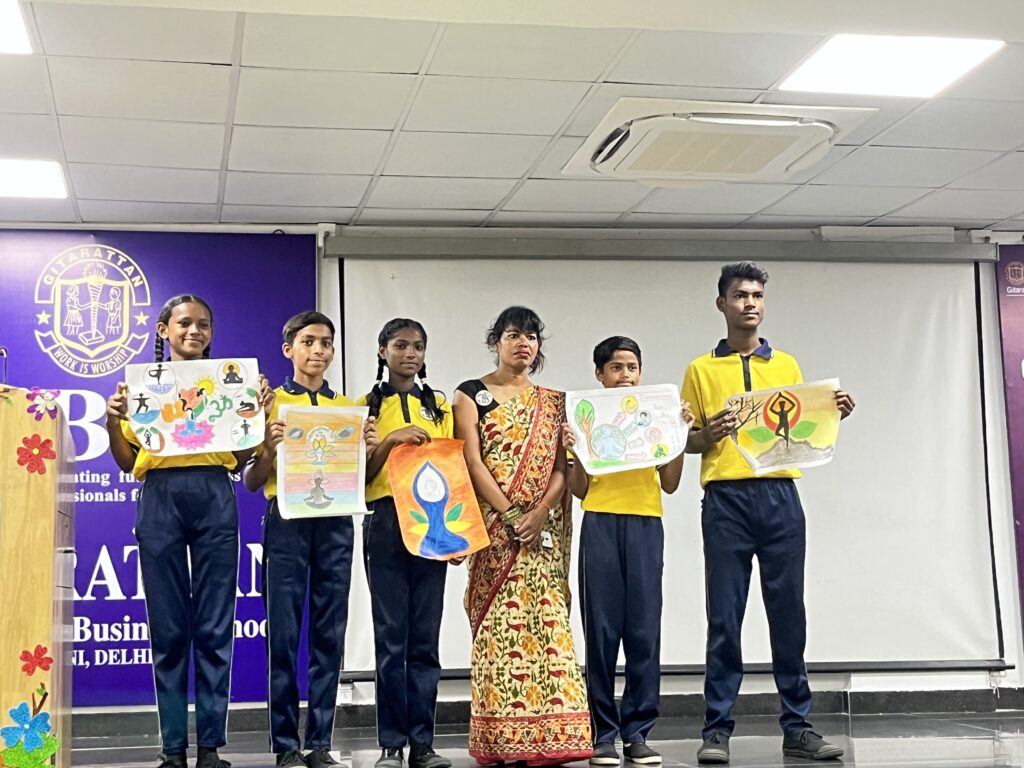 Challenges along the way
Neetu worked hard to finish school and battled every challenge with her strong willpower. She pursued her Bachelors in Education from Kurukshetra University and masters from Hansraj College of Delhi University. She worked as a guest teacher in a government school for two good years, until she lost the job.
While sitting idle at home, the itch to make a difference only grew stronger. She came up with a plan to start teaching the little children living around her house till she found another job. She began by meeting the parents of the children she would spot begging near the traffic signals. "I was surprised that I was conversing with parents who had made a four-year-old boy responsible for bringing money to the house. That little boy would wake up at 5 a.m. and work in unsafe, harsh conditions, while a healthy father sat at home doing nothing," Neetu said. "The kids were forced into the world before they could even understand it. My simple question to the parents was, what would they do after these kids would be able to distinguish between right and wrong and refuse to beg or engage in illegal activities? Wouldn't it be better that they study, get skills that can help them lead a dignified life?"
The straight talk stirred a positive change in only a few families. Nevertheless, she started teaching the four-five students who came to her. Her focus was primarily on girls but, she invited any student who wanted to study. The plan that was only designed for a few months has completed eight years now. Started in 2014, Sab ki Paathshala was her initiative of contributing to society and working towards improving the lives of as many as she could.
Neetu conducted the classes on a small piece of ground near a temple. The temple was located opposite gate number one of Pragati Maidan, Delhi. She thought it would not only be a safe place but, people of the temple or visitors might notice and help this noble cause. Instead, she was only met with unfriendly and troublesome people. The staff of the temple would often dump water, intentionally just before she was to take the class. The ground would take almost two days to dry, in which case, she would either call off the class or the students had to sit on the damp ground to study. She was denied the request for bringing seating mats or tying a plastic sheet roof over the seating area to protect the children from heat. As a result, the teachers and students, both fought through the harsh weather of the city to study. The people living in the neighbourhood demanded she stops ruining the atmosphere. The comments did not distract Neetu; she continued to teach on the same piece of land and began writing to the government for aid to deal with the troublemakers.
Neetu was relentlessly trying to explain the positive aspects of education to the parents to encourage them. If that wasn't a challenge big enough, goons were sent to threaten her and stop her from educating the children. The police did not provide any assistance for a long time.
"When I think about that day, I feel grateful as ever for being alive," Neetu said. "Some of these young children used to steal, some were sent to deliver drugs, and run errands, only because police would never doubt kids. With me, they were learning the difference between good and bad. So, the goons came knocking on my door, not only threatening me but also some of the little girls who were studying with me. I stood my ground because I knew that neither my actions, nor intentions were wrong. To look at them in the eye and ask them to leave while they went on warning and swearing at us, I never knew I had that kind of courage. It was the faces of these children that motivated me to continue working with them," she added.
After the incident, Neetu sent letters to Mahila Ayog Delhi, the commissioner and the public grievance portal of the Prime Minister. It took two years for the threats to stop. The replies to her letters were sent directly to the police station of the responsible area, explaining her work and stating that she had no other intention but to teach the children. It was then that the police went to her, this time with no harsh words, and assured her of protection.
Just when the challenges seemed to be coming to end, the Covid-19 pandemic hit the world, and Sab ki Paathshala. Teachers who would conduct classes stopped coming, the number of volunteers reduced and children were confined to their houses. Yet, the thought of giving up never crossed her mind.
Now, in the post-pandemic era, she shares her resources and time with anyone who visits the school. She organizes festive activities and annual days for the students to strike a balance between education and extra-curricular activities. She also engages with teachers of other schools who come as guest lecturers for the students.
Innovative method of teaching
"In the beginning years, I had as many as fifty students coming to study. They were used to temporary initiatives and thought that I was doing the same. With time, they understood that I am very serious and here to stay. So, the number of students reduced after some time. Those who wanted to study, are still associated with our school. Some have been with us from grade 2 and have just given grade 10 state board exams," Neetu said.
In the beginning years at Sab ki Paathshala, the children are not taught subjects like in regular schools. They start by learning the basics of reading and writing in Hindi. Any Hindi language book is helpful to carry out the exercises. The children also learned English the same way. They are made to read out paragraphs, discuss the difficult words and their use in a sentence, and write letters or essays in the same language. When the students reaches higher grade 9, Math has been introduced because the students aim to appear for the grade 10 exams. With their basics strong, they are able to understand what is taught and enrol in government schools around the neighbourhood, continuing to take the two-hour class at Sab ki Paathshala. In extra-curricular activities too, Neetu's students are shining bright in their respective schools.
"I was never allowed to be a part of the annual dance shows or performances when I was in school. My parents were already going above and beyond to let me study. Any extra-curricular activities were only a distraction, according to them. So, I taught my children the beauty of arts and expression. This has led them to confidently get on stage and bag prizes and medals for both, themselves and the school," Neetu said. "A group of my students go to the nearby school and they tell me how the teachers insist that the students of Sab ki Paathshala go for inter-school competitions and performances. I live my school life all over again when I see the excitement in their eyes."
Sab ki Paathshala, with the help of professional volunteer teachers, engage in teaching yoga, gardening, poster making, drawing, theatre and dance to the students of the school.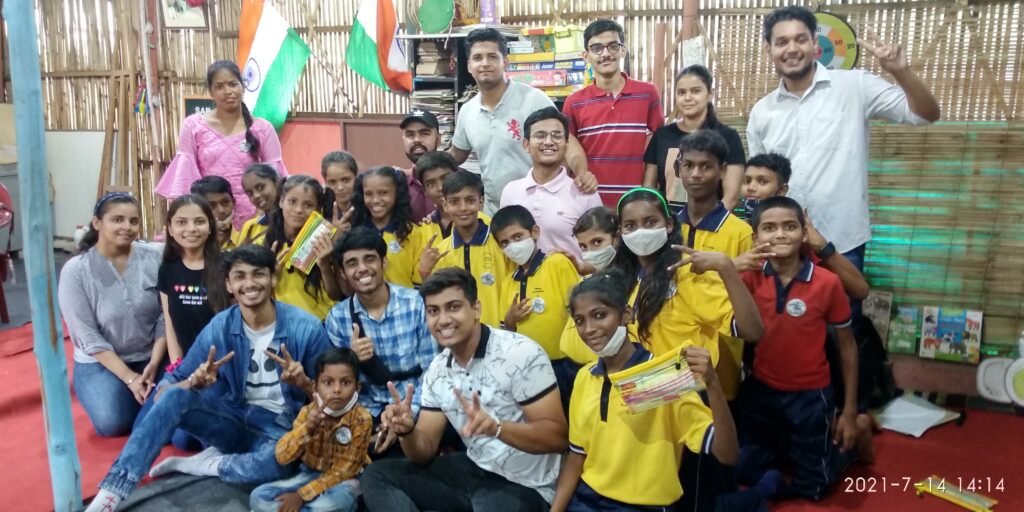 Views on NEP 2020
"I have high hopes for the new policy. Earlier the education system was based on memorization i.e. you teach the students while they learn just enough to pass the exams. The grades in exams were the overall report of the student, the teachers or the government was not bothered by anything else. I know this because I have also been a part of the same education system," Neetu said. "The policy is very beneficial for the overall development of the students and I wish it had been applied sooner. I also like how the Fundamental Right of Education that was set at 14 years of age has now been changed to 18 years. This was a very necessary step. The students will now learn more about our culture and will be able to pursue their interests. However, I would request the government to also consider the growth of underprivileged children. The government could collaborate with NGOs to develop schools in the nearby slums. I would often ask the reason for not going to school and many children were not even aware what schools were or how they functioned," she added.
Pat on the back
"One has to be extremely patient; there is no other way to do this," Neetu said, in a message for educators who are following the same path as her. "Perform at your full, follow your intuitions and, in the end, let your work speak for you. I could only explain so much to the parents of these children. It was the change in their behaviour, attitude and understanding of the child that convinced them."
A teacher once visited Sab ki Paathshala and observed the children and staff of the school. With many people visiting the school, Neetu thought the teacher was also a well-wisher like others. Soon, she found herself receiving an award from The Rotary Club of Delhi. The teacher had seen her efforts and the growth of the children and had nominated her for the award. This helped in spreading the good word for Sab ki Paathshala and people started contributing to the school as volunteers, with a donation or bringing students to her for quality education. Every time a student performs well, she adds it as an achievement to her list.
"I understood very early in my life that education was the only way to change my life. However, it was not a cakewalk to get here. I have clear pictures in my mind of a few incidents. Like, my first day at school; the day I was slapped and humiliated by my teacher for not being able to read and write; the days I went to school without food and sometimes survived only on a fruit given during the mid-day meals," Neetu said. "When I look back at the eight-year-long journey of Sab ki Paathshala, it motivates me to keep going. I have taught my students the impact and importance of education. I also remember the first girl I took as my student, the first time my students won a prize or scored well in their academics, and their smiles when they felt the rush of energy talking to me about their dreams. I am working towards my goal of educating one-lakh students of the country and I hope I achieve that soon because I cannot wait to see these children join the army, join the government and become great artists."
Call for action
From being on the streets to helping those on the streets now, Neetu's journey has been an incredible one.
Sab ki Paathshala takes donations in both, cash and kind. One could offer to be a volunteer teacher for the children, donate uniforms and stationery, sponsor a student or contribute to the infrastructure of the one-classroom school. Their website has information on fund links as well as the goals they are trying to reach. Neetu urges people to visit the school, meet the children and then decide how they can help them. We urge the readers to visit their website and reach out to the members to engage with this cause for change.