Part 3 – Students themselves tell us what they want in a school! Are we ready to listen, minus judgement?
Forget about what students 'need'. Students themselves tell us what they want! Are we ready to listen, minus judgement? Here is the third part in our series on children's views on their dream school.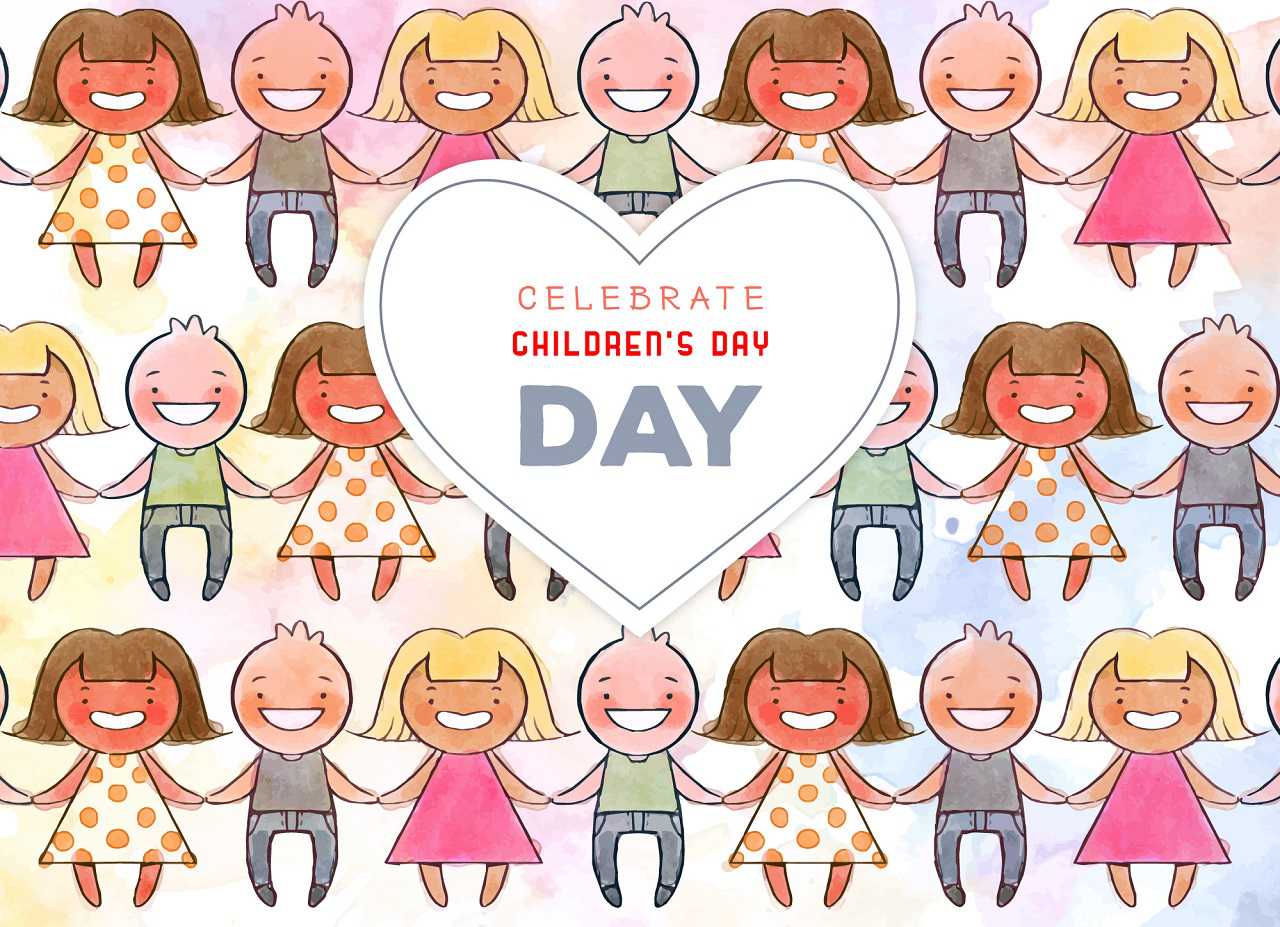 From the government to the management to educators to parents – everyone seems to have a say in the school system but for the main stakeholders: the children themselves. With World Children's Day (November 20) and National Children's Day (November 14) this month, ScooNews threw open its pages, inviting this long-neglected and most important segment – children – to tell us exactly how they envision their dream school. Read on, educators, there might be nuggets of value for us all in here…
"Class time would be approximately 20 minutes"
Shreya Menon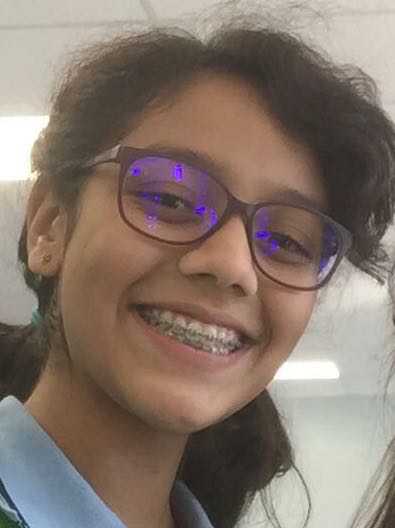 Schools are meant for learning, and to be honest, I would like a school where there is actually more focus on sports, and physical activity. Many schools need more physical activity, and the students are getting frustrated. The school that I currently go to does not even have a gym yet! They are working on getting a gym by December, and this is really annoying, because we have to learn about health, and that is NOT fun.
Another concept that would be applied to my dream school would be that the class time would be approximately 20 minutes. The reason why is because kids can find school a little tedious if the lessons are stretched for a long time. Also, school HAS to start at 12:00, because all of us do NOT like to wake up early. My school bus comes at 6:55! At my dream school, nobody has to wake up that early. Also, my school must only teach adding, subtracting, dividing, and multiplying. There is no need to learn about algebra, calculus, or anything else for that matter. Tell me, when are we going to use this in our life?
Teachers also must have a fun type of curriculum.
Some schools need to have more free time, and that is what I am going to give them. Teachers and students need longer break-time! Both complain about how their time at school is all about teaching and learning, and there is no time for themselves! This brings me to another topic… HOMEWORK. Homework is something NOBODY enjoys, and I feel that teachers sometimes go a little over-the-top with homework. Like yesterday, (October 27), I had 72 math questions online, and I had to show work for it, and I had to finish all of them by 11:59! Don't you think that is going too overboard? Honestly, teachers should think that the students have a life too, and not of just learning! That's why, at my dream school, there would only be homework one day of the week, and that would be Wednesday. That being said, the homework MUST be only one page per class, and the page should not be double-sided. Teachers sometimes do not think that students may have after-school activities, and that they may have their own plans. Students often complain, and I am one of them, about their own activities, and how their life is overloaded.
A concept that is vital to the school that I dream of would be that there would be three days holiday per week. Students need their own free time, and they dread the last day of their weekend, knowing that they have to go to school the next day. That is going to change. School should have only four days of learning, and not five. People need more rest from school.
(Shreya Menon is 12 and studies in grade VII, at Central Jersey College Prep, New Jersey, USA)
"Behaviour must come before studies"
Arhan Raj Patnaik
I want my school to be simple. It should have a lot of activities which involve every subject. I want a school which does not assess our performance by exams – in simple words no pressure of exams should be there. I believe behaviour must come before studies. Many students get spoilt with gadgets and are lost in the tech world and they do not know that there could be bad consequences of over-using gadgets.
The school should take the responsibility of educating its students on what the cons of using gadgets are. It should be secure for students and should be the safest place for the kids.
School should be a place to make friends, and learn good things. We have seen poor children who can't afford to pay the fees. I want my dream school to give free education to under-privileged children. There should not be any comparison between students like rich and poor in my school.
(Arhan Raj Patnaik studies in grade VIII B at Ryan International School, Yelahanka)
"I want two periods of art everyday"
Vyshnavi Arun
Why does school have nothing else but studies? I am not saying it should not have studies but I think it should have more playtime and less of studies. I want two periods of art every day and I wish my English teacher would not be so strict. I want to be the class monitor for a whole year. I think my present school will look a lot better if it wasn't so big. I want my dream school to have a big beautiful garden with birds, butterflies, flowers and plants. I want to go to the computer science lab. These are few of the things I would like my dream school to have.
(Vyshnavi Arun studies in class II at Delhi Public School (North), Bangalore. The 7-year-old loves nature, animals, art, listening to stories, reading Roald Dahl, and playing with her friends.)
"A good counselling centre will be available to students"
Tanya Amrita Jaishankar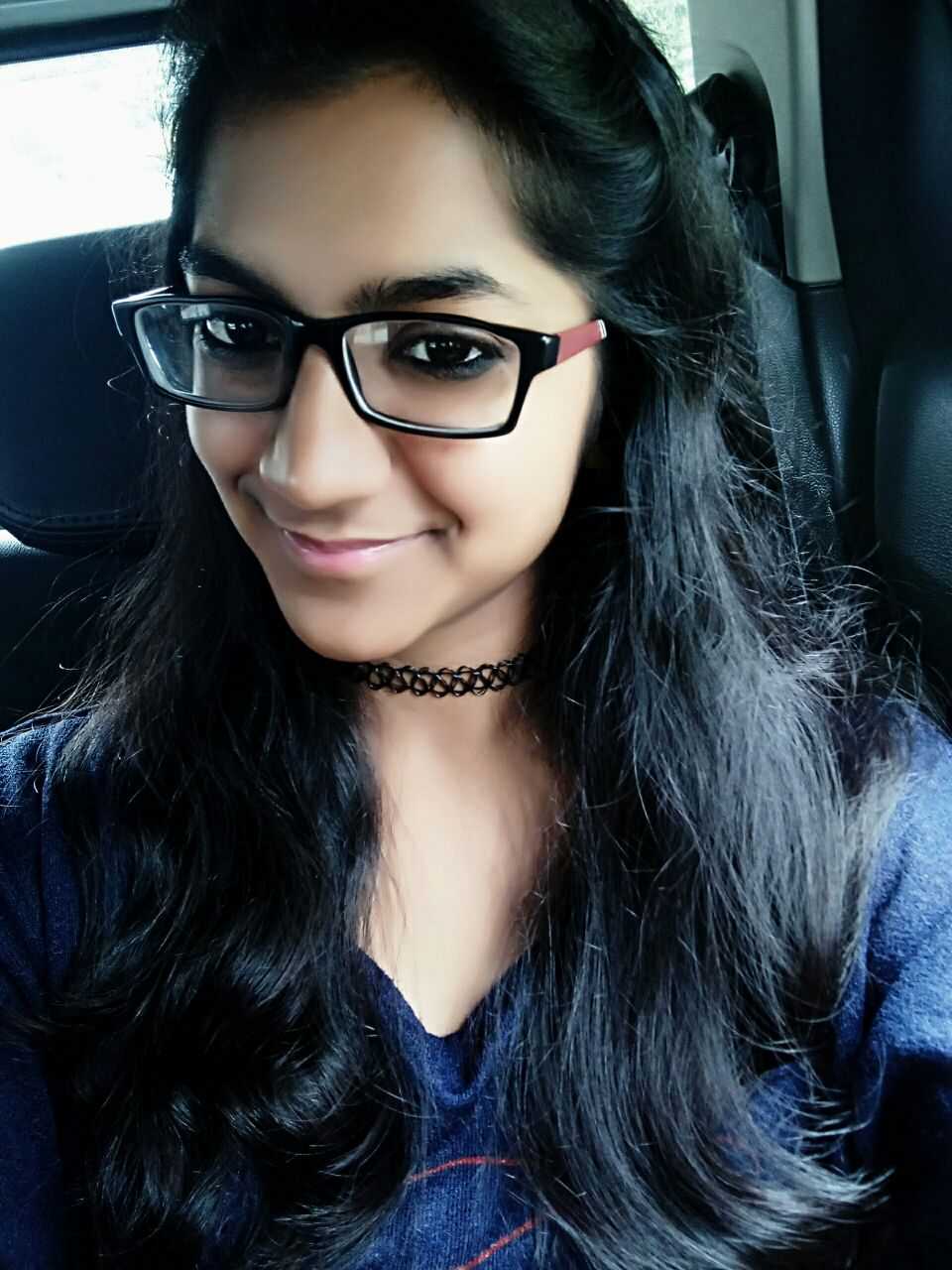 My dream school is where life begins, which is full of passion and liveliness. The teacher not only grabs the students' attention but keeps them on the edge of their seats wanting to know more. My dream school would be complete with amazing facilities like classroom, labs, pools and gym. A good canteen facility with healthy food is a must for students as they get deprived when spending long hours in school. A good library, a combination of arts and crafts would help develop the inner talents of students. An awesome sports facility will bring out the great athletes among students. A good counselling centre must be available to students so they can get help at any time.
The school should have its syllabus modulated in such a manner where it should be interactive and have a perfect blend of theory and practical oriented classes. Visualizing helps in better understanding and therefore the methodology should also change from text books to tabs and hi-tech gadgets for easy understanding. Every student should be allotted tabs, so that the heavy bag or sack system would be avoided and all notes and lecture classes could be stored in them.
Though schools are the best thing that's happened to mankind, there is room for improvement for better and interactive education. The syllabus must be relevant; it would impact significant impact fields like environmental studies, political views and economic struggles. It would grab the attention of students and lead them to action. Improving schools would require international collaboration. This would encourage dialogue and lead to common standards. Nelson Mandela once said, "Education is the great engine of development. It is through education that the daughter of a peasant can become a doctor, that the son of a mine worker can become the head of the mine, that the child of a farm worker can become the president of a great nation." Education can bring change in someone's future. The struggle to keep fulfilling that observation must be made by us.
Students need to be inspired, amazed and be aware of endless opportunities. We can choose our favourite lessons to learn. We can spend more time doing some outside reading. The students do after-school activities for one and a half hours every day. We needn't do a lot of homework and we are happy to stay at school.
My dream school will look like a big garden. The teachers here are kind and helpful. They are not only our teachers but also our good friends. The students are polite and friendly and we all know how to keep our school neat and tidy and there is no litter around.
My thought and belief is if teachers stick to high expectations for all, then all students will succeed. The core to my dream is broken up into three components: the teacher/staff, students and parents. I love my dream school and we'll grow up to be happier there.
(Tanya Amrita Jaishankar is in grade XI at Vivekalaya School, Coimbatore)
"We could do organic gardening every day"
Sharanya Ghosh
My ideal school would be big enough to fit a huge play area, trampoline, football field, classrooms and our own garden. For an hour and a half every day we could do organic gardening, and the fruits, veggies and herbs that grow could be used for cooking for the children at our school. We could divide the day into playtime, gardening time and study time. In school, it would be nice to have a movie theatre, where we could sometimes watch movies. We could have no uniforms and wear just coloured clothes to school. I would like the teachers to be sweet and kind, but also be a little strict sometimes. We could have a cold room, which could have an ice skating rink. We could go there during our playtime with a buddy. I would like to have sections till 'J' and have only 10 kids in each class, so that every kid got equal attention. I like the way my school is, but I also wish I could study in a school like my ideal school.
(Sharanya Ghosh, age 8, studies in class III at Inventure Academy)
This story was our Childrens' Day special feature in the November 2017 issue.
Header image designed by Freepik
What is Hybrid/Blended Learning?
We are lifelong learners and need to keep pace with the fast-paced technology so that our students are ready to take the next leap. Our classrooms have to echo that thought and vision at all times through new pedagogies and teaching-learning strategies.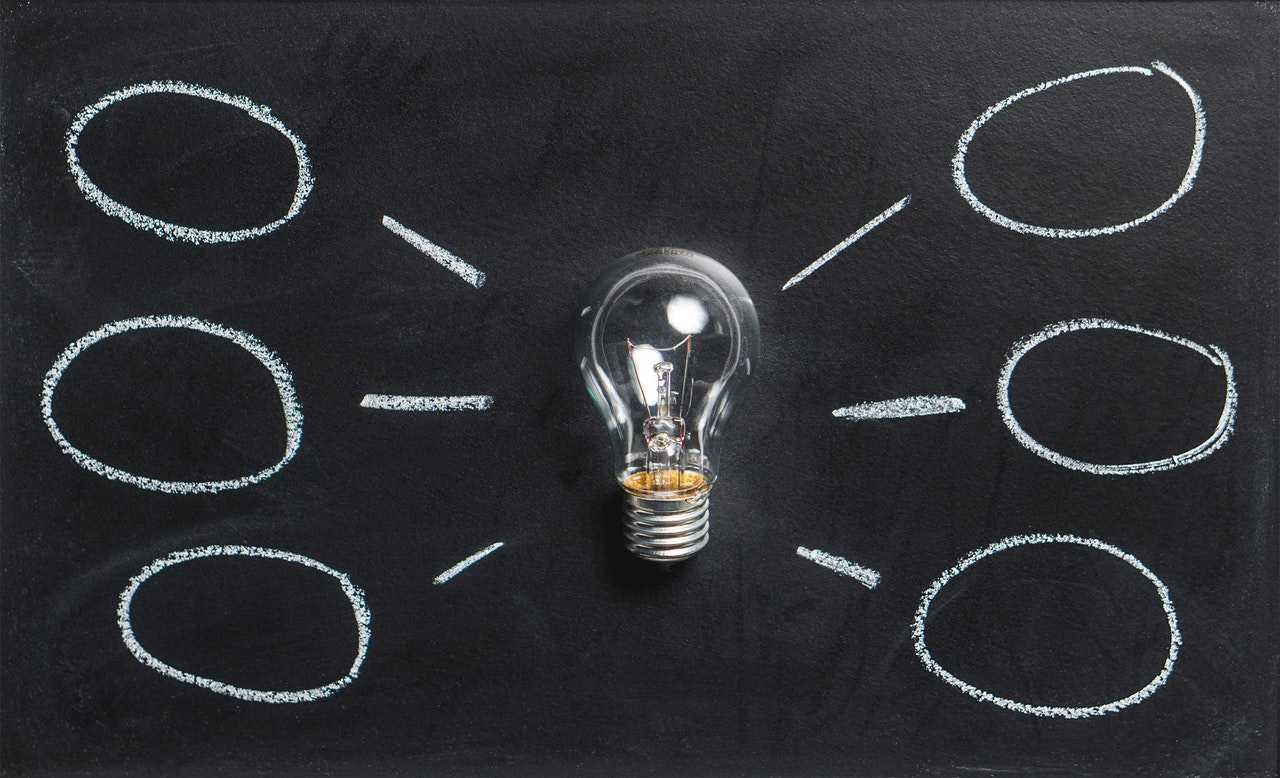 The COVID wave – consider it a bane or boon – but it somersaulted us to an array of digital world experiences. It propelled us to rethink and reorganize our mindsets, our practices, and our expectations. Overnight, we moved from an offline teaching mode to online, and credit to the teaching community for doing it so seamlessly. Now, we are back to offline teaching but do we continue with our old practices? An obvious no so we need to infuse our online experiences within the offline to ensure that quality education reaches one and all.
One key pedagogy to achieve the goal is blended learning, an approach that combines face-to-face learning with online learning incorporating certain elements that support students to have control over the pace, time, and place. The material resource investment is minimal but human resource investment is high till the ethos is assimilated within all.
So let's understand the varied types of blended learning and its implementation in the school teaching-learning process.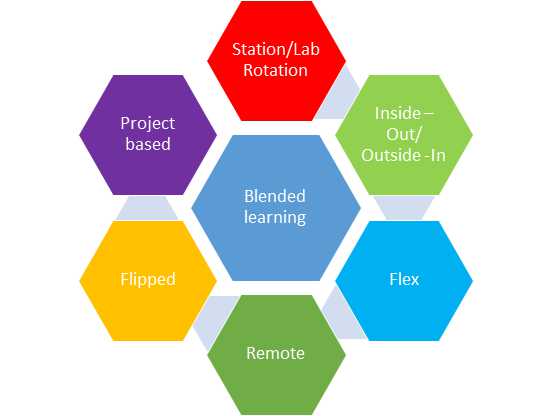 1. Station Rotation
In Station Rotation, students will rotate on a fixed schedule as per the teacher's discretion. The teacher begins her class of 40 students with instruction on narrative writing from 9:00 am to 9:15 am. She then splits the class into three groups where one group continues to learn with her. The second group works on a collaborative assignment on narrative writing and the third use their laptops or computers placed in the class and researches blended learning and after 15 minutes the group switches so that every group has varied experiences. A block class of English can support the various transactions and supports students to build research, collaborative and knowledge skills.
In the same format, if computers or laptops are not available in class then students use the computer laboratory in school and this rotation would then be called as Lab Rotation.
In this methodology, all students with varied learning needs are supported. The only challenge is the Technology and time management skills.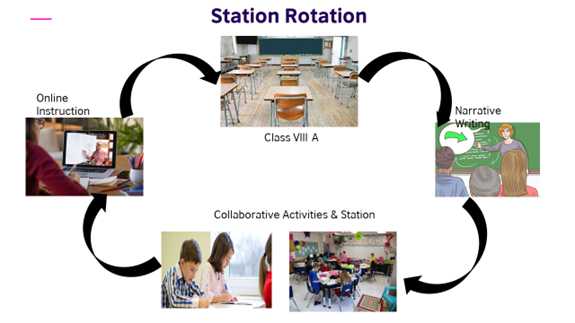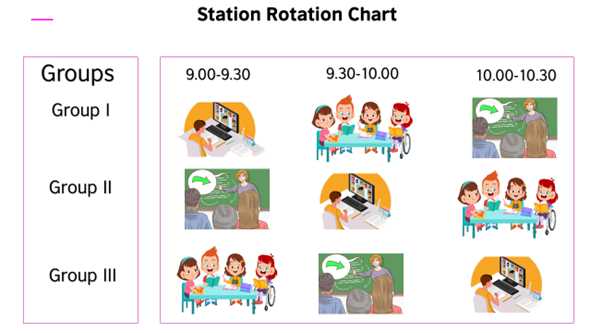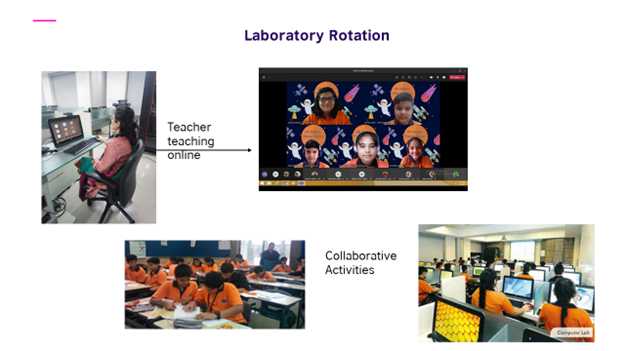 2. Remote & enriched virtual learning
It is a course or subject in which students have required face-to-face learning sessions with their teacher of record and then are free to complete their remaining coursework remote from the face-to-face teacher. In class, the teacher gives a project to students on 'Analysing any work of Shakespeare's or Rabindranath Tagore's Kabuliwalla' w.r.t. the criterion of plot, characters, theme, language, thought and values.
She briefs students on works of Shakespeare and the elements of a play within the school timetable and they complete all the work at home.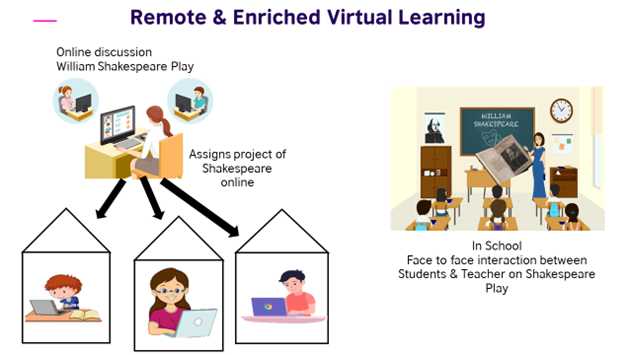 3. Flex blended learning
During certain weekends if the teacher wishes to support the students further in class especially if the concept has been challenging or students have underperformed in an evaluation, the teacher records her remedial teaching and uploads in-class computers. She designs a task around remedial teaching. She expects students to report to school wherein students enter the class on their own time, access the teaching, complete the task and leave. If they have any further doubts, they could approach the teacher in the school or their peers. A useful TIP would be for the teacher to Collaborate with their colleagues in club activities.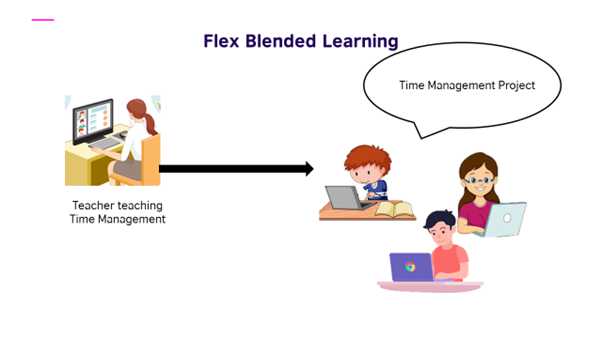 4. Flipped learning
As per TeachThought, a flipped classroom is a type of blended learning where students are introduced to content at home and practice working through it at school. This is the reverse of the more common practice of introducing new content at school, then assigning homework and projects to be completed by the students independently at home.
This methodology is most useful when you want students to have some knowledge of the content before analyzing it further. So if a teacher wishes to conduct a 'Book review'. She shares the e-book, 'Totto-chan' with the students. She asks them to read and shares certain discussion points. In school, students discuss the book and write personal book reviews. The teacher has used her class time constructively and has been to achieve greater learning outcomes.
5. Individual rotation blended learning
As per https://www.blendedlearning.org/models/, the Individual Rotation model allows students to rotate through stations, but on individual schedules set by a teacher or software algorithm. Unlike other rotation models, students do not necessarily rotate to every station; they rotate only to the activities scheduled on their playlists.
The teacher allows students to rotate through different kinds of classrooms called stations. A specific ILP [Individual learning plan] is created for each student. For example: Parth and Mona's examples work on clauses, Mona is struggling with Clauses so she attends classes and solves assignments whereas Parth will attend classes, watch a few videos, and also complete a research project on clauses. Thus the teacher knows her students' skills in greater depth and supports them individually to achieve her target learning outcomes.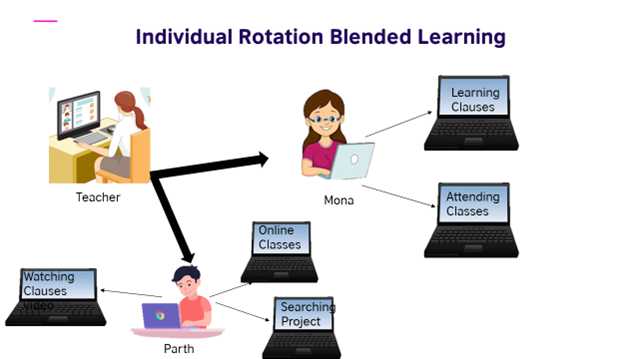 6. Inside-out and outside-in blended learning
In Inside-out, teaching and learning begin inside the classroom and move to an outside environment and in an outside-in classroom, it begins in an outside environment and moves inside the classroom. In a class environment, the Teacher discusses with students about 'Sound of Music' in class and ends the lesson by taking them to the theatre to watch the play. In Outside-In, Students watch the play in a digital environment and end the lesson in a physical environment by conducting role-plays.
The list of models is many but one has to review their resources and plan accordingly.
One can mention that they may face challenges in terms of technology, lack of training on digital platforms, lack of resources to create self-paced learning environments, or time management with vast syllabuses to complete.
Certain tips that can come useful are:
1. Teachers can begin with easily available digital content like Khan Academy, Pinterest, discovery Education, PBS Learning Media, and much more.
2. Review the available resources and plan a timetable. Most importantly, a team achieves more so collaborate with your colleagues in club activities.
3. Take small simple steps – "The journey of a thousand miles begins with one step." Lao Tzu. Choose the model that you are comfortable executing and then move forward.
As teachers, we are ever-evolving and we are that one profession that creates more professions so our responsibility and accountability stretch beyond the classroom. We are lifelong learners and need to keep pace with the fast-paced technology so that our students are ready to take the next leap. Our classrooms have to echo that thought and vision at all times through new pedagogies and teaching-learning strategies.
References:
Christensen Institute, Blended Learning definitions, https://www.christenseninstitute.org/blended-learning-definitions-and-models/
About the author:
Kavita Sanghvi holds a Masters in Physics, Masters in Education, Masters in Philosophy of Education, and CAEL [Certificate in Advanced Course in Educational Leadership] Diploma from Harvard University. She heads SVKM's CNM School, in Mumbai. She is a Teach SDG's Ambassador, Climate Action Ambassador, and Scientix Ambassador for India. She is a British Council Trainer and Ambassador.