Reverse migration: Maharashtra private schools losing kids to government-run set-ups.
This year over 4,000 students from private schools, including 1,600 from English medium ones, shifted to state-run Marathi medium schools this year. Many reasons are cited including stress free learning environment, familiarity with own culture and steadily improving school infrastructure and teache
In what can be only deemed as a return to roots, over 4,000 students from private schools, including 1,600 from English medium ones, shifted to state-run Marathi medium schools this year. Parents are gravitating towards improved infrastructure, qualified teachers and instruction in mother tongue.
3 years ago, when a Junnar (Pune) doctor Pursuhottam Borhade decided to shift his child from an English medium private school to a zilla parishad school, his friends and relatives were not only shocked, but also berated him for "compromising" his son's career prospects.
"Not bowing to societal pressure, I withdrew my son Aditya (then 6) from the English medium school, where he had completed junior and senior KG, and admitted him to a zilla parishad shala," said Dr Borhade.
Upon asking what made him change his mind within 2 years of admitting his son in an English medium school, he said, "I realised that it would be better if my child learnt in the same environment and the same language as that spoken at home." Now in Std IV, Aditya (10) is not only doing well academically, but he is also much relaxed and happy.
In fact Borhade is not the only parent from Junnar. Over 35 children in his area have joined his son at the same government school in 2015 and 2016.
Another physician Dr Ashish Uchagaonkar, who runs a hospital in Alephata (Pune), shared her experience and her rationale of shifting his daughter to a Marathi medium school. "I had admitted my daughter Anushree in a private school. But within 2 years (KG) I realised that she was neither able to speak Marathi nor English properly due to poor teaching. She was also losing out on our cultural values and festivals," he said.
Uchagaonkar and his MPhil wife have decided to take the onus of teaching English to their daughter on themselves and let her learn the other subjects at school.
Their decision raised eyebrows in their town and was the topic of conversations for months, especially since even middle class and lower class families were also sending their children to private schools. "My only answer to everyone was: There is no research to prove that kids of private schools have done better in life compared to (those in) government schools," he added. The 'reverse migration' is continuing this year as well, with over a dozen people in their neighbourhood shifting their children out of private school to government ones.
This trend is a clear sign that parents in Maharashtra are no longer obsessed with private and English medium schools, bucking the trend of last 3 decades, resulting in considerable weakening of the public education system. This was despite the fact that the government schools offer free textbooks, uniforms and midday meals.
The top 5 districts witnessing such migration are Ahmednagar (256), Satara (197), Latur (146), Bhandardara (118) and Thane (48). The trend is not limited to any particular grade. Though final figures are awaited, Mumbai has not been included as its schools are under the municipal corporation.
This shift is a significant event, considering that experts had predicted that government schools would decline further after implementation of the Right to Education (RTE) Act, which guarantees 25% seats in private schools to poor children.
"Government schools are improving on all fronts. Some are better than private schools, especially in smaller cities and rural areas. Within a few years, our schools will outsmart the private ones," said Nand Kumar, school education secretary of Maharashtra.
In part, the credit goes to government schools as well who are trying hard to regain lost ground by offering semi-English medium education. In Yavatmal and other parts of Vidarbha, zilla parishad schools are aggressively advertising through pamphlets and banners listing out facilities to outdo private schools.
Not to be passed over by the digital revolution, over 100 rural schools have established digital classrooms with the help of proactive teachers and community.
"Qualified teachers, better and less stressful learning system and sports facilities are attracting new-age parents. With such an overwhelming support from the society, perception of the state education system will change swiftly," said a senior official from Maharashtra Primary School Parishad.
Out of 3 lakh teachers, nearly 60% are hardworking, say officials. "We are banking on such teachers. Some of them are using innovative methods in classrooms. Some are setting up digital classrooms with financial help from the community," said an official.
28th edition of CBSE Sahodaya Schools Conference begins at Vadodara
The 28th National Annual Conference of Sahodaya School Complexes on the theme of Education 4.0-Reinventing
Education 2030 and beyond begins.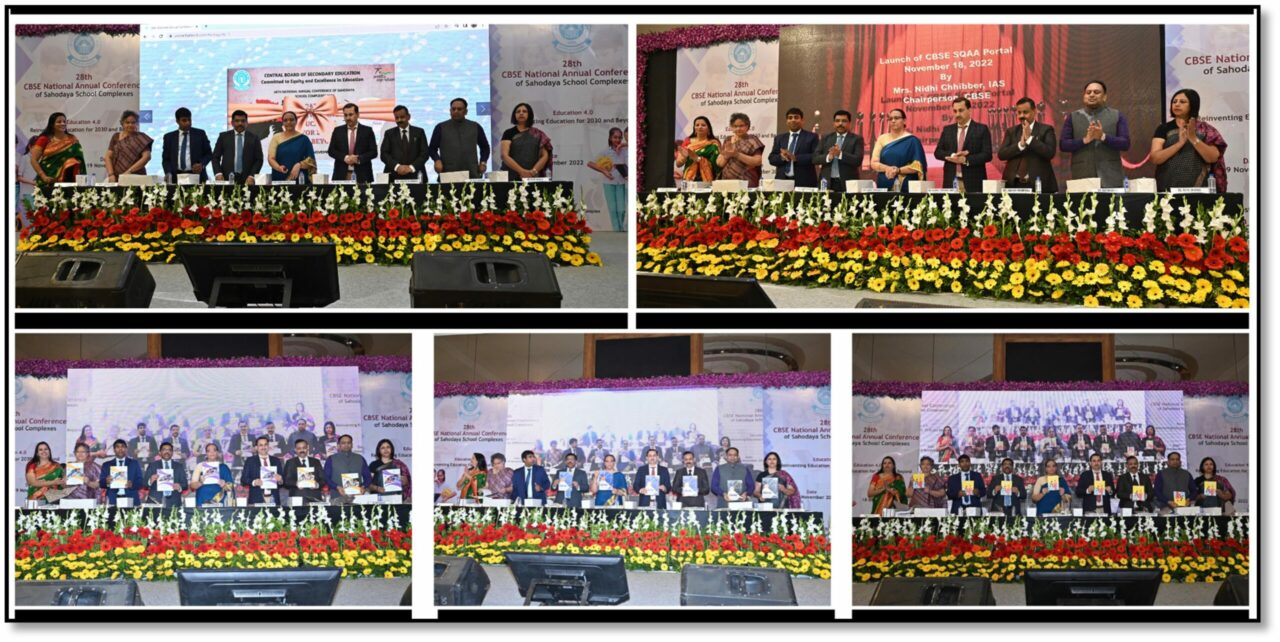 The 28th National Annual Conference of Sahodaya School Complexes (2022) began on 18th November 2022. This year the conference is being held in collaboration with Gyan Sarovar Sahodaya –The Central Gujarat CBSE Schools Sahodaya Complex.
The theme of the conference is "Education 4.0: Reinventing Education for 2030 and Beyond" with the objective to sensitize school leaders and prepare them for the era of education 4.0 with the necessary changes in the design of curriculum and pedagogy.
Sub Themes
Social dynamics and development of education
School Leadership for futuristic schools
Technology is indispensable for education
Capacity Building of teachers
AI in school education
Creative Learning
Positioning curriculum for 2030 and beyond
Moving from Transactional Leadership to Transformational Leadership
Building Learning Communities
Schooling Vs. Education: Bridging the gap for a better India for 2030 and beyond
Community School Partnership for quality education
This year's conference is hosting the representatives of more than 200 Sahodaya School Complexes and educationists from around the world in a two-day event at Vadodara.
Principals from 800 plus CBSE affiliated schools in the country and abroad, academics, and senior officers of the Board are participating in this two-day conference which will dwell upon various themes such as Community School Partnership, Schooling versus Education, Technology for Education, Artificial Intelligence in Education, Building Learning Communities, Leadership, Creative Learning, and Capacity Building of Teachers.
The inaugural session of the conference began with the address of the Chairperson CBSE Smt. Nidhi Chhibber highlighting the roles and responsibilities of school principals and administrators in realizing the objectives of NEP 2020 and making schools future ready.
A number of publications prepared by the Board were also launched by the Chairperson, on this occasion.
Conference Souvenir
A compilation of the probable best practices received from different schools across the country in the area of curriculum, pedagogy, capacity building of teachers, school leadership, school community partnership, and use of technology.
CBSE SQAA Portal
As per NEP 2020 recommendations, CBSE has developed a 'School Quality Assessment and Assurance (SQAA)' Framework based on 7 domains covering all the aspects of school functioning and can be useful as a tool for accomplishing individual and institutional excellence.
Practice Books in Science and Mathematics have been developed for Students of classes IX and X in the subjects of Mathematics and Science to strengthen the skills and competencies of students and help them apply the learned concepts in real-life situations and draw inferences.
These workbooks present a series of questions organised as themes, mapped to concepts from the curriculum of the respective class.
Item Banks
The board has designed and developed Competency Focussed Practice Questions aligned to the NCERT curriculum in the subjects of English, Mathematics, Science, and Social Science for Class X students to test conceptual understanding and application.
SAFAL Assessment Frameworks for grades 3, 5, and 8 were also launched today in the subjects of Language (English/Hindi), Mathematics, and EVS/Science. These include domains, strands, and competencies, and define learning outcomes at various proficiency levels.
PRAYOG
Pradhanacharya Yojna for Growth, has been designed in view of the important role of the Principals in the effective implementation of NEP 2020 in CBSE schools and covers various themes such as Innovative Pedagogy, Competency Focussed Education, Experiential Learning, Art integrated learning, Story Telling and Sports Integrated Learning, Systemic Reforms via initiatives such as SAFAL, HPC, SQAA, and Competency-based assessments, and other topics like Peer Education and Life Skills, Inclusive Education, Environmental Education, Pedagogy Leadership and Expectations from Principals.
Skill Education
A number of Skill Modules for Class VI-VIII on Travel and Tourism, Marketing, Media, Beauty & Wellness, Design Thinking, and Innovation were also launched today along with new modules for classes IX-XII in Library and Information Science, Cost Accounting, Early Childhood Care and Education.
Hand Book on Positive Parenting – A Ready Reckoner
The Board has always been sensitive and proactive regarding the mental health and wellness of students. Positive Parenting – A Ready Reckoner has been brought out by CBSE with the hope of adding value to the nuances of parenting and nurturing skills in a very simplistic and easy-to-follow manner. This publication by no means attempts to undermine the concerns and care of the parents already in place but may help in deepening the understanding and in building positive relationships amongst schools, parents, and students. The contents have been carefully curated post-COVID challenges and include topics such as the Mental and Emotional Wellness of Children, Parenting the Pre- teens, Gender Equality and Child Abuse Protection, Children with Special Needs, Online Learning for Parents, and more.