Educationists want government to act tough with schools who don't admit special children.
At a discussion on inclusive education last week, the focus was on how to make schooling systems truly inclusive. Suggestions such as cancelling school licences, enhancing infrastructure, regulating curriculum, sensiting teachers and many others were discussed.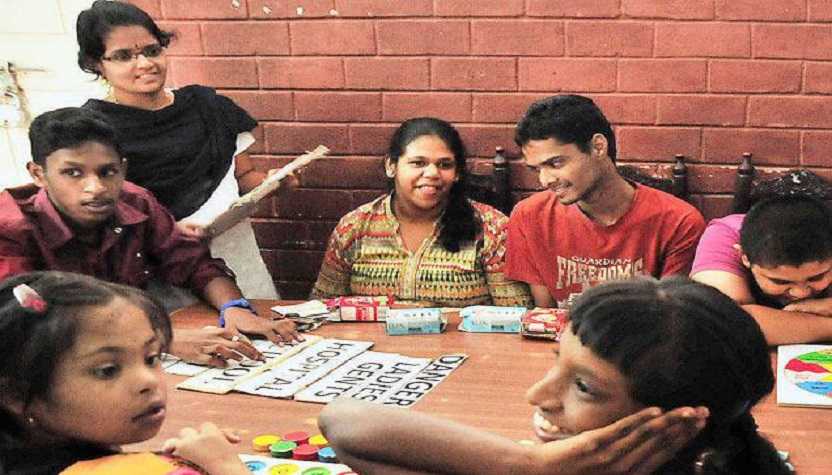 Special children have somehow remained at the periphery of all the action in the education sector. It is indeed mystifying how a 30 million slice of population is almost invisible to policy makers, educators and schools alike.
However, the education community is slowly coming around to the idea of strictly enforcing inclusive education in spirit and letter as educationists are now calling for strict action against mainstream schools that resist admitting children with special needs.
At a discussion on inclusive education last week, it was pointed out that cut-throat competition in mainstream schools is also acting as a detriment against inclusive educational.
The education record of special children is very poor in India, with only 28% of children with special needs reaching Class X and a mere 3% studying up to Class XII, an Observer Research Foundation (ORF) official reported.
Mousumi Bhaumik, officer in-charge, National Institute for the Mentally Handicapped (NIMH), Navi Mumbai, pointed out that the rare occasion when schools admitted a special student was when they were compelled to do so through a court directive.
Varsha Hooja, CEO, ADAPT (formerly Spastic Society of India), suggested that the state government take a sterner view of schools not taking in special kids and cancel certification of such schools. She observed that special kids adjusted perfectly in rural schools but faced barriers in urban classrooms.
The extent to which mainstream schools shun special students is evident from the reluctance to even get trained on how to deal with special children. Such is the reluctance that at times schools even send their PT teachers as fillers at training sessions.
Smriti Mirani of ORF says the reluctance translates to on ground realities like most schools lack basic infrastructure like ramps and lifts. She added that mainstream and special schools should collaborate to remove barriers in making classrooms more inclusive.
Damayanti Bhattacharya, headmistress of Cathedral and John Connon School Middle School, regretted that awareness about special children was so low, even in schools, that for many it was restricted to perceptions formed by films like Taare Zameen Par.
"The yardstick of success could be different for special children. For parents of some special children, a child being promoted from junior to senior KG itself would be a big achievement," said Nita Mehta of New Horizons Child Development Centre.
Another participant at the meet, Shyamala Dalvi who is a special educator and psychologist, said that the rigid state board curriculum was simply not tuned to the needs of special children.
"In a regular school, the ultimate goal seems to be to pass Class X. So, you just pull and push to get the child to pass Class X, which does not work in the case of a special child. You need a vision for them," she said.
Ila Shah of NGO Muktangan, felt there will "always be students who cannot pass SSC" and suggested that special kids be made to appear for open school exams.
Many like Rubina Lal of Suvidya Centre of Special education expressed the need to train teachers to sensitise and help them assess special children better.
NIOS celebrates 33rd Foundation Day
Dr. Subhas Sarkar addresses the 33rd Foundation Day Celebrations of NIOS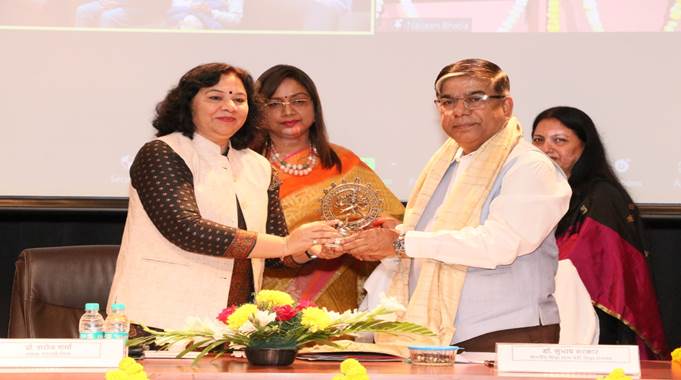 Union Minister of State for Education, Dr. Subhas Sarkar addressed the 33rd Foundation Day Celebrations of NIOS as the Chief Guest.
The function was attended by senior officials of the Ministry of Education, Chairpersons of educational institutions, Heads of Departments, officers, and staff of NIOS. Prof. Naval Kishore Ambasht, former Chairman, of NIOS and Pro-Vice Chancellor, of the Central University of Haryana, Prof. Sushma Yadav graced the occasion.
Dr. Subhas Sarkar in his address appreciated the various programmes and schemes of NIOS and said that NIOS is lighting the lamp of knowledge all over the world. Talking about the Azadi Ka Amrit Mahotsav, he mentioned that today's children will be young people in the age group of 30-40 years on the completion of 100 years of independence and will be responsible for building our nation.
He said that the Ministry of Education has entrusted NIOS with several responsibilities such as developing inclusive education resources, expanding the open and distance education system in states/UTs, translating all courses into more languages as required, creating Indian Knowledge Tradition based courses and propagating Indian culture by translating them into major foreign languages. He also praised the programmes of NIOS enrolling 10 crore adults under 'Basic Literacy Assessment', training of in-service teachers, Gender Green Project, and training in Yoga. He said that Indian Sign Language as a subject at the secondary level has been acknowledged on national and international platforms. He described the launch of an e-library called 'DEEP' by NIOS as a big step forward.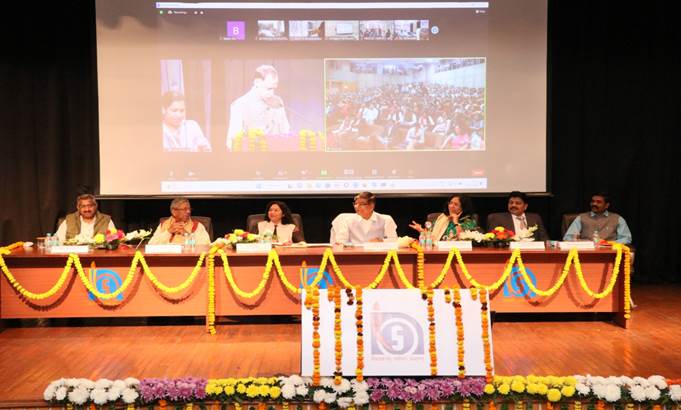 Prof. Saroj Sharma spoke about the journey of 33 years of NIOS and highlighted the special achievements. She said that NIOS is one of the two National Boards of Education under the Ministry of Education, which provides school education through Open and Distance Learning (ODL) for secondary, senior secondary, and vocational education. She elaborated on the role of NIOS in the field of education, efforts being made by NIOS for the successful implementation of the New Education Policy, Virtual Open School, Digital Library (DEEP), NEPIA Project, MoU with Ministry of Defence for Agniveer Project, setting up of Mukta Kaushal Kendras and subjects offered under Indian knowledge Tradition.
It was also conveyed by her that a curriculum called 'Aarambhika' is being developed by NIOS for catering to the Indian Diaspora.
A documentary based on the journey of 33 years of educational endeavours of NIOS was presented on the occasion. In this documentary, 'All England Badminton winner Pullela Gopichand said that most of the players in his badminton academy are getting an education from NIOS.
NIOS alumni, Ms. Niranjana and Vinod Kumar Chaudhary were also felicitated on the occasion. Shri Vinod Kumar said that only due to his education in NIOS, he was able to get the credit of making the Guinness Book of World Records 10 times (8 in Typing and 2 in sports). A proud learner of NIOS, Ms. Niranjana is a successful ventriloquist. Prof. N. K. Ambasht, former Chairman, NIOS said that in this age of technology, innovations must lead to developing 'standalone' courses for the Indian Diaspora, to achieve the goals of the National Education Policy- 2020. Pro-Vice Chancellor, Prof. Sushma Yadav said that the role of NIOS increases in the light of New Education Policy. NIOS has such potential that the institute will be able to achieve the ambitious goals of National Education Policy 2020 in the coming years.
The half-yearly magazine of NIOS 'Pragyan' was released by Dr. Subhas Sarkar on this occasion.