Schools employ novel means to ensure education continues through Kashmir curfew.
Without any signs of abatement in the curfew, schools are trying novel ways to ensure continued education. Some schools in Srinagar have recorded videos of teachers discussing the lessons, while some have uploaded study material online. However government schools are not benefiting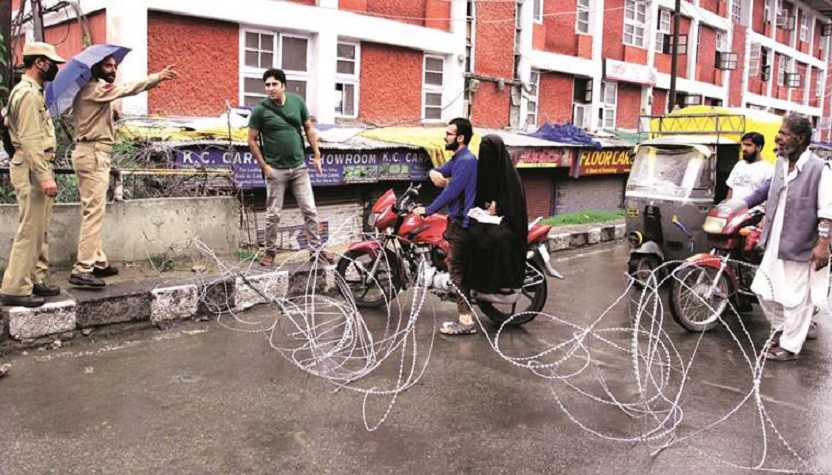 Necessity is the mother of invention and over 60 days of curfew in Kashmir has necessitated invention of means to ensure continued education to Kashmiri children. What makes matters worse is that annual examinations are only 45 days away, and students from across 13,000 schools dotting the valley haven't been to school in over 60 days now.
Without any signs of abatement in the curfew or the tensions, schools are trying different ways to ensure continued education. Some schools in Srinagar have recorded videos of teachers discussing the lessons, and shared them with students on CDs. Other schools are latching on to schools which have found success with this measure.
An officer from the administration of one such school, confides that even recording these CDs is not such an easy task as the teachers fear the protestors and come only when it's still dark and continue to stay on campus till they complete the recordings. "We have reached 60% of our students in this manner," says the officer.
The CD method is limited to private schools and isn't touching the lives of a majority of students who rely upon coaching classes and assistance sessions being run out of neighbourhood community centres, private homes or mosques by youths or school teachers who volunteer to hold these sessions.
Take the case of Hilal Ahmad is a student of Gousia High School in Khanyar, a neighbourhood in Old Srinagar City, the separatist stronghold that has been under curfew for 50 days. Fed up of the long wait to normalcy, the neighbourhood volunteers started offering coaching at the local community centre for the school going children.
Saqib Manzoor, who is to appear for his Class XII exams this year, has no such luck as no community school exists in his neighbourhood of Rajbagh. He shares that he is compelled to study on his own, and even though he has covered 60% of his curriculum it has been an uphill task.
This has been the second longest breaks for school after the disruption in 2010, when the schools were shut for almost 3 months.
It was then that the private schools of the valley started capitalising on the reach of the internet by uploading study material on their websites. G Q Jeelani, the Principal of R P School in Srinagar, says they have done this again, "and many students are accessing it". Since there are frequent blockages of mobile internet, the school also has kept printed material at the school as a back-up.
Even the CBSE has chipped in by arranging to hold special classes for Class XII students of 5 affiliated schools in Srinagar.
As encouraging and innovative as these initiatives may seem, the reality is that these are reaching only to a very small slice of the student population as government school students are not receiving them and the government is well aware of this.
"Let me be honest, there is absolutely no intervention from our side," says Director, Education, Shah Faesal.
Citing lack of internet connection in villages these days, the officer defended lack of such initiative by the government.
Last week, the additional paramilitary forces rushed to the Valley moved into schools across Kashmir, pushing back hopes of classes starting soon.
Read the original story by Bashaarat Masood at www.indianexpress.com.
NIOS celebrates 33rd Foundation Day
Dr. Subhas Sarkar addresses the 33rd Foundation Day Celebrations of NIOS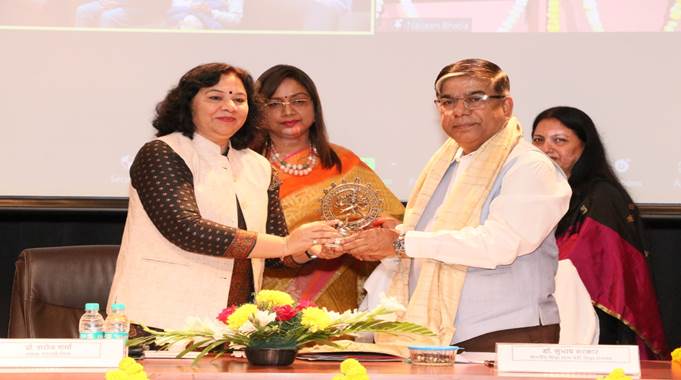 Union Minister of State for Education, Dr. Subhas Sarkar addressed the 33rd Foundation Day Celebrations of NIOS as the Chief Guest.
The function was attended by senior officials of the Ministry of Education, Chairpersons of educational institutions, Heads of Departments, officers, and staff of NIOS. Prof. Naval Kishore Ambasht, former Chairman, of NIOS and Pro-Vice Chancellor, of the Central University of Haryana, Prof. Sushma Yadav graced the occasion.
Dr. Subhas Sarkar in his address appreciated the various programmes and schemes of NIOS and said that NIOS is lighting the lamp of knowledge all over the world. Talking about the Azadi Ka Amrit Mahotsav, he mentioned that today's children will be young people in the age group of 30-40 years on the completion of 100 years of independence and will be responsible for building our nation.
He said that the Ministry of Education has entrusted NIOS with several responsibilities such as developing inclusive education resources, expanding the open and distance education system in states/UTs, translating all courses into more languages as required, creating Indian Knowledge Tradition based courses and propagating Indian culture by translating them into major foreign languages. He also praised the programmes of NIOS enrolling 10 crore adults under 'Basic Literacy Assessment', training of in-service teachers, Gender Green Project, and training in Yoga. He said that Indian Sign Language as a subject at the secondary level has been acknowledged on national and international platforms. He described the launch of an e-library called 'DEEP' by NIOS as a big step forward.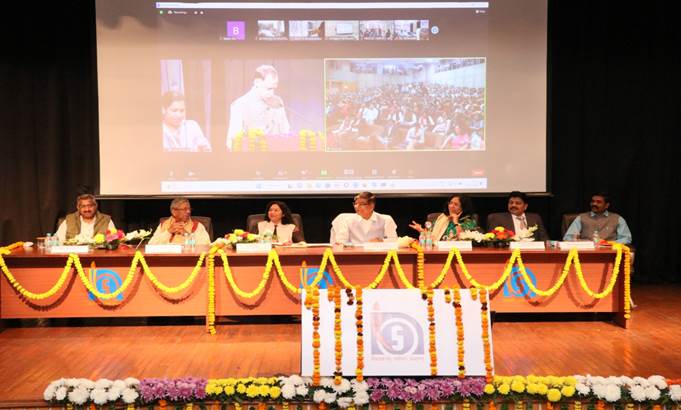 Prof. Saroj Sharma spoke about the journey of 33 years of NIOS and highlighted the special achievements. She said that NIOS is one of the two National Boards of Education under the Ministry of Education, which provides school education through Open and Distance Learning (ODL) for secondary, senior secondary, and vocational education. She elaborated on the role of NIOS in the field of education, efforts being made by NIOS for the successful implementation of the New Education Policy, Virtual Open School, Digital Library (DEEP), NEPIA Project, MoU with Ministry of Defence for Agniveer Project, setting up of Mukta Kaushal Kendras and subjects offered under Indian knowledge Tradition.
It was also conveyed by her that a curriculum called 'Aarambhika' is being developed by NIOS for catering to the Indian Diaspora.
A documentary based on the journey of 33 years of educational endeavours of NIOS was presented on the occasion. In this documentary, 'All England Badminton winner Pullela Gopichand said that most of the players in his badminton academy are getting an education from NIOS.
NIOS alumni, Ms. Niranjana and Vinod Kumar Chaudhary were also felicitated on the occasion. Shri Vinod Kumar said that only due to his education in NIOS, he was able to get the credit of making the Guinness Book of World Records 10 times (8 in Typing and 2 in sports). A proud learner of NIOS, Ms. Niranjana is a successful ventriloquist. Prof. N. K. Ambasht, former Chairman, NIOS said that in this age of technology, innovations must lead to developing 'standalone' courses for the Indian Diaspora, to achieve the goals of the National Education Policy- 2020. Pro-Vice Chancellor, Prof. Sushma Yadav said that the role of NIOS increases in the light of New Education Policy. NIOS has such potential that the institute will be able to achieve the ambitious goals of National Education Policy 2020 in the coming years.
The half-yearly magazine of NIOS 'Pragyan' was released by Dr. Subhas Sarkar on this occasion.