Slacky processes questioned as 10,000 reserved seats under RTE remain vacant
Activists question tardy process as 10,000 reserved seats in Pune under RTE act still vacant.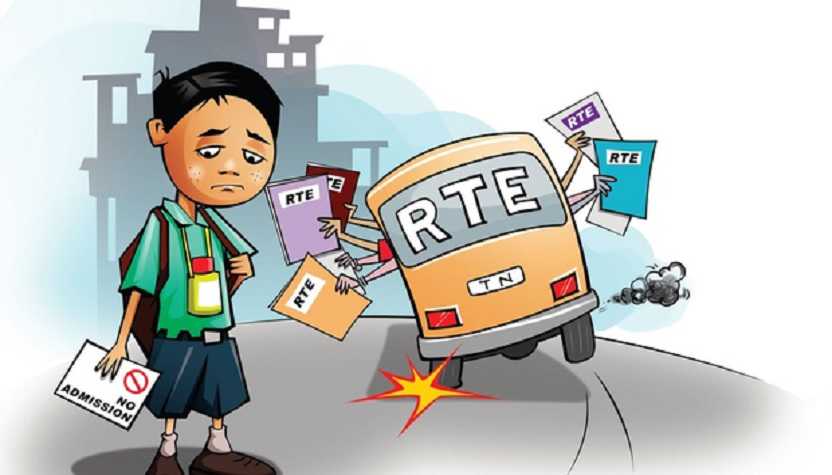 As the new academic year started in Pune and Pimpri Chinchwad Schools, nearly two thirds of the reserved seats, under the Right to Education (RTE) Act, remained vacant.
Under the RTE Act, all unaided schools are required to keep 25 per cent seats in entry level classes (Standard I or pre-primary) reserved for students from backward classes of society.
Education experts and activists have strongly criticized the authorities for failing to admit students to schools on time, for the third year in a row.
Headed by the Pune zilla parishad education officer, the RTE admissions committee was able to fill up only 6,000 of the total 16,000 seats available in 781 schools in the first round (that lasted for almost a month).
Activist Maitreyee Shankar of the Kagad Kach Patra Kashtakari Panchayat expressed her indignation: "It's frustrating, the way the admission process is moving forward. Year after year, the same issues keep cropping up. There is no forward movement even in the fifth year of admissions and third year of centralized online admissions. The authorities have used the 'teething troubles' excuse far too long,"
"Violations are not being addressed and parents have nowhere to go. Help centres should remain functional till the time the admission process is completed and not just while applications are being filled. The schedule for meetings of the admission committees should be put up on the site and the minutes of the meetings should also be made public," she added.
Shankar highlighted the need for ensuring quick redressal of grievances and a clear defined process for parents to express their needs and complaints.
Some parents were sen text messages about the selections on Thursday night. Updates about the second round were put up on the admission website, late on Friday. Of the 17,000-odd applications, only 7,900 children have received allotments in the first round and many more still await. Parents have reported that the education office hasn't provided a clear timeline of the admissions procedure.
Many schools have filled the data regarding seats voluntarily and still denied admissions, which put seats available in Pune under doubt, told an activist of the Aam Admi Party (AAP). Activists have also complained that schools continue to charge the beneficiaries for books, uniforms and other material and deny them admissions if these expenses aren't met with.
AAP spokesperson Mukund Kirdat said, "Many schools must have misguided the officials about the number of seats available, mainly at pre-primary level. One reason behind this failure is the disparity and social attitude towards parents from the weaker section (of society). Another reason is the reimbursement issue. Schools are eligible for reimbursement (for expenses incurred on beneficiaries) as per the RTE Act. The act has clearly stated the months of instalments. If this is a genuine issue faced by schools, they must approach the education minister and court instead of denying admissions to children belonging to economically weaker sections."
AAP members anticipated that the total number of admissions in Pune may not go beyond 8,500 and said the education department, local bodies and unaided schools were together reponsible for the failure.
Dhananjay Pardeshi, assistant education officer at the civic education board handling RTE admissions, said, "In the first round, we have achieved a good number of admissions as compared to last year. There are a few complaints here and there, but we are trying to resolve all the complaints and get admissions done. We will also look into schools that are denying children admissions."
A second round of admissions is expected to be conducted from June 20,2016.
Image courtesy: newindianexpress.com
NIOS celebrates 33rd Foundation Day
Dr. Subhas Sarkar addresses the 33rd Foundation Day Celebrations of NIOS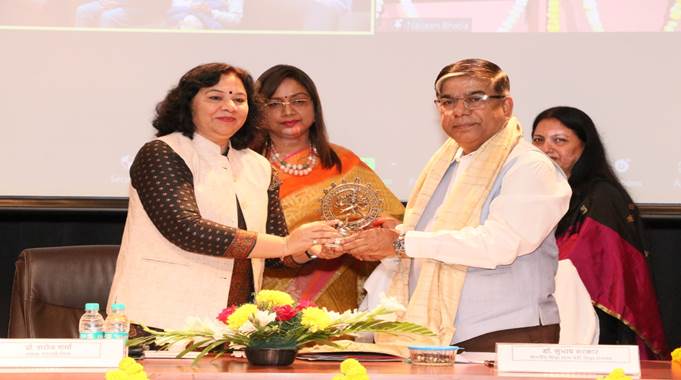 Union Minister of State for Education, Dr. Subhas Sarkar addressed the 33rd Foundation Day Celebrations of NIOS as the Chief Guest.
The function was attended by senior officials of the Ministry of Education, Chairpersons of educational institutions, Heads of Departments, officers, and staff of NIOS. Prof. Naval Kishore Ambasht, former Chairman, of NIOS and Pro-Vice Chancellor, of the Central University of Haryana, Prof. Sushma Yadav graced the occasion.
Dr. Subhas Sarkar in his address appreciated the various programmes and schemes of NIOS and said that NIOS is lighting the lamp of knowledge all over the world. Talking about the Azadi Ka Amrit Mahotsav, he mentioned that today's children will be young people in the age group of 30-40 years on the completion of 100 years of independence and will be responsible for building our nation.
He said that the Ministry of Education has entrusted NIOS with several responsibilities such as developing inclusive education resources, expanding the open and distance education system in states/UTs, translating all courses into more languages as required, creating Indian Knowledge Tradition based courses and propagating Indian culture by translating them into major foreign languages. He also praised the programmes of NIOS enrolling 10 crore adults under 'Basic Literacy Assessment', training of in-service teachers, Gender Green Project, and training in Yoga. He said that Indian Sign Language as a subject at the secondary level has been acknowledged on national and international platforms. He described the launch of an e-library called 'DEEP' by NIOS as a big step forward.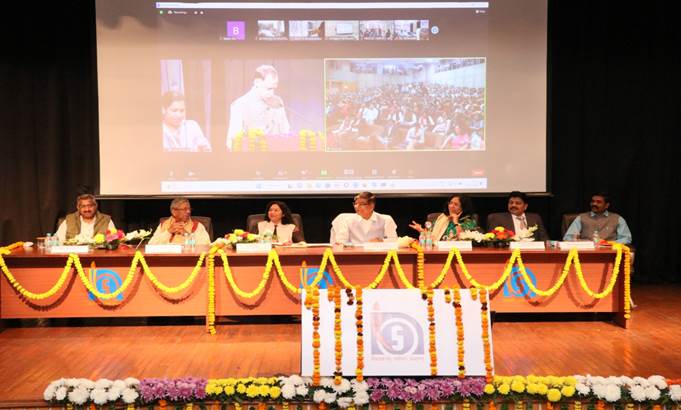 Prof. Saroj Sharma spoke about the journey of 33 years of NIOS and highlighted the special achievements. She said that NIOS is one of the two National Boards of Education under the Ministry of Education, which provides school education through Open and Distance Learning (ODL) for secondary, senior secondary, and vocational education. She elaborated on the role of NIOS in the field of education, efforts being made by NIOS for the successful implementation of the New Education Policy, Virtual Open School, Digital Library (DEEP), NEPIA Project, MoU with Ministry of Defence for Agniveer Project, setting up of Mukta Kaushal Kendras and subjects offered under Indian knowledge Tradition.
It was also conveyed by her that a curriculum called 'Aarambhika' is being developed by NIOS for catering to the Indian Diaspora.
A documentary based on the journey of 33 years of educational endeavours of NIOS was presented on the occasion. In this documentary, 'All England Badminton winner Pullela Gopichand said that most of the players in his badminton academy are getting an education from NIOS.
NIOS alumni, Ms. Niranjana and Vinod Kumar Chaudhary were also felicitated on the occasion. Shri Vinod Kumar said that only due to his education in NIOS, he was able to get the credit of making the Guinness Book of World Records 10 times (8 in Typing and 2 in sports). A proud learner of NIOS, Ms. Niranjana is a successful ventriloquist. Prof. N. K. Ambasht, former Chairman, NIOS said that in this age of technology, innovations must lead to developing 'standalone' courses for the Indian Diaspora, to achieve the goals of the National Education Policy- 2020. Pro-Vice Chancellor, Prof. Sushma Yadav said that the role of NIOS increases in the light of New Education Policy. NIOS has such potential that the institute will be able to achieve the ambitious goals of National Education Policy 2020 in the coming years.
The half-yearly magazine of NIOS 'Pragyan' was released by Dr. Subhas Sarkar on this occasion.