Subodh Public School, Airport, Gives an Interactive Platform to Learn India's Diversity
Let the students ask question … Dr. Kalam always said.
Former President, Lt. Dr. APJ Abdul Kalam is a name students can never get over. Neither can we. And here we are talking about him again. Words fail to describe him. But students
Let the students ask question … Dr. Kalam always said.
Former President, Lt. Dr. APJ Abdul Kalam is a name students can never get over. Neither can we. And here we are talking about him again. Words fail to describe him. But students of Subodh Public School try their best. 
Shidhar-5d, Nancy-5d
Concluding what started as Abdul Kalam Week in Subodh Public School, Airport, students have come to learn a lot … a lot more than what books teach. It was not only about science as many of you might think, instead, it was full of experience and lots of new learning.
We have already given a glimpse of Science Exhibition and the Tiffin Party.
Today in Tableau Presentation we got glimpses of various cultures of our nation as portrayed by the students of Grades Prep to 5th. Seeing diverse cultures and traditions all at one place was one of its kind experiences; something rarely encountered.
Creativity speaks wonders … A teacher we talked to told us that the students today a lot more creative than imagination. When the idea of tableau presentation was discussed with these youngsters, they immediately came up with brilliant ideas. "They almost bursted with ideas, coming up with a change in their own ideas everyday. It in fact was tough for us to decide which idea to pick and which not. They chose their state and culture on their own, they somehow knew what they have to portray. How was the question where they needed help", a teacher we talked to said.
Needless to say, teachers of Subodh, Airport, had a great contribution in the whole event. All the questions from children were solved by them … the guiding hands of a teacher are the most comfortable and learned ones that child is left in. And for students, yes definitely they learned something new.
Dhiransh-5c, Aalokita-5c, Manish-Prep, Ridhimaan-Prep
The tableaus of states like Bengal, Rajasthan, Kashmir, Kerala and even Wales (UK) were designed and put on show; children represented their state by displaying beautiful props, crafts, cuisines, costumes and festivals of their state. Interacting with these kids was all the more fun! Totally worth-visiting event.
A pair of small hands representing the state of Rajasthan greeted us with a dash of vermillion on our foreheads with Khamma Ghani in his sweet voice.
Aayush-8th, Yashaswi-8th, Saumya-6a, Vinisha-6a
The others played Guitar and Casio; we were already dancing to the soothing melody.
Ishleen-6d, Siddhi-6d,Garvit-5b, Navya Ajmera-5d, Navya Soni-5d
Children at their age rarely know much about the diverse cultures of India. So, curiously we asked a teacher how did these small kids manage to prepare all these jhaankiyan and props all by themselves. She said, "They knew what culture and state they will choose, but we helped them making the props, rangoli and jhaankiyan".
Muskan-3a, Vanshika-3a, Yashi-3a, Nishika-4b,Vrinda-5c,Tanushree-5c, Karan-4a, Abhinav-3a
Teacher is not only the person who teaches you books; rather they guide you through every phase of life… So true!
Team ScooTalks had real fun visiting the jhaankiyan and interacting with these small kids. All the best kids!
NIOS celebrates 33rd Foundation Day
Dr. Subhas Sarkar addresses the 33rd Foundation Day Celebrations of NIOS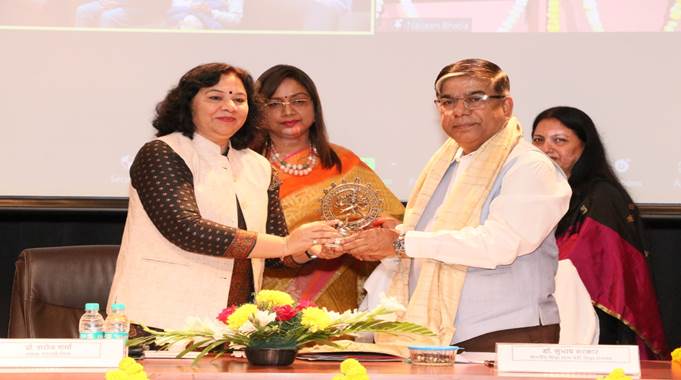 Union Minister of State for Education, Dr. Subhas Sarkar addressed the 33rd Foundation Day Celebrations of NIOS as the Chief Guest.
The function was attended by senior officials of the Ministry of Education, Chairpersons of educational institutions, Heads of Departments, officers, and staff of NIOS. Prof. Naval Kishore Ambasht, former Chairman, of NIOS and Pro-Vice Chancellor, of the Central University of Haryana, Prof. Sushma Yadav graced the occasion.
Dr. Subhas Sarkar in his address appreciated the various programmes and schemes of NIOS and said that NIOS is lighting the lamp of knowledge all over the world. Talking about the Azadi Ka Amrit Mahotsav, he mentioned that today's children will be young people in the age group of 30-40 years on the completion of 100 years of independence and will be responsible for building our nation.
He said that the Ministry of Education has entrusted NIOS with several responsibilities such as developing inclusive education resources, expanding the open and distance education system in states/UTs, translating all courses into more languages as required, creating Indian Knowledge Tradition based courses and propagating Indian culture by translating them into major foreign languages. He also praised the programmes of NIOS enrolling 10 crore adults under 'Basic Literacy Assessment', training of in-service teachers, Gender Green Project, and training in Yoga. He said that Indian Sign Language as a subject at the secondary level has been acknowledged on national and international platforms. He described the launch of an e-library called 'DEEP' by NIOS as a big step forward.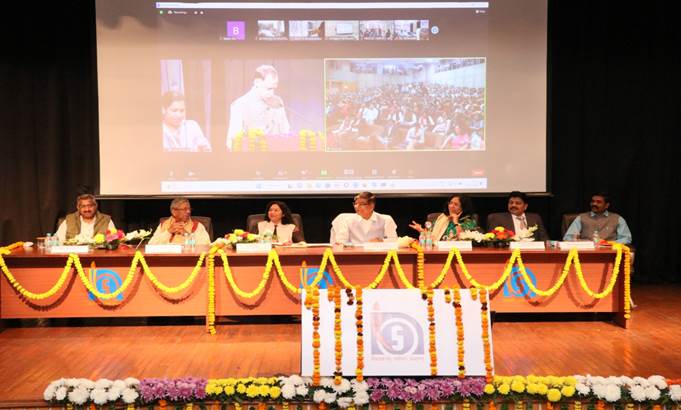 Prof. Saroj Sharma spoke about the journey of 33 years of NIOS and highlighted the special achievements. She said that NIOS is one of the two National Boards of Education under the Ministry of Education, which provides school education through Open and Distance Learning (ODL) for secondary, senior secondary, and vocational education. She elaborated on the role of NIOS in the field of education, efforts being made by NIOS for the successful implementation of the New Education Policy, Virtual Open School, Digital Library (DEEP), NEPIA Project, MoU with Ministry of Defence for Agniveer Project, setting up of Mukta Kaushal Kendras and subjects offered under Indian knowledge Tradition.
It was also conveyed by her that a curriculum called 'Aarambhika' is being developed by NIOS for catering to the Indian Diaspora.
A documentary based on the journey of 33 years of educational endeavours of NIOS was presented on the occasion. In this documentary, 'All England Badminton winner Pullela Gopichand said that most of the players in his badminton academy are getting an education from NIOS.
NIOS alumni, Ms. Niranjana and Vinod Kumar Chaudhary were also felicitated on the occasion. Shri Vinod Kumar said that only due to his education in NIOS, he was able to get the credit of making the Guinness Book of World Records 10 times (8 in Typing and 2 in sports). A proud learner of NIOS, Ms. Niranjana is a successful ventriloquist. Prof. N. K. Ambasht, former Chairman, NIOS said that in this age of technology, innovations must lead to developing 'standalone' courses for the Indian Diaspora, to achieve the goals of the National Education Policy- 2020. Pro-Vice Chancellor, Prof. Sushma Yadav said that the role of NIOS increases in the light of New Education Policy. NIOS has such potential that the institute will be able to achieve the ambitious goals of National Education Policy 2020 in the coming years.
The half-yearly magazine of NIOS 'Pragyan' was released by Dr. Subhas Sarkar on this occasion.