Teacher's Picture Conducting Classes in Her Pickup Truck in Mexico Goes Viral
She drives 2 hours to reach her special-ed students every day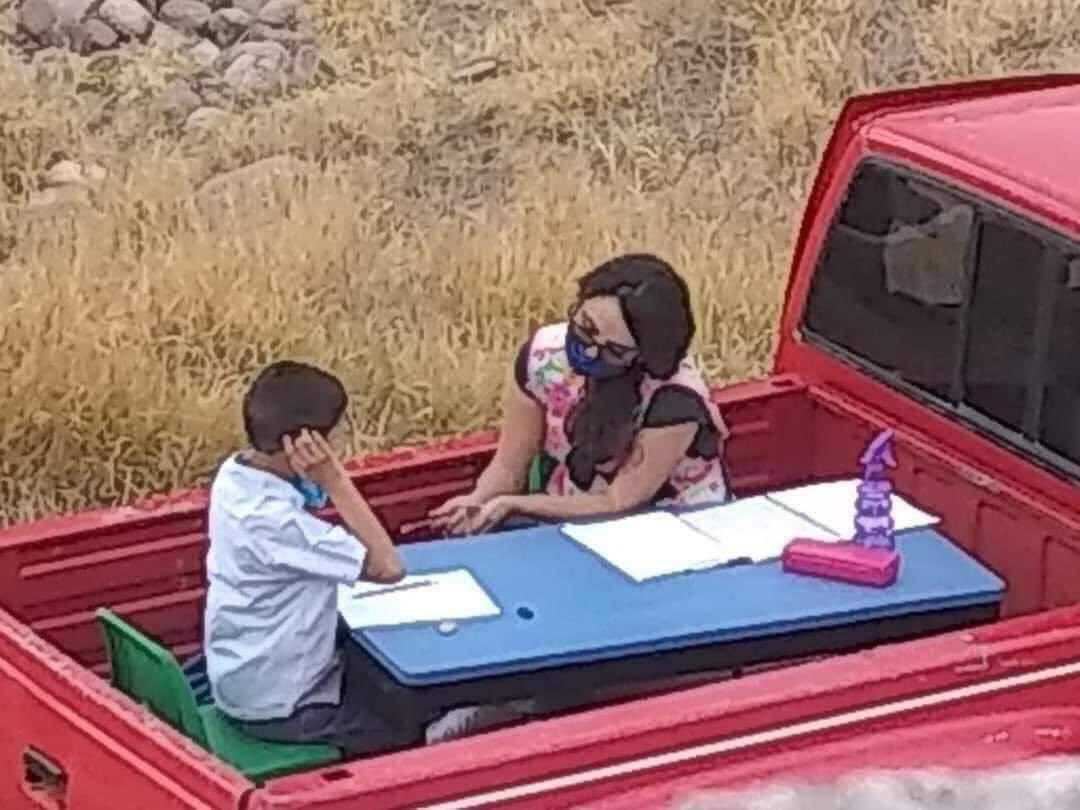 A special-ed instructor named Nay teaches in an elementary school in Mexico and works with kids with disabilities like autism. Recently, she went viral when a tweet, on 6 Aug 2020, showing her picture at the back of a pickup truck did rounds on Twitter. Apparently, she has converted her car into a mobile classroom for her pupils who cannot attend school because of the pandemic.
The tweet informed that she drives every day for 2 hours to reach to her students and sit with them in the truck one by one while keeping in mind the social-distancing norm and sanitization process. She teaches students who do not have books or the internet, so they do not lag behind in their curriculum.
This tweet has gone viral since then with celebrities/socialites appreciating this selfless teacher's work.
In Mexico, school was cancelled because of the pandemic.

This teacher turned her pickup truck into a portable classroom.

She drives two hours a day to teach children with autism who don't have books or access to the internet.
pic.twitter.com/hscu8zI85Z

— Akki (@akkitwts) August 6, 2020
Since the picture was taken by a neighbour of one of her students, Nay was nowhere to be found on social media initially. In fact, many Twitter users enquired about her identity and offered to help as well.
Finally, Nay broke her silence and explained on Twitter the type of activities she carried out before the pandemic. "Indeed I am a teacher and proudly of special education. I attend students in a regular school who have a disability or a learning barrier, " she explained in a tweet.
She added, "It was not my intention that this transcended so much; I wasn't even the one who shared this photo. The point is that good or bad, the action I did was always thinking about improving my teaching work".
As reported by Quien, Nay stated, "And make it clear that all teachers in one way or another strive every day for our students. Because although it seems easy, for many it is not since sometimes you neglect your children's homework to send or review your students' homework. It is not easy since you become a teacher 24/7."
Nay explained her reasons for precaution and privacy, that why she didn't give interviews, revealed her last name or clarified in which school she works. She mentioned, "We are facing a society that does not respect even today's heroes (health personnel), that has no ethics, that has no respect, that is better to criticize and attack. For this reason and for the safety of myself and my loved ones, I keep it that way."
This Young Woman From A Tribal Village Is Teaching The Children While Schools Are Closed
The only graduate of a Tamil Nadu village has volunteered to teach the children of the village while the pandemic persists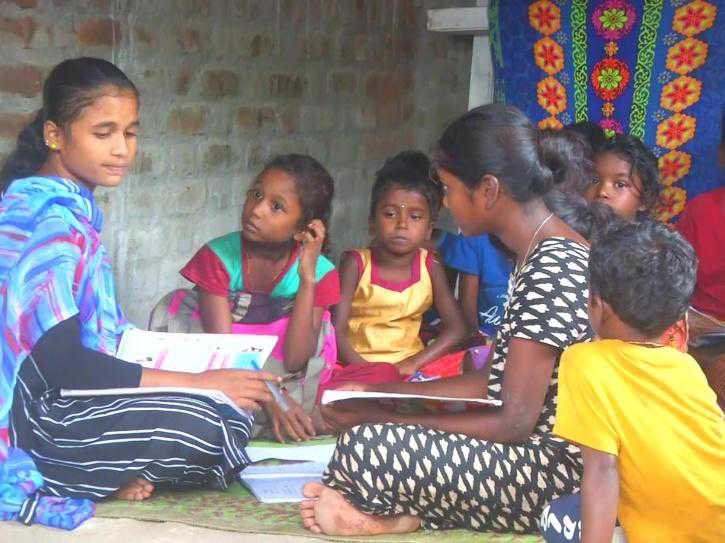 Where the digital network failed these tribal children in the southern part of India, their own stood to support them. Sandhya volunteers in teaching the kids of her village, Chinnampathy in Tamil Nadu. She is a graduate of B.Com, she is the only person from her village to have graduated college. Sandhya told India Today, "If it rains, we can't go to school. We only have one bus to our village and so after a certain age, people drop out of school."
Having gone through struggles herself, Sandhya knows how important a teacher and school is for growing children. So she volunteered to teach the children by herself, so they don't lag behind due to school closure. Sandhya said "When I was a child, I had no one to help me study. These children here have me to help them study."
One must ask the children from a remote rural or economically backward area, how it feels to not have the proper learning opportunities. The pandemic took more than the ability to roam about freely, it snatched away the ability to go to school for children on a global level. While it is easier for families with better income to support their child's online learning, most rural and financially challenged families are struggling.
The Indian government did start many projects for such students, but even learning via a television channel or free online course needs some basic gadgets and network connection. Many remote villages, like the tribal village, Chinnampathy, can not find enough network strength to have their children sit in front of a television and learn via the education channels.
On being asked how her classes are enduring she said, "The children come and ask me very freely all their doubt and they are not afraid of me. I see these children learning well and answering all the questions when I ask them."
Youth like Sandhya, who appreciate and signifies the work educators do and want to help the cause, are the future of the education sector!