Teacher Warrior 2019: K R Ushakumari – SOLDIERING ON
TEACHER WARRIORS 2019: THE REAL HEROES ARE HERE! Ordinary people, extraordinary deeds… The ScooNews Teacher Warriors 2019 are a lesson in inspiration and hope.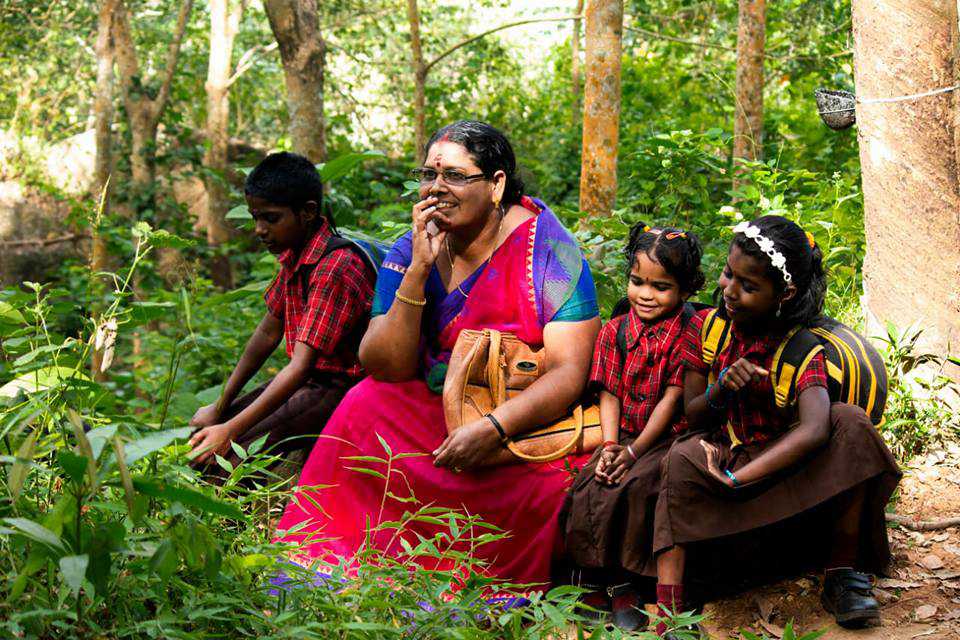 At 7 am on weekdays, you will see teacher K R Ushakumari getting ready to go to work. But her journey to school is not the same as that of a teacher in the city. She rides her scooter from her house in Amboori for 25 minutes and parks it on the Kumbikkal Kadavu river bank. She bought the scooter recently and that has helped her escape a long walk. Then she gets on a boat and rows across the river, often with a boatman. "But I need to row the boat, as well as the winds, will make the boat stray otherwise," Ushakumari explains. And that is only half the journey to school. After the boat ride, she treks through the hills of Kunnathumala for four km to reach her school. She is the lone teacher at Agasthya Ega Adhyapaka Vidyalaya, Kunnathumala, in the Agasthyarkoodam Biosphere where tribal children come to learn from their dear teacher.
Speaking of what inspired her to take up teaching tribal children, she explains that P N Panicker is her mentor. She worked with P N Panicker, the Father of the Library Movement in Kerala, in 1985-86 to educate tribal children. "He inspired me to go to villages to teach children who did not have access to schools."
Challenges encountered"The biggest challenge for me was to convince parents to send their children to school. They are scared of us. They even hide when they see us and keep their children away. They are mostly involved in making and distilling arack and they would get drunk and ignore their children's education. I had to sit with them and have meals with them and be one among them to get their trust to send their children to school and today, they believe in me."
There is a big uphill climb, wild elephants in the forests and more such challenges to reach school. "I started teaching in Kunnathumala in 2003. There were no roads and we would have to walk over rock boulders then. Now, there are small roads that lead to the school. There is news that they are going to build a small bridge across the river but I think we will have to wait for that," she says.
"Another challenge as a lone teacher here is that I am in charge of classes 1- 4 and all subjects. In between, if they call me for a panchayat meeting or a block meeting, I have to attend it. I sometimes feel it will help to have another teacher here. My son has completed the TTC (Trained Teacher s Certificate) and sometimes he comes over to teach. "
BIGGEST ACHIEVEMENT
She feels a deep sense of satisfaction in the work she does when her students go places. "I have students who are working now. Some have done the TTC, some have done BSc and some have got government jobs. When I joined the school, there was not even one student who had passed 10 grade but today they all manage to pass class 10 exams," she says proudly.
"After the students reach class 4, there are people who own hostels who take the students away to send them to other schools in the city but my students don 't like it there. They come back to me. My own children always complain that I don 't have time for them and that I only have time for my students in Kunnathumala, " she jokes.
There are social groups that help provide food for the students and she is happy that there are many well-wishers who provide financial help to support the cause. "There is a group in Trivandrum that provides raw materials for breakfast that we cook and feed our students. For lunch, we cook rice. The bags and books are also sponsored by our well-wishers. Because I put up posts on Facebook, people are coming forward to contribute to the welfare of our students," she says.
She has been teaching in the Kunnathumala school for 16 years, encouraging children to learn and get into jobs to lead better lives. She hopes to continue. "I'm growing older and I get leg-aches because it's a long way to walk. I also take eggs and milk for the students from Amboori. So most of the time, I will have extra baggage too to carry on my head or arms. But I will stop teaching only when the day comes when my legs stop moving," she concludes with a chuckle.
This Young Woman From A Tribal Village Is Teaching The Children While Schools Are Closed
The only graduate of a Tamil Nadu village has volunteered to teach the children of the village while the pandemic persists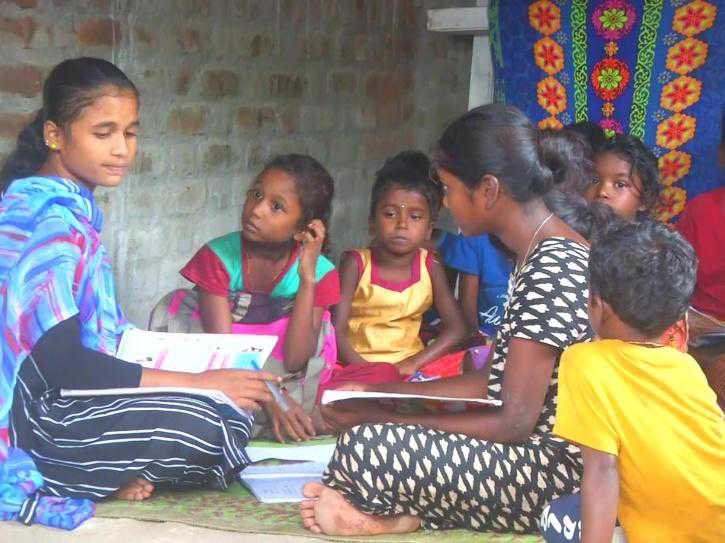 Where the digital network failed these tribal children in the southern part of India, their own stood to support them. Sandhya volunteers in teaching the kids of her village, Chinnampathy in Tamil Nadu. She is a graduate of B.Com, she is the only person from her village to have graduated college. Sandhya told India Today, "If it rains, we can't go to school. We only have one bus to our village and so after a certain age, people drop out of school."
Having gone through struggles herself, Sandhya knows how important a teacher and school is for growing children. So she volunteered to teach the children by herself, so they don't lag behind due to school closure. Sandhya said "When I was a child, I had no one to help me study. These children here have me to help them study."
One must ask the children from a remote rural or economically backward area, how it feels to not have the proper learning opportunities. The pandemic took more than the ability to roam about freely, it snatched away the ability to go to school for children on a global level. While it is easier for families with better income to support their child's online learning, most rural and financially challenged families are struggling.
The Indian government did start many projects for such students, but even learning via a television channel or free online course needs some basic gadgets and network connection. Many remote villages, like the tribal village, Chinnampathy, can not find enough network strength to have their children sit in front of a television and learn via the education channels.
On being asked how her classes are enduring she said, "The children come and ask me very freely all their doubt and they are not afraid of me. I see these children learning well and answering all the questions when I ask them."
Youth like Sandhya, who appreciate and signifies the work educators do and want to help the cause, are the future of the education sector!