The Curious Case Of School Dropouts & School-Switching In 2020 In India
Due to COVID-outbreak, are parents thinking about homeschooling already?

There have been large scale withdrawals of children from private schools in India during the last 9 months. These withdrawals have been more pronounced in the pre-primary and early primary grades. This article tries to capture the overall scenario that exists in India today. Experiences of different schools would have been different based on the socio-economic background of their parent community and how quickly and effectively were they able to transition to remote learning.
There were many reasons why the parents decided to withdraw their children from schools. Financial challenges, movement back to home towns as WFH became a viable option, deep-rooted beliefs about the importance of pre-primary education, opportunity to save money as schools went online and dissatisfaction with the now visible quality of teaching in schools have all led to schools losing enrolments. I believe that the reason I mentioned last is going to widen the trust deficit that exists between parents and private schools in the short term.
THE FIRST WAVE – SESSION BEGINNING WITHDRAWALS
The first wave hit the schools immediately after the government announced school closures in March 2020. The announcement also led to deferment of new admission decisions by parents and impacted admission numbers in certain geographies where parents tend to take decisions at the last minute due to oversupply of schools.
There were 4 major reasons why parents decided to abruptly discontinue the enrolment for their wards in schools and each one of them has been explored in greater detail below.
Financial Challenges
It's a known fact that parents in India see good education as a reliable path to a better quality of life for their children. Parents in India spend a significant part of their monthly income on private school education, often stretching their budgets. With the financial challenges, the pandemic brought along, the ability of a significant number of parents to continue to afford the school fee was curtailed which forced them to withdraw their children completely from schools.
Beliefs About Pre School Education
The first wave of withdrawals was more pronounced in play/preschools. While parents are usually willing to stretch their budgets for formal schooling, many of them make a decision to the contrary when it comes to pre-primary education. A large number of parents enrol their children with play/preschools before enrolling them in a formal school because of their proximity to home and lower fee.
The following beliefs of parents drove the above decision and also endorsed their decision to discontinue the schooling of their children in the pre-primary age group of 3-6 years. These strong beliefs are:
Education in pre-primary years is all about learning rhymes, counting numbers and recognising alphabets and is therefore not so critical to 'real education' that starts from grade 1.
Since the above content is simple to teach, it can be taught by anyone, including parents if required, with some effort.
Since the content is not considered extensive, they believe that even if kids miss out now because of not attending a school, they could catch up in subsequent grades.
Online classes would not be effective for kids in this age group.
All these beliefs are contrary to what the research in education tells us. The scope of early years education is enormous and goes way beyond building basic numeracy and literacy. The NEP 2020 talks at length about the importance of early years education.
The pre-primary segment of formal schools was impacted to a much lesser extent during the initial days of remote learning. The bigger problem of formal schools was more around non-payment of fee by parents which when started accumulating for many months, triggered the second wave of withdrawals a few months later, which I am going to talk about a little later in this piece.
Working From Home
As months passed, private companies offered some of their staff the opportunity to work from their homes in any part of India. Many families took the decision to move back to their home towns, thus deciding to withdraw their children from their current schools. Many self-employed professionals, too, started thinking of moving to their home towns and work from there and use this opportunity to be with their families.
Opportunity To Save Money
There is another set of parents whose children were studying in residential schools. One of the major reasons why parents send their children to boarding schools and pay hefty fees for the same is that, apart from acquiring academic knowledge, the children develop a variety of life skills which are unique to a boarding school environment. Since these opportunities vanished overnight and academic learning became the only output of the boarding schools, many parents decided to use this opportunity to save fee amounting to lacs of rupees by enrolling them in day schools in the city of their residence.
THE SECOND WAVE – EXPECTATION-DELIVERY MISMATCH
There was a sizeable set of parents who did not face much financial hardship during the lockdown phases. They continued to participate in school education through remote learning options provided. Since they were working from home, they had the opportunity to spend time with their children and support them in their learning which was happening both synchronously and asynchronously.
Parents rarely get to experience what happens in a physical classroom of their child. As classes went online, parents, for the first time, were able to actually see the teachers of their children in action. They were able to evaluate the knowledge, skills, teaching style and student handling ability of the teachers. They were able to judge how much their child was learning and how much engagement and involvement was the teacher able to provide.
Those parents who experienced a gap in what they perceived to be the quality of education being provided and what they witnessed as actual delivery, started feeling dissatisfied. This was also accentuated by the inability of the online medium to lend itself to effective teaching in a class size of more than 15 students, even though most schools have 30 or more students in each physical classroom.
Right from April, parents were putting pressure on schools to reduce fees as school physical infrastructure was not being used. Since schools were perceived to be saving on costs the parents demanded that this saving should be passed on to the parents. The shortfall in quality of education exacerbated the situation and made the parents hold fees of the school which over time led to the withdrawals from schools.
WILL THERE BE A THIRD WAVE?
Yes, I think there would be a third wave. This wave would be led by those parents who paid the fees the whole year and felt that the quality of education being delivered is not as per their expectations. They would do a more rigorous search for schools this year and enrol their children in schools that have proven their mettle during these challenging times. I also feel that there will be better than expected admissions in such schools as parents, who withdrew their kids from pre-primary grades, would re-enrol them as the economy comes back on track by March 2021.
I say this for 4 reasons.
Parents who withdrew their children from pre-primary grades have realised that children have fallen behind in learning and that they cannot teach their children as effectively as schools can.
Schools opening for pre-primary and primary children will take time and online could be the only mode of learning for at least the next 6-8 months.
Parents have been able to evaluate the quality of the teaching-learning process in their child's current school pushing them to think if that is what they wanted as education for their child.
Since most withdrawals have been from pre-primary grades, and the fact that TC is not required for admission in formal schools in grade 1 and below, parents wanting to re-enrol their children in these grades in schools other than their current school would not find any challenge in doing so.
CHALLENGES IN SCHOOL SWITCHING FOR PARENTS
I see the following challenges that parents of kids in grade 2 and above will face while switching schools:
TC is mandatory for enrolling a child in grades 2 and above in formal schools. Parents who have not been paying school fees would find it difficult to switch school unless they clear their past dues, unless there is a government order to that effect.
Parents are also likely to stick to the current school because of the monetary switching costs like admission fees, security deposits, new uniform cost and the fear of their child not adjusting in a new environment with new teachers.
Many parents believe that apart from a few premium schools, all schools in mid fee bracket deliver a similar quality of education. They also think that parents have to themselves work hard to ensure their child does academically well. These beliefs will make school switching irrelevant for such parents and they are likely to stick to the same school unless the school has awfully fallen short of their expectations.
These times have provided unique experiences for parents and school management and only time will tell how things turn out to be.
About the author: Harinder Chhabra, Founder-Director, The Infinity School, Greater Noida (West)
What is Hybrid/Blended Learning?
We are lifelong learners and need to keep pace with the fast-paced technology so that our students are ready to take the next leap. Our classrooms have to echo that thought and vision at all times through new pedagogies and teaching-learning strategies.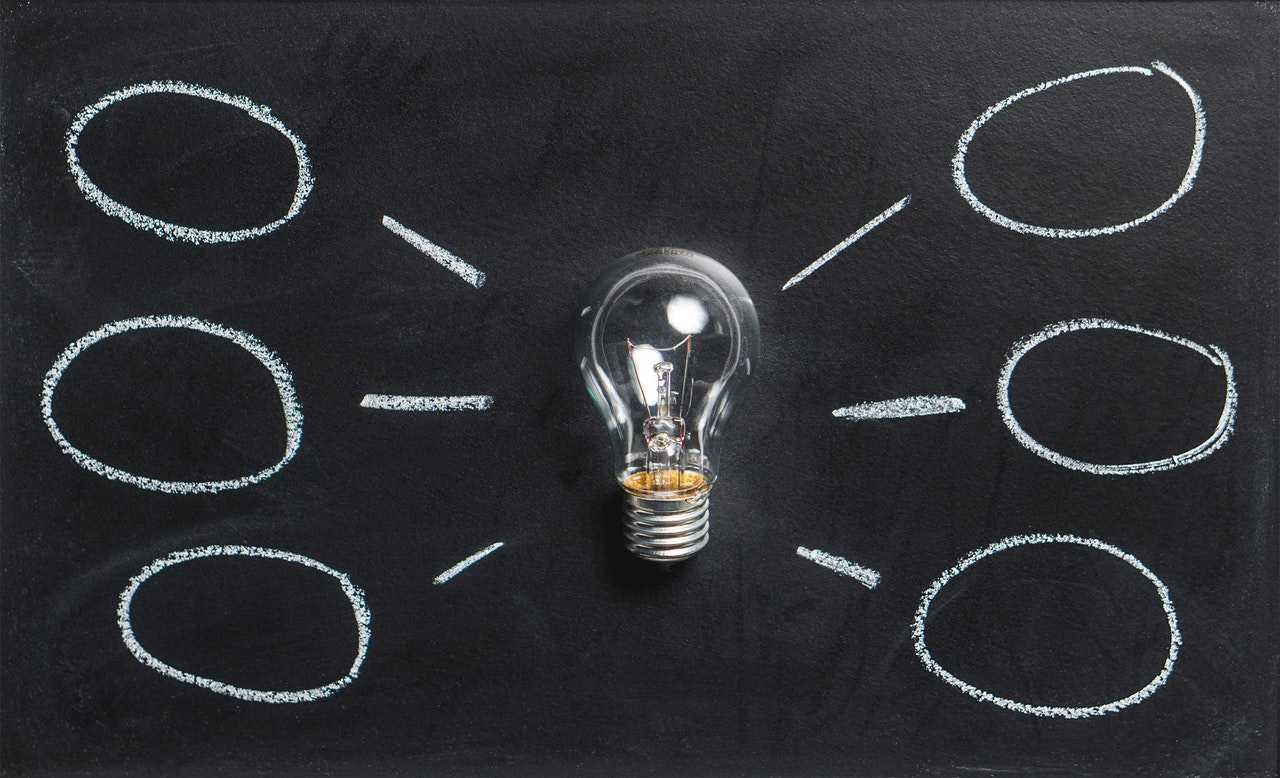 The COVID wave – consider it a bane or boon – but it somersaulted us to an array of digital world experiences. It propelled us to rethink and reorganize our mindsets, our practices, and our expectations. Overnight, we moved from an offline teaching mode to online, and credit to the teaching community for doing it so seamlessly. Now, we are back to offline teaching but do we continue with our old practices? An obvious no so we need to infuse our online experiences within the offline to ensure that quality education reaches one and all.
One key pedagogy to achieve the goal is blended learning, an approach that combines face-to-face learning with online learning incorporating certain elements that support students to have control over the pace, time, and place. The material resource investment is minimal but human resource investment is high till the ethos is assimilated within all.
So let's understand the varied types of blended learning and its implementation in the school teaching-learning process.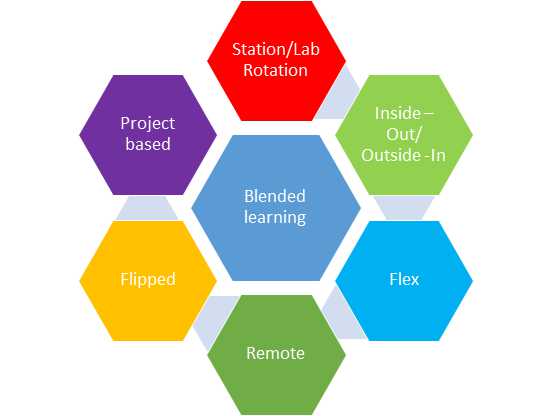 1. Station Rotation
In Station Rotation, students will rotate on a fixed schedule as per the teacher's discretion. The teacher begins her class of 40 students with instruction on narrative writing from 9:00 am to 9:15 am. She then splits the class into three groups where one group continues to learn with her. The second group works on a collaborative assignment on narrative writing and the third use their laptops or computers placed in the class and researches blended learning and after 15 minutes the group switches so that every group has varied experiences. A block class of English can support the various transactions and supports students to build research, collaborative and knowledge skills.
In the same format, if computers or laptops are not available in class then students use the computer laboratory in school and this rotation would then be called as Lab Rotation.
In this methodology, all students with varied learning needs are supported. The only challenge is the Technology and time management skills.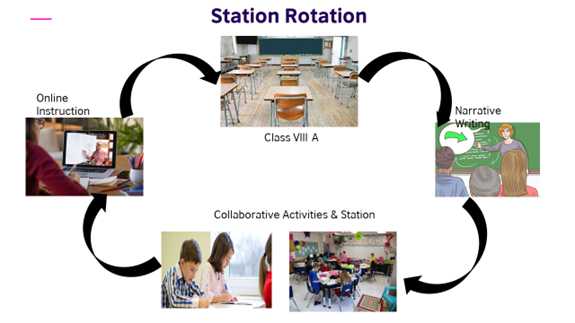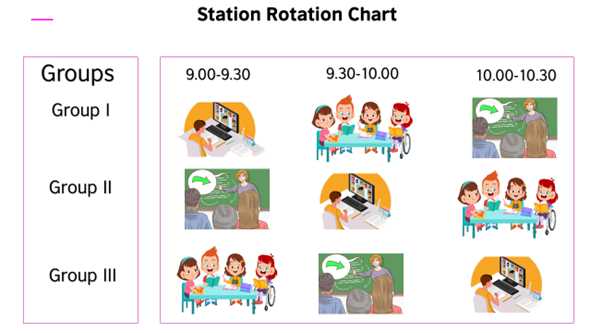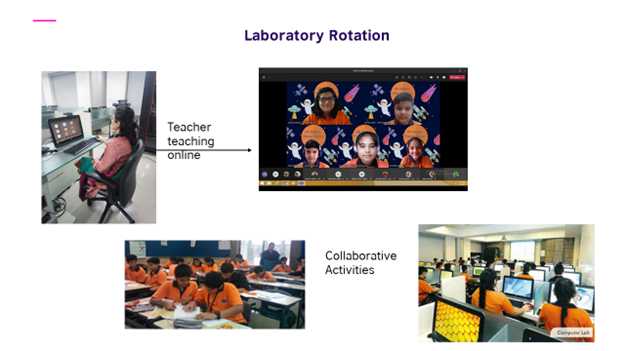 2. Remote & enriched virtual learning
It is a course or subject in which students have required face-to-face learning sessions with their teacher of record and then are free to complete their remaining coursework remote from the face-to-face teacher. In class, the teacher gives a project to students on 'Analysing any work of Shakespeare's or Rabindranath Tagore's Kabuliwalla' w.r.t. the criterion of plot, characters, theme, language, thought and values.
She briefs students on works of Shakespeare and the elements of a play within the school timetable and they complete all the work at home.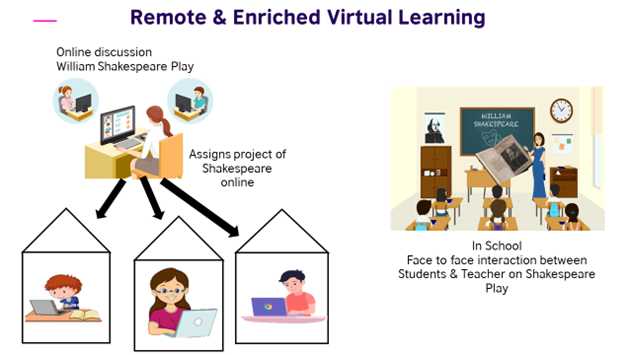 3. Flex blended learning
During certain weekends if the teacher wishes to support the students further in class especially if the concept has been challenging or students have underperformed in an evaluation, the teacher records her remedial teaching and uploads in-class computers. She designs a task around remedial teaching. She expects students to report to school wherein students enter the class on their own time, access the teaching, complete the task and leave. If they have any further doubts, they could approach the teacher in the school or their peers. A useful TIP would be for the teacher to Collaborate with their colleagues in club activities.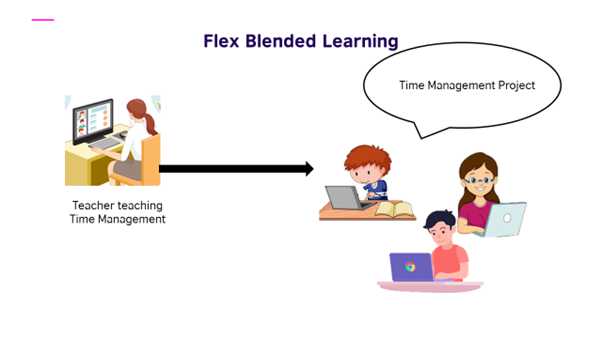 4. Flipped learning
As per TeachThought, a flipped classroom is a type of blended learning where students are introduced to content at home and practice working through it at school. This is the reverse of the more common practice of introducing new content at school, then assigning homework and projects to be completed by the students independently at home.
This methodology is most useful when you want students to have some knowledge of the content before analyzing it further. So if a teacher wishes to conduct a 'Book review'. She shares the e-book, 'Totto-chan' with the students. She asks them to read and shares certain discussion points. In school, students discuss the book and write personal book reviews. The teacher has used her class time constructively and has been to achieve greater learning outcomes.
5. Individual rotation blended learning
As per https://www.blendedlearning.org/models/, the Individual Rotation model allows students to rotate through stations, but on individual schedules set by a teacher or software algorithm. Unlike other rotation models, students do not necessarily rotate to every station; they rotate only to the activities scheduled on their playlists.
The teacher allows students to rotate through different kinds of classrooms called stations. A specific ILP [Individual learning plan] is created for each student. For example: Parth and Mona's examples work on clauses, Mona is struggling with Clauses so she attends classes and solves assignments whereas Parth will attend classes, watch a few videos, and also complete a research project on clauses. Thus the teacher knows her students' skills in greater depth and supports them individually to achieve her target learning outcomes.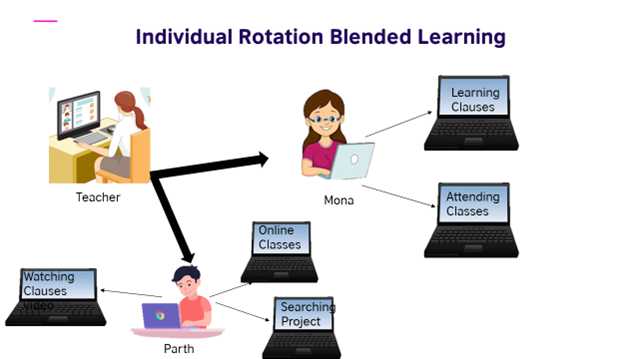 6. Inside-out and outside-in blended learning
In Inside-out, teaching and learning begin inside the classroom and move to an outside environment and in an outside-in classroom, it begins in an outside environment and moves inside the classroom. In a class environment, the Teacher discusses with students about 'Sound of Music' in class and ends the lesson by taking them to the theatre to watch the play. In Outside-In, Students watch the play in a digital environment and end the lesson in a physical environment by conducting role-plays.
The list of models is many but one has to review their resources and plan accordingly.
One can mention that they may face challenges in terms of technology, lack of training on digital platforms, lack of resources to create self-paced learning environments, or time management with vast syllabuses to complete.
Certain tips that can come useful are:
1. Teachers can begin with easily available digital content like Khan Academy, Pinterest, discovery Education, PBS Learning Media, and much more.
2. Review the available resources and plan a timetable. Most importantly, a team achieves more so collaborate with your colleagues in club activities.
3. Take small simple steps – "The journey of a thousand miles begins with one step." Lao Tzu. Choose the model that you are comfortable executing and then move forward.
As teachers, we are ever-evolving and we are that one profession that creates more professions so our responsibility and accountability stretch beyond the classroom. We are lifelong learners and need to keep pace with the fast-paced technology so that our students are ready to take the next leap. Our classrooms have to echo that thought and vision at all times through new pedagogies and teaching-learning strategies.
References:
Christensen Institute, Blended Learning definitions, https://www.christenseninstitute.org/blended-learning-definitions-and-models/
About the author:
Kavita Sanghvi holds a Masters in Physics, Masters in Education, Masters in Philosophy of Education, and CAEL [Certificate in Advanced Course in Educational Leadership] Diploma from Harvard University. She heads SVKM's CNM School, in Mumbai. She is a Teach SDG's Ambassador, Climate Action Ambassador, and Scientix Ambassador for India. She is a British Council Trainer and Ambassador.