The Internet of Things is set to revolutionise education and training in India.
The internet of things (IoT) connects electronic devices, smart phones and other devices through the internet to the cloud. This will provide a boost to education by allowing teachers to dynamically intervene in the class, enforce discipline, store all performance data on the cloud and provide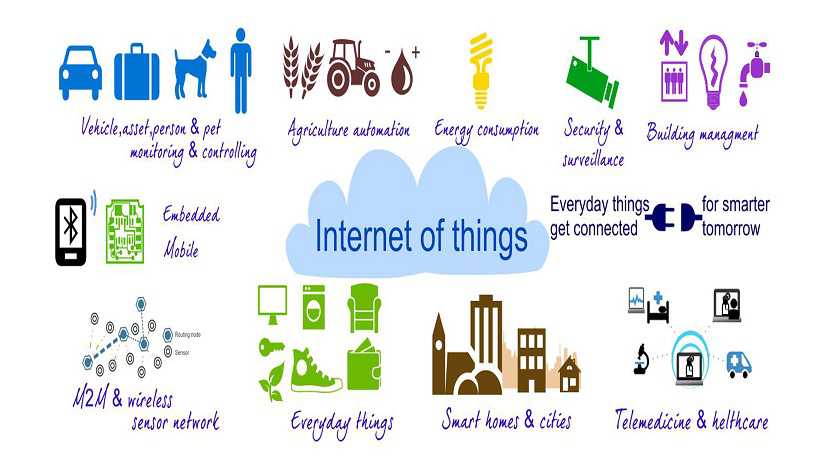 The internet revolutionised the lives of individuals like never before. Making available the world at the fingertips, whether it is information or conveniences like shopping, browsing, ordering, getting transport and what not. Now the internet is yet again set to change the lives of humans like never before in a different avatar. It is called the Internet of things (IoT). IoT is a web if physical devices which are connected to the internet and, by extension, each other.
These physical objects—sensors, smartphones, watches, electronics, appliances—'talk' to each other by transmitting data via the internet to the cloud, providing an enriched user experience. According to research firm IDC the worldwide IoT market will be valued at approximately $1.7 trillion in 2020.
While IoT is definitely touted as next big revolution in user experience, one aspect which is still fairly less discussed is the role of IoT in the learning and education domain. Using technology and IoT enabled infrastructure has the potential to improve the quality of learning, as well as connect teachers with students even in the remotest areas through video-conferencing and other systems.
Using digital learning tools like tablets, smartphones and PCs it is possible to bring back the joy of learning and in the long run ensure a dip in drop-out rates. Moving the learning process online can also potentially save a lot of time, cost and efforts.
The digital learning experience has already started in private as well as government-run schools as institutions have started developing ICT-enabled education. Many private institutions are encouraging the concept of BYOD (Bring Your Own Device) to encourage enhanced learning and to benefit from the installed digital infrastructure. Schools are already driving learning by using robotics, smart classes, 24×7 connectivity, Wi-Fi coverage setting the stage for a wider adoption of IoT in the education sector.
Students have already started using e-learning applications which allow them to work at their own pace; increasing both the course-completion rates and the learning levels. Using IoT, the user experience can be further enhanced as teachers can provide one-to-one instruction and seamless student assessment. Using cloud technology, data on student performance can be stored on the cloud ensuring any time access. Additionally, through cloud technology teachers can share and collaborate with each another thus ensuring easy knowledge transfer and sharing of best practices.
While educational institutes are installing enterprise-grade networking and connectivity solutions they need to ensure one more element is taken care of to ensure that their infrastructure is truly future proof. It is advanced data storage solutions. When the numbers of devices increase, correspondingly the data generated too will increase which will lead to space constraints on the devices used by teachers and students. Hence the need for robust data storage infrastructure to attain operational efficiencies.
The other elements to develop an efficient IoT network in the education sector are technology, efficient network for data transmission, data storage and data analysis.
Once fully functional, IoT would introduce operational efficiencies in all types of learning environments. Through always connected devices educators will be able to perform dynamic classroom interventions including enforcing classroom discipline through device vibrations similar to notifications received in silent mode.
A recent Gartner report revealed that India will account for 5-6% of the global revenue generated from the IoT industry by 2020. Education will be one of the key contributors towards that.
* Read the original story on www.financialexpress.com
Image used for representational purpose only
NIOS celebrates 33rd Foundation Day
Dr. Subhas Sarkar addresses the 33rd Foundation Day Celebrations of NIOS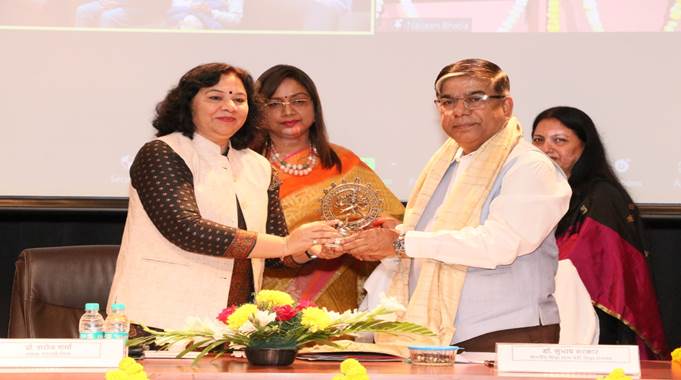 Union Minister of State for Education, Dr. Subhas Sarkar addressed the 33rd Foundation Day Celebrations of NIOS as the Chief Guest.
The function was attended by senior officials of the Ministry of Education, Chairpersons of educational institutions, Heads of Departments, officers, and staff of NIOS. Prof. Naval Kishore Ambasht, former Chairman, of NIOS and Pro-Vice Chancellor, of the Central University of Haryana, Prof. Sushma Yadav graced the occasion.
Dr. Subhas Sarkar in his address appreciated the various programmes and schemes of NIOS and said that NIOS is lighting the lamp of knowledge all over the world. Talking about the Azadi Ka Amrit Mahotsav, he mentioned that today's children will be young people in the age group of 30-40 years on the completion of 100 years of independence and will be responsible for building our nation.
He said that the Ministry of Education has entrusted NIOS with several responsibilities such as developing inclusive education resources, expanding the open and distance education system in states/UTs, translating all courses into more languages as required, creating Indian Knowledge Tradition based courses and propagating Indian culture by translating them into major foreign languages. He also praised the programmes of NIOS enrolling 10 crore adults under 'Basic Literacy Assessment', training of in-service teachers, Gender Green Project, and training in Yoga. He said that Indian Sign Language as a subject at the secondary level has been acknowledged on national and international platforms. He described the launch of an e-library called 'DEEP' by NIOS as a big step forward.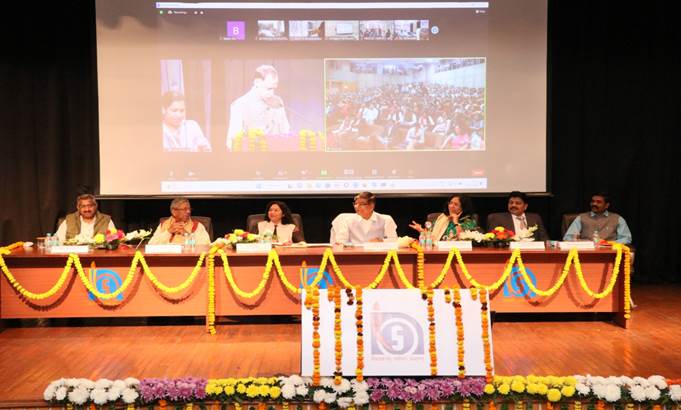 Prof. Saroj Sharma spoke about the journey of 33 years of NIOS and highlighted the special achievements. She said that NIOS is one of the two National Boards of Education under the Ministry of Education, which provides school education through Open and Distance Learning (ODL) for secondary, senior secondary, and vocational education. She elaborated on the role of NIOS in the field of education, efforts being made by NIOS for the successful implementation of the New Education Policy, Virtual Open School, Digital Library (DEEP), NEPIA Project, MoU with Ministry of Defence for Agniveer Project, setting up of Mukta Kaushal Kendras and subjects offered under Indian knowledge Tradition.
It was also conveyed by her that a curriculum called 'Aarambhika' is being developed by NIOS for catering to the Indian Diaspora.
A documentary based on the journey of 33 years of educational endeavours of NIOS was presented on the occasion. In this documentary, 'All England Badminton winner Pullela Gopichand said that most of the players in his badminton academy are getting an education from NIOS.
NIOS alumni, Ms. Niranjana and Vinod Kumar Chaudhary were also felicitated on the occasion. Shri Vinod Kumar said that only due to his education in NIOS, he was able to get the credit of making the Guinness Book of World Records 10 times (8 in Typing and 2 in sports). A proud learner of NIOS, Ms. Niranjana is a successful ventriloquist. Prof. N. K. Ambasht, former Chairman, NIOS said that in this age of technology, innovations must lead to developing 'standalone' courses for the Indian Diaspora, to achieve the goals of the National Education Policy- 2020. Pro-Vice Chancellor, Prof. Sushma Yadav said that the role of NIOS increases in the light of New Education Policy. NIOS has such potential that the institute will be able to achieve the ambitious goals of National Education Policy 2020 in the coming years.
The half-yearly magazine of NIOS 'Pragyan' was released by Dr. Subhas Sarkar on this occasion.