The Morocco hinterland is shining as education reaches out to Berber girls
Morocco NGO Education For All (EFA) is creating a massive difference in the lives of indigenous Berbers who are sending their girls to school. They have realised that educated women are the key to breaking the vicious poverty cycle.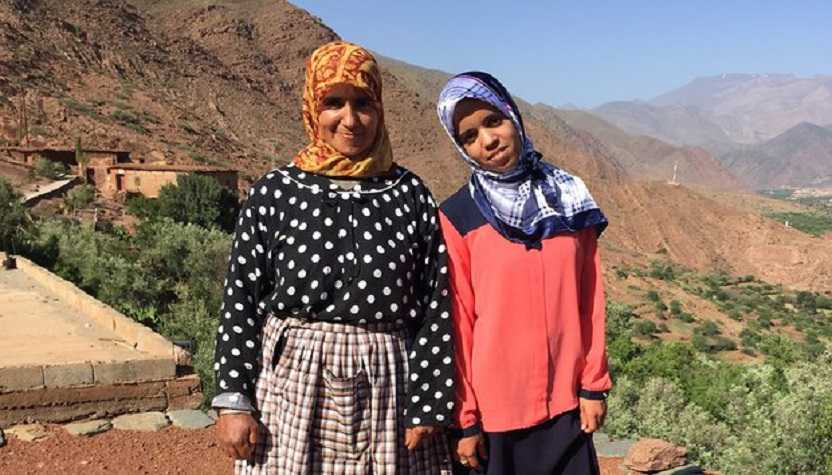 Just like music and art are universal in nature, so is the hunger for education and the intuitive grasp of illiterates over the benefits it can offer to overall uplift their lives. Consequently, every where people are struggling to gain education or if not possible then to at least make it available to their children. A similar scenario is being played out deep in Morocco's High Atlas mountains, in the hamlet of Tazalt.
In one of the small reddish-brown stone houses, Malika Boumessoud, 38, is serving sweet mint tea and looking at a photo of herself while shaking her head at how old she looks. In the next room, where 5 of her 6 children all sleep on 2 single mattresses on the floor, even as her eldest daughter Zahra, 19, is participating in a bold new experiment that could transform the lives of the girls and young women in the region. Unlike the vast majority of girls in the mountains, Zahra is being granted the gift of education.
For the past 7 years, Zahra bas been calling the boarding house run by Education For All (EFA) her home. Located in the town of Asni, 56 kilometres away, the house is a mere 5-minute walk from the school she has been attending since the age of 12. In September, she is hoping to go to university in Marrakech. Her mother, who married at 16, is acutely aware of how different her daughter's life could have been had Zahra followed most other girls in the valley and finished her schooling at 12.
I still wish I had gone to school," says Malika. "Even after all these years of marriage and having all my children, I still regret not finishing my education. I don't go out of the village; I just stay in the house day after day. I feel like a bird without any wings."
Rural Morocco is replete with such stories. Illiteracy rates for rural women and girls are as high as 90%. Girls, especially those in areas such as the High Atlas, are more likely to drop out after primary school. World Bank figures show that only 26% of girls from rural areas enrol for secondary education.
Even within the rural areas, these problems plague the Amazigh disproportionately, commonly known as Berbers, the indigenous people of Morocco. Even though the Berbers were adaptive and embraced Islam and began speaking Arabic after the conquests of the seventh century, the Berber culture and dialects of the Tamazight language have survived, especially in the High Atlas. At school, lessons are in Arabic, which for most Berber children is their second language, if they have been taught at all. Unsurprisingly, they do poorly compared with Arabic children.
But the language problem aside, in rural areas the distance to secondary schools is the biggest barrier, especially for girls. Khalid Chenguiti, education specialist at Unicef Morocco says: "Girls' education, especially at secondary level, remains a challenge. There are many reasons for this, including the fact that schools are often poorly equipped with washrooms and sanitary facilitation, transportation is often difficult and, in some areas, girls are still required to support domestic tasks and face sociocultural barriers for completion of higher secondary education. These factors often disproportionately affect girls in rural areas."
Chenguiti explains why it's a crucial problem to solve: "Providing girls with an education helps break the cycle of poverty: educated women are less likely to marry early and against their will; less likely to die in childbirth; more likely to have healthy babies; and are more likely to send their children to school."
EFA came up with the solution to bring the girls to the schools, an approach which is beginning to change the lives of Berber girls in a way that could eventually transform the region's future. EFA boarding houses, which are run solely by Berber women, provide accommodation, healthy food, support with homework and extra French and English lessons. The results are already telling an average pass rate for all academic years is 97%.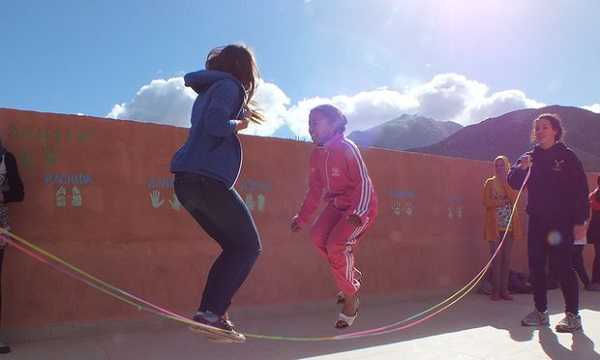 Understandably, Zahra is very happy for the chance that has been handed to her: "At primary school, I really enjoyed studying but I knew there was little chance I would get to go to secondary school. When I was selected [by EFA], I was so happy. I was really nervous when I first got to the boarding house but I feel like I have found myself since being there.
"I believe I will now have a good future and will be able to improve things for my family. My parents have been so supportive. They wanted me to have a better life than the one they have had. My first year of university will be very hard," she says. "I'm sure, as it's a very different life there, but I think it will be good for me."
Cut to Marrakech, which looks, sounds and feels like a different planet compared to the mountain villages. Here Khadijah Ahedouami, 21, knows exactly how Zahra is feeling. 3 years ago she was in the same position. She has no regrets for choosing to stay away from her family for education, but it has been far from an easy road.
"I actually failed my first year," she says. "Coming to Marrakech and studying all these new subjects was a hard thing for me to do, especially because I had only just got used to learning in Arabic, but at university everything is in French. I also had to get used to living in the city which is so different."
Besides battling the culture shock, she was also coming to terms with her mother's death. She passed away when Khadijah was still in upper secondary school and soon afterwards she lost her brother-in-law. "I had some family problems and my father had just remarried following the death of my mother.
"Even though it was a year and a half after she died, my first year was the hardest time because I was living away from home. With everything going on, I thought 'if I push myself with my studies, I'm going to lose my mind', so I decided it was OK to take things slowly and repeat my first year."
Khadijah was one of the 10 girls who went to live in Asni with EFA when the first house opened 9 years ago. She was encouraged by her mother who passionately wanted her to have an education because she had grown up in Casablanca, where it's normal for girls to be in school. But they first had to persuade her father.
She says: "My father agreed we could go to see the house and when we found it, he thought it seemed OK and liked Latifa, the house mother. He asked if I wanted to stay, and of course I said, yes. Studying is my purpose in life."
9 years later, Khadijah is not only the most educated girl in her village but also the most educated in the whole valley. So respected is she that when she is home villagers come to her house to ask for advice on problems with their businesses or families.
She says: "In my final year of school, I started to prepare my parents for the idea that I might go to university. By then, my parents trusted me but they only did because I earned it. During my years with EFA, I learned how to talk to people, how to spend my money, and how to stay respectable. And because other families look to me as an example when trying to decide whether to send their girls to school, I feel like I have to act very responsibly so they know education doesn't make you go off the rails."
Maryk Stroosnijder, one of the founders of EFA, says: "I think it is quite hard for the first girls because others look up to them, but the attitudes are slowly changing. The first parents took a risk and now we have parents begging us to take their girls."
Nor is Stroosnijder surprised to hear about Zahra's mother feeling like a bird without wings because, she says, many mothers feel the same. "But," she adds, "they are giving their daughters wings."
*This article originally appeared in www.theguardian.com
Teacher Warriors 2022: Fighting Goons to Educate Children
This is Neetu Singh, founder of Sab ki Paathshala. Hers is a story that must be shared, for the sake of hundreds of neglected children out on the streets.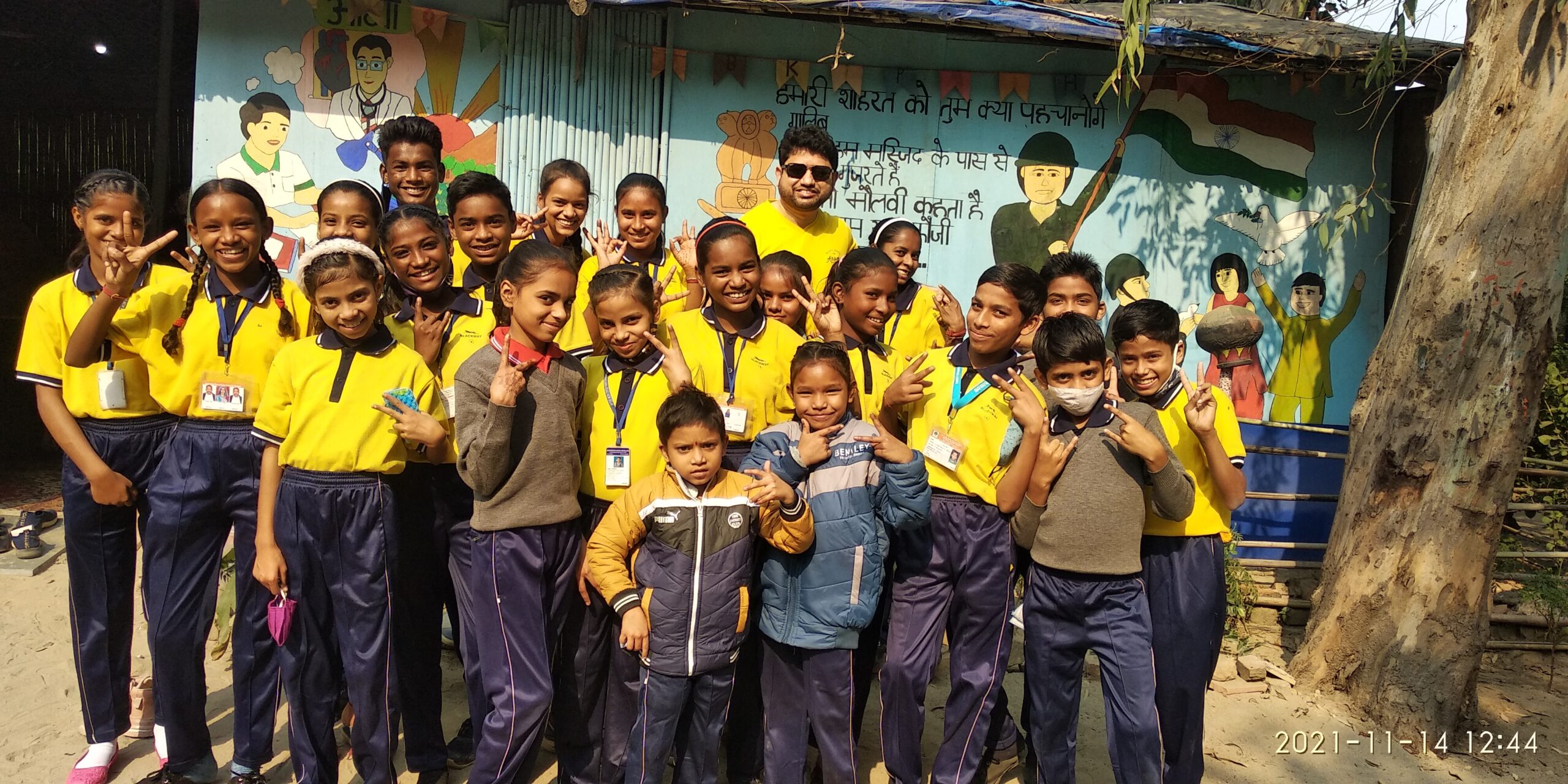 A little girl lived with her family in a slum of Sultanpur, Uttar Pradesh. Her parents worked as labourers earning minimum wage. They moved to Delhi in her early years in search of better opportunities. However, the struggle only increased. Bare minimum civic amenities like safe drinking water, sanitation and waste disposal, were luxuries that she could never experience.
Life in an Indian slum is no secret. The partial shade of high-rise buildings barely hides the poor living conditions of people living there. Amongst millions of people living in such informal settlements lived a girl who was building skyscraper of or in her dreams.
Looking at her family grapple under tin-sheet houses, compromising on safety and peace, the girl swore to get educated and help not only her family but also those who continued to live the same life as her. This is Neetu Singh, founder of Sab ki Paathshala. Hers is a story that must be shared, for the sake of hundreds of neglected children out on the streets.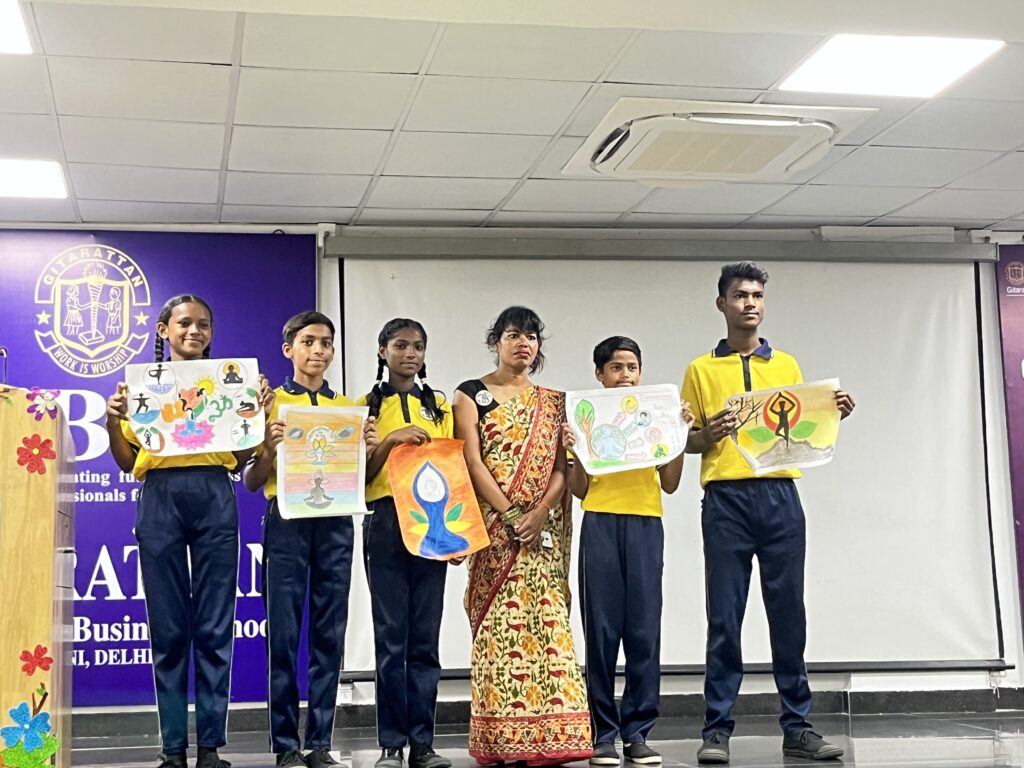 Challenges along the way
Neetu worked hard to finish school and battled every challenge with her strong willpower. She pursued her Bachelors in Education from Kurukshetra University and masters from Hansraj College of Delhi University. She worked as a guest teacher in a government school for two good years, until she lost the job.
While sitting idle at home, the itch to make a difference only grew stronger. She came up with a plan to start teaching the little children living around her house till she found another job. She began by meeting the parents of the children she would spot begging near the traffic signals. "I was surprised that I was conversing with parents who had made a four-year-old boy responsible for bringing money to the house. That little boy would wake up at 5 a.m. and work in unsafe, harsh conditions, while a healthy father sat at home doing nothing," Neetu said. "The kids were forced into the world before they could even understand it. My simple question to the parents was, what would they do after these kids would be able to distinguish between right and wrong and refuse to beg or engage in illegal activities? Wouldn't it be better that they study, get skills that can help them lead a dignified life?"
The straight talk stirred a positive change in only a few families. Nevertheless, she started teaching the four-five students who came to her. Her focus was primarily on girls but, she invited any student who wanted to study. The plan that was only designed for a few months has completed eight years now. Started in 2014, Sab ki Paathshala was her initiative of contributing to society and working towards improving the lives of as many as she could.
Neetu conducted the classes on a small piece of ground near a temple. The temple was located opposite gate number one of Pragati Maidan, Delhi. She thought it would not only be a safe place but, people of the temple or visitors might notice and help this noble cause. Instead, she was only met with unfriendly and troublesome people. The staff of the temple would often dump water, intentionally just before she was to take the class. The ground would take almost two days to dry, in which case, she would either call off the class or the students had to sit on the damp ground to study. She was denied the request for bringing seating mats or tying a plastic sheet roof over the seating area to protect the children from heat. As a result, the teachers and students, both fought through the harsh weather of the city to study. The people living in the neighbourhood demanded she stops ruining the atmosphere. The comments did not distract Neetu; she continued to teach on the same piece of land and began writing to the government for aid to deal with the troublemakers.
Neetu was relentlessly trying to explain the positive aspects of education to the parents to encourage them. If that wasn't a challenge big enough, goons were sent to threaten her and stop her from educating the children. The police did not provide any assistance for a long time.
"When I think about that day, I feel grateful as ever for being alive," Neetu said. "Some of these young children used to steal, some were sent to deliver drugs, and run errands, only because police would never doubt kids. With me, they were learning the difference between good and bad. So, the goons came knocking on my door, not only threatening me but also some of the little girls who were studying with me. I stood my ground because I knew that neither my actions, nor intentions were wrong. To look at them in the eye and ask them to leave while they went on warning and swearing at us, I never knew I had that kind of courage. It was the faces of these children that motivated me to continue working with them," she added.
After the incident, Neetu sent letters to Mahila Ayog Delhi, the commissioner and the public grievance portal of the Prime Minister. It took two years for the threats to stop. The replies to her letters were sent directly to the police station of the responsible area, explaining her work and stating that she had no other intention but to teach the children. It was then that the police went to her, this time with no harsh words, and assured her of protection.
Just when the challenges seemed to be coming to end, the Covid-19 pandemic hit the world, and Sab ki Paathshala. Teachers who would conduct classes stopped coming, the number of volunteers reduced and children were confined to their houses. Yet, the thought of giving up never crossed her mind.
Now, in the post-pandemic era, she shares her resources and time with anyone who visits the school. She organizes festive activities and annual days for the students to strike a balance between education and extra-curricular activities. She also engages with teachers of other schools who come as guest lecturers for the students.
Innovative method of teaching
"In the beginning years, I had as many as fifty students coming to study. They were used to temporary initiatives and thought that I was doing the same. With time, they understood that I am very serious and here to stay. So, the number of students reduced after some time. Those who wanted to study, are still associated with our school. Some have been with us from grade 2 and have just given grade 10 state board exams," Neetu said.
In the beginning years at Sab ki Paathshala, the children are not taught subjects like in regular schools. They start by learning the basics of reading and writing in Hindi. Any Hindi language book is helpful to carry out the exercises. The children also learned English the same way. They are made to read out paragraphs, discuss the difficult words and their use in a sentence, and write letters or essays in the same language. When the students reaches higher grade 9, Math has been introduced because the students aim to appear for the grade 10 exams. With their basics strong, they are able to understand what is taught and enrol in government schools around the neighbourhood, continuing to take the two-hour class at Sab ki Paathshala. In extra-curricular activities too, Neetu's students are shining bright in their respective schools.
"I was never allowed to be a part of the annual dance shows or performances when I was in school. My parents were already going above and beyond to let me study. Any extra-curricular activities were only a distraction, according to them. So, I taught my children the beauty of arts and expression. This has led them to confidently get on stage and bag prizes and medals for both, themselves and the school," Neetu said. "A group of my students go to the nearby school and they tell me how the teachers insist that the students of Sab ki Paathshala go for inter-school competitions and performances. I live my school life all over again when I see the excitement in their eyes."
Sab ki Paathshala, with the help of professional volunteer teachers, engage in teaching yoga, gardening, poster making, drawing, theatre and dance to the students of the school.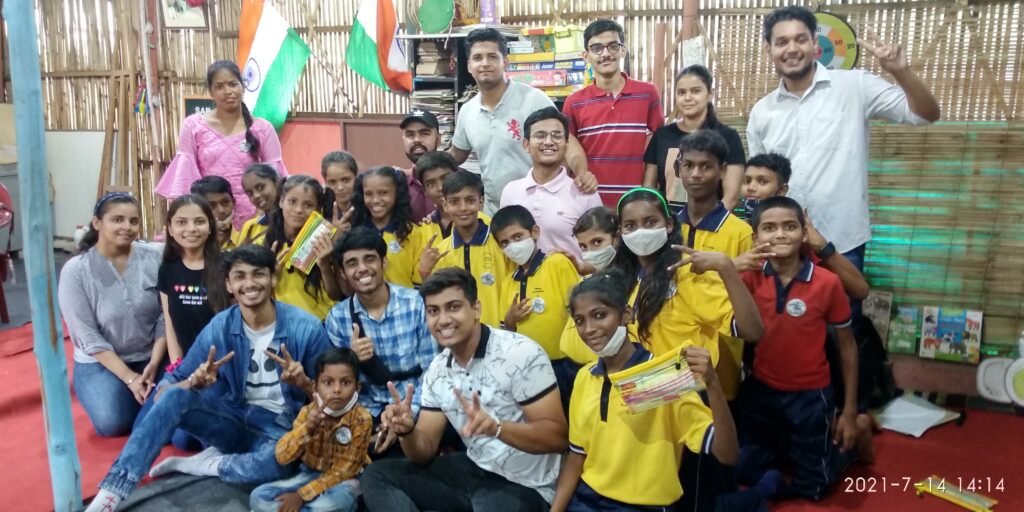 Views on NEP 2020
"I have high hopes for the new policy. Earlier the education system was based on memorization i.e. you teach the students while they learn just enough to pass the exams. The grades in exams were the overall report of the student, the teachers or the government was not bothered by anything else. I know this because I have also been a part of the same education system," Neetu said. "The policy is very beneficial for the overall development of the students and I wish it had been applied sooner. I also like how the Fundamental Right of Education that was set at 14 years of age has now been changed to 18 years. This was a very necessary step. The students will now learn more about our culture and will be able to pursue their interests. However, I would request the government to also consider the growth of underprivileged children. The government could collaborate with NGOs to develop schools in the nearby slums. I would often ask the reason for not going to school and many children were not even aware what schools were or how they functioned," she added.
Pat on the back
"One has to be extremely patient; there is no other way to do this," Neetu said, in a message for educators who are following the same path as her. "Perform at your full, follow your intuitions and, in the end, let your work speak for you. I could only explain so much to the parents of these children. It was the change in their behaviour, attitude and understanding of the child that convinced them."
A teacher once visited Sab ki Paathshala and observed the children and staff of the school. With many people visiting the school, Neetu thought the teacher was also a well-wisher like others. Soon, she found herself receiving an award from The Rotary Club of Delhi. The teacher had seen her efforts and the growth of the children and had nominated her for the award. This helped in spreading the good word for Sab ki Paathshala and people started contributing to the school as volunteers, with a donation or bringing students to her for quality education. Every time a student performs well, she adds it as an achievement to her list.
"I understood very early in my life that education was the only way to change my life. However, it was not a cakewalk to get here. I have clear pictures in my mind of a few incidents. Like, my first day at school; the day I was slapped and humiliated by my teacher for not being able to read and write; the days I went to school without food and sometimes survived only on a fruit given during the mid-day meals," Neetu said. "When I look back at the eight-year-long journey of Sab ki Paathshala, it motivates me to keep going. I have taught my students the impact and importance of education. I also remember the first girl I took as my student, the first time my students won a prize or scored well in their academics, and their smiles when they felt the rush of energy talking to me about their dreams. I am working towards my goal of educating one-lakh students of the country and I hope I achieve that soon because I cannot wait to see these children join the army, join the government and become great artists."
Call for action
From being on the streets to helping those on the streets now, Neetu's journey has been an incredible one.
Sab ki Paathshala takes donations in both, cash and kind. One could offer to be a volunteer teacher for the children, donate uniforms and stationery, sponsor a student or contribute to the infrastructure of the one-classroom school. Their website has information on fund links as well as the goals they are trying to reach. Neetu urges people to visit the school, meet the children and then decide how they can help them. We urge the readers to visit their website and reach out to the members to engage with this cause for change.