Time to discover Earth all over again!
American record holder for the most cumulative time in space, Scott Kelly has successfully returned to earth. Including his one-year mission, he has accrued a total of 520 days in space. Now he is all set to retire from NASA on 1 April 2016, but will continue to contribute to NASA in whatever way po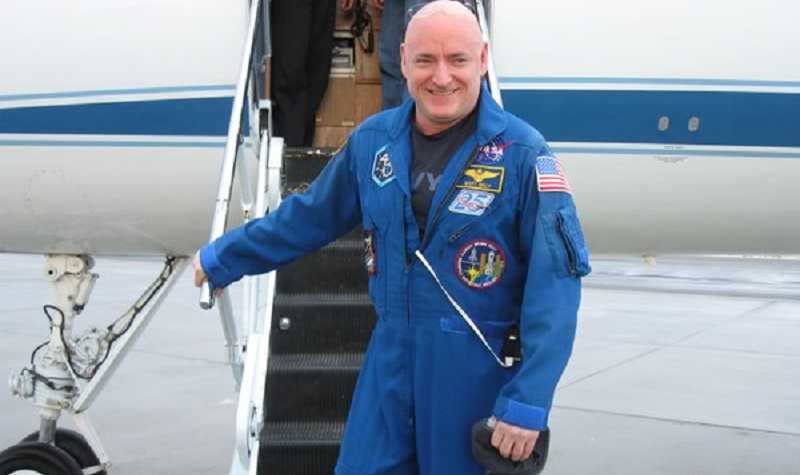 "On April 1, I will retire from NASA. While I am leaving NASA, the journey is not over", says the ever positive astronaut Scott Kelly who is recently back from a record 340 day long mission on the International space station.
52-year-old Kelly spent a U.S. record 340 days in orbit on the International Space Station. He also holds the American record for most time in space – 520 days accrued over 4 missions including the latest year-in-space mission. Kelly's first tryst with space was with space shuttle Discovery's trip to NASA's Hubble Space Telescope on the STS-103 servicing mission in 1999. On his second mission, STS-118, he crossed the threshold of the International Space Station for the first time as commander of space shuttle Endeavour. He returned to the station for a six-month stay in 2010, commanding Expedition 26.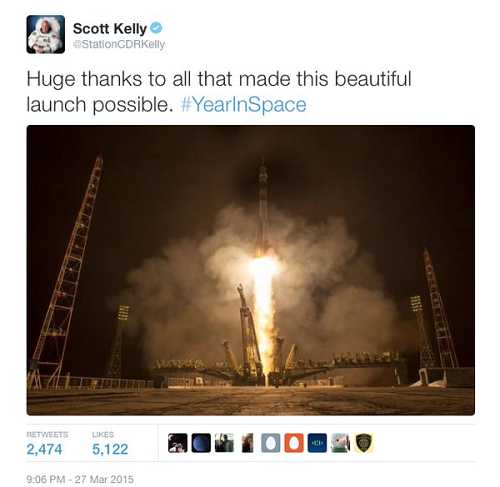 His latest mission saw him travelling some 143,846,525 miles around the globe while conducting various experiments and studying the long term effects of space on the human body.
NASA announced Mr. Kelly's retirement on Friday, less than two weeks after he returned to Earth. He leaves the space agency on April 1. "I look forward to continuing my 30 years of public service in a new role," Mr. Kelly, who joined the Navy in 1987, said in a Facebook post. "To continue toward any journey, we must always challenge ourselves to take the next step."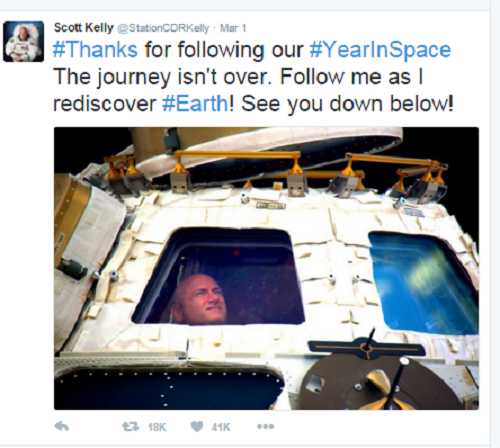 Following his retirement, Scott will continue to participate in the ongoing research related to his one-year mission for as long as is necessary. He will continue to contribute by providing periodic medical samples and support other testing in much the same way that his twin brother, former astronaut Mark Kelly, has made himself available for NASA's Twins Study during his brothers mission.
Brian Kelly, director of Flight Operations at NASA's Johnson Space Center in Houston was all praises for Scott, "His contributions to NASA are too many to name," said. "In his year aboard the space station, he took part in experiments that will have far-reaching effects, helping us pave the way to putting humans on Mars and benefiting life on Earth. His passion for this work has helped give hundreds of thousands of people a better understanding of what NASA does, thanks in part to the numerous photos and updates he shared from space. We appreciate his years of service and anticipate many benefits to come from them, thanks to the research he's supporting."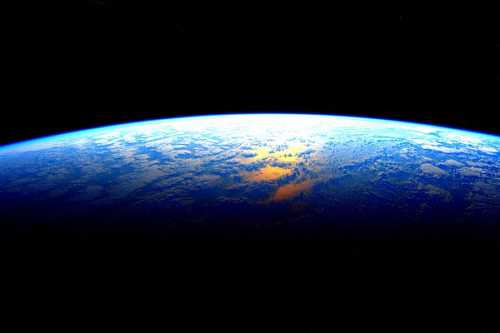 NASA Administrator Charles Bolden, a retired astronaut himself, said the space agency and science in general is grateful to Kelly, who he added deserves "meals that don't come in a bag, a cold beer, hot showers, cool autumn breezes, the sounds of birds chirping, the ability to lay his head on an actual pillow and so much more of the pleasures of life."
Astronauts who eventually will land on Mars "will be following in the footsteps of one of the finest astronauts in the history of the space programme, my friend, Commander Scott Kelly," Mr. Bolden said in a statement.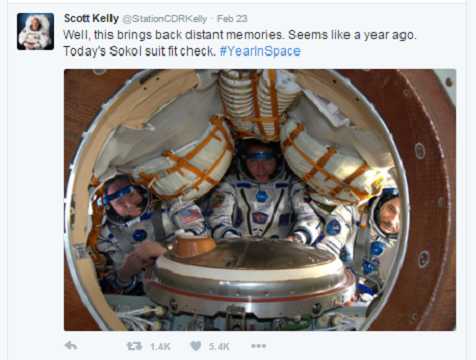 Space can be a pretty demanding place given the very limited options of physical activities and food. Most importantly social interactions are severely curtailed; it doesn't come as a surprise that Kelly posted hundreds of images, mostly of Earth from orbit, on social media. But he also engaged in a little fun, donning a gorilla suit that was a gag gift from his brother and chasing fellow astronauts through the space station in a video.
His re-entry into land living was good and bad. Home in Houston, he dove into his backyard pool still in his blue flight suit, going underwater for the first time in nearly a year. But clothing was a problem. In space, his clothes floated around him and didn't touch his skin.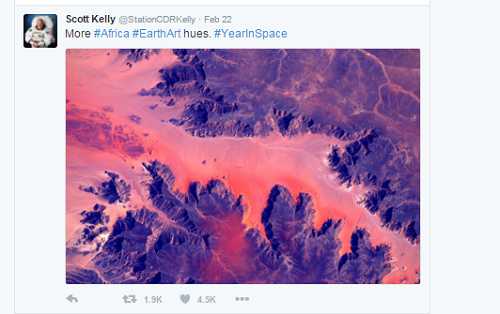 "It's very, very sensitive," he told reporters last week. "It's almost like a burning feeling wherever I like sit or lie or walk. Adjusting in space is easier than adjusting to Earth for me," Kelly said in his first post flight news conference a week ago. Even then he gave a hint of what was to come, saying he doubted he'd fly again for NASA but adding, "I'll never be done with space. I will always be involved."
As a parting comment, Kelly made light of his record time in space, saying, "Records are meant to be broken, I am looking forward to when these records in space are surpassed."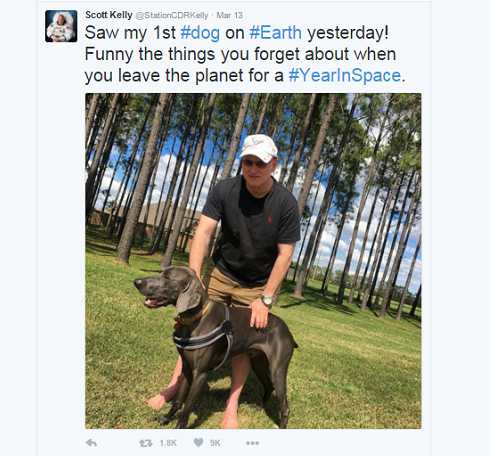 10 Books Teachers Can Use To Foster Entrepreneurship
Vinay Singh recommends 10 of the best books to give young entrepreneurs a dose of inspiration and get started.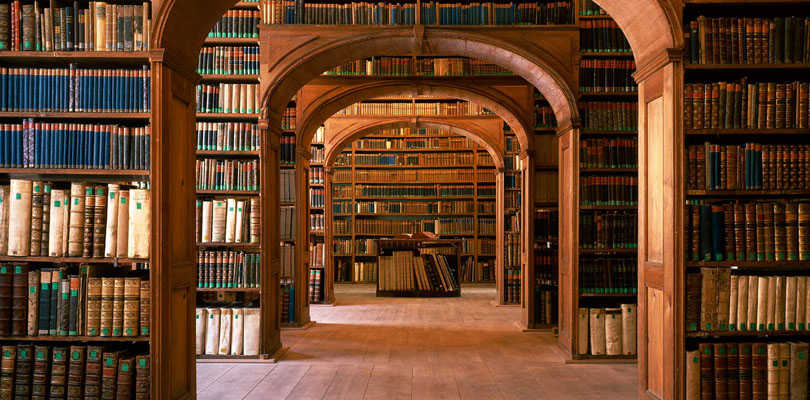 The more that you read, the more things you will know. The more that you learn, the more places you'll go. – Dr Seuss
While there are many books to read for young, aspiring entrepreneurs, here are 10 of the best books to give young entrepreneurs a dose of inspiration and get started.
How to Win Friends and Influence People by Dale Carnegie
Dale Carnegie's timeless classic is a book that is packed with rock-solid advice that has carried thousands of now famous people up the ladder of success in their business and personal lives.
As relevant as ever before, this book's principles endure, and will help the reader achieve maximum potential in the complex and competitive modern age.
Learn the six ways to make people like you, the twelve ways to win people to your way of thinking, and the nine ways to change people without arousing resentment.
Rich Dad, Poor Dad by Robert T. Kiyosaki and Sharon Lechter
Robert T. Kiyosaki developed his unique economic perspective from two very different influences – his two fathers. One father (Robert's real father) was a highly educated man but fiscally poor. The other father was the father of Robert's best friend – that Dad was an eighth-grade drop-out who became a self-made multi-millionaire.
This clear, well-written, and thought-provoking book is not just about money. It's about how we are taught to think; how we are programmed by schools, family, and friends and the steps we need to take to reprogram our minds.
Thinking Fast and Slow by Daniel Kahneman
Engaging the reader in a lively conversation about how we think, the author reveals where we can and cannot trust our intuitions and how we can tap into the benefits of slow thinking. He offers practical and enlightening insights into how choices are made in both our business and our personal lives—and how we can use different techniques to guard against the mental glitches that often get us into trouble. Thinking, Fast and Slow highly is highly recommended if you're interested in why human beings behave the way they behave and will transform the way you think about thinking.
Crush It! by Gary Vaynerchuk
Gary Vaynerchuck is widely considered a web celebrity and social media expert. He used social media and online video (WineLibrary TV) to gain incredible exposure and propel his wine business to unprecedented success. In Crush It! Why NOW Is the Time to Cash In on Your Passion, readers will learn how to harness the power of the Internet to make their entrepreneurial dreams come true. The book has some great tips regarding social media and personal branding.
Start with Why by Simon Sinek
Any organization can explain what it does; some can explain how they do it; but very few can clearly articulate why. WHY is not money or profit—those are always results. WHY does your organization exist? WHY does it do the things it does? WHY do customers really buy from one company or another? WHY are people loyal to some leaders, but not others?
Drawing on a wide range of real-life stories, Sinek weaves together a clear vision of what it truly takes to lead and inspire. This book is for anyone who wants to inspire others or who wants to find someone to inspire them.
The Lean Startup by Eric Ries
Eric Ries defines a startup as an organization dedicated to creating something new under conditions of extreme uncertainty. The Lean Startup approach fosters companies that are both more capital efficient and that leverage human creativity more effectively.
Rather than wasting time creating elaborate business plans, The Lean Startup offers entrepreneurs – in companies of all sizes – a way to test their vision continuously, to adapt and adjust before it's too late. Ries provides a scientific approach to creating and managing successful startups in an age when companies need to innovate more than ever.
The $100 Startup by Chris Guillebeau
In The $100 Startup, Chris Guillebeau tells you exactly how many dollars his group of unexpected entrepreneurs required to get their projects up and running; what these individuals did in the first weeks and months to generate significant cash; some of the key mistakes they made along the way, and the crucial insights that made the business stick.
This is a great glimpse into what is possible with a small investment, for people who have absolutely no experience in being an entrepreneur or online business owner.
The Art of the Start 2.0 by Guy Kawasaki
In this book, Guy Kawasaki brings two decades of experience as one of business's most original and irreverent strategists to offer the essential guide for anyone starting anything. From raising money to hiring the right people, from defining your positioning to creating a brand, from creating buzz to buzzing the competition, from managing a board to fostering a community, this book will guide you through an adventure that's more art than science—the art of the start.
The Psychology of Selling by Brian Tracy
The purpose of this book is to give you a series of ideas, methods, strategies, and techniques that you can use immediately to make more sales, faster and easier than ever before. This is a useful & practical book on all the key things you need to know when it comes to sales, persuasion & consumer psychology. Brian Tracy's ideas are both easy to understand, practical and well thought through.
The Entrepreneur Mind by Kevin D. Johnson
In a praiseworthy effort to distill some of the most important lessons of entrepreneurship, Kevin D. Johnson, president of multimillion-dollar company Johnson Media Inc. and a serial entrepreneur for several years, shares the essential beliefs, characteristics, and habits of elite entrepreneurs.
Smart and insightful, The Entrepreneur Mind: 100 Essential Beliefs, Characteristics, and Habits of Elite Entrepreneurs is the ultimate primer on how to think like an entrepreneur.
Source – Goodreads