WEBINAR: Early Lessons For Education & Schooling During COVID-19 Crisis
ScooNews conducted a webinar on Zoom & FB Live with Dr. Ger Graus (Panel Chair), Dr. Mary Ashun, Jose Papa, Dr. Swati Popat Vats & Dr. Arunabh Singh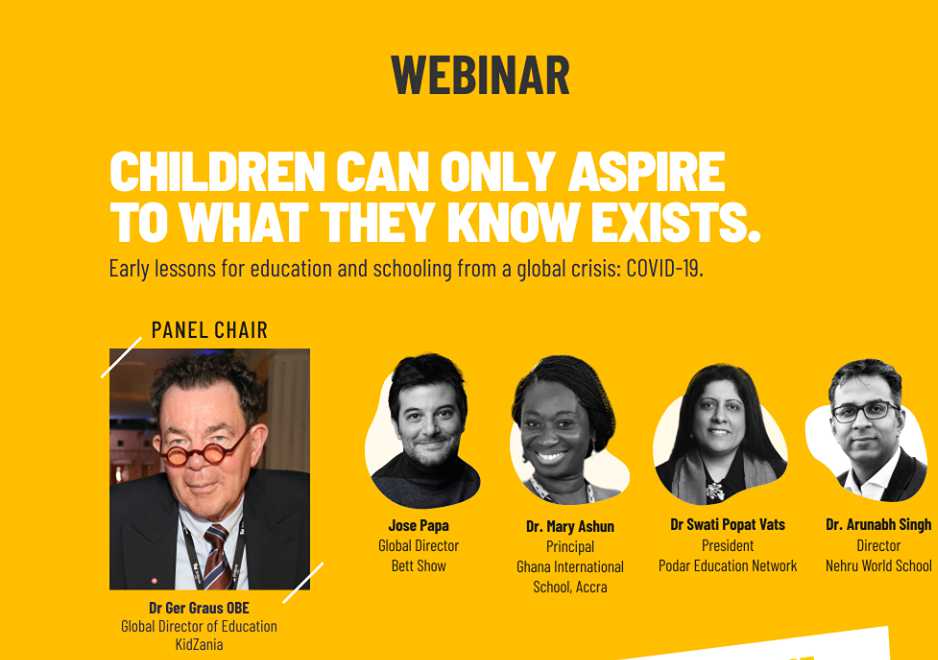 On 9th April 2020, ScooNews conducted yet another informative webinar on "Early Lessons For Education And Schooling From A Global Crisis: COVID-19, addressing the challenges that the COVID-19 pandemic puts on the education sector and how it can be tackled. The Live session was attended by more than 10,000 educationists.
The webinar was hosted by our guest panellist Dr. Ger Graus OBE, Global Director of Education, KidZania. Other panellists included Jose Papa, Global Director, Bett Show, Dr. Mary Ashun, Principal, Ghana International School, Accra, Dr. Swati Popat Vats, President, Podar Education Network and Dr. Anurabh Singh, Director, Nehru World School.
The webinar begins with an address by Dr. Graus who cherished being surrounded by other wonderful panellists to discuss the issue. "Friendship is better than normal ships and it is really true that we can't do any of these things on our own," he says.
He then proceeds to a presentation discussing the challenges that the Corona pandemic has brought and also the optimism that follows. Dr. Graus brilliantly narrates how the pandemic has led us into introspection about the online and offline living. He gives a personal account of himself and his family, who miss the offline social life during the lockdown.
Dr. Graus also explores the silver linings emerging out of the pandemic as teachers will be more appreciated by both parents and students.
He makes the audience understand the distinction between schooling and educating our children by giving the example of Barcelona Football Club's motto 'mes que una club' that means 'more than a club.' In his opinion, the primary schools should also adopt a motto on similar lines 'more than a school'.
Dr. Graus acknowledges the importance of school and calls it the heart of our community rather than just a building to produce grades. "In the future, the role and importance of schools at the heart of the community needs reexamination both on and offline and the outcomes needed to be acted on urgently," he says.
The importance of 'access' is also discussed by Dr. Graus and he puts great emphasis on how the lack of access to educational resources both online and offline is widening the social gap.
He concludes the presentation by giving some valuable advice on education and how adults should make children comfortable and feel safe and secure. He guides, "Please remember who you are and not what you are. It will bring out the best in people."
Dr. Grass then invites Dr. Mary Ashun, Principal, Ghana International School, Accra, to share her views about the ongoing situation.
"We are all unified for one purpose, we want what is best for our children," remarks Dr. Ashun. She talks about how we need to connect in order to keep education great for children.
She gives an overview of the Ghana International School situated in Accra and shares a wonderful story about how one of his teachers gifted her a painting of a ship on turbulent water that resembles the current situation of her school and how the teachers are praying for her to steer the ship well.
Dr Ashun shares her struggle during the lockdown both on the professional and personal front. She talks about the stress she is facing in keeping things from falling apart. According to her, parent, teachers, and administrators are facing the same kind of stress and they need to understand each other to keep things afloat.
"I want a school standing when we are ready to go back to school. That is critical for me and the people who will keep the school going are the teachers. They are my assets and I have to make sure that they don't fall apart," she reaffirms.
She says that social distancing has affected her as the culture in Ghana has always been outgoing. She adds how she is striving hard to please all the stakeholders even if sometimes it seems impossible.
The next speaker was Dr. Anurabh Singh, Director, Nehru World School, who continues the session with an astounding thought – "For 42 years, students have been coming to the school to study and it all stopped three weeks back!"
He shares his experience that how all the professional development of teachers so far has been for the betterment of traditional classrooms and not for online teaching. In the current situation when teachers are expected to conduct online classes, it'd become stressful for them as the students are better at technology than the teachers. According to him, teachers will have to understand and tackle the fact in a way so they emerge as the ones who have the ultimate power to guide the session.
He admits that another challenge for teachers is to make their students connect with them and their classmates during the online classes. He acknowledges the importance of access to data in these times with a hope that the government will realize how important it is for us to stay connected.
He ends his session with the note that 'this event will 'change our DNAs forever and we will be better prepared next time.'
The discussion then moves on to Jose Papa, Global Director, Bett Show. Mr. Papa begins with acknowledging the special opportunity and sending out a message of optimism on how this chaos has brought us together and given us a chance to transform the world for better.
Being an expert from the Ed Tech field, he shares that no matter how challenging this time is for the companies, it's also a great opportunity to reset the old way of working and lay the foundation of future by endorsing digital platforms as the way of the future.
"Technology is going to be the fundamental way of how we are going to interact with each other and how we're setting the cornerstone of the future through the use of technology now," he assures.
He informs that this the right time to acknowledge the importance of technology in education and that's exactly what BETT is doing by grabbing the opportunity to align technology with education as never before.
He then goes on to talk about the importance of active access to technology to all level of society and the importance of working with national governments to formulate policies for the same. "The current crisis has renovated our purpose," he adds.
The next speaker was Dr. Swati Popat Vats, President, Podar Education Network, who begins by acknowledging the importance of BETT in making technology education-friendly and introducing us to the unique ideas from around the globe.
She expresses the concern about how difficult it is for the Early Childhood community to go online as children thrive for human touch and presence.
Since Podar Education Network has many preschools in remote areas where the access to proper internet connection is a challenge, she says the administration is trying all possible media to keep the connection active. "We are trying to ensure that the children see their teachers every day Live because that is the most important thing," she remarks. She adds that for now Google Hangout, WhatsApp video calling and teacher's personal cameras are being used to deal with the situation.
She talks about their two schools in Dubai that are now closed until June, unlike those in India because here the parents are comparatively open when it comes to online home-based learning, that's putting more emphasis on skill development at the moment.
"We are advising the parents to talk in a positive way to their kids and show them resilience as this is the stage where they imitate adults," she advises.
Dr. Vats shares that her team has received a large number of photographs and videos from parents establishing the fact that the initiative was an instant success.
She concludes with the message that 'we should begin promoting digital literacy among children already.'
Moving on to the next section, Dr. Graus puts three important questions for the panellists.
How will we be better ready for the next time?
What will be our message to the policy-makers?
Should we change our attitude towards dealing with technology in schools?
Dr. Singh takes these questions with the advice to government that they should intervene and promote learning through television and radio channel for the children who lack access to stable and fast internet connections. He makes the distinction between group studies and individual projects to keep the kids engaged when they lack access.
"Teachers need to build communities and small learning groups for children rather than providing only content. Kids need human collaboration more than any robotic learning content," he confesses.
He also admits that the school leaders are scared of technology as they fear losing control due to unmonitored access. However, he then makes a very valid point that teachers will start looking at technology in a different light when they return to schools after the lockdown, as they will be more familiar with it by then.
Talking further about how the parents can become a better member of the school community and an active participant in their child's education, Dr. Ashun says, "We need to do more to get the parents to be better collaborators. We should ask ourselves whether it will be a synchronous approach or an asynchronous one."
She then takes on the question of how we can be better prepared next time by putting up the idea that she would like to give one week every term to online learning or learning that is away from the campus. She also adds that we should train children to be self-sufficient in learning, just in case we don't have the privilege of using the internet so freely the next time.
Mr Papa gives his final take on the issue by saying that the sooner we adjust and acknowledge that there is a new normal and that life has changed forever, at least for the next generation to come, it will be better. Acknowledging the current situation and changes that it will bring is highly important.
"We are witnessing how interactions have changed, how the role of technology is now much more important and how societies will run, how businesses will run, how it will affect the normal day to day activities, how we study and provide education, the government policies and that we need to control a serious sanitary issue – everything around us is changing," he informs.
Dr. Mary concludes the webinar by sharing about the two silver linings that she discovered during these troubled times.
"The first one is the Unit of Purpose. I met so many people through the on-going webinars who are together moving towards the same purpose to talk about education and the issues that affect the educators and students. The second silver lining for me is a certain Open-mindedness that we are suddenly allowing to have because this kind of event has never happened before. Our minds are now more open and we are thinking about possibilities to explore new technology and even uncomfortable things," she goes on.
"We've no choice but to accept and work towards those uncomfortable situations. The level of discomfort that we are forced into is forcing us to be openminded and get more inventive in the process," she adds.
Enjoyed the ScooNews Webinar? Tell us more about it at [email protected].
New Age Instructional Techniques
Traditional pedagogical techniques, based on a teacher explaining a topic and students taking notes, may still be helpful occasionally. Still, education today revolves more around encouraging the students to awaken their curiosity and desire to learn.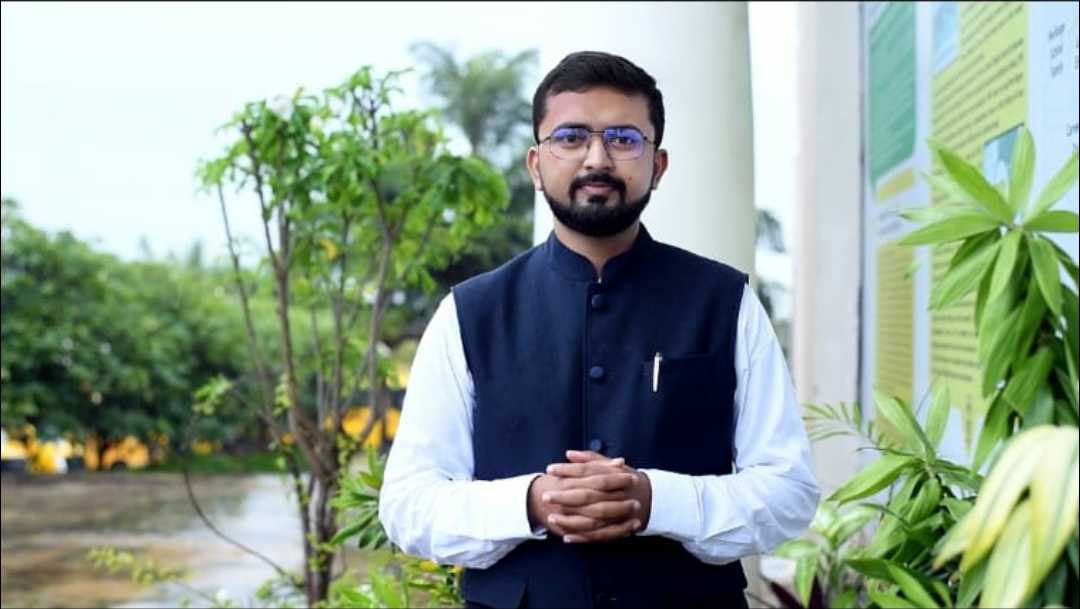 Education and its purposes have evolved over time. The meaning of 'knowing' has changed from remembering and repeating information to finding and applying it. Education helps students identify their critical purpose in life. It is really a tool to enable young minds to become lifelong learners. It empowers them to be able to tackle any challenge that life throws at them.
The purpose of being an educator is to make the world a better place. Where people are empathizing, caring, and capable of understanding each other. The prime objective of education is to nurture the leaders of tomorrow. To impart quality knowledge and learning so that the young generation becomes responsible and future global leaders and citizens.
Advanced research in education philosophy and brain science has had a tremendous impact on instructional strategies for the classroom. As a result, the educational paradigm has seen a transitional shift in instructional strategies over the past few years. Educators now are required to step out of their comfort zone of the traditional mode of teaching confined to classrooms.
Teachers are now bound to integrate the new instructional strategies to make a mark in the educational arena. A number of different teaching techniques have emerged during this transition and due to this change in education. Some of the research-backed pedagogical practices that are appropriate for 21st-century classrooms are:
Reciprocal Teaching:
Reciprocal teaching is a method in which students in small groups predict, clarify, question, and summarize a scaffolded reading comprehension. It is similar to a small group of students sitting in circles and using a communal constructivism approach to making meaning. Here each student takes the role of both learner and teacher within the group. This technique allows the students to develop a shared understanding of the text and supports the students who find it difficult to comprehend complex texts.
Student-generated questions :
This technique allows students to work individually or collaborate with peers to generate their own set of questions based on Bloom's Taxonomy template. This technique enables students to go through a rigorous thinking process of divergent and convergent thinking that ultimately ends with a reflection-based task to summarize their learning.
Higher-order thinking questions:
This technique of instructional learning is a must-have in every classroom. Critical thinking is essential as it allows students to apply the knowledge to a context different from the one that was initially learned. Using this strategy and adding cases and real-life situations to these questions allows children to develop relevance and motivation.
Reflection questions:
Metacognition – the science of thinking about learning is a potent tool that should be used in every classroom. This allows children to strengthen their understanding and retain the information for a longer period of time. Questions like the muddiest point today? What were my three takeaways from the last 30 minutes? How would I use this learning to make my day better? And many more allow students to reflect on their learning and evolve themselves as lifelong learners.
Taking a constructivist approach, these techniques or strategies allow the learners to accommodate and assimilate knowledge. When a teacher uses group work he/she is leveraging the true nature of learning. This collective activity allows and enables the students to find relevance in the learning environment. Moreover, it will enable learners to have agency over their learning by modeling a real-world situation. Often when a teacher starts using collaborative approaches, various reasons like unequal participation deter it. The classroom space dons a chaotic look, and the teacher has no control. All these have to be minutely dealt with by developing as a facilitator rather than a sage on the stage. Working in groups allows children to develop essential life skills like empathy, compassion, and critical thinking.
Traditional pedagogical techniques, based on a teacher explaining a topic and students taking notes, may still be helpful occasionally. Still, education today revolves more around encouraging the students to awaken their curiosity and desire to learn.
About the author:
Siddharth Rajgarhia is Chief learner and Director at Delhi Public School Nashik, Varanasi, and Lava Nagpur. Having 10 years of experience in leading schools. He is an avid Mindfulness practitioner and believes in lifelong learning