Webinar: Experts Discuss Post-COVID Parents' Expectations From Schools
A webinar by ScooNews to discuss the ongoing topic of to pay or not to pay (school fees), with Early Childhood Association and various Parent Association of India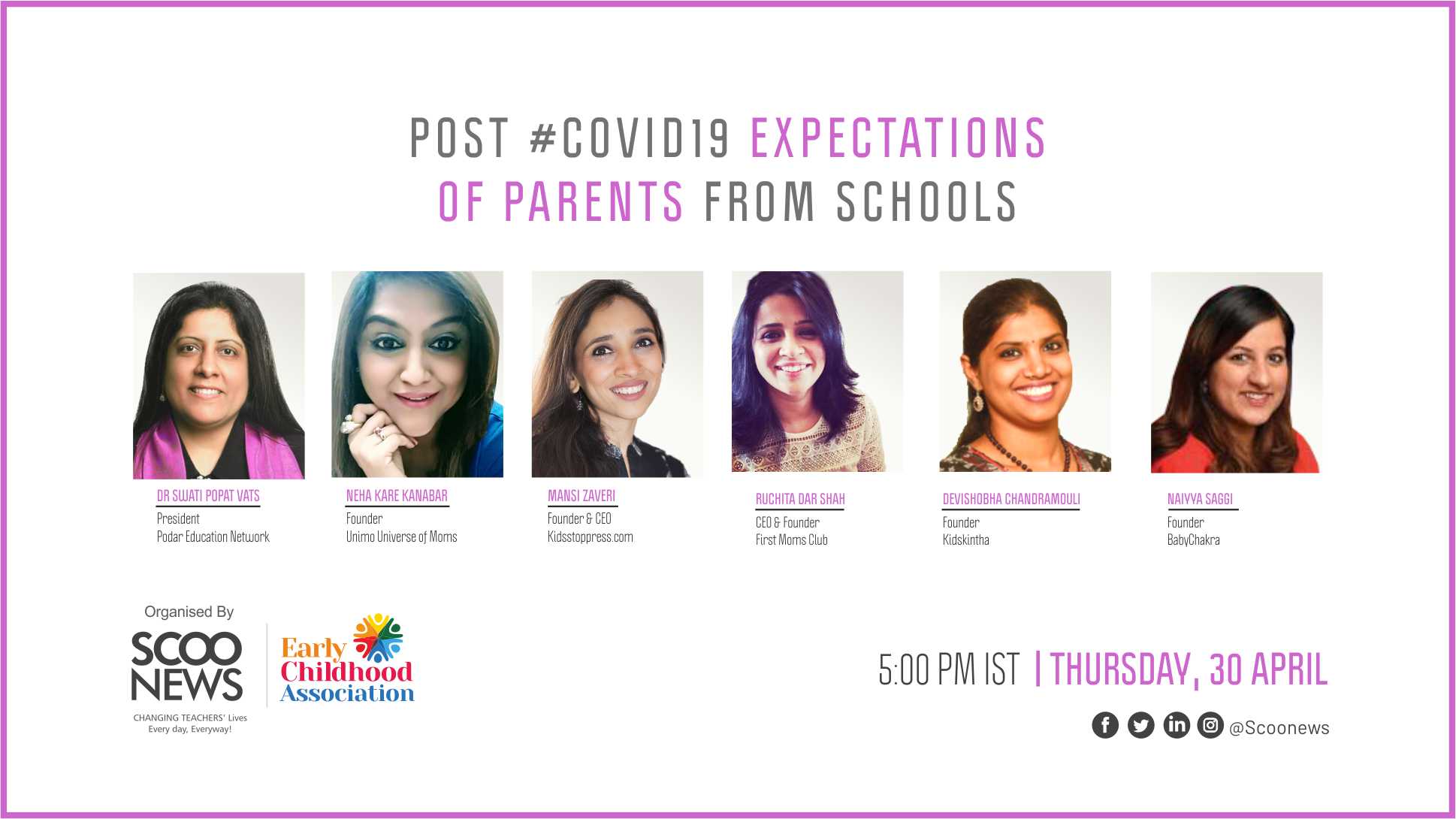 With 2800+ attendees tuning on Live, ScooNews hosted a webinar in collaboration with Early Childhood Association, India, to discuss the most talked about topic "Post-COVID-19 expectations of parents from schools."
As the Panel Chair, Dr Swati Popat Vats (President Early Childhood Association) spoke to 5 moms who themselves are heading parent associations of their own.
Panellists:
Devishobha Chandramouli, Founder Kidskintha
Mansi Zaveri, Founder & CEO kidsstopress.com
Naiyya Saggi, Founder BabyChakra
Neha Kare Kanabar, Founder Unimo Universe of Mom
Ruchita Dar Shah, Founder & CEO First Moms Club
Parents and schools are two foundation pillars of a child's life. Considering the current lockdown, educationists feel that the two have somewhat drifted apart. Hence, a child's holistic development is suffering in the process. With that thought, Dr Vats put up her questions to these moms in order to find out what sort of thoughts fellow parents are having during these testing times. Each of the panellists represented their group of parents and had taken polls in order to answer the following questions.
On your respective parent-groups, what kinds of discussions are floating regarding the COVID-19 panic?
Ruchita: Parents are worried about this academic year and if the schools are going to open anytime soon. They are also questioning the sanitizing process in the school buildings.
Neha: Two-tiers moms are discussing how to engage kids better in online studies while the metro city moms are worried about balancing their workload with child's studies.
Naiyya: Psychological security of the children is discussed since it is difficult for them to be so isolated in the name of social-distancing.
Mansi: Adapting to the present scenario and embracing the fact that no changes will happen overnight is the hot topic. Some parents are also worried about the online safety of children apart from the discussions over what is worth their child's time since everything is happening online now.
Devi: Parents are worried about the increased screentime. The kids are frustrated because they cannot go out anymore, especially the ones with special needs. Parents are also talking about the bond between the children and their teachers, whether it will sustain or not after the lockdown.
When do they think schools should open?
Mansi: Parents are in no rush for schools to open. Four months or so could be a time when the reopening could be discussed.
Ruchita: Parents do not want to hurry for the schools to open. September should be alright to reconsider opening.
Naiyya: They feel like September should be when the schools might consider opening. But parents are not in any hurry, they want to wait till it's safe and a structured plan is ready.
Neha: According to them, it should be when the vaccines are available so the children are safe.
Devi: Parents first want to be sure about the child's safety and vaccine-availability. Also, when the government is ready with a directive as this is not something an institution alone can handle. Schools will need cooperation.
Are parents happy with the on-going online learning process?
Naiyya: Parents are concerned about the personalised attention the child might miss during these classes. However, the parents of younger kids (3-5 years) seem content.
Neha: Parents of kids in primary and pre-primary are not happy since they need to be available all the time during the classes. Some schools have started online classes for the sake of it and have not put in much thought in the curriculum and the ways of teaching. On the contrary, the older kids' parents seem happier.
Mansi: One's satisfaction depends on the spectrum in which the school lies i.e how many kids are in a class, how much attention a teacher can provide to each kid during these online classes. Overall, the parents are satisfied and so are the kids since nobody was prepared for something like this but together, they stepped up.
Devi: Parents of special needs children are happy with what their schools are doing.
Ruchita: There were mixed answers. 40% said they are satisfied, 39% said they're in a dilemma and the rest said this cannot go on forever like this. Though a majority of parents seem restless because of the increased screentime.
What are the parents' expectations from schools when it comes to the safety of their children?
Ruchita: Right now, they're worried about the online safety of their kids. They simply want to stay updated with the schools' decisions.
Neha: A majority of parents have learnt the art of tolerance so they're keeping calm at the moment and hence, aren't putting any pressure of expectation on the school.
Mansi: Parents only wish the schools to take utmost care of the child both online and when the schools reopen.
Naiyya: Parents understand this is a new reality now and it is here to say, they only wish schools to take care of the children even when educating online. According to them, academics should be designed to empower the children and there should be an integration of topics that are relevant to the pandemic.
Devi: It is the perfect time to embrace the virtual world and work towards globalisation. Parents wish to teach their children the same and embrace it themselves. For them, the schools should look at ways of perfecting this thought and study the crux of the matter by being super attentive to the child's needs.
Are they willing to pay the school fee while the schools are closed?
Neha: All parents wish for the schools to revisit the fee structure and cut down anything that is not relevant anymore.
Ruchita: 67% of parents expect a fee cut and wish for the schools to understand that they value what the administration is doing for their children but want them to acknowledge and assess their situation as well.
Mansi: For them, only quality education is important. These parents understand that schools are investing in online portals and training their teachers to conduct virtual classes every day.
Devi: Parents simply want fundamental transparency from schools about the fees being charged.
Naiyya: Transparency is needed as they want to know what they are paying for and how it is helping the school help the child.
In the endnote, Dr Vats said that parents should be careful in choosing schools so they know they are paying for what is best for the child. "Revisiting the fees structure is very valid and yes, it should be looked upon to deduct any unreasonable charges. Schools will have to deal with the post-COVID-19 situation as well and there will be huge investments then. On the other hand, parents should realise that education is the only thing that is going to help in the coming times," she stated.
"If and when schools cut the fees, they will eventually have to cut the salaries of the faculties which is unfair to the teacher. Hence, schools should consider such parents who have been laid off and are really unable to continue paying fees and find out a way to help them. At the end of the day, it is about the child's development and we should remember that," Dr Vats added.
Conclusion
The discussion with these experts proved:
Parents are acknowledging and appreciating the schools and teachers.
Teachers have been amazing in handling an entire class of students sitting at different locations even while accessing them from behind a computer screen.
While taking any further decision, schools should keep heterogeneous groups of parents in mind and be more sensitive.
International Baccalaureate Experiences 31% Surge in Authorized IB World Schools Across India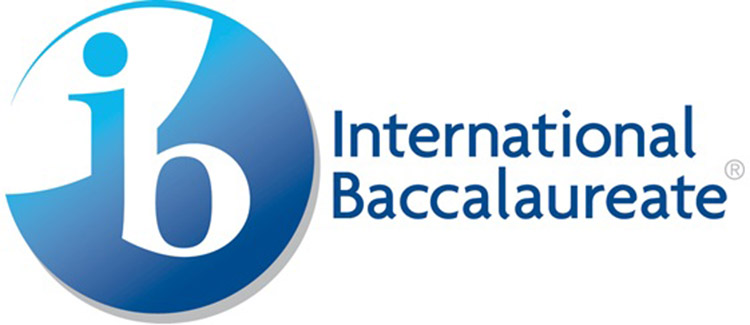 The International Baccalaureate (IB), a global educational foundation headquartered in Switzerland, reports substantial growth over the past five years in India. The surge, amounting to a 31% increase in authorized IB World Schools, reflects the growing preference for IB programs among schools nationwide. According to Haif Bannayan, the Global Director of Business Development at IB, the organization offers four comprehensive programs for students aged 3-19: the Primary Years Programme (PYP), Middle Years Programme (MYP), Diploma Programme (DP), and Career-Related Programme (CP).
As of 2023, there are now 226 authorized IB World Schools across India, collectively delivering 378 authorized IB programs. This breakdown includes 138 schools offering PYP, 59 schools providing MYP, 155 schools delivering DP, and 26 schools offering CP. However, the current distribution of IB World Schools remains concentrated in metropolitan areas like New Delhi, Gurugram, Mumbai, Kolkata, Bengaluru, and Chennai.
To address this imbalance and make IB education more accessible and affordable nationwide, the Delhi Board of Secondary Education (DBSE) collaborated with IB as part of Delhi's educational reforms under Arvind Kejriwal. In August 2021, they signed a Memorandum of Understanding to introduce IB programs in 30 government schools in Delhi. This initiative aims to encourage more schools to adopt the IB curriculum in the future.
Recognizing the evolving educational landscape in India, IB is actively collaborating with Indian institutions and educational authorities to extend its framework to students from diverse backgrounds and regions. Haif Bannayan expressed eagerness for ongoing dialogues with leaders to facilitate the delivery of high-quality, globally-oriented education to an even greater number of students.
The Diploma Programme (DP) offered by IB stands out globally, consistently aligning with or surpassing international standards, as indicated by the DP Country Alignment Study 2023. The study emphasizes the adaptability of DP courses to diverse national contexts, showcasing their seamless integration. Furthermore, it underscores the meticulous crafting of DP curricula to facilitate substantial depth and breadth of learning, illustrating their rigor and comprehensive educational value.
Bannayan highlighted the IB's acclaim for its emphasis on languages and global principles, coupled with a consideration of students' cultural backgrounds. This approach fosters a profound comprehension of the world, shaping graduates into multilingual thinkers poised to make a positive impact on a global scale.