Webinar: Experts Discuss Post-COVID Parents' Expectations From Schools
A webinar by ScooNews to discuss the ongoing topic of to pay or not to pay (school fees), with Early Childhood Association and various Parent Association of India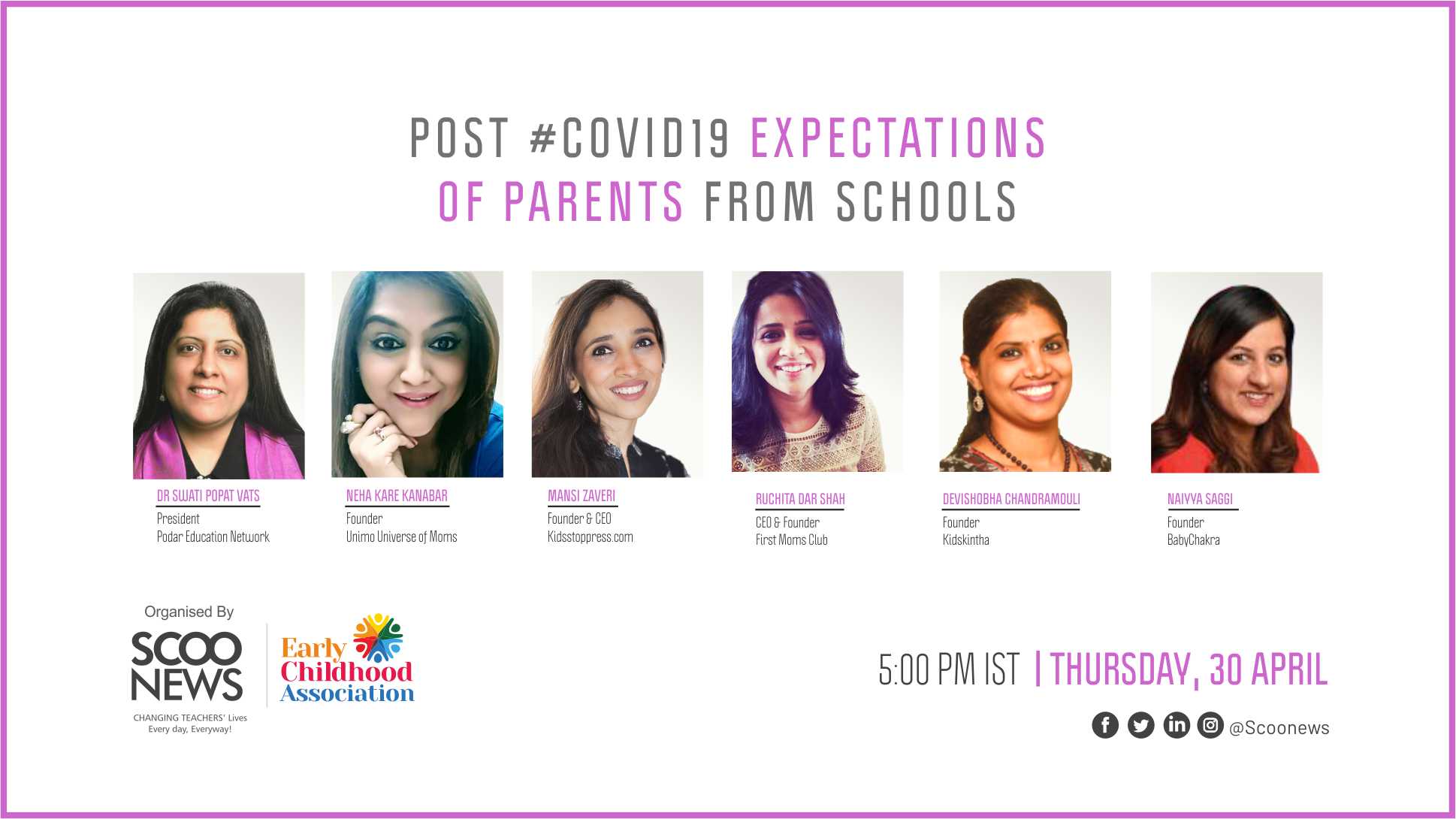 With 2800+ attendees tuning on Live, ScooNews hosted a webinar in collaboration with Early Childhood Association, India, to discuss the most talked about topic "Post-COVID-19 expectations of parents from schools."
As the Panel Chair, Dr Swati Popat Vats (President Early Childhood Association) spoke to 5 moms who themselves are heading parent associations of their own.
Panellists:
Devishobha Chandramouli, Founder Kidskintha
Mansi Zaveri, Founder & CEO kidsstopress.com
Naiyya Saggi, Founder BabyChakra
Neha Kare Kanabar, Founder Unimo Universe of Mom
Ruchita Dar Shah, Founder & CEO First Moms Club
Parents and schools are two foundation pillars of a child's life. Considering the current lockdown, educationists feel that the two have somewhat drifted apart. Hence, a child's holistic development is suffering in the process. With that thought, Dr Vats put up her questions to these moms in order to find out what sort of thoughts fellow parents are having during these testing times. Each of the panellists represented their group of parents and had taken polls in order to answer the following questions.
On your respective parent-groups, what kinds of discussions are floating regarding the COVID-19 panic?
Ruchita: Parents are worried about this academic year and if the schools are going to open anytime soon. They are also questioning the sanitizing process in the school buildings.
Neha: Two-tiers moms are discussing how to engage kids better in online studies while the metro city moms are worried about balancing their workload with child's studies.
Naiyya: Psychological security of the children is discussed since it is difficult for them to be so isolated in the name of social-distancing.
Mansi: Adapting to the present scenario and embracing the fact that no changes will happen overnight is the hot topic. Some parents are also worried about the online safety of children apart from the discussions over what is worth their child's time since everything is happening online now.
Devi: Parents are worried about the increased screentime. The kids are frustrated because they cannot go out anymore, especially the ones with special needs. Parents are also talking about the bond between the children and their teachers, whether it will sustain or not after the lockdown.
When do they think schools should open?
Mansi: Parents are in no rush for schools to open. Four months or so could be a time when the reopening could be discussed.
Ruchita: Parents do not want to hurry for the schools to open. September should be alright to reconsider opening.
Naiyya: They feel like September should be when the schools might consider opening. But parents are not in any hurry, they want to wait till it's safe and a structured plan is ready.
Neha: According to them, it should be when the vaccines are available so the children are safe.
Devi: Parents first want to be sure about the child's safety and vaccine-availability. Also, when the government is ready with a directive as this is not something an institution alone can handle. Schools will need cooperation.
Are parents happy with the on-going online learning process?
Naiyya: Parents are concerned about the personalised attention the child might miss during these classes. However, the parents of younger kids (3-5 years) seem content.
Neha: Parents of kids in primary and pre-primary are not happy since they need to be available all the time during the classes. Some schools have started online classes for the sake of it and have not put in much thought in the curriculum and the ways of teaching. On the contrary, the older kids' parents seem happier.
Mansi: One's satisfaction depends on the spectrum in which the school lies i.e how many kids are in a class, how much attention a teacher can provide to each kid during these online classes. Overall, the parents are satisfied and so are the kids since nobody was prepared for something like this but together, they stepped up.
Devi: Parents of special needs children are happy with what their schools are doing.
Ruchita: There were mixed answers. 40% said they are satisfied, 39% said they're in a dilemma and the rest said this cannot go on forever like this. Though a majority of parents seem restless because of the increased screentime.
What are the parents' expectations from schools when it comes to the safety of their children?
Ruchita: Right now, they're worried about the online safety of their kids. They simply want to stay updated with the schools' decisions.
Neha: A majority of parents have learnt the art of tolerance so they're keeping calm at the moment and hence, aren't putting any pressure of expectation on the school.
Mansi: Parents only wish the schools to take utmost care of the child both online and when the schools reopen.
Naiyya: Parents understand this is a new reality now and it is here to say, they only wish schools to take care of the children even when educating online. According to them, academics should be designed to empower the children and there should be an integration of topics that are relevant to the pandemic.
Devi: It is the perfect time to embrace the virtual world and work towards globalisation. Parents wish to teach their children the same and embrace it themselves. For them, the schools should look at ways of perfecting this thought and study the crux of the matter by being super attentive to the child's needs.
Are they willing to pay the school fee while the schools are closed?
Neha: All parents wish for the schools to revisit the fee structure and cut down anything that is not relevant anymore.
Ruchita: 67% of parents expect a fee cut and wish for the schools to understand that they value what the administration is doing for their children but want them to acknowledge and assess their situation as well.
Mansi: For them, only quality education is important. These parents understand that schools are investing in online portals and training their teachers to conduct virtual classes every day.
Devi: Parents simply want fundamental transparency from schools about the fees being charged.
Naiyya: Transparency is needed as they want to know what they are paying for and how it is helping the school help the child.
In the endnote, Dr Vats said that parents should be careful in choosing schools so they know they are paying for what is best for the child. "Revisiting the fees structure is very valid and yes, it should be looked upon to deduct any unreasonable charges. Schools will have to deal with the post-COVID-19 situation as well and there will be huge investments then. On the other hand, parents should realise that education is the only thing that is going to help in the coming times," she stated.
"If and when schools cut the fees, they will eventually have to cut the salaries of the faculties which is unfair to the teacher. Hence, schools should consider such parents who have been laid off and are really unable to continue paying fees and find out a way to help them. At the end of the day, it is about the child's development and we should remember that," Dr Vats added.
Conclusion
The discussion with these experts proved:
Parents are acknowledging and appreciating the schools and teachers.
Teachers have been amazing in handling an entire class of students sitting at different locations even while accessing them from behind a computer screen.
While taking any further decision, schools should keep heterogeneous groups of parents in mind and be more sensitive.
The COVID-19 Context: Challenges Posed & What Schools Are Doing Worldwide
The very first discussion of a two-day roundtable webinar session began with the differences and similarities of the first and second wave of COVID-19, for the education sector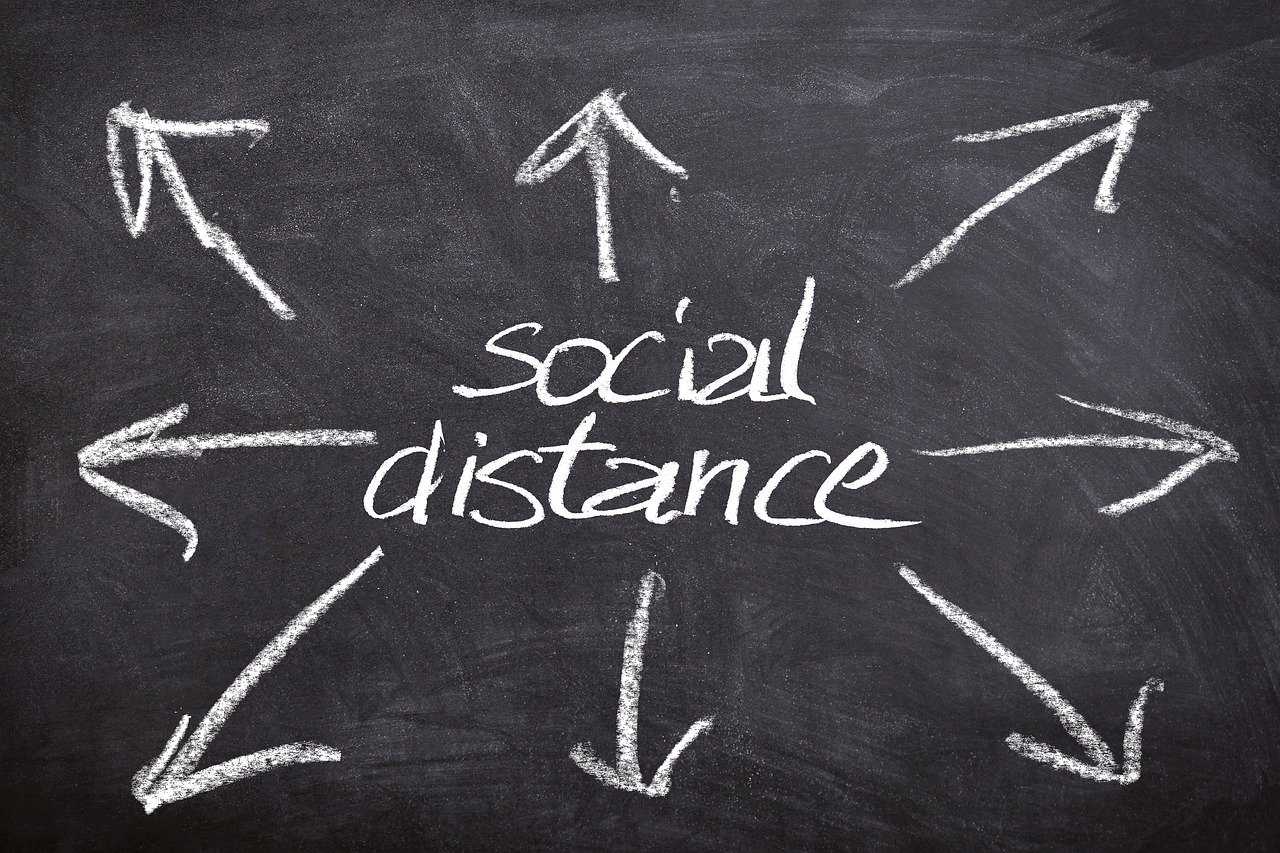 ScooNews held a two-day roundtable session on 27-28 May 2021, that was composed of six enlightening conversations amongst teachers, school administrators, parents and edtechs. The discussions were convened to bring together all the stakeholders of the education sector, and learn about their mindset in the current situation.
The first roundtable discussion began with a rather interesting comment by the moderator, 'how smug the society was while at the beginning of 2020, nobody predicted the devastating challenges that lay ahead.'
Session Chair:
Lt.Col A Sekhar, Chief Development Officer, Jagran Education Foundation, UP
Speakers:
Ashutosh Tripathi, Executive Director, Krishna Public School, Raipur
Dilip Patil, Founder, Managing Partner, Trivector Biomed LLP and BabyQuest Cryobank Pvt. Ltd
Haris Madappally, Executive Director, Peevees Public School, Nilambur
Meetali Archit, Principal, Pallavi International School, Gandipet, Hyderabad
Mohit Yadav, Director & Principal, Annie Besant School, Indore
Priya Dixit, Head of School, Akshar Arbol International School, Chennai
Swoyan Satyendu, Chief Operating Officer, ODM Educational Group, Bhubaneswar
In addition to getting information from multiple sources on a regular basis, we are learning to also absorb them. Children referring to online classes on their computers as school is becoming the new normal. As much as the world did not want to pay attention to the pandemic at the beginning of March 2020, now every sector is managing the situation keeping COVID in mind.
The world was unprepared in 2020 and that resulted in a strong hit by the pandemic. Understanding and accepting the loopholes in online teacher-learning experience did serve in the betterment of education Looking forward the best option should be accepting that blended learning can help in more ways than imagined.
Schools are organising training and informative sessions for parents to learn more about blended learning. It is significant for parents along with the students to know how it can help their child and it is a great way to include them in their child's education.
Educators understand, from a parent's perspective, the situation where children are only able to learn via a digital screen is not a very happy situation. Hence the absence of school from education in the students' lives clearly answers the question that the relevance of schools can not be challenged. But does the art of schooling need to evolve, the response is, most definitely.
Since the parent-teacher relationship has been fractured during these testing times, it will do good for all the stakeholders to understand each other's perspective. Schools must have a transparent dialogue with the parents and explain to them that regardless of all the negativity amongst each other, the basic goal is towards the children which remains untethered.
clearly, it is no longer AD and BC but pre-covid and post-covid, the schools in the current scenario must change accordingly. The current online learning culture is a phase of life that has helped educators and students to accept and include the much-needed technology in the authentic classroom.
On that point, for a better education culture, we need mentally and emotionally stable educators. Clearly, the whole world is suffering due to the persisting pandemic and to expect the teachers to have no psychological effect is unfair.
Private school administrations are having it the toughest since revenue generation is very low and there is not much help from the government in many states. To keep their teachers from having an undisturbed emotional well being, it is necessary to assure them morally and financially even though that is proving difficult to do.
Administrations reaching out to the teacher from a conscious point of view. Remembering that the teachers have families too and they need some mental peace to deal with all that is going on around them. One on one counselling and psychological support for the educators is more significant than it is given credit to. Additionally, schools having covid facility centre with a partnership with hospitals/doctors will give the teachers a sense of safety in case of health issues.
If schools are to reopen today, few major focusing points should be:
21st-century learning skills through hybrid learning.
Technology is here to stay.
Focusing on two pillars, integrity and empathy for all stakeholders of the education sector.
For children as well as the teaching community, physical and mental health should be the core focus area.