Webinar: Experts Discuss Post-COVID Parents' Expectations From Schools
A webinar by ScooNews to discuss the ongoing topic of to pay or not to pay (school fees), with Early Childhood Association and various Parent Association of India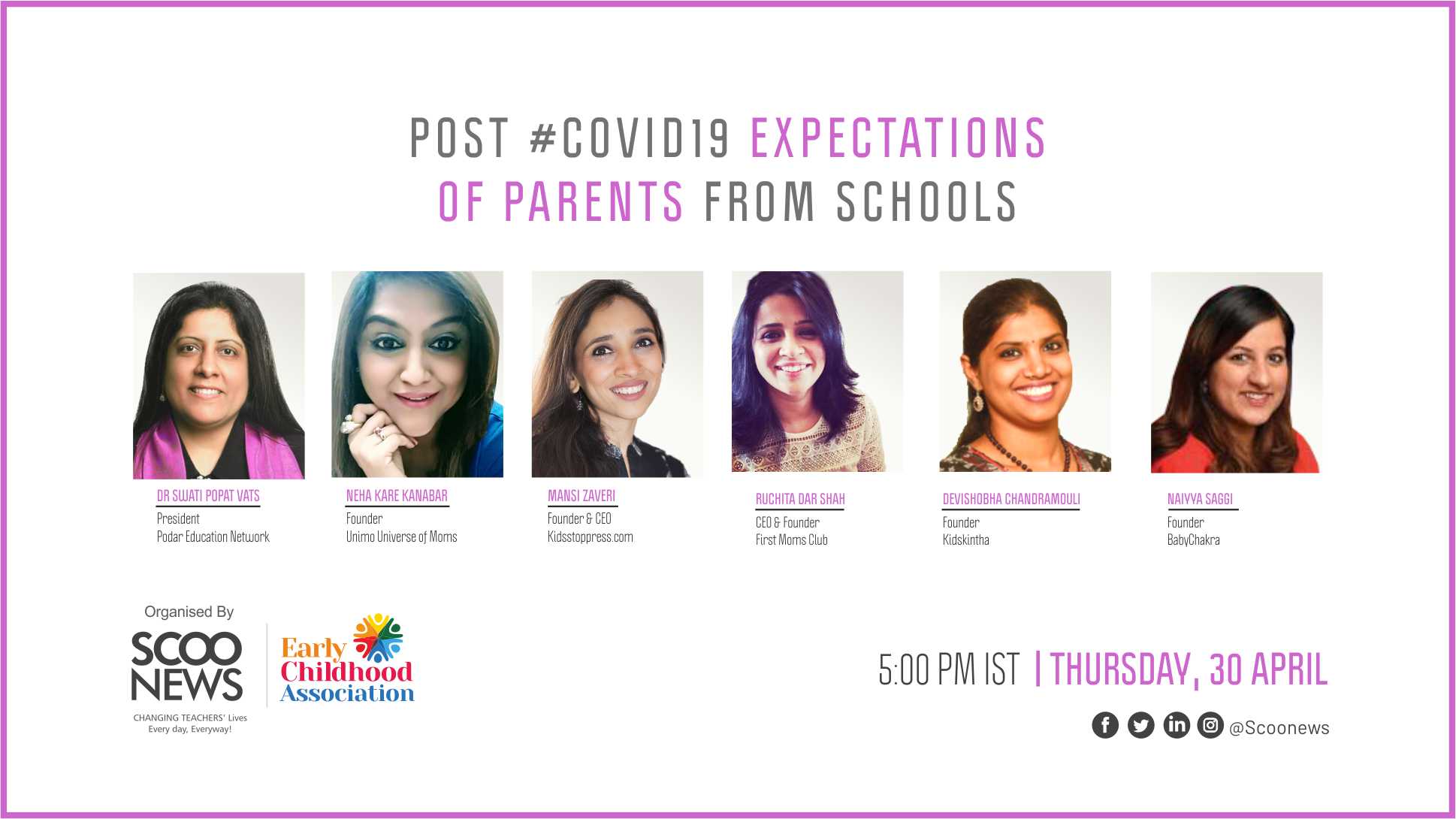 With 2800+ attendees tuning on Live, ScooNews hosted a webinar in collaboration with Early Childhood Association, India, to discuss the most talked about topic "Post-COVID-19 expectations of parents from schools."
As the Panel Chair, Dr Swati Popat Vats (President Early Childhood Association) spoke to 5 moms who themselves are heading parent associations of their own.
Panellists:
Devishobha Chandramouli, Founder Kidskintha
Mansi Zaveri, Founder & CEO kidsstopress.com
Naiyya Saggi, Founder BabyChakra
Neha Kare Kanabar, Founder Unimo Universe of Mom
Ruchita Dar Shah, Founder & CEO First Moms Club
Parents and schools are two foundation pillars of a child's life. Considering the current lockdown, educationists feel that the two have somewhat drifted apart. Hence, a child's holistic development is suffering in the process. With that thought, Dr Vats put up her questions to these moms in order to find out what sort of thoughts fellow parents are having during these testing times. Each of the panellists represented their group of parents and had taken polls in order to answer the following questions.
On your respective parent-groups, what kinds of discussions are floating regarding the COVID-19 panic?
Ruchita: Parents are worried about this academic year and if the schools are going to open anytime soon. They are also questioning the sanitizing process in the school buildings.
Neha: Two-tiers moms are discussing how to engage kids better in online studies while the metro city moms are worried about balancing their workload with child's studies.
Naiyya: Psychological security of the children is discussed since it is difficult for them to be so isolated in the name of social-distancing.
Mansi: Adapting to the present scenario and embracing the fact that no changes will happen overnight is the hot topic. Some parents are also worried about the online safety of children apart from the discussions over what is worth their child's time since everything is happening online now.
Devi: Parents are worried about the increased screentime. The kids are frustrated because they cannot go out anymore, especially the ones with special needs. Parents are also talking about the bond between the children and their teachers, whether it will sustain or not after the lockdown.
When do they think schools should open?
Mansi: Parents are in no rush for schools to open. Four months or so could be a time when the reopening could be discussed.
Ruchita: Parents do not want to hurry for the schools to open. September should be alright to reconsider opening.
Naiyya: They feel like September should be when the schools might consider opening. But parents are not in any hurry, they want to wait till it's safe and a structured plan is ready.
Neha: According to them, it should be when the vaccines are available so the children are safe.
Devi: Parents first want to be sure about the child's safety and vaccine-availability. Also, when the government is ready with a directive as this is not something an institution alone can handle. Schools will need cooperation.
Are parents happy with the on-going online learning process?
Naiyya: Parents are concerned about the personalised attention the child might miss during these classes. However, the parents of younger kids (3-5 years) seem content.
Neha: Parents of kids in primary and pre-primary are not happy since they need to be available all the time during the classes. Some schools have started online classes for the sake of it and have not put in much thought in the curriculum and the ways of teaching. On the contrary, the older kids' parents seem happier.
Mansi: One's satisfaction depends on the spectrum in which the school lies i.e how many kids are in a class, how much attention a teacher can provide to each kid during these online classes. Overall, the parents are satisfied and so are the kids since nobody was prepared for something like this but together, they stepped up.
Devi: Parents of special needs children are happy with what their schools are doing.
Ruchita: There were mixed answers. 40% said they are satisfied, 39% said they're in a dilemma and the rest said this cannot go on forever like this. Though a majority of parents seem restless because of the increased screentime.
What are the parents' expectations from schools when it comes to the safety of their children?
Ruchita: Right now, they're worried about the online safety of their kids. They simply want to stay updated with the schools' decisions.
Neha: A majority of parents have learnt the art of tolerance so they're keeping calm at the moment and hence, aren't putting any pressure of expectation on the school.
Mansi: Parents only wish the schools to take utmost care of the child both online and when the schools reopen.
Naiyya: Parents understand this is a new reality now and it is here to say, they only wish schools to take care of the children even when educating online. According to them, academics should be designed to empower the children and there should be an integration of topics that are relevant to the pandemic.
Devi: It is the perfect time to embrace the virtual world and work towards globalisation. Parents wish to teach their children the same and embrace it themselves. For them, the schools should look at ways of perfecting this thought and study the crux of the matter by being super attentive to the child's needs.
Are they willing to pay the school fee while the schools are closed?
Neha: All parents wish for the schools to revisit the fee structure and cut down anything that is not relevant anymore.
Ruchita: 67% of parents expect a fee cut and wish for the schools to understand that they value what the administration is doing for their children but want them to acknowledge and assess their situation as well.
Mansi: For them, only quality education is important. These parents understand that schools are investing in online portals and training their teachers to conduct virtual classes every day.
Devi: Parents simply want fundamental transparency from schools about the fees being charged.
Naiyya: Transparency is needed as they want to know what they are paying for and how it is helping the school help the child.
In the endnote, Dr Vats said that parents should be careful in choosing schools so they know they are paying for what is best for the child. "Revisiting the fees structure is very valid and yes, it should be looked upon to deduct any unreasonable charges. Schools will have to deal with the post-COVID-19 situation as well and there will be huge investments then. On the other hand, parents should realise that education is the only thing that is going to help in the coming times," she stated.
"If and when schools cut the fees, they will eventually have to cut the salaries of the faculties which is unfair to the teacher. Hence, schools should consider such parents who have been laid off and are really unable to continue paying fees and find out a way to help them. At the end of the day, it is about the child's development and we should remember that," Dr Vats added.
Conclusion
The discussion with these experts proved:
Parents are acknowledging and appreciating the schools and teachers.
Teachers have been amazing in handling an entire class of students sitting at different locations even while accessing them from behind a computer screen.
While taking any further decision, schools should keep heterogeneous groups of parents in mind and be more sensitive.
NIOS celebrates 33rd Foundation Day
Dr. Subhas Sarkar addresses the 33rd Foundation Day Celebrations of NIOS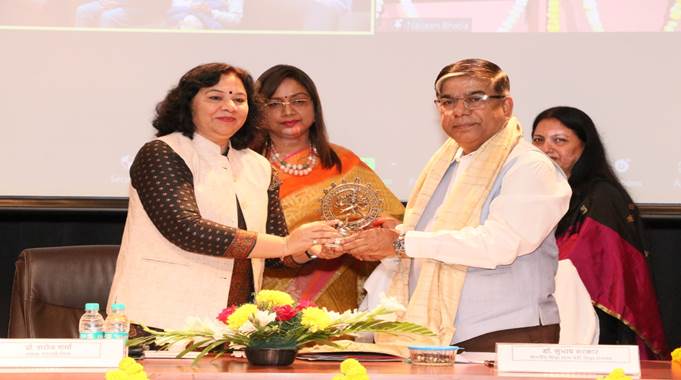 Union Minister of State for Education, Dr. Subhas Sarkar addressed the 33rd Foundation Day Celebrations of NIOS as the Chief Guest.
The function was attended by senior officials of the Ministry of Education, Chairpersons of educational institutions, Heads of Departments, officers, and staff of NIOS. Prof. Naval Kishore Ambasht, former Chairman, of NIOS and Pro-Vice Chancellor, of the Central University of Haryana, Prof. Sushma Yadav graced the occasion.
Dr. Subhas Sarkar in his address appreciated the various programmes and schemes of NIOS and said that NIOS is lighting the lamp of knowledge all over the world. Talking about the Azadi Ka Amrit Mahotsav, he mentioned that today's children will be young people in the age group of 30-40 years on the completion of 100 years of independence and will be responsible for building our nation.
He said that the Ministry of Education has entrusted NIOS with several responsibilities such as developing inclusive education resources, expanding the open and distance education system in states/UTs, translating all courses into more languages as required, creating Indian Knowledge Tradition based courses and propagating Indian culture by translating them into major foreign languages. He also praised the programmes of NIOS enrolling 10 crore adults under 'Basic Literacy Assessment', training of in-service teachers, Gender Green Project, and training in Yoga. He said that Indian Sign Language as a subject at the secondary level has been acknowledged on national and international platforms. He described the launch of an e-library called 'DEEP' by NIOS as a big step forward.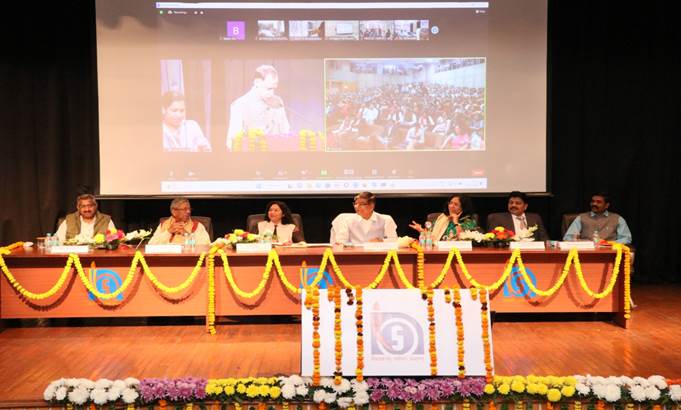 Prof. Saroj Sharma spoke about the journey of 33 years of NIOS and highlighted the special achievements. She said that NIOS is one of the two National Boards of Education under the Ministry of Education, which provides school education through Open and Distance Learning (ODL) for secondary, senior secondary, and vocational education. She elaborated on the role of NIOS in the field of education, efforts being made by NIOS for the successful implementation of the New Education Policy, Virtual Open School, Digital Library (DEEP), NEPIA Project, MoU with Ministry of Defence for Agniveer Project, setting up of Mukta Kaushal Kendras and subjects offered under Indian knowledge Tradition.
It was also conveyed by her that a curriculum called 'Aarambhika' is being developed by NIOS for catering to the Indian Diaspora.
A documentary based on the journey of 33 years of educational endeavours of NIOS was presented on the occasion. In this documentary, 'All England Badminton winner Pullela Gopichand said that most of the players in his badminton academy are getting an education from NIOS.
NIOS alumni, Ms. Niranjana and Vinod Kumar Chaudhary were also felicitated on the occasion. Shri Vinod Kumar said that only due to his education in NIOS, he was able to get the credit of making the Guinness Book of World Records 10 times (8 in Typing and 2 in sports). A proud learner of NIOS, Ms. Niranjana is a successful ventriloquist. Prof. N. K. Ambasht, former Chairman, NIOS said that in this age of technology, innovations must lead to developing 'standalone' courses for the Indian Diaspora, to achieve the goals of the National Education Policy- 2020. Pro-Vice Chancellor, Prof. Sushma Yadav said that the role of NIOS increases in the light of New Education Policy. NIOS has such potential that the institute will be able to achieve the ambitious goals of National Education Policy 2020 in the coming years.
The half-yearly magazine of NIOS 'Pragyan' was released by Dr. Subhas Sarkar on this occasion.