World Vision India: Changing Lives of Child Laborers
World Vision India, an NGO is educating and taking care of children who work as child laborers, such is the story of Mohsin.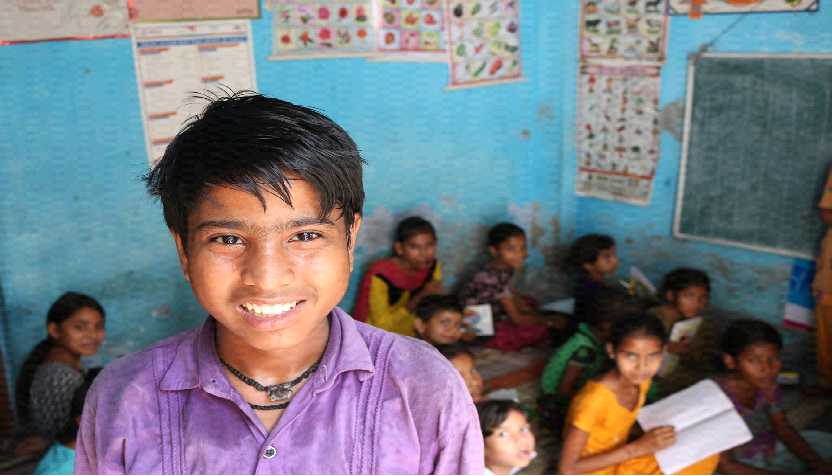 Wonder if fairy tales do come true? Be prepared to believe they do.
This is the story of a boy who was a slum-dweller, but who soon fell in love with the world of books. Mohsin, a student of class II in Primary School Kanya, a small school with 92 students, three teachers, and a headmaster in the city of Meerut exclaims, "I love my school books. I enjoy school. I like studying English the most and I enjoy Math and Hindi too". "I am very fine" he added, innocently flaunting the English he has learnt. Mohsin calls his school bag one of his prized possessions as it is home for his favorite companions. "Mohsin joined us in 2014 and he is a sincere student", says headmaster Mohommad Naushad. After he completes his school by 12 noon, the young boy heads to Madarsa followed by Child Tuition Centre(where he went in 2013) where children learn to cope with their regular studies. Mohsin was enrolled in school in 2014.
However, Mohsin didn't have a life this before. Before 2013, he worked as a child laborer, employed at a bookbinding unit near his home. Due to asthma, Mohsin's father didn't work. Even his mother, Kanij earned a living for her family through odd jobs with meagre income. So, to meet the large family's needs, Mohsin had to give away his childhood and start earning. "Mohsin would earn 20 rupees a week and that would suffice for his needs. For me, it was like he was being taken care of. Even if there is no money in the house, I will still send Mohsin to school. I will never stop his education," said Kenji firmly. "Mohsin smiles more often now, he is happier. I want a good life for my child." she added. Mohsin's life has transformed since he quit work; he is happier and healthier, he even spends more time with this friends, living what childhood has to offer him with.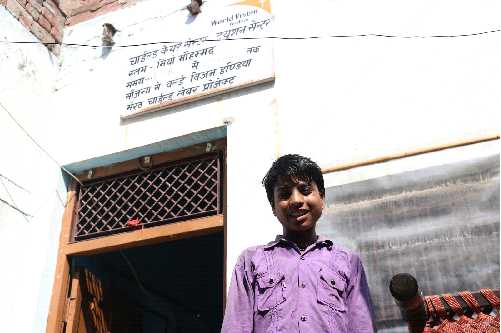 "When I grow up, I want to be a police officer!" Mohsin says with his eyes sparkling. "I want to run fast and catch all the thieves. But, I want to finish studying first. Without going to school, I will not become a good police officer", Mohsin added.
The NGO that turns the dreams of childre like Mohsin into reality is World Vision India, which launched Meerut Child Labor Project in 2013. It facilitate the operation of Child Care Centres where children are counselled, assessed and they are persuaded to quit their jobs and start a new life with education. The staff also visits the families regularly to explain the importance of education to them and how education has the power to change their life. At the centre, they are also taught basics of subjects. The child gets ready after a year, after which he or she is enrolled in school with the NGOs support. Child Tuition Centres, then, serve as an auxiliary support to children.
The initiative with a total of 21 local teachers in over 14 centers are training 3019 children. The project has been successful in increasing the functional literacy rate of children who were earlier involved in child labor from 19 per cent to 39 per cent.
Dreams do come true, don't they?
Image courtesy: blogspot.com
NIOS celebrates 33rd Foundation Day
Dr. Subhas Sarkar addresses the 33rd Foundation Day Celebrations of NIOS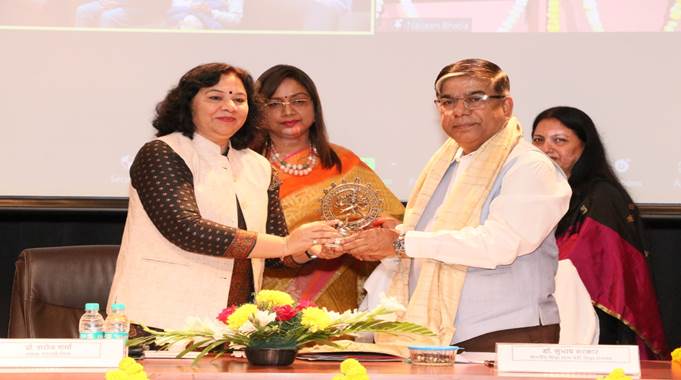 Union Minister of State for Education, Dr. Subhas Sarkar addressed the 33rd Foundation Day Celebrations of NIOS as the Chief Guest.
The function was attended by senior officials of the Ministry of Education, Chairpersons of educational institutions, Heads of Departments, officers, and staff of NIOS. Prof. Naval Kishore Ambasht, former Chairman, of NIOS and Pro-Vice Chancellor, of the Central University of Haryana, Prof. Sushma Yadav graced the occasion.
Dr. Subhas Sarkar in his address appreciated the various programmes and schemes of NIOS and said that NIOS is lighting the lamp of knowledge all over the world. Talking about the Azadi Ka Amrit Mahotsav, he mentioned that today's children will be young people in the age group of 30-40 years on the completion of 100 years of independence and will be responsible for building our nation.
He said that the Ministry of Education has entrusted NIOS with several responsibilities such as developing inclusive education resources, expanding the open and distance education system in states/UTs, translating all courses into more languages as required, creating Indian Knowledge Tradition based courses and propagating Indian culture by translating them into major foreign languages. He also praised the programmes of NIOS enrolling 10 crore adults under 'Basic Literacy Assessment', training of in-service teachers, Gender Green Project, and training in Yoga. He said that Indian Sign Language as a subject at the secondary level has been acknowledged on national and international platforms. He described the launch of an e-library called 'DEEP' by NIOS as a big step forward.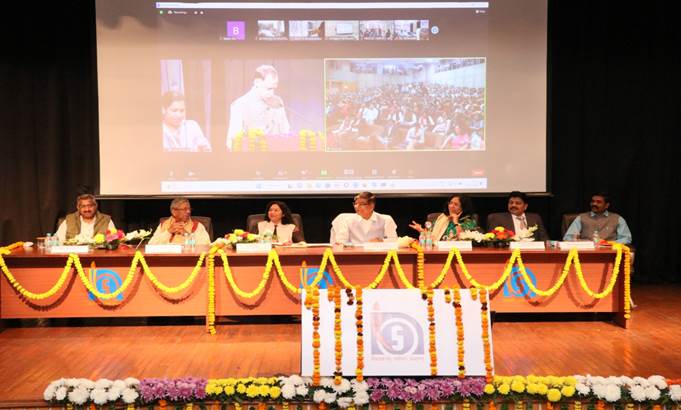 Prof. Saroj Sharma spoke about the journey of 33 years of NIOS and highlighted the special achievements. She said that NIOS is one of the two National Boards of Education under the Ministry of Education, which provides school education through Open and Distance Learning (ODL) for secondary, senior secondary, and vocational education. She elaborated on the role of NIOS in the field of education, efforts being made by NIOS for the successful implementation of the New Education Policy, Virtual Open School, Digital Library (DEEP), NEPIA Project, MoU with Ministry of Defence for Agniveer Project, setting up of Mukta Kaushal Kendras and subjects offered under Indian knowledge Tradition.
It was also conveyed by her that a curriculum called 'Aarambhika' is being developed by NIOS for catering to the Indian Diaspora.
A documentary based on the journey of 33 years of educational endeavours of NIOS was presented on the occasion. In this documentary, 'All England Badminton winner Pullela Gopichand said that most of the players in his badminton academy are getting an education from NIOS.
NIOS alumni, Ms. Niranjana and Vinod Kumar Chaudhary were also felicitated on the occasion. Shri Vinod Kumar said that only due to his education in NIOS, he was able to get the credit of making the Guinness Book of World Records 10 times (8 in Typing and 2 in sports). A proud learner of NIOS, Ms. Niranjana is a successful ventriloquist. Prof. N. K. Ambasht, former Chairman, NIOS said that in this age of technology, innovations must lead to developing 'standalone' courses for the Indian Diaspora, to achieve the goals of the National Education Policy- 2020. Pro-Vice Chancellor, Prof. Sushma Yadav said that the role of NIOS increases in the light of New Education Policy. NIOS has such potential that the institute will be able to achieve the ambitious goals of National Education Policy 2020 in the coming years.
The half-yearly magazine of NIOS 'Pragyan' was released by Dr. Subhas Sarkar on this occasion.