21 students from MP tribal belt tame the IIT-JEE entrance test
MP government's special programme, "Choo lo aasman" where students from tribal belts get free coaching, schooling, food at residential schools has borne fruit with 21 students cracking the IIT. The schools have special classrooms equipped with video conferencing and telecast facilities.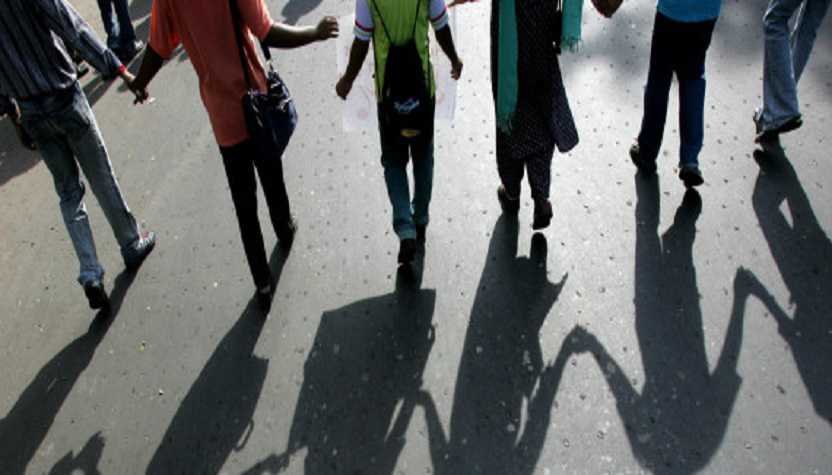 Every the result declaration period throws up a minimum of 1 tragic news where student take their lives over not being able to cope the pressure of preparing for the prestigious IIT entrance. However, at the same time another type of news emanates from the other end of spectrum where some students have gone on to crack the IIT surmounting seemingly impossible odds.
This is the news from the other end of the spectrum. Over 20 students hailing from the tribal belt of Madhya Pradesh, who were taught under a government programme for children from backward villages, have blazed a trail by cracking the IIT examination.
"Overall 300 students qualified in the mains examination and 21 have been selected in the advance examination," said Madhya Pradesh Higher Education Commissioner/Secretary Umakant Umrao.
The special programme called the "Choo lo aasman programme" consists of setting up special classrooms which telecast video lectures from several experienced teachers of city schools along with television, and computer programmes that practically show the theory being taught, said Vivek Tiwari, principal Higher Secondary government school in Dhoura from where 1of the students was selected in IIT advanced examination.
Besides regular classes, special night classes were also held for the students. These schools mostly cover the tribal backward areas of Madhya Pradesh.
"We have closely monitored the situation. We connected through technology. We used to ask teachers to send pictures and videos of classroom education daily to check attendance and quality of education being given to the students," said B Gyaneshwar Patil, Collector of Baitul district.
"It is a very proud moment for us and we are very happy that bright students from backward sections of the society are getting the right exposure and are able to fulfil their dreams," he added.
Since the programme reached out to students from tribal areas, it was understood that most of the children came from modest backgrounds. Some students didn't even have money to reach the examination centers of IIT, said RS Parihar, Assistant Commissioner of Tribal Development Department Baitul district. Hence the programme covered free schooling and coaching by teachers, besides food, at the residential campus.
Parihar added that each district has 16 smart classrooms and based on the aptitude the students were segregated. Those interested in mathematics were trained towards engineering and ones towards biology were taught keeping medicine in mind. He said doubt-clearing-sessions were held from time to time where experts interacted with the students through video conferencing.
The students in turn are highly delighted and greatly appreciate the initiative, they said they were imparted quality education and teachers helped them fulfil their dreams.
"My mother is a daily wage labourer and my father passed away when I was very young, qualifying into IIT has been my dream and the kind of education I got from my school with study material and well-equipped laboratories helped me fulfil my dreams," said Halvant Dhuve, a student of EMRS government school, Baitul, who secured 999 rank in the advanced examination.
Another student Dheeraj Binjhade from a tribal higher secondary school in Baitul who secured 1,294 rank under SC category agreed with Dhuve.
"We got very good coaching. We were taught through study material that the government acquired from professional coaching institutes, we had laboratories having the necessary facilities," he said.
The quality of education in the region is very poor because of which the children reach to class eighth and tenth standards," Umrao said.
"We are educating children to prepare them as doctors and engineers. And most of these students come from very poor background, hence, it has been our aim to bring these students to mainstream," Umrao who himself is an IITian said
"Using the fund, we scanned everything right from teachers to lab assistants and gave proper training to them," Umrao said, adding that infrastructure and laboratory facilities were also improved.
Smile Foundation and Shell Launch STEM Project on Pi Day
The initiative will benefit less-privileged students from government schools.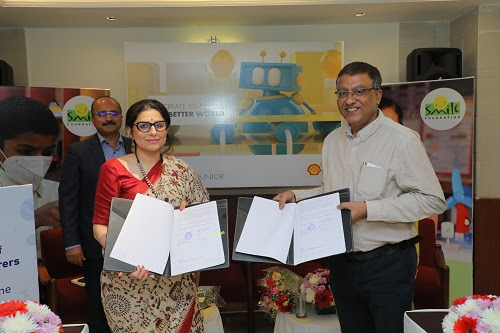 On the occasion of International Pi (π) Day, Smile Foundation and Shell launch 'NXplorers Junior' programme in three Indian states. NXplorers is Shell's global flagship Social Investment STEM (Science, Technology, Engineering, and Mathematics) educational programme aims to benefit over 25,000 children during the first year by enabling them to understand, navigate and address local and global challenges, as underlined in the Sustainable Development Goals (SDGs). NXplorers is also aligned with the National Education Policy 2020 and delivers societal benefits.
The innovative initiative will benefit less-privileged students from government schools and affordable private schools, studying in rural and hard-to-reach areas in the states of Andhra Pradesh, Telangana and Kerala. Its design also includes endeavour to create awareness amongst parents on the importance of STEM education, especially for girl children.
"Shell firmly believes that, provided with the necessary skills and guidance, young people can be a driving force to find sustainable solutions to the major global challenges of our time. Launched in 2018, Shell's global flagship STEM programme NXplorers is aligned with the National Education Policy 2020 that aims to transform India into an equitable and vibrant knowledge society. With the Smile Foundation partnership, we aim to expand this programme to Andhra Pradesh, Kerala, and Telangana and offer young minds the platform to design sustainable solutions to ease the pressure on food, water, and energy," said Ms. Latika Taneja, Head of Corporate Relations – India.
The programme is being rolled out in concurrence with the educational authorities of the respective state governments. Besides students, teachers, parents and communities are involved actively while implementing the programme so that it remains sustainable in the long-term.
"We are excited to roll out this innovative programme in India. We are hopeful that our children will not only leverage STEM education in building their future career but also will grow up and develop leadership ability in finding sustainable solutions in various walks of life," said Mr. Santanu Mishra, Co-founder & Executive Trustee, Smile Foundation.
The NXplorers Juniors will train both 6th and 7th grade students. NXplorers Juniors Level-I course will be delivered through a combination of teacher's guide, PowerPoint slides, and several instructional videos. The facilitator guide will outline the essentials to be covered in each session, exercises, discussion, checkpoint questions, a summary, assessment, and research to be undertaken by students after the session.
The United Nations Sustainable Development Goals (SDGs), exploring SDG Solutions, researching global goals, and developing a challenge and choosing a solution etc. are covered in the NXplorers Juniors Level-1.
NXplorers – Learning for a Life Time, envisions to provide a minimum of 3-5 years of NXplorers exposure to the students at various levels. The objectives include developing strong knowledge and skill set among students so that local and global challenges can be addressed by them. Developing sustainable models of implementation by engaging teachers, school leaders and communities effectively, creating awareness amongst parents regarding the importance of STEM education, especially concerning girl education are part of the overall goals.
About Smile Foundation
Smile Foundation is a national development organization directly benefiting over 1.5 million underprivileged children and their families every year through more than 400 welfare projects in education, healthcare, livelihood and women empowerment spread across 2,000 remote villages and urban slums in 25 states of India.
About Shell
Shell is one of the most diversified international energy company in India with over 10,000 employees and presence across upstream, integrated gas, downstream, renewable energy, and deep capabilities in R&D, digitalisation, and business operations; with a retail presence across six states – Karnataka, Tamil Nadu, Telangana, Maharashtra, Gujarat, and Assam.