A.P.J Abdul Kalam Ignites Little Minds at Subodh Public School, Airport, Jaipur
The best brains of the nation may be found on the last benches of the classroom – A.P.J Abdul Kalam
A.P.J Abdul Kalam left an impact on children. The former president of India clearly stands out as THE INSPIRATION to the future generation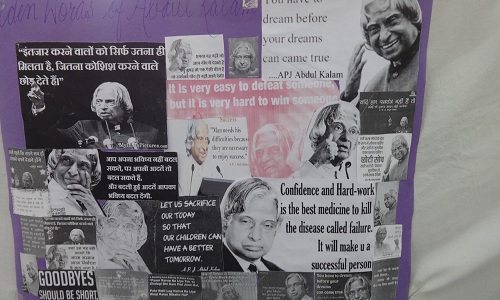 The best brains of the nation may be found on the last benches of the classroom – A.P.J Abdul Kalam
A.P.J Abdul Kalam left an impact on children. The former president of India clearly stands out as THE INSPIRATION to the future generation in India. The impact was such that the UN on the eve of his 79th birthday celebrations declared
The impact was such the even UN couldn't hold itself back from declaring his birthday to be celebrated as World Student's Day. The declaration came in 2010, his 79th birthday, however, there was a void created in the year 2015 when he breathed his last.
To pay homage to children's inspiration, Subodh Public School, Airport Branch, Jaipur, organized Abdul Kalam Week. The school celebrated Dr. Kalam's birthday the way he would have it the most!.
The right name with right picture glows the LED.
I'm sure if he would have been present here with us, he would have loved it.
Nikita from class XI- C made a model of Female Reproductive System, and fairly explained the process to.
The event was to pay a tribute to the "Missile Man" of India. The first day was inaugurated with the commencement of Science Exhibition for classes 6-12 organized by Health and Wellness Club of the School. Reaching the school premises excitedly, we along with the principal Mrs. Kamaljeet Yadav interacted with the students exhibiting their science-based working or non-working models. She boosted the students' morale with her remarkable words, "We have to go for something new, something that has never been done before, opt for something other than traditional ways, innovate ourselves."
And the students tried showcasing the best out of themselves in the exhibition.
These students from XI-C merrily explained us the Sagital Section of Human Brain
There were various models based on Upcycling of Tetrapack, Hydraulic Life, Female Reproductive System and Helical Structure of DNA. It was not easy to compare these models as every model contained innovation and hard work of the students, the ones Kalam Sir loved the most.
"God helps only people who work hard. That principle is very clear", Dr. Kalam said.
We are eager to see how enthralling this event will get in the coming days. Team ScooTalks wishes all the students the best of luck.
He may be not be present with us today on his 84th birth anniversary, but his presence will always be felt through his words. We'll always remember this day as "World Students' Day". He always encouraged students and he is still a source of inspiration for millions of students around the globe; he's the man we'll never cease to love.
Smile Foundation and Shell Launch STEM Project on Pi Day
The initiative will benefit less-privileged students from government schools.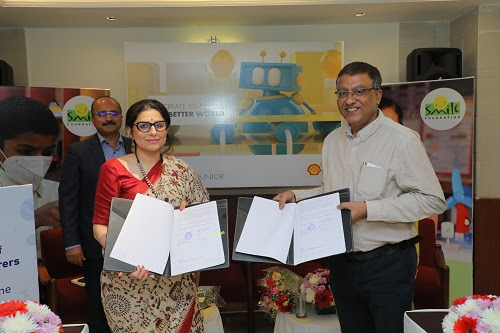 On the occasion of International Pi (π) Day, Smile Foundation and Shell launch 'NXplorers Junior' programme in three Indian states. NXplorers is Shell's global flagship Social Investment STEM (Science, Technology, Engineering, and Mathematics) educational programme aims to benefit over 25,000 children during the first year by enabling them to understand, navigate and address local and global challenges, as underlined in the Sustainable Development Goals (SDGs). NXplorers is also aligned with the National Education Policy 2020 and delivers societal benefits.
The innovative initiative will benefit less-privileged students from government schools and affordable private schools, studying in rural and hard-to-reach areas in the states of Andhra Pradesh, Telangana and Kerala. Its design also includes endeavour to create awareness amongst parents on the importance of STEM education, especially for girl children.
"Shell firmly believes that, provided with the necessary skills and guidance, young people can be a driving force to find sustainable solutions to the major global challenges of our time. Launched in 2018, Shell's global flagship STEM programme NXplorers is aligned with the National Education Policy 2020 that aims to transform India into an equitable and vibrant knowledge society. With the Smile Foundation partnership, we aim to expand this programme to Andhra Pradesh, Kerala, and Telangana and offer young minds the platform to design sustainable solutions to ease the pressure on food, water, and energy," said Ms. Latika Taneja, Head of Corporate Relations – India.
The programme is being rolled out in concurrence with the educational authorities of the respective state governments. Besides students, teachers, parents and communities are involved actively while implementing the programme so that it remains sustainable in the long-term.
"We are excited to roll out this innovative programme in India. We are hopeful that our children will not only leverage STEM education in building their future career but also will grow up and develop leadership ability in finding sustainable solutions in various walks of life," said Mr. Santanu Mishra, Co-founder & Executive Trustee, Smile Foundation.
The NXplorers Juniors will train both 6th and 7th grade students. NXplorers Juniors Level-I course will be delivered through a combination of teacher's guide, PowerPoint slides, and several instructional videos. The facilitator guide will outline the essentials to be covered in each session, exercises, discussion, checkpoint questions, a summary, assessment, and research to be undertaken by students after the session.
The United Nations Sustainable Development Goals (SDGs), exploring SDG Solutions, researching global goals, and developing a challenge and choosing a solution etc. are covered in the NXplorers Juniors Level-1.
NXplorers – Learning for a Life Time, envisions to provide a minimum of 3-5 years of NXplorers exposure to the students at various levels. The objectives include developing strong knowledge and skill set among students so that local and global challenges can be addressed by them. Developing sustainable models of implementation by engaging teachers, school leaders and communities effectively, creating awareness amongst parents regarding the importance of STEM education, especially concerning girl education are part of the overall goals.
About Smile Foundation
Smile Foundation is a national development organization directly benefiting over 1.5 million underprivileged children and their families every year through more than 400 welfare projects in education, healthcare, livelihood and women empowerment spread across 2,000 remote villages and urban slums in 25 states of India.
About Shell
Shell is one of the most diversified international energy company in India with over 10,000 employees and presence across upstream, integrated gas, downstream, renewable energy, and deep capabilities in R&D, digitalisation, and business operations; with a retail presence across six states – Karnataka, Tamil Nadu, Telangana, Maharashtra, Gujarat, and Assam.