Confined to their homes for 43 days, Jammu and Kashmir kids turning cranky.
The curfew is affecting young children the worst with 43 days of house arrest turning them restless, cranky and irritable. It is doubly difficult for parents to see their children struggle with this situation. They are trying various ways to keep them engaged but it is proving futile.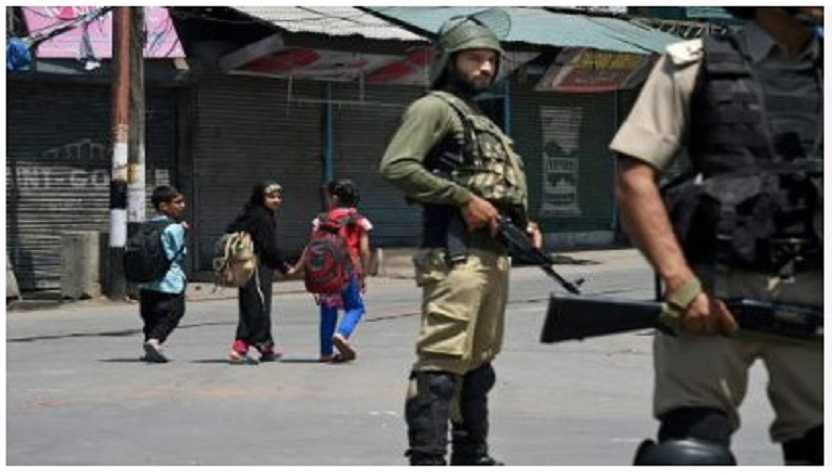 Imagine being confined to your home for 2 whole days compulsorily. Nowhere to go but your home. After a while the walls seem to inch towards you till finally you simply want to get out. Now just magnify that feeling 20 times, that's what Kashmiris are feeling today as the day count for the curfew reaches 45 days today.
Of course, the lives are affected so are the livelihoods, the economic burden was hard enough for the already struggling economy of the state and now this curfew has compounded the problem. However, there is one angle to the curfew which has had the severest impact and that is on the general mental state of kashmiris trapped within their own homes. More so with young children with impressionable minds, unlimited reserves of energy and curious minds; all these are being quashed within the confines of their homes as the schools and colleges are shut as a result of which they have become restless, cranky and irritable.
It is doubly difficult for parents to see their children struggle with this situation. "He misses his friends and teacher," said 6-year-ols Dayim's father Syed, giving only his first name. "I cannot compensate for what he's losing out on." Syed, who lives in a crowded locality called Hawal, added, "Dayim can't even go out to a park to play due to the curfew. It's just so sad."
The going is tougher for parents of teenagers. Ghulam Mohiuddin, a shop owner at Dal Gate with a residence at Miskeenbagh, the older, riskier part of Srinagar, says, "I have 2 sons. One is in first year, the other in class VIII. I've bought a carrom board and badminton racquets for them, but how long can a 52-year-old father keeping his growing sons preoccupied."
What gives Mohiuddin sleepless nights is the havoc that the violence can wreak on their impressionable minds. He has observed behavioural changes in his sons. The elder one is more anxious of the two and keeps saying 'Future kharab ho gaya'. As a father he worries that his sons shouldn't end up taking a step from where there is no return. That's why he breaks every news carefully to them, lest they react in an undesired manner.
It isn't the first time that Kashmir is experiencing a shut down for a long time period and unfortunately this may also not be the last. Around 6 years ago in 2010, classes were shut for over 100 days compelling parents to shift their wards to other states.
Education minister Naeem Akhtar's reaction is baffling. His response makes one think whether the minister is aware of the true meaning of a curfew. He said, "As far as we are concerned, schools have been asked to remain open, and they are. Teachers in certain schools have been coming, too. It's the separatists who've ordered them shut. Education is a priority for us and we can't ignore it."
A poor teacher who actually heeded Akhtar's words ended up in the hospital and in a very critical condition. Abdul Rashid, principal of a government higher secondary school in Bandipora, went to school as usual on August 13 and was waiting for students to join him. Instead, a mob of about 20 men attended school that day, damaging the school premises and beating up Rashid to the point of hospitalisation.
* Read the original story by Anand Soondas & M Saleem Pandit on www.timesofindia.indiatimes.com
NIOS celebrates 33rd Foundation Day
Dr. Subhas Sarkar addresses the 33rd Foundation Day Celebrations of NIOS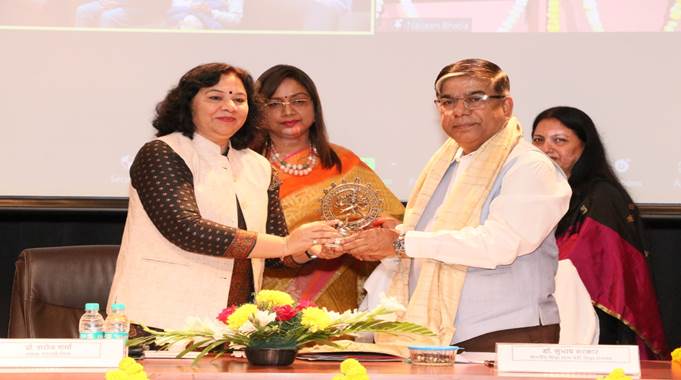 Union Minister of State for Education, Dr. Subhas Sarkar addressed the 33rd Foundation Day Celebrations of NIOS as the Chief Guest.
The function was attended by senior officials of the Ministry of Education, Chairpersons of educational institutions, Heads of Departments, officers, and staff of NIOS. Prof. Naval Kishore Ambasht, former Chairman, of NIOS and Pro-Vice Chancellor, of the Central University of Haryana, Prof. Sushma Yadav graced the occasion.
Dr. Subhas Sarkar in his address appreciated the various programmes and schemes of NIOS and said that NIOS is lighting the lamp of knowledge all over the world. Talking about the Azadi Ka Amrit Mahotsav, he mentioned that today's children will be young people in the age group of 30-40 years on the completion of 100 years of independence and will be responsible for building our nation.
He said that the Ministry of Education has entrusted NIOS with several responsibilities such as developing inclusive education resources, expanding the open and distance education system in states/UTs, translating all courses into more languages as required, creating Indian Knowledge Tradition based courses and propagating Indian culture by translating them into major foreign languages. He also praised the programmes of NIOS enrolling 10 crore adults under 'Basic Literacy Assessment', training of in-service teachers, Gender Green Project, and training in Yoga. He said that Indian Sign Language as a subject at the secondary level has been acknowledged on national and international platforms. He described the launch of an e-library called 'DEEP' by NIOS as a big step forward.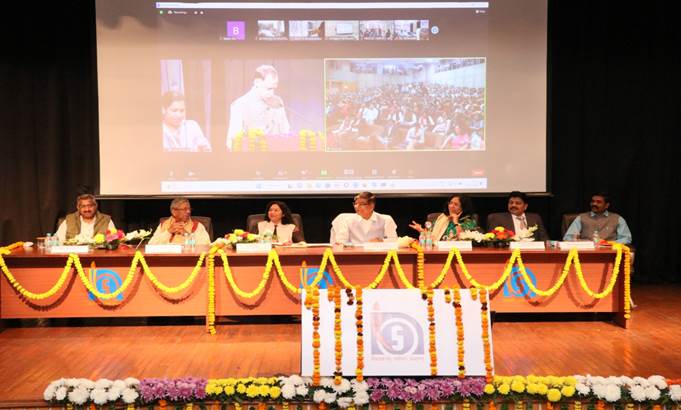 Prof. Saroj Sharma spoke about the journey of 33 years of NIOS and highlighted the special achievements. She said that NIOS is one of the two National Boards of Education under the Ministry of Education, which provides school education through Open and Distance Learning (ODL) for secondary, senior secondary, and vocational education. She elaborated on the role of NIOS in the field of education, efforts being made by NIOS for the successful implementation of the New Education Policy, Virtual Open School, Digital Library (DEEP), NEPIA Project, MoU with Ministry of Defence for Agniveer Project, setting up of Mukta Kaushal Kendras and subjects offered under Indian knowledge Tradition.
It was also conveyed by her that a curriculum called 'Aarambhika' is being developed by NIOS for catering to the Indian Diaspora.
A documentary based on the journey of 33 years of educational endeavours of NIOS was presented on the occasion. In this documentary, 'All England Badminton winner Pullela Gopichand said that most of the players in his badminton academy are getting an education from NIOS.
NIOS alumni, Ms. Niranjana and Vinod Kumar Chaudhary were also felicitated on the occasion. Shri Vinod Kumar said that only due to his education in NIOS, he was able to get the credit of making the Guinness Book of World Records 10 times (8 in Typing and 2 in sports). A proud learner of NIOS, Ms. Niranjana is a successful ventriloquist. Prof. N. K. Ambasht, former Chairman, NIOS said that in this age of technology, innovations must lead to developing 'standalone' courses for the Indian Diaspora, to achieve the goals of the National Education Policy- 2020. Pro-Vice Chancellor, Prof. Sushma Yadav said that the role of NIOS increases in the light of New Education Policy. NIOS has such potential that the institute will be able to achieve the ambitious goals of National Education Policy 2020 in the coming years.
The half-yearly magazine of NIOS 'Pragyan' was released by Dr. Subhas Sarkar on this occasion.