Don't Listen to Me, Says This Teacher to Her Students
When the nation faces a dearth of teachers, Teach For India campaign many to the front who have put in efforts and positively brought about a change. Here's a story of one such teacher, Nirali Vashisht.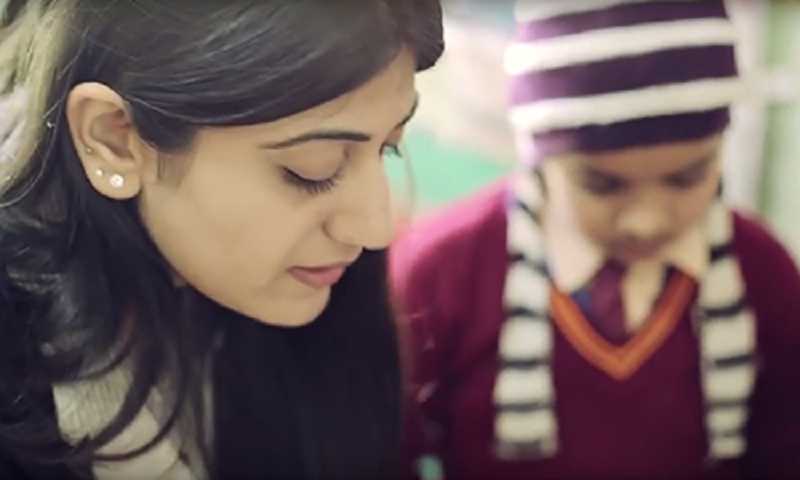 When people just out of their college are per month earning more than their entire college fees, professionals now prefer to move out of India and search for better options there. There are innumerable software developers, hardware professionals, media professionals, and what not! However, there's a gradual yet steady drop in the overall number of teachers in India … a drop to the level of dearth.
And that's when Teach for India initiative came up bringing some teachers to the fore front. Here's Nirali Vasisht … a professional who never wanted to be anything other than a teacher. Her mission was education, her vision was teaching. She started with Lord Krishna Public School, Delhi … a locality where the students had a "zero access to education." The students or even the teachers were hardly expecting anything out of themselves.
When she joined the school, there were students in Kindergarten, who should have been in Class 5. Their education was limited to Kindergarten. With Nirali starting to teach them, educate them, they soon started writing, reading books what students of Classes 3-4 would have. It was a great deal achieved by Nirali, but yet what bothered her was the question whether or not these students can evolve on their own, whether or not can they think on their own when Nirali is not around. Also if these students will be able to think beyond classrooms.
Nirali pushed them and they grew, what if she did not. And then she started asking them not to listen to her all the time. She rather asked them to think on their own, more than what she asked them to do.
And today, these kids, who once had no thinking, now don't wait for their teacher, Nirali. If in case of confusion, they consult the encyclopedia, they consult the dictionary, if the confusion stays, they head to Nirali!
That's where we'd like our students to reach … That's the zeal we'd like to have in each and every teacher in India.
Check the video here to know more about her …
UOW Australia & NSE Academy unveil book on Corporate Finance; Adam Gilchrist rings the ceremonial bell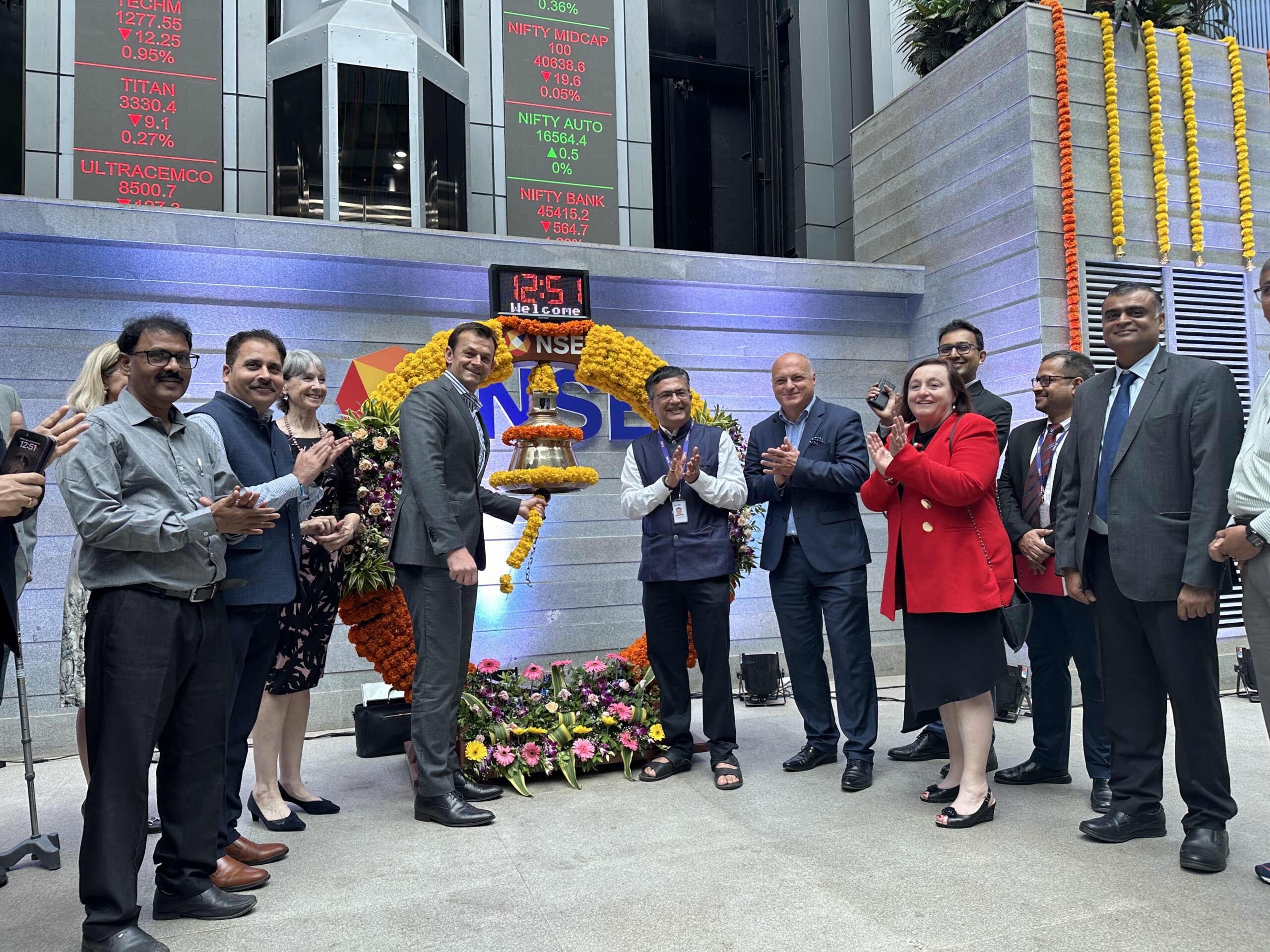 The University of Wollongong (UOW) Australia, in collaboration with the NSE Academy launched their new book titled "Introduction to Corporate Finance (sixth edition)" at the National Stock Exchange (NSE) in Mumbai. The book, authored by first year lecturers at UOW campuses in Hong Kong and Dubai, is poised to become a seminal work in understanding the complexities and nuances of the corporate finance landscape.
The book was launched by MD & CEO, NSE Ashishkumar Chauhan, UOW's Vice-Chancellor and President Professor Patricia M. Davidson, Senior Deputy Vice-Chancellor Alex Frino, and Global Brand Ambassador Adam Gilchrist. The book includes a chapter which details how shares are traded on the National Stock Exchange.  
The book launch took place on the heels of UOW unveiling its India identity at GIFT City, Gujarat, on September 18 (Monday). The University is on track to being one of the first foreign universities to have a teaching base in India, and to hand out Australian degrees to Indian students. 
The event at NSE featured a discussion by Chauhan and Frino on the intriguing subject of the 'Future of Equities Markets in India'. The highly anticipated talk provided a comprehensive overview of the evolving trends, the formidable challenges, and the abundant opportunities that shape India's dynamic equities markets landscape.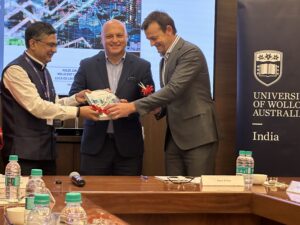 "India has made significant strides in maintaining a regulatory environment that is investor-friendly, a key factor in attracting more foreign investment into our vibrant markets. The ongoing reforms and initiatives, including the establishment of the GIFT City as a financial hub and IFSCA (GIFT City regulator), exemplify our commitment to nurturing global partnerships and welcoming foreign institutions, such as the University of Wollongong, to have a physical presence in India. It is an exciting time for India, and we are dedicated to embracing innovation, facilitating market integration with the global arena, and ensuring a prosperous future for both our domestic and international stakeholders," said Ashishkumar Chauhan, MD & CEO, NSE. 
"India's remarkable rise in fintech and technological advancements in recent years, coupled with the surge in digital consumption, presents an ideal environment for international businesses to thrive. UOW's physical presence in India signifies more than just a strategic move; it represents our commitment to fostering deeper research engagements with our Indian partners, resulting in impactful global outcomes. Our presence in India allows us to provide world-class education, nurturing India's young population and contributing to their holistic development. It also aligns with our vision to expand our international footprint, strengthening our global network and creating a bridge for knowledge exchange," added Professor Frino from UOW. 
On the occasion of the book launch, UOW Global Brand Ambassador and cricketing legend Adam Gilchrist interacted with the delegation from NSE and key Australian government officials and rang the ceremonial bell, signifying stronger Australia – India relations in trade, research and education partnerships.
The University, which has a strong global presence, has been successfully operating campuses in Australia, Dubai, Malaysia and Hong Kong. It will commence its India operations in 2024 with a Graduate Certificate in Computing and a Masters in Computing (Data Analytics), followed by other undergraduate programs. UOW already has close ties with over 30 Indian universities for research and educational collaborations in the areas of software development, advanced medicine solutions, molecular and life sciences, advanced manufacturing, cybersecurity and mining technologies.